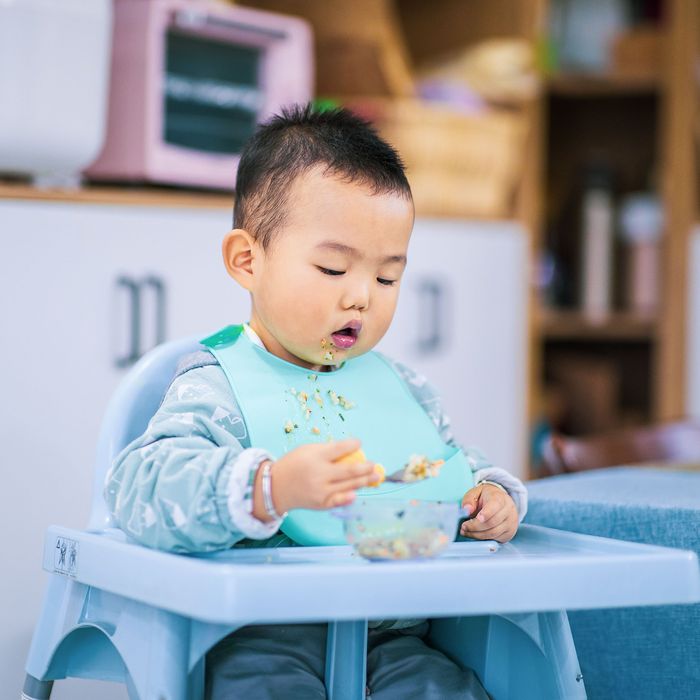 Photo: xijian/Getty Images
Perhaps, like many parents, you read the recent congressional staff report that found high amounts of heavy metals like lead, arsenic, cadmium, and mercury in certain prepackaged, processed baby foods. If your next thought was to panic and immediately toss all your little one's pouches, jars, and puffs, you may want to reconsider, according to Jennifer Anderson, a registered dietitian and the founder of Kids Eat in Color, a nutrition-focused website and Instagram account. "There have been professionals calling for the removal of certain baby cereals since at least 2012," she says, noting that a 2019 report by the advocacy group Healthy Babies Bright Futures found that 95 percent of the baby foods the group tested contained heavy metals. Yes, exposure to toxic levels of heavy metals can lead to lower IQ, brain damage, and behavioral impairments, but Anderson explains that the heavy metals in question occur naturally in the ground, which means they are introduced to many ingredients as they grow, which means there's really no way to eliminate them from any diet. "They're in adult foods and baby foods," she says. "They're in puréed food that you make at home, and they're also in jarred baby foods." Anderson notes there is "a little bit of data that shows there are probably higher levels of contamination in processed foods just because the processing itself seems to add a bit more." (Although the reports we've cited call out a handful of specific brands, Anderson says no brand — even an organic one — is better than any other when it comes to being free of naturally occurring contaminants.)
While Anderson emphatically does not believe that "parents need to throw out all the food they bought with their hard-earned money and may not have the funds to replace," she does say that making your own baby food would be one way to cut down on processed foods (and on any toxins found therein) in kids' diets. Two other experts we spoke to — pediatric dietitian Pegah Jalali and lifestyle expert Rosalynn Daniels, a mom who also works as a food-content creator — agree. With the right tools, they say the process is simple enough, but they all note the one rule for anyone attempting to make their own baby food: Variety is key. As Anderson puts it, "every food has a dark side," so using different fruits, vegetables, and grains "reduces the risk of one contaminant overwhelming a system." Below, all the tools our experts recommend for making your own baby food, along with their tips for using them.
But first, to those who can't resist the urge to throw away some processed foods to make way for new, homemade meals, Jalali has a tip: Toss any prepackaged food with any form of rice — including rice flour, rice milk, and brown-rice syrup — listed in the ingredients. "You look at all the data, and you see that all of the products that are really high in heavy metals are the ones made with brown rice," she says. (Jalali, who is of Iranian ancestry, explains that it's not about cutting out rice altogether — "it's our cultural-heritage food," she says — but she would "prefer to give my daughter actual rice versus baby food with rice in it.") If you're looking for an alternative to rice cereal, a popular first solid food for babies, Anderson says to look for cereals with ingredients like oats and barley instead. And if you're looking for those expert-recommended tools you can use to make your own baby food, keep reading.
When it comes to an easy and efficient way to make baby food, Anderson says there's nothing better (or cheaper) than an old-fashioned hand-grinder. "They're super-simple, and you can stick one in a diaper bag and take it anywhere," she says. To the uninitiated, she explains that a (good) grinder can take any food the family is eating — vegetables, fruits, salads, beans, even meats — and mash it up to a consistency appropriate for a baby starting solids. "For example, if your family is having Taco Tuesdays and you want your baby to join in, you can just grind up whatever filling you have into a nice, textured baby food, and they can just join in the meal," she says. "And it took you maybe 30 seconds to a minute to make." Using a grinder to turn adult food into baby food, she explains, will allow little ones to "experience all the flavors your family is eating," which can help prevent them from developing picky eating habits. If you're going to cook for the whole family and grind some for baby, she advises withholding any salt from a recipe and adding it to the adult portions after the fact. Anderson also says never to give a baby honey until after age 1. Even if you use it to make baby food only once in a while, she still thinks a grinder is worth the investment. "There's such a huge benefit in feeding kids whatever you have and starting to build those taste skills so they can learn different flavors," she says. "You also save money and time, and it probably has less of the heavy metals, which is another win."
Although experts say baby foods with a chunkier consistency better prepare kids for eating adult table food, you could, of course, use a blender to make a smoother purée for your child. Daniels swears by her Zwilling blender and has used it to prepare baby food in her own kitchen. This model, which can be operated via an app, has a 64-ounce capacity, a stainless-steel body, and six programmed settings, including pulse, smoothie, cocktail, ice cream, ice crushing, and cleaning functions. But if you want to shop around, check out our stories on the best-reviewed blenders on Amazon and the best chef-recommended smoothie blenders.
When it comes to storage for homemade baby food, Daniels and Anderson both say pouches offer more convenience than a jar. That said, Anderson warns that "pouches don't really engage kids in the eating experience, which can contribute to picky eating," so using a variety of vessels will help combat that. Anderson chose these reusable pouches after trying various styles and tells us they're so durable she was able to give them to another family when she no longer needed them. "They really did hold up quite well," she promises.