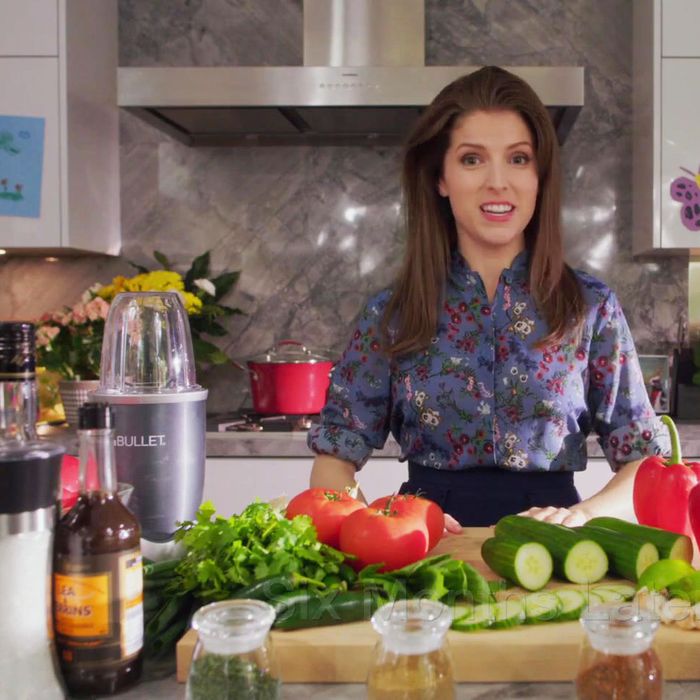 Though the best blenders are super-versatile tools that can be used to purée roasted vegetables into soups or chop ingredients into salsa, most people use their blender for one task: making smoothies. If you fall into that category, you don't necessarily need the most powerful, kitchen-shaking blender on the market. You need one that can crush ice into a drinkable slush, cut handily through frozen fruits, and pulverize the stringiest produce into a smooth liquid.
It might as well be stated up top: Vitamix reigns supreme in the blender universe. There are many different iterations, but it is hands down the most lauded brand across the board. David Frenkiel of Green Kitchen Stories has had his 5200 series model for a decade. "I'm interested in getting a newer one," he admits. "But I'm just waiting for this one to break, which … it hasn't." Needless to say, it's a workhorse that will last you ages. Plus, it has a great warranty. "If any piece of it gets run-down, or stops functioning properly, they take care of it," Frenkiel says.
However, if you don't use a blender every single day, or you can't splurge on something so pricey, or you're living in a small space that can't fit big, chunky appliances, you might want to go with something else.
To find the best smoothie blender, we spoke with chefs, wellness experts, and smoothie fanatics about the ones they keep on their countertops.
Best smoothie blender overall
Like we said, Vitamix was by far the most popular smoothie blender of choice among our experts. "Vitamix is the Ferrari of blenders," says Jessica Young, founder and CEO of Bubble. "I used to work in fine-dining kitchens before Bubble and entering the start-up world; this blender is industry standard and used across most professional kitchens. When I was head of product at Daily Harvest, I used this blender every day for research and development."
But it's just as good in a home setting, too. "I have the Vitamix at home, and it's also what we use in our Moon Juice shops," says Amanda Chantal Bacon, founder of Moon Juice, the California-based company known for its adaptogenic powders and health-conscious juices. "I love using it because of its ability to whip air into ice cream or tonics or even coconut milk — it gives the fluffiest mouthfeel that no other blender can replicate." Gaby Dalkin, cookbook author and blogger at What's Gaby Cooking, specifically likes the Professional Series 750 blender. "It has a smoothie setting, so you can throw all your ingredients in, turn it on, and walk away." Nutritionist and wellness coach Molly Alliman told us she uses hers "every single day" and that "it works for blending big chunks of all frozen fruits, heartier vegetables like kale, whole nuts, and anything else that would leave chunks in other blenders." Glenn Howerton, co-creator of It's Always Sunny in Philadelphia and avid smoothie maker, also uses his Vitamix nearly every morning. "They're just built way tougher than the cheaper ones," he says.
Yes, the Vitamix is pricey, but several of the experts we spoke to insisted that it was worth the splurge, noting they had used and loved theirs for years. Barrett Prendergast, lifestyle blogger and founder of Valleybrink Road, told us she's had her Vitamix for "eight years now, and it's still going strong." Holistic nutritionist and recipe developer Neda Varbanova seconds the sentiment: "I've had my Vitamix for over seven years, and it's still super powerful and blends everything to perfection," she says. And wellness blogger Virpi Mikkonen has had her Vitamix for "over ten years" and says she has "created five cookbooks and hundreds and hundreds of recipes with it, and I'm still using it daily." The motor just doesn't quit: "It takes care of even the toughest ingredients. I bet I could even make fine sand out of stones with it," she says. Chef Seamus Mullen has been using Vitamix longest of all our experts — 25 years — and puts it simply: "There is only one blender in my kitchen, and it's the Vitamix."
Best (less expensive) smoothie blender overall
If you're looking for something a bit more affordable and that will take up less kitchen-counter real estate, several of the chefs and smoothie fanatics we spoke to raved about the NutriBullet. The machine comes with smaller, bullet-shaped containers, which are portioned for one smoothie (that you can take on the road, if you'd like). Bacon is a fan, calling it the "mightiest little blender, plus it's portable and has a good price point." Amanda Gaines, of Well+Good, agrees: "It's small but mighty — and let's be real, it gets the job done without occupying too much countertop space." Molly Lukins Burke and Tamara Martucci of wellness consultancy Food + Mood NYC are in the NutriBullet club too, as is Caitlin Sullivan, co-founder of Los Angeles restaurant Honey Hi. "The NutriBullet is great because it's affordable, so compact, and easy to clean but still has great blending ability," she says.
Best multipurpose smoothie blender
When we first reached out to our experts for their favorite blenders, Keishon Warren, an owner of juice and smoothie café BKLYN Blend, recommended the Vitamix G-Series 780 blender, telling us he uses the model in his shop and in his home: "We've been in business for five years, and I may have switched them out once or twice, but for the most part, they're very reliable." And while it blends up hearty smoothies with ease — Warren mixes almond milk, blueberries, a banana, cashews, oats, sea moss, pumpkin seeds, and almonds in his every morning — he recommended it for home use because of how multipurpose it is. "You don't necessarily have to stick with making smoothies and shakes," Warren said, adding that he uses his to blend seasonings and dry goods. Since Warren's pick is discontinued (though you can find it through secondhand sellers, and get yours serviced if you already own one), we reached out to the folks at Vitamix, who say the Ascent A3500 is nearly identical.
The A3500 is actually the model Frenkiel has his eye on. Not only does it have the same long life span, sturdy base, and wide container (so fruit chunks don't get stuck at the bottom) as his current model, but "it also has all these attachments you can purchase to go with it, which I think would be so useful," he says. Whether you're interested in different-sized containers (hello, single-serving smoothies) or you want to add a food-processor top to the blender bottom, an Ascent blender will accommodate.
Best manually operated smoothie blender
If you don't need an automatic setting to make smoothies, or are looking to save a little bit of money on your Vitamix, Ksenia Avdulova, founder of the wellness blog Breakfast Criminals who regularly makes smoothie bowls for groups of 50 or more people, likes the E310 for daily use. With a 48-ounce container, it's a little bit smaller than the Pro 750, but it still packs a punch. "I personally prefer the manual switch experience versus touchscreen," Avdulova explains. "When I say having a Vitamix changed my life, I mean it." Mullen is also a fan of the E310, which has ten speeds, and says that even the smaller models have "a powerful motor."
Best automatic smoothie blenders
If you do want automatic settings without the Vitamix price tag, then the Blendtec might be the right choice for you. "The auto settings are timed well and, of course, there is a preprogrammed cycle just for smoothies," says Claudette Zepeda-Wilkins, chef and partner at El Jardín in San Diego. "You'll always end up with the perfect texture." Burke and Martucci are also fans of the Blendtec: "The modern, sleek design is aesthetically appealing," they say. "Plus, it's a bit more powerful than the Vitamix." Burke and Martucci note that the automatic settings let you multitask while blending: "The timed presets allow you to select a time to blend and walk away, whereas Vitamix and NutriBullet require manual operation." This model also comes in a pretty wide range of bright colors, if matching your blender to your kitchen décor is something you're into.
This higher-end model from Blendtec's Professional series is what Warren relies on in BKLYN Blend. "We use them in our locations because of the efficiency of the auto countdown," he says. "As far as making smoothies and juices taste the same, no matter who makes it, I am able to incorporate a countdown with the blender in our system." Warren explains that the Professional series blenders have six different timed settings, one being the shortest and six being the longest. If you want your drink to turn out café-grade, he says, "We navigate between four and five for our smoothies." Another tip he has for making your smoothies more consistent is being mindful of the amount of liquid you use. "A lot of people's smoothies are not consistent enough because they don't know how much liquid to use or what amount of ingredients to put into the blender," he says. "We have a standard here where we use about eight to ten ounces of liquid for any smoothie or shake that we're making and about three to four ounces of each fruit. Obviously, the more food you put in, the more liquid you have to add."
Best (less expensive) automatic smoothie blender
When we first reached out to chefs about their go-to blenders for smoothies, Marco Canora, the James Beard Award–winning chef of Hearth, Zadie's, and Brodo, told us about the Breville Hemisphere Control Blender, which he used to test recipes for the smoothies he sells at Brodo. Canora said the "bowl-shaped bottom" of the Hemisphere was a big part of the draw and that it "helps push the ingredients down upon themselves for quick and efficient blending." Unfortunately, the Hemisphere blender is no longer available, but when we reached out to a representative from Breville, they told us that the Fresh & Furious blender is the best replacement in its line for the Hemisphere Control. This blender has nine task controls, compared to the Hemisphere Control's seven, and it's got two automatic smoothie settings: one for green smoothies and another for smoothies with a little less roughage.
Best large smoothie blender
We've written about this Ninja blender as an affordable alternative to the much-loved Vitamix, and after buying one for her own kitchen in February, New York deputy editor Alexis Swerdloff wrote about how wonderful it's been, especially for making smoothies. "I love it; this thing is powerful. It's super easy to use and to clean, and I've been very much enjoying my banana, blueberry, peach, coconut, and soy milk morning smoothies!" Its container holds 72 ounces, making it the biggest of all the blenders on this list, as well as the least expensive full-size option.
The Strategist is designed to surface the most useful, expert recommendations for things to buy across the vast e-commerce landscape. Some of our latest conquests include the best dining room decor items, coffee makers, knife sets, Japanese coffee brewer, charcoal water filter, and drinking glasses for water and more. We update links when possible, but note that deals can expire and all prices are subject to change.
Every editorial product is independently selected. If you buy something through our links, New York may earn an affiliate commission.