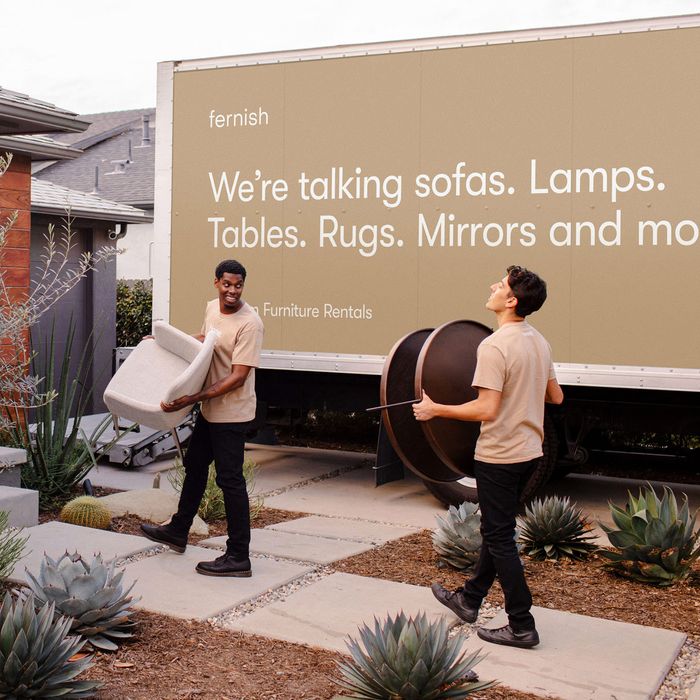 Renting furniture online is not a novel concept. But just as DTC companies that make furniture you can buy have proliferated over the past several years, so too have a crop of online furniture-rental companies with aesthetics geared toward those same buyers. There are a few basic appeals of renting furniture: You spend less cash up front, it's more sustainable than buying and replacing things, and when you're tired of the stuff, the company will come remove it for you, usually for no extra charge. But there are downsides, too — you can't exactly treat something you don't own the way you'd treat something you do own (unless you want to pay a fee to repair damages beyond general wear and tear), and more importantly, if you're renting from an online company that only offers its own lines of furniture, it can be harder to tell if those pieces are worth your money.
But when the pandemic hit, like with most other things, we started to see the idea of renting furniture online a little differently. Namely, we realized it could be a great option for folks who are living in temporary homes, or furnishing temporary home offices, and don't want to deal with the commitment or cost of furnishing those fleeting spaces. (Or, of course, with going to pick stuff up in person.) We weren't the only ones: The Los Angeles Times reported that online furniture-rental brand Fernish has seen a
315 percent rise in home-office furniture rentals, and investors seem bullish too, based on the fact that a new online furniture-rental brand, Conjure, launched this week off the back of a $9 million seed round.
To help those who may be interested in renting furniture online for a temporary (or permanent) setup, we looked into some of the major players in the market to get a sense of what they offer (their own stuff, name brands, or both); how they offer it (a.k.a. their rental terms); and, crucially, where they offer it — because some companies will ship nationwide but others only operate on a more localized basis. While we have not tested these services out — doing so would likely require (almost) as much time as it'll take for the world to get back to normal, not to mention turn our homes into furniture warehouses — we have attempted to determine the best ones for various customers, based on what we found after researching their offerings and operations. A note that each company's rental prices vary by piece of furniture, so instead of focusing on those, we concentrated on rental terms to give you a better sense of how renting may vary from company to company.
The
best
furniture-rental
company
for
most
people
CORT
Where is it? The 48 contiguous states (it's the only rental company on this list that operates across the continental United States).
What is it? While some rental companies on this list are newer to the market, Cort is not one of them: It has been renting furniture (and technology) for 45 years, both to individuals as well as companies. (It operates in more than 80 countries and has more than 2,000 employees.) As such, its inventory includes a range of pieces that one can use to fully furnish every room in a home — except for a kids' room, which no companies on this list really offer furniture for. Cort's history and time in business means it has relationships with lots of name brands — including Herman Miller, which makes the $1,069 ergonomic Aeron office chair that chiropractors swear by and can be rented from Cort for $73 a month with a 12-month lease.
Rental terms: Cort will deliver and assemble your furniture within 48 hours and collect it at the end of your lease. If you don't like it on arrival, you have seven days to have them freely swap it out for something else. (After seven days, you're charged a return fee that's based on your location and the items you're sending back.) Leases can be for as short as one month or as long as 12; if you choose to renew any lease, the price for whatever you're renting will stay the same. Cort also offers the option to buy furniture at the end of a lease, but monthly payments are not deducted from the purchase price (though the company says it will sell the items at a discount). One point of consistency between Cort and all other companies on this list: The longer your lease term is, the cheaper your monthly rental rate for any piece of furniture will be.
The fine print: Another point of consistency we found in researching all of the companies on this list: Each one has a minimum monthly rental payment built into their agreements. For Cort, it's $150 — which means that unless you're renting one piece that comes to $150 a month on its own, you will need to rent extra pieces in order to hit that minimum. In terms of damage-related fees, Cort is a little vague: It will charge them, not for basic wear and tear, but for "abuse" — its word — such as cigarette burns and damage caused by pets. Cort is also one of a few companies on this list that may require a credit check as part of its rental process.
TL;DR: Between its relationships with brand names whose furniture we can vouch for, and the fact that it's the only company that ships (almost) nationwide, Cort seems like the best furniture-rental service for most people.
The
best
(less
expensive)
online
furniture-rental
company
for
most
people
Brook Furniture Rental
Where is it? Brook operates in 31 cities and 18 states, including California, Texas, New York, and Florida. (A full list of locations is here.)
What is it? Like Cort, Brook can furnish your entire home, and it ships to a good chunk of the country. While it stocks independent brands — like Supra and Matrex — they are less well known and more for the budget-conscious (you won't find Herman Miller here). For example, you can get Supra's Executive Chair (which is sold at Wayfair) for $22 a month with a 12-month lease.
Rental terms: Brook promises to deliver and assemble anything within two days of it being ordered at a time that the customer can choose. Like with Cort, you have seven days to decide if you like what you picked; if you do not, Brook will also come and exchange it with another piece for free. (After that, the company will charge a varying fee.) Its leasing periods are divided into one, two, three, six or 12 months (with a 20 percent discount on six-month rentals and a 30 percent discount on 12-month rentals), with the option to extend at the same price once a lease expires.
The fine print: Brook has a monthly minimum rental requirement of $150 and, based on our research, does not offer the option to buy. For damage caused by "abuse or neglect," the renter will have to pay "for the lesser of the repair or replacement cost," according to the company. Brook may also require a credit check, according to its lease agreements.
TL;DR: With a product inventory that's as wide as Cort's (but mostly at lower monthly prices), and the second-largest delivery zone, Brook is a solid choice for shoppers who want a more affordable option than Cort.
The
best
online
furniture-rental
company
for
gym
and
outdoor
gear
Casa One
Where is it? Connecticut, Las Vegas, Los Angeles, New York, New Jersey, Philadelphia, San Francisco, San Diego, and Washington, D.C.
What is it? Casa One's inventory of some 4,000-plus items is the largest of any company we looked into. In addition to furniture for your office, living room, dining room, bedroom, and kitchen, it offers outdoor furniture and even gym equipment — like hard-to-come-by weights and medicine balls — to rent. Its inventory includes name brands (like Hex and Article) as well as less ubiquitous independent brands, like Glider, which makes this high-backed office chair (that recalls Herman Miller's Embody chair) you can rent for $25 a month with a 12-month lease.
Photo-Illustration: retailer
Rental terms: Lease periods are set monthly and can be as short as one month or as long as 12. Casa One will deliver and assemble any rentals for free within three business days and come back to collect it at the end of a lease term (at which point you can also extend a lease on any furniture at the same price you started with). Casa One also offers the ability to purchase rental furniture outright at anytime, charging the retail price minus what you've already paid in rental fees.
The fine print: While you can cancel an order within 24 hours of placing it, Casa One does not offer any sort of extended free-trial period upon delivery. It will pick up what you don't like, but every returned item will come with a restocking fee of either $199 or one month's rent of said item (it will charge whatever the lower price is). Casa One also has a sliding monthly rental minimum; it's $249 for one and two month rentals, but drops to $79 for 12-month rentals. It will charge you the replacement or repair cost per item for any damage "beyond wear and tear in the normal course of use," according to the retailer. And the company runs a "soft credit check that does not affect your credit score" for all leases.
TL;DR: Casa One is novel in that its range includes certain things — like gym gear and outdoor furniture — we couldn't find elsewhere. But its delivery footprint is on the smaller side, and you need to be pretty sure of what you want when you rent it, or else you risk paying steep restocking fees.
The
best
membership-based
online
furniture-rental
company
Feather
Where is it? New York City, Los Angeles, San Francisco, Orange County, Washington D.C., Baltimore and Richmond.
What is it? Feather is among the crop of start-up furniture rental companies, and designs and manufacturers its own line alongside furniture from the likes of West Elm. The company's design control over part of its inventory means it can make pieces that appeal to folks who live in major metropolitan areas where many people rent homes and may want to furnish those homes with cooler-looking pieces than they can afford to buy (or want to buy for a temporary space). One such piece is Feather's Saarinen-esque Octavia desk chair, which, with a Feather membership (more on that below), rents for $15 a month with a 12-month lease. Beyond the office, Feather has stuff for the living room, bedroom, and dining room, so it's another company you could use to decorate an entire home. It helps pair customers with pieces via an (optional) quiz that asks about your lifestyle, budget, and aesthetic; if you've ever shopped at CB2, you'll probably be satisfied by anything you find.
Rental terms: For a $19 monthly fee, you can join Feather's membership program, which offers deep discounts on its rentals. (For instance, the above Octavia chair would cost $52 a month with a 12-month lease for non-members.) Plus, without a membership, you will also need to meet a monthly rental minimum of $99 — and you're locked into renting for three months or longer (with a membership, you can rent for shorter periods). Feather will deliver and assemble anything rented within seven days of an order date; this is free for members, but comes with a fee for non-members. If you don't like what you pick, members have one free furniture swap per year built into their plan, but non-members and members who want to change (or return) more pieces after the seven-day trial period must pay a flat fee of $99. At the end of a lease, Feather offers the option to extend at the same price or buy furniture, with your previous payments deducted from the total cost.
The fine print: Feather's monthly rental minimum for non-members is $99, and it charges an extra $99 for delivery and assembly of any furniture rented by non-members. The company says it will charge varying fees for "deep stains, chipped wood, ripped upholstery, or any other noticeable damage (breaks, cracks, spills, etc.)" that require pieces to be repaired or replaced. Feather also requires a credit score of at least 600 to rent anything, but says that "if your credit score does not reach this requirement, you'll be notified at checkout and your card will not be charged."
TL;DR: If you live in its delivery areas, are committed to renting, and have the credit score to do so, Feather's membership-based program allows you to get nice-looking pieces for (almost) your entire home at deep discounts.
The
trendiest
online
furniture-rental
company
Fernish
Where is it? Los Angeles, Orange County, and Seattle.
What is it? Fernish, another newish player in the online furniture-rental scene, appeals to the trendiest decorators: Its in-house design team will release entirely new lines of rental furniture every two to three years. Like one of our favorite DTC-furniture brands, Article, Fernish's stuff draws inspiration from mid-century and Scandinavian design, such as this high-backed, padded office chair with armrests in a handsome tan leather (you can rent it for $10 a month with a 12-month lease). While it offers home-office furniture, judging by its inventory, Fernish's specialty seems to be in things for the living room and bedroom.
Rental terms: Fernish offers monthly leasing periods that can be as short as three months or as long as 12. It delivers pieces approximately a week after the order date and assembles everything, all for free (after that, fees are involved). You have three days to freely exchange something that isn't right. At the end of your lease, you have the option to extend it (for the same price), or — if you love it — purchase the piece outright (any rental payments you've already made will be deducted from the purchase price).
The fine print: Fernish has a monthly rental minimum of $99. If you want to break a lease (or swap an item) after the three-day trial period and before its end date, you'll have to pay a fee that will vary based on the length of the lease. The company says that "more extensive stains or damages" will result in what it calls "next steps" (which we assume to be fees, but that is not explicitly stated). And we could not find any information about possible credit checks while scouring the website.
TL;DR: If you live where it delivers, Fernish, with its regularly changing inventory, is a great choice for those people who are always itching to redo the living room every couple of years.
[Editor's note: Through May 5, 2021, Strategist readers can get $25 off per month for up to 3 months of rental. Just use code STRAT75 at checkout.]
The
best
affordable
online
furniture-rental
company
The Everset
Where is it? New York City and the tristate area.
What is it? If Feather's stuff recalls CB2 and Fernish's recalls Article, you could say the Everset's offerings look like cool second-hand pieces you'd find at a favorite vintage shop. Except they're new — and produced specially for the company (like Feather's and Fernish's stuff). It's rental prices are a little more affordable, too: The below black swivel desk chair is available for $4 a month with a 24-month lease, and the company has a desk you can rent for $5 a month with a 24-month lease. There's also stuff for living rooms, bedrooms, and dining rooms, including a dining table (with four chairs!) that you can rent for $20 a month with a 24-month lease.
Rental terms: The shortest lease period is three months, and the longest is 24 months (or two years). Furniture is delivered within a week of being ordered (for free, in some areas), and the company's team will assemble it, too. After your furniture arrives, you have three days to decide whether you'd like them to collect it free of charge (again, after that, there's a varying fee). The Everset will also pick pieces up for free at the end of your term, when you can also extend your lease at the same price, or purchase stuff outright (with the payments you've already made counting toward the purchase price).
The fine print: The Everset's monthly rental minimum is $89. While delivery, assembly, and pickup are free in New York City, there are fees for those services if you're ordering to New Jersey, Westchester, Connecticut, or Long Island. The company says it will reach out to you after a lease ends if there are significant damages, for which there will either be a repair or replacement fee that factors in what you've already paid to rent the product. We could not find any information about the Everset requiring credit checks on its website.
TL;DR: It has a small footprint, but if you live within its range and don't want to spend a lot of money, The Everset is the most affordable of the bunch.
The
best
online-furniture
rental
company
for
big-ticket
pieces
Conjure
Where is it? The Greater New York City metro area, including all of Long Island, and parts of New Jersey, southern Connecticut, and southern New York State.
What is it? Launched just this week as a rebrand of long-standing furniture rental-company Mobley, Conjure, like the Everset, Fernish, and Feather, is geared toward younger customers looking for pieces to make their (often) temporary urban or suburban dwellings look more like forever homes. In terms of inventory, the company offers a couple of desks and office chairs like the below tan, '80s-inspired steel-and-vinyl number you can rent for $10 a month with a 12-month lease. But its inventory appears more focused on big-ticket items like couches, lounge chairs, and bedroom furniture.
Rental terms: Conjure begins its lease periods at three months and caps them at 12 months. It offers free delivery and assembly within seven days of placing an order and, if you aren't happy, the option to have stuff picked up for free within three days of receipt. (Varying fees will be charged after that.) At the end of a lease, you have the option to extend at the same price or to buy pieces for their retail value minus what you've already paid in rental fees. Conjure also has a free in-house rewards program called Conjure Coins, which offers better pricing on rentals based on how long you've been renting from it.
The fine print: Conjure's monthly rental minimum is $69 — the lowest of all the companies on this list. For "big accidents and breaks," it "may need to charge for replacing or refurbishing the item." The company runs a soft credit check (that does not affect your credit score) for every lease, but says a minimum score of 650 is required to rent. (Unless you're not from the United States, at which point they'll need signed proof of academic enrollment or employment instead.)
TL;DR: While it has the lowest monthly rental minimum of any company on this list, based on its inventory, Conjure seems best suited for those who are looking for one or two big-ticket items rather than stuff for an entire home.
The Strategist is designed to surface the most useful, expert recommendations for things to buy across the vast e-commerce landscape. Some of our latest conquests include the best acne treatments, rolling luggage, pillows for side sleepers, natural anxiety remedies, and bath towels. We update links when possible, but note that deals can expire and all prices are subject to change.