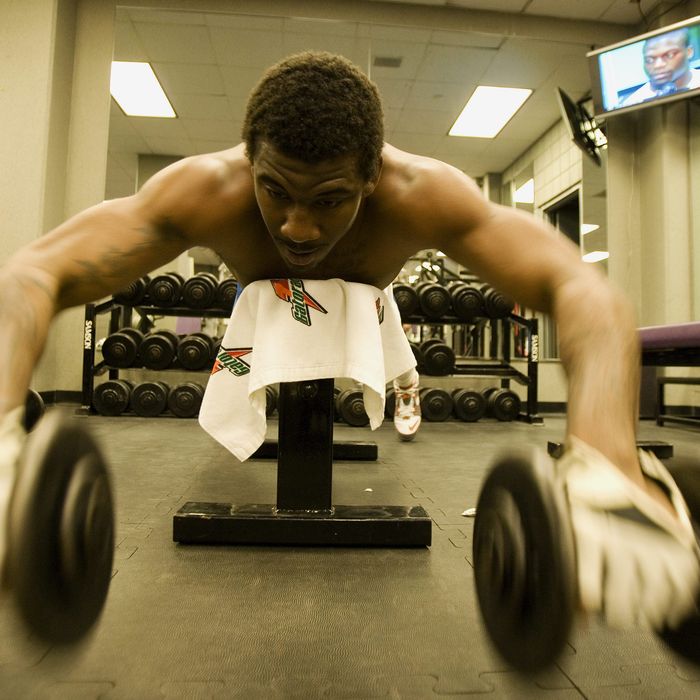 Photo: Getty Images/Getty Images
Heading into month ten of quarantine, we're still seeing a shortage of at-home workout equipment, especially dumbbells, kettlebells, and other weights. According to GQ, the initial shortage was the result of an onslaught of demand from folks who couldn't visit their local gyms anymore — and the fact that there just aren't enough foundries (both in the U.S. and overseas) to pump out all that iron (which is what most kettlebells are made of). That means stock at popular companies that cater to consumers or boutique gyms (as opposed to commercial gyms) like Rogue, Bowflex, and NordicTrack is constantly fluctuating with longer-than-usual shipping times or just completely out. But you can still cobble together a basic but still respectable home gym if you know where to look.
While what's available might not be from top-of-the-line brand names, a dumbbell is just a dumbbell at the end of the day. Plus, you'll probably be working out in the privacy of your own home, so no one will even know that your power rack isn't a Rogue. Below, in-stock power racks, benches, barbells, kettlebells, and other lifting gear from unlikely sources. You may also want to check out places that sell used gym equipment, like the aptly named Used Gym Equipment, Global Fitness, and Primo Fitness.
Dumbbells
This ready-to-ship adjustable dumbbell can weigh between 5.5–27.5 pounds. While dumbbells are usually sold in pairs, we should note (again) the price shown is for one dumbbell. But if you want something fast, beggars can't be choosers.
Here's a truly unexpected source of dumbbells: Goldens' Cast Iron, which is better known for its Kamado grills and smokers. The company recently started producing weights and kettlebells to meet demand; so far, all of its dumbbells, from 5 pounds to 50 pounds, are in stock and ready to ship in about two weeks.
A bunch of these rubber dumbbells from CAP, a respected brand in the weight-lifting world, are (mostly) available to ship immediately for free from Amazon. You can get them in sets of two or four and they range from 3 pounds to 120 pounds in weight, with heavier sizes seemingly more available. While they'll ship immediately, Amazon estimates it'll take a week or two for them to arrive.
For serious lifters, Fitness Factory has some round-headed dumbbells similar to what you might find at your local gym available to ship right now. Sizes fall at both the lighter and heavier ends of the spectrum: The current weights in stock, which are all sold individually, are either 10 or between 80 and 100 pounds.
Like Flatware Finder, which sells single forks and spoons to folks who have misplaced a table setting or two, Primo Fitness stocks a bunch of miscellaneous new and used dumbbells in various weights for those looking to complete their current set. You can choose from a bunch of available sizes, the cheapest being a pair of three-pound weights for $9.
Photo: retailer
Springing for a full set of dumbbells, like this commercial set from American Barbell (a premium manufacturer of equipment used in gyms like Gold's Gym and Planet Fitness), could save money in the long run. It isn't cheap, but the urethane-covered set includes 10 pairs, from 5 pounds to 50 pounds, and could be a smart investment if you're thinking about building a garage gym with a couple of your quaranteaming workout buddies.
This (used) full set of rubber-headed dumbbells from Muscle D is much cheaper and includes the same pairs of weights (from 5 pounds to 50 pounds). It does not come with the rack pictured.
Brand-name loyalists may remember that this set of adjustable dumbbells from Bowflex (which appear on our list of the best-reviewed adjustable dumbbells at Amazon) was completely out of stock for a while. But now they're back, though you might have to wait up to three months for them to ship, according to the brand. The 15-in-1 weights can be adjusted to weigh between 5–52.5 pounds each.
Another formerly out-of-stock set, NordicTrack's 15-in-1 dumbbells (each can weigh between 10–55 pounds) are also again available to purchase. They're more expensive, but come with a yearlong membership to the company's "interactive personal training" program. Due to high demand, the brand says dumbbells won't ship until early January.
Kettlebells
Photo: retailer
Kettlebells are generally hard to come by, but mid-weight ones between 10–30 pounds seem to be the most in demand — and therefore the hardest to find. None of AmazonBasics's kettlebells (from 10 pounds all the way up to 60 pounds) are in stock, for example. Goldens' Cast Iron, however, has kettlebells ready to ship, including those mid-weight ones. They're in kilograms instead of pounds, so you might want to reference a conversion chart to make sure you're getting the ones you want. While kettlebells from 8 kilograms (18 pounds) to 20 kilograms (44 pounds) are available right now, the brand's heavier ones are currently out of stock.
This no-fuss line has all of their kettlebells in stock, starting at 10 pounds all the way up to 80 pounds.
Another basic line of kettlebells you can get in 5- to 50-pound weights. All available sizes are ready to ship within a week.
Primo Fitness also has new, ready-to-ship kettlebells in weights between 8–24 kilograms.
This three-piece set comes with a 5-pound, 10-pound, and 15-pound kettlebell, plus a storage rack, for $60. It also ships free, making it a pretty good bet, and sure beats buying them piecemeal.
Perform Better sells a bunch of different training and rehabilitation equipment, including kettlebells that start at 2 kilos and go all the way up to 60 kilos (out of the 22 sizes available, only a handful are sold out). While they're technically available for preorder, the company says most sizes should be shipping by the end of January. For those unsure about taking a chance on a new retailer, this writer recently bought some pilates gear from Perform Better and had a fantastic experience.