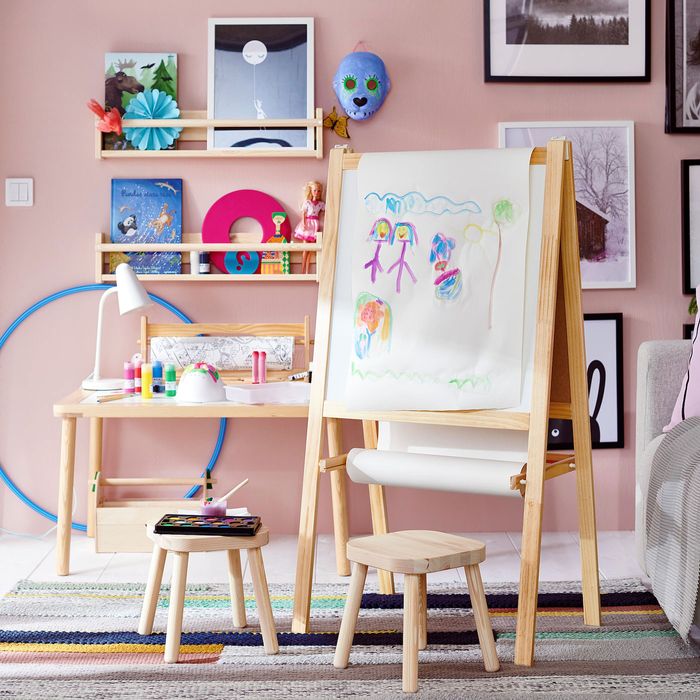 You might think an easel for kids is just a surface (that isn't your dining-room table) for them to draw on. But artists and educators say that is just a surface benefit of getting one. As painter and arts educator Kate Mangold explains, "The point of an easel is to get a child standing up and moving their marks" — or the squiggles, lines, and dots they make with whatever drawing utensil or paint they're using — "to engage large motor skills like shoulder rotation and core strength." Using an easel can also help kids develop hand-eye coordination and, of course, "expressive language, as well as social-emotional and cognitive skills," she adds. But with lots of easels on the market — most of which can provide all of the aforementioned benefits — you might be looking for a little assistance finding a style for your budding Basquiat or adolescent Kahlo. To help, we spoke to Mangold and six other artists, teachers, and art professionals — many of whom are also parents — about the ones they'd recommend. Their nine favorite easels for kids below include a range of options at a range of price points, from a $20 (art-teacher-approved) easel to one with plenty of storage to a model more appropriate for teens who are getting serious about their work.
Best overall art easel for kids
This easel from Melissa and Doug is a favorite of Tze Chun, the founder of online gallery Uprise Art, and artist Dana Bell. The adjustable-height easel has a dry-erase board one one side and a chalkboard on the other, with a dowel between the two sides that can hold a roll of paper. (Bell notes that the dowel is "easily refillable with paper from Ikea," so you don't have to splurge on fancy stuff.) It also comes with a child-safe paper cutter, clips, and two large plastic trays for storage. Chun notes that the easel has three height settings, "so it's one of the rare kids items that they'll use for a number of years." She says the easel's "lowest setting worked really well for our daughter at age 2.5," adding that "a year later, we still haven't moved on to the second height." She also assures this easel is fairly compact. "We were nervous about how much space it would take up, but we've actually been keeping it expanded and in the living room since all the art supplies are neatly tucked away in the included cup holders," says Chun. But "if you do want it out of sight, it folds up pretty compact and can fit in a closet," she explains.
Best (less-expensive) art easel for kids
This easel from Ikea got a couple of mentions for its affordable price of just $20. Mangold says it "has everything you need to get started" and Rebeca Raney, an artist and arts educator, calls it a "a great product for the price," adding that it "makes a lovely birthday gift." The easel made of solid pine has a blackboard on one side and a dry-erase board on the other, and comes with a built-in storage tray and a dowel to add a roll of paper (sold separately). "Every nursery school has multiples of this one," says Raney, who notes that "Ikea does a super job with their art products." While it doesn't have an adjustable height, Raney says it can be easily folded up and "tucked into a coat closet" when you need to store it.
Best art easel with built-in storage for kids