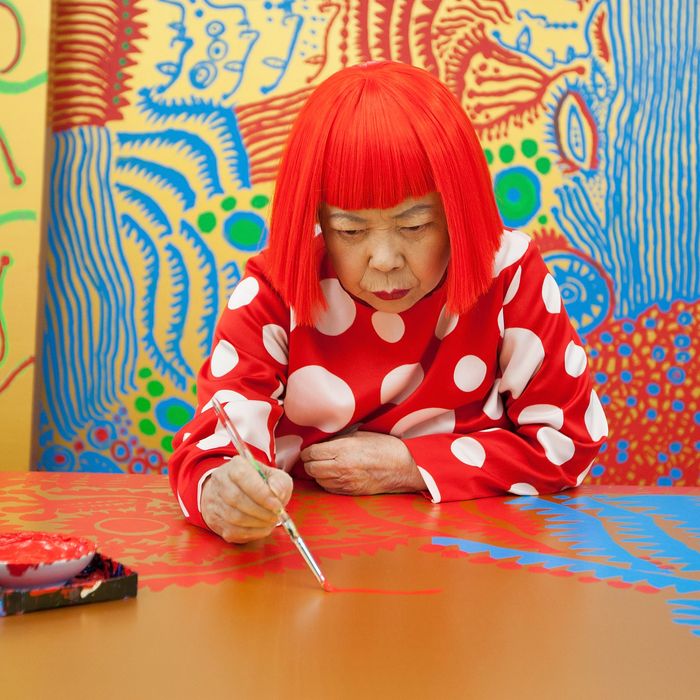 Yayoi Kusama in her Tokyo studio.
Photo-Illustration: Jeremy Sutton-Hibbert/Getty/Getty Images
If you want to make an artist happy this holiday season (but also: any time) give them art supplies. Wrapping up pads of fancy paper or rich paint pigments shows that you're interested in what they do and support all their hard work. The challenge is when you're not sure which pencils to get your friend who draws or what kind of 35mm film is best for your photographer sister. As an illustrator who also uses drawing to relax, I can recommend a ton of gift-worthy colored pencils, pens, and even watercolor pads. For the rest I combed the Strategist archive to find all the best art supplies we've written about that would make great gifts. Everything below comes highly recommended by a real-life artist, so you can be sure the artist in your life will also approve.
For painters
If you're stumped for what to give the painter in your life, try getting them something that's slightly adjacent to what they use in their work. This lets them enjoy the creative process without the pressure of producing something perfect. Artist Ashley Longshore paints mostly in acrylic but she still enjoys painting for fun with this set of watercolors. "It has one of the widest ranges of colors and the best pigmentation," she says of her favorite watercolor palette.
If you want to buy some paper to go with Longshore's favorite watercolors, I suggest this Arches watercolor block. The pages are glued to each other on the edges creating a sturdy chunk of paper to work on. When your paint dries, all you have to do to separate it is run a letter opener or a butter knife between your painting and the rest of the block. The glue keeps your painting nice and flat (no warping) while it's wet and acts as a useful makeshift lap easel so you don't have to bring one on outdoor painting trips.
If they're short on space, author Raven Leilani suggests this lightweight foldable easel that she uses in her Brooklyn apartment. "I can fold it and stow it away without it being too bulky," she says.
For illustrators
When I'm working on an illustration I will often draw the same thing five or six times until I get it just right. Since tracing paper doesn't hold ink well and tends to smudge easily, I use a light box like this one to take my drawings from sketch to final illustration. (It would also make a good gift for photographers to look at their negatives.)
Most of my drawings are done using either a brush tip pen or an actual brush and ink. This is the ink I like best because it doesn't fade over time, and it's waterproof, so once it's dry you can go over it in watercolor and it won't bleed. Plus the bottle is so very nice to look at.
If I am short on time and want something that doesn't need to be scanned, I'll draw on my iPad with an Apple pencil. The pair would be a fantastic gift for any artist but especially for illustrators, since it saves time and lets them take on more jobs by working digitally.
For sculptors
When we asked ceramicist Katie Kimmel, who's best known for her cheery animal sculptures, to teach us how to make an animal vase in quarantine, she turned us on to CelluClay. The instant paper maché powder is easy to use and air dries to finish. For sculptors used to complicated and time consuming processes like carving marble or casting in bronze, giving them a 5-pound bag of this stuff will allow them to just play.
If the sculptor in your life works in real clay, they might like a set of these pottery sponges we found out about from Josephine Heilpern, ceramist and founder of Bed-Stuy-based Recreation Center. According to her, using them makes the mug or whatever you're sculpting really smooth, so you don't have to do any sanding later on.
For photographers
Photographer Edith Young carries these black-and-white disposable cameras with her when she wants to shoot film but doesn't want to put her nice camera at risk. Because they're under $20, they'd also make a great white elephant gift.
To add a little something special to pictures taken on a phone, photographer Dan Rubin likes this anamorphic lens that he says provides "a cinematic view of the world."
For textile artists
I recently got into painting on fabric while working on a bunch of custom-illustrated face masks. Now that the project is over I'm looking for other things to embellish — scarves, tote bags, white pants. This starter pack from the same company where I bought my favorite fabric paints would make a great gift for someone interested in making hand-painted textiles of any kind.