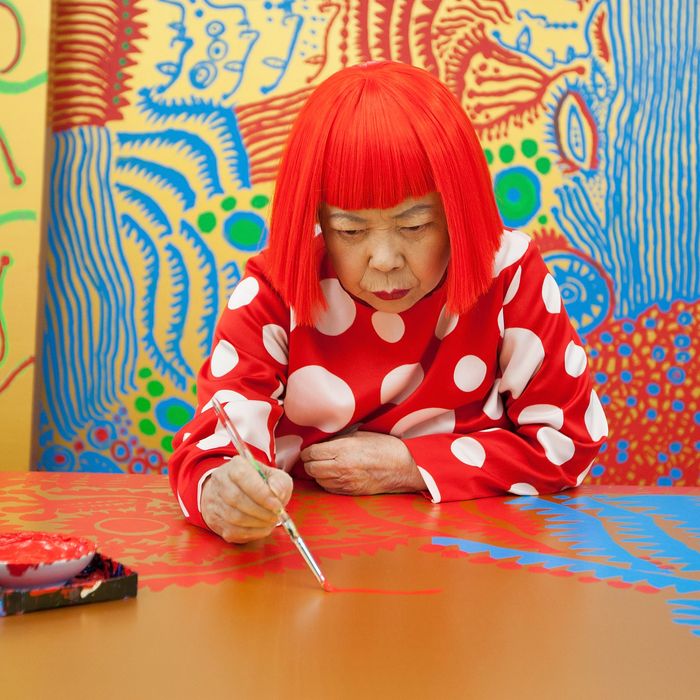 Yayoi Kusama in her Tokyo studio.
Photo-Illustration: Jeremy Sutton-Hibbert/Getty/Getty Images
If you want to make an artist happy this holiday season (but also: any time) give them art supplies. Wrapping up pads of fancy paper or rich paint pigments shows that you're interested in what they do and support all their hard work. The challenge is when you're not sure which pencils to get your friend who draws or what kind of 35mm film is best for your photographer sister. As an illustrator who also uses drawing to relax, I can recommend a ton of gift-worthy colored pencils, pens, and even watercolor pads. For the rest I combed the Strategist archive to find all the best art supplies we've written about that would make great gifts. Everything below comes highly recommended by a real-life artist, so you can be sure the artist in your life will also approve.
For painters
If you're stumped for what to give the painter in your life, try getting them something that's slightly adjacent to what they use in their work. This lets them enjoy the creative process without the pressure of producing something perfect. Artist Ashley Longshore paints mostly in acrylic but she still enjoys painting for fun with this set of watercolors. "It has one of the widest ranges of colors and the best pigmentation," she says of her favorite watercolor palette.
If you want to buy some paper to go with Longshore's favorite watercolors, I suggest this Arches watercolor block. The pages are glued to each other on the edges creating a sturdy chunk of paper to work on. When your paint dries, all you have to do to separate it is run a letter opener or a butter knife between your painting and the rest of the block. The glue keeps your painting nice and flat (no warping) while it's wet and acts as a useful makeshift lap easel so you don't have to bring one on outdoor painting trips.
If they're short on space, author Raven Leilani suggests this lightweight foldable easel that she uses in her Brooklyn apartment. "I can fold it and stow it away without it being too bulky," she says.
For illustrators