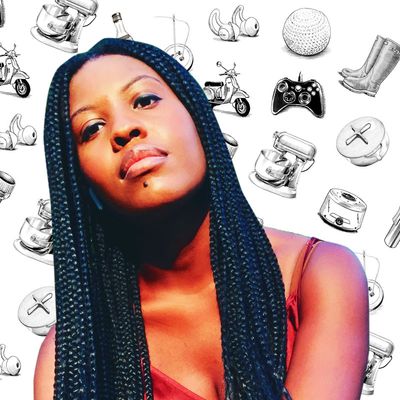 Photo-Illustration: courtesy
If you're like us, you've probably wondered what famous people add to their carts. Not the JAR brooch and Louis XV chair but the hairspray and the electric toothbrush. We asked author Raven Leilani — whose novel Luster debuted this month — about the easel, yoga clothes, and head wrap she can't live without.
I paint a lot in my off time, and this easel is just something that's easy to set up. It's really great because I live in an apartment in Brooklyn, and with the easel, I can fold it and stow it away without it being too bulky. I usually set it up by a window. I paint in my bedroom, and with this I can turn my bedroom into a little studio.
Acrylic paint is generally pretty much the same across all brands, but Winsor & Newton is the one I like to splurge on when buying art supplies. I really love it for the softness of the texture and how easily you can blend with it. You can really feel the difference in the paint. It doesn't clump, it's very smooth, and the pigment is very, very rich. Acrylic is ultimately plastic, right? So it dries really fast, which is great because you can make mistakes and just paint over them really quickly.
I love this brand. Their pieces are ethically made and very comfortable. I can just throw on the bra and leggings and go about my day. I will say, there's no compliment better than a compliment from another woman, and whenever I wear this I get the most compliments from other women. I feel like it suits many body types — you don't have to have a perfect body to wear this and look good in it. I take these long walks, often from Brooklyn into Manhattan, and it's one of my preferred outfits for those long — like seven-mile — walks. I have it in yellow, which is no longer available — but I love yellow, I think it's actually my favorite color, which is a new development in my life. I painted the wall in my bedroom yellow so I would have a non-murder-y place to do reading events. In general, I think yellow is really beautiful, especially on Black women. There's this running joke that Black women invented yellow. It's really just a beautiful, bright, happy color.
I first read this years ago, and the one essay I keep coming back to is the essay on erotics, which sort of gave me permission to come to the page how I wanted to come to the page. It talks about expression in a way that just gave me permission to splay and to be overt with my feelings.
The very first time I had a cappuccino, I was in Florence. I was a teenager in Italy in college. For years, I'd been trying to recreate it. I didn't realize — and maybe I shouldn't admit this because of the espresso community — that it was just simply coffee and milk. That's a combination that I have a weird, almost allergic reaction to; I'm a person with a very delicate constitution, so I always use oat milk. It was a revelation to be able to make my own cappuccinos at home — being able to froth milk and go sit in front of the TV. It's nice to be able to do that on a rainy day. It was one-hundred percent a quarantine project where I was like, "How do I introduce some pleasure to my life?" I was relieved to find a ritual to start my day in a way that feels good.
This, too, was kind of a quarantine buy. My partner and I were watching movies, as we do, and thinking about the things we just won't be able to do for a while. Going to the movies is one of those things. It's something we loved doing — we'd go to Nitehawk — but since that probably won't be happening for a while, we got the projector to see if we could replicate the experience. It actually is pretty great. We set it up and got a white canvas thing you can hang from the ceiling, and watching new and old movies that way, in the comfort of our home, is actually quite special. It's been a nice surprise, and I wouldn't have thought it would make such a difference. We've watched Miyazaki's Spirited Away, an old classic that I love to rewatch, and also There Will Be Blood and The Man Who Wasn't There.
I'm West Indian to my core. If you have stomach issues, ginger root is a good catchall — you put it in tea, you put it in food, or just eat it raw and you feel better. I kind of have to do a lot to keep my body stable, and this is just a nice thing you can get from the grocery store for however many cents. It sets you right. I don't love the taste — it's very potent, like raw garlic. But I think we all have to find things that work with our bodies, and this is one of the few things I can always count on.
I was in Soho and went into this apothecary that had a big, beautiful skin-care display and asked for something that is no fuss, that I can do daily. I was new to toner — very, very new. I don't have to do much for my skin, but I wanted to do a little more. This is like one of those jokes that I put on Twitter and no one liked it — the kind of toner where you swab your face and it's like putting out those sticky traps for bugs and you come out in the morning and see what happened and you wish you had never seen that. You put some on a cotton ball — you don't need much — and you swab your face even when you think it's clean. When you take the cotton ball away it's just like, "Oh my God." It's really powerful, but it doesn't strip your skin.
Black hair is very, very delicate. I oscillate between wearing braids and wearing my hair out in an Afro, and it's important to protect our hair. Women will use silk pillowcases and I do that, too. Some head wraps you can wear about town, they're really nice accessories, and others you can wear to bed or just use to wrap your hair. I go to the brand's store in Brooklyn — it's in Industry City, and it's really, really wonderful. I'm pretty sure it's Black-owned and they have a lot of beautiful wraps, a good variety.
This is silky and it's light, but it gives you enough coverage where your skin looks really glowy and kind of perfect. It also actually smells good without being overpowering. Pat McGrath is a Black woman, so her foundations work so well with Black skin.
If I'm making plans or doing a budget, I need to physically write those things out. When I was at NYU studying for my MFA, I would go to a really beautiful shop, Goods for the Study, which is connected to McNally Jackson. I went to the one on 8th Street to browse the pens and paper. I'd buy so much. This pen is really beautiful because it's sleek and heavy. I love a heavy pen. It's really smooth. It's the pen that I signed my first crop of books with, so it's special to me.
I love Muji — partly, I think, because you go into the store and it smells so good with the humidifiers and diffusers they always have going. With notebooks, I always tend toward the plain. I love a nice, plain, simple notebook. Unlined, no design on the cover, and something I can tote around that isn't too much trouble. The Muji recycled-paper notebook is really just plain white paper bound in brown paper, and it has the perfect binding that gives it a flat spine. I prefer that to a spiral. I've carried one around with me for years.
The Strategist is designed to surface the most useful, expert recommendations for things to buy across the vast e-commerce landscape. Some of our latest conquests include the best acne treatments, rolling luggage, pillows for side sleepers, natural anxiety remedies, and bath towels. We update links when possible, but note that deals can expire and all prices are subject to change.