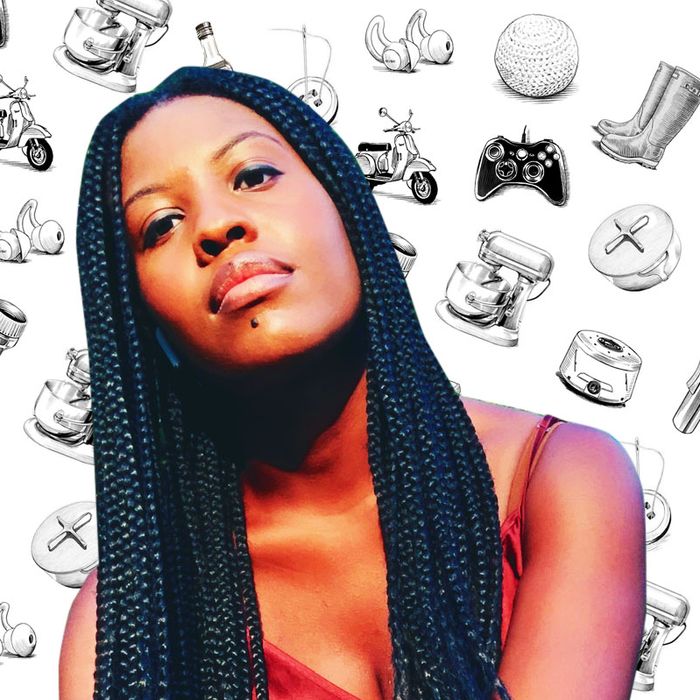 Photo-Illustration: courtesy
If you're like us, you've probably wondered what famous people add to their carts. Not the JAR brooch and Louis XV chair but the hairspray and the electric toothbrush. We asked author Raven Leilani — whose novel Luster debuted this month — about the easel, yoga clothes, and head wrap she can't live without.
I paint a lot in my off time, and this easel is just something that's easy to set up. It's really great because I live in an apartment in Brooklyn, and with the easel, I can fold it and stow it away without it being too bulky. I usually set it up by a window. I paint in my bedroom, and with this I can turn my bedroom into a little studio.
Acrylic paint is generally pretty much the same across all brands, but Winsor & Newton is the one I like to splurge on when buying art supplies. I really love it for the softness of the texture and how easily you can blend with it. You can really feel the difference in the paint. It doesn't clump, it's very smooth, and the pigment is very, very rich. Acrylic is ultimately plastic, right? So it dries really fast, which is great because you can make mistakes and just paint over them really quickly.
I love this brand. Their pieces are ethically made and very comfortable. I can just throw on the bra and leggings and go about my day. I will say, there's no compliment better than a compliment from another woman, and whenever I wear this I get the most compliments from other women. I feel like it suits many body types — you don't have to have a perfect body to wear this and look good in it. I take these long walks, often from Brooklyn into Manhattan, and it's one of my preferred outfits for those long — like seven-mile — walks. I have it in yellow, which is no longer available — but I love yellow, I think it's actually my favorite color, which is a new development in my life. I painted the wall in my bedroom yellow so I would have a non-murder-y place to do reading events. In general, I think yellow is really beautiful, especially on Black women. There's this running joke that Black women invented yellow. It's really just a beautiful, bright, happy color.
I first read this years ago, and the one essay I keep coming back to is the essay on erotics, which sort of gave me permission to come to the page how I wanted to come to the page. It talks about expression in a way that just gave me permission to splay and to be overt with my feelings.