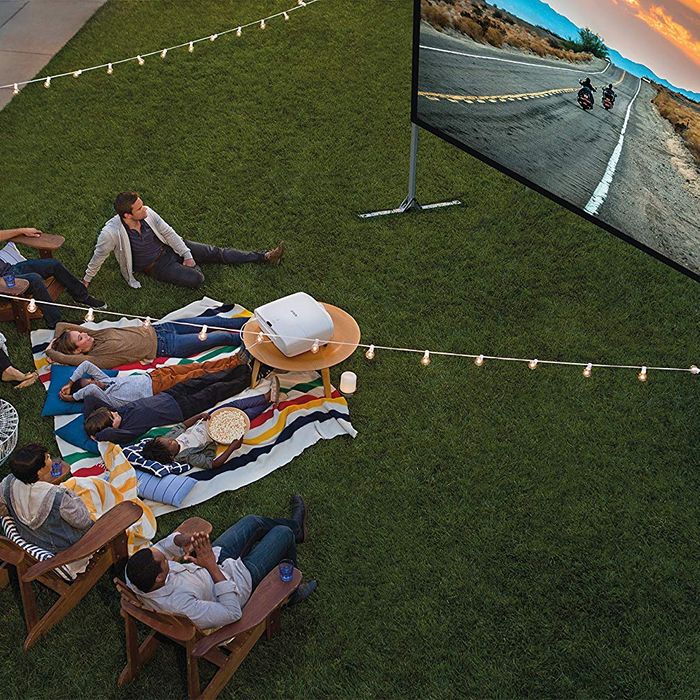 Photo: Courtesy of the retailer.
Here at the Strategist, we like to think of ourselves as crazy (in the good way) about the stuff we buy, but as much as we'd like to, we can't try everything. Which is why we have People's Choice, in which we find the best-reviewed products and single out the most convincing ones. (You can learn more about our rating system and how we pick each item here.)
And while we've written about mini-projectors and home-theater projectors, here, we've rounded up the best projector screens, as praised by the most enthusiastic reviewers at Amazon.
Best-rated projector screen
"This screen is unquestionably everything you need in a projector screen, and I went through 2 others before I found this one," says one happy customer. Another writes, "Once I put this grey 120" screen up, it easily looked 20x better." They add, "The borders help to be able to set up the perfect picture and look awesome! Better definition, better color contrast, and looks way better with the lights on." Many five-star reviewers are particularly impressed with the felt frame, which "does a fantastic job of absorbing light, thus if you set your zoom so that a few pixels fall onto the edge of the screen you won't even see it," says one reviewer, who also notes that the screen doesn't have any trademarks or brand names to obscure the view. Several reviewers call out the black felt frame, which one reviewer says, "helps to create contrast and the resolution is very clear and sharp."
Best-rated (less expensive) projector screen
Many reviewers note the convenience and affordability of this screen when on the road for conferences and business meetings. " I run conferences at hotels and have saved a fortune in hotel A/V costs by buying several of these for each conference and having them shipping directly to the hotels (and at no extra cost via Amazon Prime)," one reviewer writes. Another reviewer, who describes herself as a "one-woman show," says, "It is very easy to travel with in my SUV, super easy to set up, and is stable. I have had no issues at all." The tripod design is convenient for keeping at home, too, and many reviewers mention the ease of setup and the quality of the stand itself. As one reviewer concludes, "The product is a good value and both the upper and lower borders are adjustable for any room."
And now for some micro-picks of every type of projector screen you might be looking for.
Best manual projector screen
"I chose this particular model because it is one of the only manual tab-tension screens I can find on the market," says one reviewer of this manual projector screen. Another suggests, "Skip the sheet, skip the do it yourself screen material, and skip those goofy blow-in-the-wind blow up things. This screen is durable, the retractor mechanisms work well, the material is plenty thick." Plus, several reviewers note that this projector screen works well with even the cheapest, low-lumen projectors. As one explains, "The screen still catches every bit of it's light. Very easy to set up and take down, I just hang it off my deck, and the soft close feature is very nice."
Best motorized projector screen
Beware the massive box when you order this projector screen, as many amused reviewers noted the size. "The delivery was on time and was rather entertaining as the box is rather long," one warns. But size aside, reviewers also appreciate the remote-powered movement that allows the screen to go up and down. "The motor has stops built in so you can leave the switch in the up or down pole position and it will stop at its limits," informs one pleased reviewer. "This thing worked right out of the box. No wrinkles, no edge curl of notice, no smell, nothing but smooth operation and cinematic awesomeness," says one happy reviewer who paired the screen with a new 4K projector, a video game console, Sunday football, and a streaming audio and video set. Another customer does warn, however, that when installed in a room with "a lot of ambient light and despite having a very good projector (Epson 3500) it does require shades to be drawn during the middle of the day."
Best rear projection screen
"We use this screen in various conditions, take it out of our production truck, set it up quickly and use it for either front or rear projection," says one reviewer. Another notes, "There were some wrinkles in the screen when first attached, but we did as suggested, set it up with the back, black side, facing the sun, and after 1 1/2 hours, there were absolutely no wrinkles or fold lines anywhere on the screen, even searching for any with my face a foot away." And if you don't even want to look at the instructions for assembly, this reviewer didn't with success: "It's sturdy, not very heavy, I carried it myself from the lawn and hung up by myself, just a little cumbersome to do alone (woman in my 60s, but in good shape, LOL)."
Best folding projector screen
"I've only put it up and taken it down twice so far but it's truly amazing. I did a lot of research on the best projector screens. I guess I can't swear this is the best one for you, but for me, this is it. It's very portable and easy to put up and take down. We had a Super Bowl party and projected the game on this outside … You just haven't had a better Super Bowl viewing experience unless you were there in person! We've watched a few movies on it indoors, and it's great for that, too."
Best inflatable projector screen
"I've used this every chance I could since I bought it," says one reviewer. "This is so great and so easy. Easy instructions, fantastic picture, and quality. All the tools you could need included. It actually goes back in the bag! How many inflatable items ever fit back in the bag?" Beyond fitting back in the bag, "no matter how you fold it," this inflatable projector also has high reviews due to the "surprisingly quiet" motor for inflation. As another reviewer explains, "The frame for this screen inflated in I swear like 15 seconds. Yes, you do need to leave the fan blowing to keep it inflated, however it is so quiet that we forget it's even on. At a distance of 8 feet away, you almost can't hear anything at all." Stable, easy to set up and tear down, this projector screen is "a huge conversation piece and everyone wanted another movie night soon."