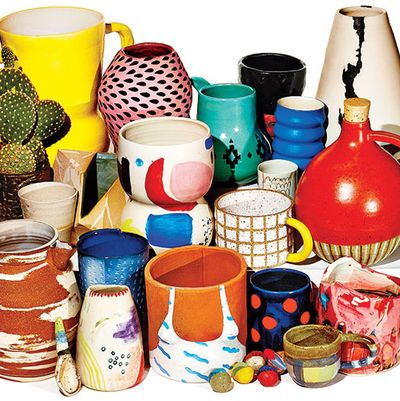 Status can be a funny thing. Of course, its most obvious iteration comes with shiny hardware and easily recognizable logos, but it gets far more interesting as you narrow it down to the more opaque signals — when the way you tuck your shirt, or what you eat for breakfast, or your particular brand of notebook can mark you as in or out. And of course, what counts as a status item varies wildly across human tribes. In our new series, Insider Goods, we're talking to tribe members (some with their real names, some anonymously) to find out the status items among art-gallery assistants, or Broadway actors, or architects. Today, we have Josephine Heilpern, ceramist and founder of the Bed-Stuy-based Recreation Center, one of the original hippie urban clay-makers, artisanal Brooklyn's favorite hobby turned profession.
"I feel like we all wear the same shoes. Right now, I wear really comfortable black, lace-up Chippewa work boots, and people ask me if I'm a construction worker. But of course, I went through a huge Dansko phase. Blundstones are also everywhere. I went through a phase of wearing those a lot. Dansko clogs are definitely a shoe that I've used my entire life. As a kid, I even had a turquoise pair. They're really good because I'm on my feet all day walking around, and they're really comfortable. I can tell that my posture is better when I wear them, and since they're slip-on, they're really good studio shoes. They're a classic hippie-ceramist studio shoe."
"I love Dickies coveralls. When I used to share a studio with Helen Levi, she also always had a pair of cool coveralls; and when I worked at a residency up in Maine, they had a bunch of them hanging there, too. You get so insanely dirty with ceramics, so it's nice to have a full cover over your clothing. A friend who does leather work wears a Ben Davis pottery apron that's split in the middle and goes around your legs, so it covers your legs, even when you're straddling the wheel. That type of apron is popular among potters, too, because they look really cool, and this one is a nice color, well-made, and not dorky-looking. But your butt is still exposed. Aprons, even pottery aprons, just don't cover enough. Like, sometimes when I'm working I'll look at my legs and I'm like, How the fuck did this get here? So the coveralls make the most sense. I've seen coveralls in so many more studios than I've seen aprons."
"A nail brush is super essential. I remember talking to Julianne Ahn from Object & Totem, and she was telling me about this one from Ikea that's so good. Like, we were talking about nail brushes. That's something everyone uses."
"Hand lotion is also so insanely essential because clay sucks all the moisture out of your hands. In the past, I've been to people's studios and I'm like, Oh shit, that feels really good. What's that lotion? I've talked to people about lotions and Weleda Skin Food is really popular. A lot of people agree that it's the best. If I'm going to put something on five times a day, it needs to be really amazing."
"I really like Mudtools, which is a really popular brand for ceramic tools. They have a reputation for being really durable and made of really hard plastic, and they're really attractive looking. I know a lot of people that use the Mud wire cutting tool that's really amazing. Wire-cutting tools can get destroyed or twisted up really fast, but it's how you get the piece off the wheel, so you want the cut to be really clean. You first think any tool can do that, but then you use a tool that's really good and it's like, Whoa. This one is really good and you can tell the difference. I first saw this when someone lent it to me, and I was like, Oh shit, that's the one. If I saw someone with that I'd also know it's the best and that they recognize the best. I actually got all of mine at a ceramic convention that I went to."
"I don't remember in whose studio it was, but they had a little mirror on the wall in front of the wheel, and it's one of the most amazing things to have when you're throwing. It gives you another perspective. It's nice to look at things head-on, but it's hard to see a shape while you're throwing, so the mirror helps you see it from a straight-on point of view without having to bend over. A newbie thrower probably won't have that. If I were to walk into someone's studio and they had a mirror, I would be like, Okay, they know what they're doing. They've thought about this."
"I use a Bailey wheel. Bailey Pottery is a company located in Kingston, New York, and it's not a very expensive wheel, but so far it's lasted me three years. A lot of people also like Brent wheels, and Shimpo is another great brand that's more expensive. Shimpo is pretty fancy, but it's really good. I'm not sure if it's called the RPM of the wheel, but the better the motor, the more clay a wheel can hold, so if you're throwing really big objects, you have to use a wheel that allows for that. The speed on the Shimpo and Brent wheels are very powerful. They're also quiet. My wheel is loud and hisses. Those are more durable and will probably last you a lot longer. I've had friends moving studios ask me about my wheel, and I'll say what I have, and then people usually go for the Shimpo anyway."
"Sponges are really important, too, and Mudtools makes really amazing finishing sponges. They're the shape of a kidney bean. A lot of people buy sea sponges on ceramic websites, but they have too much texture. I first got those Mud sponges because a friend had them and they were just amazing. They have a really good finish, so when you put it on the surface of what you're making, it compresses the clay and makes it really smooth, so you don't have to do any sanding later on. You want your mug, say, to be really smooth on the mouth, so having good finishing sponges is really essential."
The Strategist is designed to surface the most useful, expert recommendations for things to buy across the vast e-commerce landscape. Some of our latest conquests include the best women's jeans, rolling luggage, pillows for side sleepers, ultra-flattering pants, and bath towels. We update links when possible, but note that deals can expire and all prices are subject to change.
Every editorial product is independently selected. If you buy something through our links, New York may earn an affiliate commission.