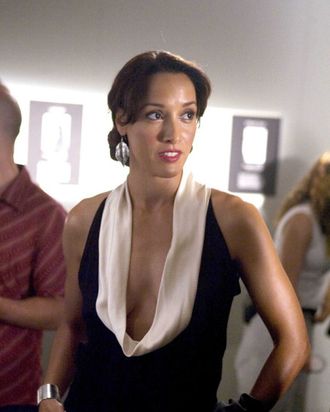 Status can be a funny thing. Of course it is most obviously expressed through shiny hardware and easily recognizable logos, but it gets far more interesting when you start to observe the more subtle signals — the way you tuck your shirt, or what you eat for breakfast, or your particular brand of notebook can mark you as in or out. And of course, what counts as a status item varies wildly across human tribes. In our series, Insider Goods, we're talking to members of different tribes (some with their real names, some anonymously) to learn about the niche status items among plantfluencers, Broadway actors, or ballerinas.
Today, we hear from Lumi Tan — curator at the nonprofit art space The Kitchen, which helped launch the careers of artists such as Robert Mapplethorpe, Sherrie Levine, and Vito Acconci — on the comfortable shoes, bookshelves, and jewelry that are popular among curators.
As a curator, there's typically zero separation between your professional and social life. That's why I tend to wear things that I feel comfortable in no matter the occasion (whether visiting an artist's studio, attending meetings at my office, doing an installation, or going to an opening or another event in the evening). Especially when it comes to shoes — an uncomfortable pair can ruin my whole day. I became obsessed with finding the most stylish orthopedic shoe, and just discovered Hopp, which I now recommend to everybody I know. I'm really into these one-inch ballet flats.
I think all curators also have go-to sneakers that they can wear with everything. Mine are the new Nike AirMax 270 (the ones with the bubble). I always go straight to the boys' section, because the stuff is cheaper and the colors are so much better than the women's.
If you're a curator running around all day and night, you need a bag to pack your water bottle, reading material, and (probably) a Tupperware of salad in. My spring and summer day bag is from Trademark. It's like a hybrid bucket-tote bag with a flat bottom (which helps prevent said Tupperware from tipping over and spilling salad dressing everywhere). They don't make the exact model I have anymore, but this is pretty close.
Curators are very lucky to live with art all day at work. But at home, we need a visual break. So I don't have a lot of artwork hung in my house, but what I do have is hundreds of books. That collection requires a flexible shelving system that I can look at every day [Tan is currently reading Natalie Bayer's Curating As Anti-Racist Practice]. We use the ISS Modern Shelving system, and had an artist-carpenter friend make custom shelf panels for us to fit our crooked apartment.
For years, the art world's industry-standard wallet has been from Commes des Garçons. But I prefer this Fennec wallet which I find much more efficient, comes in beautiful colors, and costs a fraction of the price. It's tiny, but has six card holders, another place for business cards, and a built-in coin purse. Also, it's exceptionally easy to pull a MetroCard out of while you've got a coffee in one hand. Fennec is a Korean company, and I bought it at Aland in Williamsburg.
Curators also have a million tote bags (like most New Yorkers these days). I don't know for sure if the overabundance of tote bags started in the art world, but I feel like we're responsible. I have bins and bins of tote bags from exhibitions, institutions, and galleries; they're all extremely well designed, but it's a little out of control. If I'm lugging around a laptop and extra books, I'll carry one of my many tote bags in addition to my Trademark bag. If you want to flex how long you've been a curator, you might bring out some obscure tote from a biennale ten years ago. But I think it's nice to carry a tote from your own institution. The Kitchen only makes two a year (in conjunction with our gala), so when I spot them around town, it gives me a little thrill.
At The Kitchen we commission a lot of new work, so my job involves copious note-taking during meetings with artists. I like to do all my writing by hand, and I never throw out any notebook; I keep them all as kind of an archive. I love a simple Muji notebook — the thin one that has a black cover and grey binding.
Curators have a terrible reputation for being late for studio visits, which burdens the artist. I like to be precisely on time, but also tend to lose myself in conversations with artists, so wearing a watch keeps me in line. This Braun watch is a classic; it's not overtly design-y, but perfectly balanced.
Jewelry is a big part of how I differentiate outfits from day to day, and I'm very loyal to certain pieces. That could be a curatorial thing, because we become attached to objects and their history. I really appreciate Quarry jewelry designer Ninh Wysocan's singular sculptural sensibility — right now, there's a lot of jewelry out there that's clearly just imitating Calder or Matisse, which as a curator is particularly something you want to avoid. Everything Wysocan makes is minimalist, but not delicate, and plays well with vintage pieces I wear. These earrings are very similar to the ones I wear on a regular basis.
There's a stereotype around curators being really impractical people who deal in impractical things, but it's actually the complete opposite of our daily reality. We all have to be extremely pragmatic multitaskers, and we never want to overshadow the artist or what they're showing, so there's a shared sensibility around not taking up too much visual space. I basically only wear black, gray, or white clothing, and I wear a lot of wrinkle-free, baggy-ish pants that I can cuff to make them fall better on my short frame. I like this pair of fancy joggers from one of Aritzia's in-house brands called Babaton. I have them in white; they're the ideal length for me (they hit around my ankles) and the diagonal seam is key to that perfect fit.
The Strategist is designed to surface the most useful, expert recommendations for things to buy across the vast e-commerce landscape. Some of our latest conquests include the best acne treatments, rolling luggage, pillows for side sleepers, natural anxiety remedies, and bath towels. We update links when possible, but note that deals can expire and all prices are subject to change.