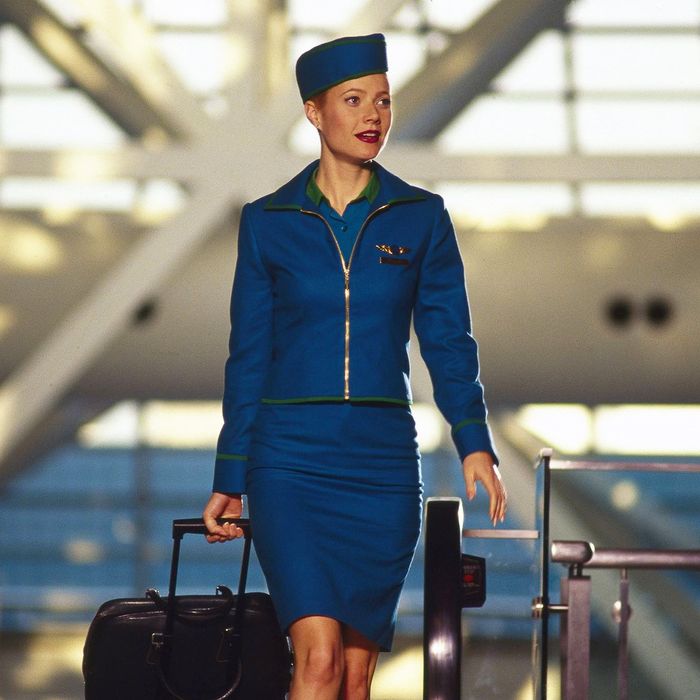 Photo: Darren Michaels/Miramax/Kobal/Shutterstock
Not so long ago, we received a tip about a certain $24 jumpsuit that had become a cult favorite among flight attendants. Word of the so-called traveling jumpsuit first spread among flight attendants in a private Facebook group — a forum one of them called "a safe space" for discussing everything from "zit creams to favorite vibrators." Now, a little over a year later, we've reached out to flight attendants to hear what's popular these days. Below, their recent favorites — from a collapsible kettle made necessary because of COVID restrictions to a humidifier wand — that keep them comfortable on the job.
No less than three flight attendants raved about the utility of their collapsible travel tea kettles, largely made necessary because of stricter COVID restrictions in airports and hotels. "As flight attendants, we rely heavily on caffeine," says Amber Blansit. "Often, our only option is hotel coffee, and since the beginning of the pandemic, sometimes coffee-makers aren't even available to us." Similarly, flight attendant Jennifer Beckwith told us, "While working with COVID restrictions this past year, food resources can be sparse, and if we have a late arrival to a layover, they can be nonexistent — this whole phenomenon has caused a lot of us who did not pack meals in the past to get creative." Their solution: a handy teakettle that collapses into the size of a CD case. The kettle is electric, plugs into a wall outlet, and heats water to a boil in minutes. "I'll never be stuck on a layover without hot tea or coffee ever again, and if I'm feeling extra-spicy, you better believe you can find me heating up some instant ramen or even hot chocolate on those chilly winter nights," says Blansit. Beckwith uses hers for making everything from instant oatmeal and instant rice to Cup-a-Soup. "I get a little creative and set some things on top of the kettle (wrapped in paper or foil, of course) to warm from the steam," says Beckwith. "Cooked veggies are great to add to my soup or rice. I'm telling you, desperate times call for desperate measures."
And if adding hot water won't get the job done, a food-warming tote can come in handy. "This can be found in almost every flight attendant's lunch box or tote bag," says Blansit. "You plug it in and let it do its thing — no more cold leftovers on your layover." A food-warming tote can be used for fresh and frozen foods alike, and while Blansit told us it does take a little longer to heat food than a microwave does, it generally gets the job done in less than half an hour. "It will never get too hot, where it scorches your food. It keeps food warm until you're ready to chow down, and the insulated exterior prevents you from burning yourself," says Blansit.
We're no stranger to the appeal of Stasher bags — they're a plastic-bag alternative beloved by the sustainability minded and those packing kids' lunches alike — and according to flight attendants Julie Kristine and Amanda McKenzie, the bags are a go-to item among their peers as well. "The Stasher bags are a cult favorite because they can hold a surprising amount and pack down really well when not in use. And you can use them to heat things in the ovens on the aircraft," says McKenzie. "They're much lighter than dragging around glass Tupperware to reuse for every hot meal you want."
For those who prefer to pack a larger container, flight attendant Elizabeth Winter says she uses these collapsible silicone containers. "Since COVID began, we have to rely on ourselves more than ever to make sure we are fully prepared," says Winter. "The size of these containers is perfect for packing the best portion, they're super-easy to clean, and they heat up your food pretty evenly."
"Another item I see a lot of flight attendants with, as well as myself, is reusable cutlery," says Winter. "Believe it or not, the cutlery I keep seeing us all with many times comes from the FabFitFun box [a monthly subscription box that comes with beauty, wellness, and home products]. Pretty much everyone I know at work has a subscription." Kristine also packs her own cutlery — according to one of the flight attendants we spoke to, airlines will often provide only one set for flight attendants — and prefers this set of gold-colored flatware (complete with reusable straw and cleaner) that comes in a convenient zippered case. [Editor's note: The HIP Cutlery Set is available only with a FabFitFun subscription.]