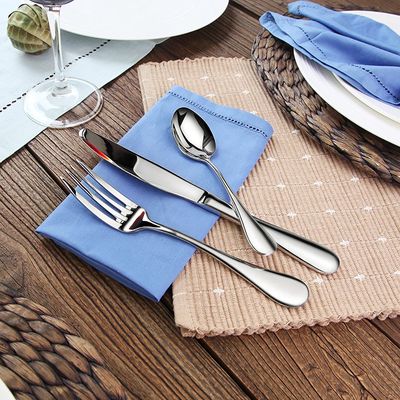 In order to eat all of the gnocchi and canned good creations you've been cooking as of late, a set of flatware — or at least a fork or spoon — is essential. So while we've written about lots of things for your tablescape before — including the best starter plates, dishwasher-safe placemats, and artsy paper napkins— here, we've rounded up the best flatware sets, as praised by the most enthusiastic reviewers on Amazon.
Related Article: Best Drinking Glasses | Best Placemats
Best-rated flatware set
Nearly 80 percent of reviewers give this flatware set five stars, and more than 100 of them specifically mention the set's weight and stability. "The knives, tablespoons, and dinner forks are generous in both weight and size, yet feel perfect in hand," one explains, adding that "the teaspoon and salad fork are scaled down versions of their larger brethren." One reviewer, who is over six feet tall and 250 pounds, claims not to be "gentle on anything honestly," and proudly reports "that these hold up to my abuse." Just as important, reviewers agree that this flatware looks nice, and they appreciate the choice between a scalloped, rounded, pearled, or square edge. Some reviewers do find the ubiquitous AmazonBasics to be an eyesore — it's on "the side of the knife blade adn on the backs of all forks and spoons" — it's not bothersome to most. Including this reviewer, who says, "the cutlery is shiny, simple, elegant, and my grandmother would not turn her nose up at it."
Best-rated (less expensive) flatware set
"Actually pretty and not cheap looking," one reviewer says. Another describes this as a "perfect set, good quality and cheap price." That combination of low price and high quality is why a few reviewers recommend this set for camping: "I didn't want to lose our good set when we went away but I got tired of buying disposables that just fill up the landfill," one says. "This seemed like a good compromise." Many others like it for dorm rooms and small kitchens. One reviewer bought it for their son's dorm, and they appreciate that the little utensil holder "is perfect if you don't have a drawer you can put your silverware in." Another who bought it for their daughter writes "Not the most heavy duty silverware but perfect for the amount of use it will get at college."
Best brushed 20-piece flatware set
Reviewers appreciate the design of these brushed stainless-steel utensils, with more than 80 customers using the word beautiful to describe them. "They look so nice with the flower design and shiny metal," one writes. Another likes how they look so much that she gifted them to her aunt, who "set a beautiful Easter table with this and new china. The flatware was sturdy and substantial," she adds. Many other customers vouch for the durability of this flatware set. One reviewer reports that his set is in "great condition" even after six years of use, writing "no water spots from dishwasher, durable, and not cheap looking whatsoever." Even with that durability, many reviewers point out that this flatware set isn't too heavy. A dozen call it lightweight, including one who says there's "nothing worse than heading out of the kitchen with your nighttime bowl of Cheerios and the damn spoon flips out of the bowl onto the floor," but that she avoids that issue with this "lightweight but not at all flimsy" set.
Best gold flatware set
"I feel like a millionaire every time I eat," writes one reviewer of these gold-plated utensils. Many agree that these are a fancy upgrade to their everyday flatware and say they purchased these for special occasions. "I bought this gold toned set to accompany my Christmas Lenox Holly China set, which has a gold rim around the plates," one writes. It was "a perfect accent to my dishes." Another "used it to add to my thanksgiving tablescape, and it looked great." Others appreciate that, in addition to looking good, this silverware "feels good in your hand" and "looks and feels more expensive than it is." Although one reviewer says they "only washed it by hand, because I don't know what will happened if I put them on the dishwasher machine," dozens of user attest these are dishwasher safe.
Best black flatware set
Shoppers looking for a less-conventional flatware set were delighted by this matte black option from Hiware. "Absolutely love this utensil set. The black finish is totally kick@!# and all my friends want to buy it for themselves," says one satisfied reviewer, who is now "wondering if I could become a distributor for this product." Reviewers do warn, however, that the finish can be a bit delicate and advise hand-washing: "Do not put in the dishwasher or you'll get spots/discoloring," one notes. "I hand-wash this set, and it was worth the price! I'm tired of the traditional silverware, so this was perfect." As long as you do hand-wash, "the color will stay on them perfectly," according to a third reviewer, who adds that they "have a nice hand feel. Wanted black to match my plates and bowls, and this set was the right set for the job."
Best flatware set with handles
Since this flatware set comes with curved handles, it's easier to operate for those who have trouble picking up or holding things. One reviewer with sustained "nerve damage to one hand," ordered these and says that placing them "in and out of the dishwasher is easier for me. If you have arthritis or some minimal defect to your hand, these are great!" And a professional cook whose hands "are pretty shot at my age" says this flatware "has been very helpful. The color is perfect, the sturdiness is exceptional, and they're so easy to hold: The weight is perfect and substantial." At the same time, plenty of reviewers simply bought this set for its vintage look. "I bought this for our camper because they reminded me of a set my great-grandparents bought years ago for our cabin. It gives a rustic elegance to any dishware," one says, while another notes they owned "a similar set waaay back in the '70s and loved it. Be prepared to get a lot of compliments on your table setting!"
Best 36-piece flatware set
One thing to be aware of with this and the next silverware set: You don't get the extra salad fork and larger spoon. If you don't need those things, however, many reviewers highlight the quality of this set, calling them everything from "gleaming" to "heavyweight" to "nicely balanced." According to one reviewer who bought this to replace pieces missing from their current set (and who is apparently not bothered by mismatched cutlery), "they are nicer than the set they are supplementing, and they will work perfectly until we decide to invest in a completely new set." Another plans to "order again when our kids lose them all." And while we can't vouch for the (apparently tiny) silverware this reviewer must have been using in the past, they were certainly emphatic in their praise: "The spoons hold more food than other spoons I have used. The knives hold more peanut butter than other knives I have used… I haven't noticed an advantage of the forks over other flatware, but they do the job of getting the food to my mouth."
Best (less expensive) 36-piece flatware set
"I needed silverware after the ex insisted on taking ours to be annoying," explains one reviewer whose heart decided to pop up on her sleeve. "This is the least expensive set I could find that wasn't flimsy and didn't have 19 different sizes of spoons to deal with. I like it a lot, it's not flimsy or small or cheap looking, and it only comes with the silverware you actually need, one of each thing in one size." The lack of an extra spoon and fork appealed to many other reviewers, too. "I don't like the sets with 2 forks (one small and one long) and 2 spoons (one small and one monster)," says one. "I just wanted a fork, spoon, and knife… No baby forks and no monster spoons." Another calls it an efficient set, with a reasonable price, and "the quality is fantastic." According to another, "they are as sturdy as my good wedding cutlery."
Best 40-piece flatware set
The standout piece from this set is the knife, which many reviewers say is much more of a steak knife than a butter knife. "The serrated blade has cut everything from steak to butter and looked good doing it," one customer writes. Another calls it "perfect for most meats when a steak knife is too much." Although the price is low, many reviewers point out that this does not mean the set feels cheap. "These aren't some flimsy, cheap utensils," one reviewer says. "In fact, we love the heft of them" — so much that they pulled out a scale: "The small fork weighs in at .9 oz. The large one weighs 1.3 oz. The teaspoon is 1.1 oz. and the tablespoon is 1.5 oz. Then the knife weighs in at 2.7 oz." Users also appreciate the shine of the mirrored finish, although one reviewer warns that "fingerprints show a little." But, they acknowledge, "I think I have only ever experienced zero fingerprints on frosted surface cutlery."
Best 65-piece flatware set
For serving big groups of up to 12 people, reviewers vouch for this set from Lenox. Several mention using this set at dinner parties, and one even brings them out for her annual Christmas party. Another, who also used the set during the holidays describes them as "very shiny, good weight but not super heavy," adding that they're nice enough to use with guests or simply during the week. Dozens of reviewers are impressed with the design, which they say makes it appropriate for both everyday and formal use. One describes it as "a beautiful set of stainless that screams quality from the second you look at it," adding that it's "a much heavier stainless than most sets and feels like it should cost much more than it does." Another, who gifted this set to her mother, agrees that "the detail is outstanding as well as the look and feel," adding that "oftentimes silverware is so bulky and big that it is uncomfortable to use and hold in your hand. This is the best size."
Best 65-piece flatware set with satin finish
Of the five available designs, a majority of reviewers chose "Cocoa Blossom," pictured above. It "has a nice swirling pattern that should go with any china and so last in the family for generations," one reviewer says. This set makes the "proud to set the table for any social gathering." Another user, who has "never felt so proud of my cutlery before" goes into a little more detail. Maybe too much: "I wanted one with organic lines, firstly, and secondly, a set that will outlast myself. I admired the smooth, perfect shine and gleam they had, like mirrors; the smooth, soft feel; the weighty, perfectly balanced heft to them; how beautifully it complimented my dishes." Reviewers also say these utensils hold up well to wear: "I'm happy to report I've seen none (zero!) rust stains from the dishwasher and when clean, it still looks as classy as it did out of the package."
Best flatware set for kids
Parents whose children have grown out of using plastic cutlery appreciate this flatware set sized for kids, which "actually function as well as adult sized flatware. The fork has tines that are narrow and sharp enough to pick up food easily, but they're scaled to his size so I'm not worried about him accidentally poking himself in the mouth," according to one parent of a 3-year-old. Another parent, whose four children ages 2 to 9 use this cutlery, says, "The spoons are a good size, the forks are sharp enough to stab food easily, and the knives cut well without being too sharp," adding that they are also durable, unlike plastic cutlery which tends to bend or melt over time. Most parents say that the knife is an appropriate level of sharpness for kids to use safely, but some with younger children prefer to put it to the side, or use it themselves: "The toddlers don't use the knives yet, but they are just the right size to use with spreads so that each spread on the table has a little knife," says one parent.
The Strategist is designed to surface the most useful, expert recommendations for things to buy across the vast e-commerce landscape. Some of our latest conquests include the best dining room decor items, coffee makers, knife sets, Japanese coffee brewer, charcoal water filter, and drinking glasses for water and more. We update links when possible, but note that deals can expire and all prices are subject to change.
Every editorial product is independently selected. If you buy something through our links, New York may earn an affiliate commission.