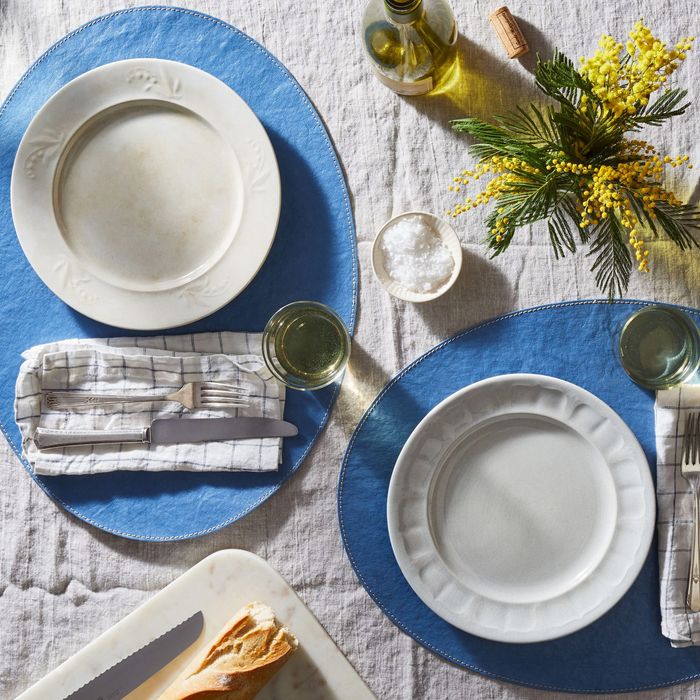 Placemats may seem like a frivolous extra when setting the table, but they actually serve a functional purpose as well as aesthetic. "I learned the hard way in our home with children and a brand-new marble table that a placemat is a necessity," says Neffi Walker, principal designer at The Black Home. "It helps keep our table looking new for as long as possible and helps with inevitable spills." Placemats also protect table surfaces against heat, cold, and food, which is especially important for delicate or vintage pieces, according to Alana Grim, co-owner of ANGL, a vintage-furniture store in Brooklyn. "Anything wooden, marble, lacquer or stone needs protection," she says. But Grim doesn't just use placemats during mealtimes. For anyone working from home — and at the kitchen table — she recommends using a placemat "to layer under your laptop to protect it from scratching your furniture."
It's true that tablecloths also serve these same functions, but designer Marie Burgos thinks placemats are more modern. "I love a long tablecloth for grand dinner parties and formal functions, but I feel that tablecloths are a bit limited and too traditional nowadays," she says. Plus, placemats are more versatile, able to be dropped onto any surface you might be eating a meal on, be it a kitchen island or a table. To help you find the best placemats for every occasion, from everyday furniture protection to a little extra decorative touch, we asked Walker, Grim, Burgos, and five other designers and professional hostesses about their favorite placemats.
Three of our experts recommended using woven placemats for casual use, made of natural fibers like rattan and water hyacinth. Danielle Firle, the founder of Secret Supper, thinks they strike a balance between playful and trendy, without being too formal. They are also easy to clean — just wipe down with a damp cloth or sponge — and that makes them great to use outside. "They would make the cutest base for a summer dinner party and go with practically every table setting," Firle says.
For something a little more dressed up, here are some handwoven rattan placemats with a little extra fringe. "Love all the colors, and it's easy to clean," Grim says, and she thinks they would be perfect for a beach party or a casual dinner. When looking for a nice, everyday placemat, she loves adding textiles to a table that "add softness and richness as well as color and pattern to the space," and this one hits all of those marks.
Event planner Mindy Weiss, who plans events for everyone from the Kardashians to Diana Ross, likes something that's easy to clean for everyday use. "I love the Chilewich placemats made out of a type of woven vinyl that is so easy to clean," she says. Like the rattan and hyacinth placemats above. These are also woven, so they add a nice texture to the table, but they're even easier to clean and more durable because of the unique material.
Weiss also loves placemats from Deborah Rhodes, a New York-based company that specializes in tabletop accessories. And though their placemats can be whimsical, like these fish-shaped wicker ones, or seasonal, like these leaves, Weiss likes the more simple styles for everyday use. These are made of woven nylon, and she likes that they're "round, simple, with a touch of lurex thread and, again, easy to clean." Plus, the lurex thread adds a little metallic shine.
Photo: Retailer
If you want to avoid plastic or easy-to-stain fabric, Firle likes these wipeable, water- and stain-resistant placemats from the Italian company Uashmama. According to the description, these placemats only require a damp cloth to clean, and for heavier-duty spills like wine and oil, they can be prewashed with a mild soap. They can also withstand an iron up to 390 degrees Fahrenheit if you want to give them a more polished look. But in addition to durability, they look nice. Interior designer Cassandra LaValle, likes that they offer "an organic simplicity — in a variety of shapes and colors." Shoppers have their choice between round, oval, and rectangle shape in both neutral and colorful options to fit any décor.
If you're looking for a placemat that's slightly more traditional but that's still functional enough for everyday use, Walker is currently using these watercolor-printed placemats "to brighten up the table." They're not too expensive, with a bright, floral print — and because they're made from a blend of linen and cotton, they're totally machine-washable.