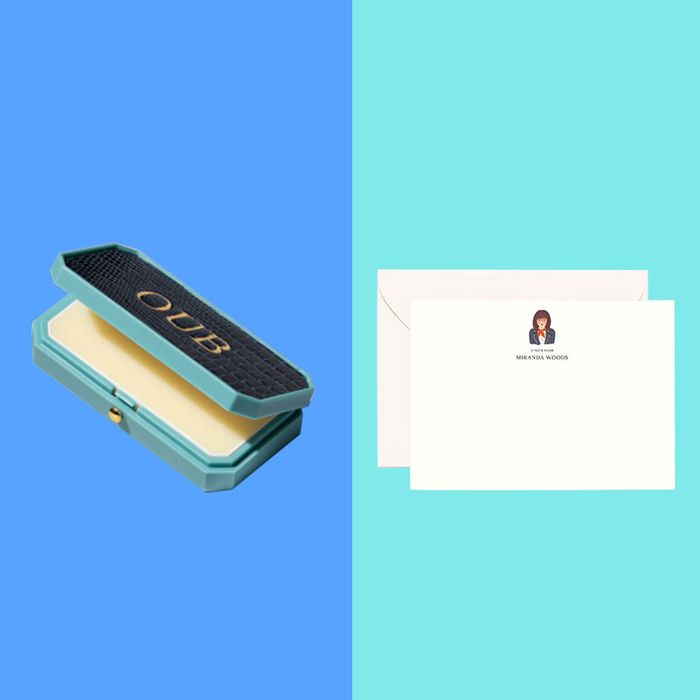 Photo-Illustration: The Strategist; Photos: Retailers
Call me conceited, but I love having my name on things. From denim jackets to tote bags to jewelry, if I can monogram it, I want it. Perhaps this stems from having an older sister who claimed anything unlabeled, or maybe even because I could never find my name on those silly key chains and magnets at gift shops during school trips. Regardless, my closet and home have become proudly riddled with my name and initials, and I've begun to force my ways on friends and family members, too, giving them their very own monogrammed items.
So for those if you who would like to overtly say "This is mine" with all the items in your apartment — or who would like a tasteful, very personalized gift — I've rounded up a plethora of items you can monogram for yourself or a friend. Most pieces are items we've written about before, while others are just from brands we swear by, so no matter what type of item you're looking for (whether slippers, aprons, or leather bags) or whom you're shopping for, we've got you covered.
Just two notes: Each item on this list becomes final sale once you customize it, so think twice before you buy. And because custom monograms tend to take a few weeks, if you're purchasing a gift, make sure you order it as soon as possible to guarantee it arrives in time.
While initially thought of as something suburban mothers would carry to their children's prep-school field-hockey games, writer Sadie Stein told us, "When monochromatic, the boat tote is suddenly elevated, going from Greenwich Academy lacrosse practice to Sunday afternoon at Dover Street Market." And on top of customizing the colors, you can add a monogram to it, too. But regardless of the style you're going for, former Strategist writer Hilary Reid says the bags are just plain practical, making it a great everyday staple for schlepping stuff around.
[Editor's note: Monograms cost an additional $8.]
Yes, another tote, but this Apolis tote is vastly different from the last one. This Strategist-approved, expert-recommended tote is designed to be filled up with lots of heavy produce bought during farmers'-market trips, so the tight weave won't rip regardless of how heavy the fruits, vegetables, and bread are, and you can add more than just a simple monogram to the outside. You can fill up to three lines with text, so on top of your name, you can add a favorite saying or the name of your beloved vacation spot. And if you need any more convincing, pop duo Aly and AJ Michalka say it's one of their favorite things.
[Editor's note: Customization is included in the cost of the bag.]
For a duffel that stands up to time, writer Molly Young recommends this canvas-and-leather bag from Orvis, whose impressive-looking brass plaque can be engraved. This is an updated version of the carryall Young owns, which she says is still in good shape after "a decade of careless handling."
[Editor's note: Engraving costs an additional $8.]
We talk about Yeti a lot. Not only do we think the brand's coolers and freezers are some of the best out there, but Yeti also makes one of our favorite dog beds. We've mentioned its water bottles and tumblers a few times before, too (lots of celebrities say they can't live without them, from Michelle Zauner to Tom Colicchio to JaQuel Knight), because they're functional as well as indestructible — they're insulated and dishwasher safe. And as it turns out, you can even customize them. Not all colors can be customized, so if you had your heart set on navy or black, you're unfortunately out of luck. But there are still tons of options, including light pink, taupe, and olive, so you're sure to find something you like.
[Editor's note: Customization begins at $6.]
Whether you just purchased a new coffee table or harbor a long-standing grudge against water rings, these leather coasters from Celina Mancurti will protect surfaces from even the sweatiest beverages. The leather will patina over time and give this set of four a distinguished look.
[Editor's note: Monograms cost an additional $17.]
Nicky Hilton, who says she loves anything "custom, personalized, or monogrammed," owns multiple monogrammed bags from Stoney Clover Lane because of how fun and personal they are. She even gifted a duffel to Paris. "Anything custom makes such a great gift, and you can leave the cosmetic pouch out on the counter," she adds.
[Editor's note: There is a $15 customization fee with additional cost per letter.]
A phone case is a nice way to integrate monograms into your daily life. We've written about Casetify numerous times before because its cases are attractive yet actually functional. And as a monogram obsessive, I own four monogrammed Casetify cases.
[Editor's note: Customization is included in the price of the case.]
As a recipient of this monogrammed jean jacket, I can tell you it makes for an excellent gift. Madewell came up in our search for the best jean jacket thanks to its thick, sturdy denim. If you'd like a baggier fit, we recommend sizing up.
[Editor's note: Customization is included in the price of the jacket.]
"When I wear them, I feel like I can conquer the world," says Patsy, one of the cool teens we spoke to in this story, of these J.Crew jeans. You can place the monogram (available in two styles) on the back right pocket or the front left hip.
[Editor's note: Monograms cost an additional $10.]
Another relatively expected option is monogrammed towels. Not only would this make a particularly nice housewarming, wedding, or anniversary present, but it will add a classy, personal touch to any bathroom. These Weezie towels came recommended to us by interior designers not only for their personalization option but because of how high quality they are. "They are really soft and have a classic look to them that ties the bathroom together really nicely," one told us.
[Editor's note: Monograms cost an additional $15.]