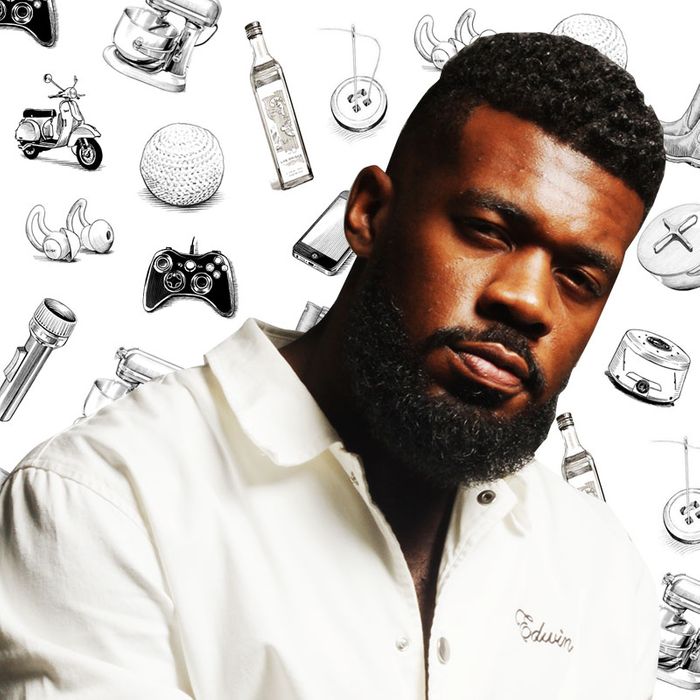 Photo-Illustration: Seye Isikalu
If you're like us, you've probably wondered what famous people add to their carts. Not the JAR brooch and Louis XV chair but the hairspray and the electric toothbrush. We asked JaQuel Knight — the choreographer behind Cardi B and Megan Thee Stallion's "WAP" music video (and other performances by the likes of Beyoncé and Shakira) — about the video camera, moisturizer, and water bottle he can't live without.
This is my secret. I generally do not share it because I don't want it to become too popular and hard to find. My mom actually got me into the product ages ago; she has taken cosmetology classes, and I learn about a lot of great stuff from her. She sends me different beauty packages with cleansers, facial wipes, toners, and all that stuff because she knows I'm sweating a lot, and she wants me to have good skin. She's my queen. This helps me get a nice natural glow and it's also good for repairing any dry areas. It breathes new life into the skin. I'll wash my face, apply this, and then wake up with my skin literally feeling and looking like a million bucks.
The DJI Osmo is one of my favorite products. I own a lot of different cameras — I'm kind of a tech geek — but I probably use this one the most. It's so tiny. Every time I pull it out, people are like, "What is that? No way it's a camera." I use it to capture footage for reference videos. It allows me to capture everything in perfect quality: The head rotates 360 degrees, and can flip it as well, so if I want to film myself, I can. It's super seamless. It also keeps a charge for a couple of weeks. I take it everywhere with me because it's easy to just throw in a pocket.
This is another product I got from Mama Knight — shoutout to her. I fill it up before I go to bed, and when I wake up, my water is still nice and cool. I drink a lot of water — I say it's my favorite drink. It's really important to stay hydrated when I'm dancing or moving around on set, but also even when I'm just at my computer for a long time. I go through anywhere from five to seven refills a day. It's spill-proof: I can knock it over, and I don't have to worry about water getting everywhere. I have a few of them — for the car, for traveling, for my house — but all of them are black and silver.