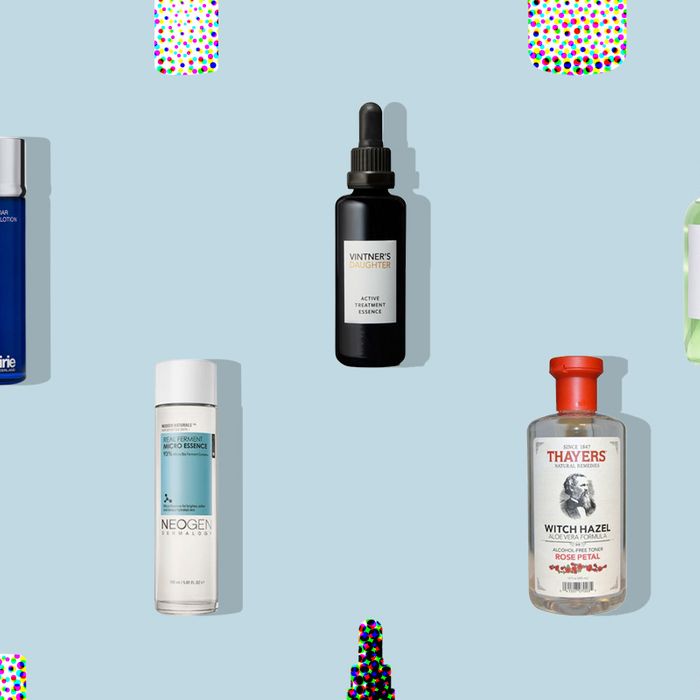 Photo: Courtesy of the Retailers
For many of us, our first experience with toner occurred around the time of our first kiss. Back then, they were alcohol-heavy astringents that promised to nix oil, dry up acne, balance pH, and whisk away any makeup or grime that your cleanser left behind. They stung a bit — in a good way — and it was always satisfying to check the cotton round and see just how clean they made your face. But were they great for skin? Not necessarily — and somewhere along the way they fell out of fashion. "Five years ago, if you asked a dermatologist 'what do you think about this toner,' we'd be like, 'you can skip that part,'" says Dr. Dendy Engelman, a Manhattan-based dermatologist. "We thought of them as another cleansing step, and they could certainly be omitted."
But toner is making a comeback (at the same time as the rise of its easy-to-confuse relatives, essences; more on those below) and the new-and-improved versions come with real-time benefits that reflect a changing tune about how to care for skin. Thanks, in large part, to the increasing knowledge about the skin barrier and microbiome, the healthy bacteria that live in and on our bodies, "we've come to know that we don't want to strip everything away. We don't want to be Über-clean," Engelman says. "We've gotten to a much more elevated sense of active ingredients, and knowing how to support skin versus disrupting it."
The new toners still come with pH-balancing benefits (skin is naturally acidic, but most cleansers are alkaline; restoring that acidic state and "acid mantle" barrier is ideal for skin functioning) and lift away lingering impurities, but also pack in active ingredients, like gentle acid exfoliants, antioxidants, and hyaluronic acid. Bonus: "A toner drenches skin to prepare it for its next steps," explains Jordana Mattioli a medical esthetician in New York City. "Many molecules penetrate skin better when it is damp." Beyond the ingredient perks, rewetting skin post-cleanse makes your serum and moisturizer work even better.
This idea of nourishing skin, instead of stripping it, has also led to the explosion of essences, one of the by-products of the K-beauty boom. Though they've got a similar look and feel to toner, essences are ultralight hydrators that quench skin and offer instant dew with humectants like glycerin. "They're not as light and watery as toners, and aren't as concentrated as serums," Mattioli explains. "The extra layer of nourishment helps skin barrier function while also targeting specific skin concerns." An essence can sub for your moisturizer in the steamy summer months (there are no heavy emollients) and the application differs a bit from toner — instead of applying to a cotton round then swiping or blotting on your face, essences are best patted, or "pressed," into skin with your hands.
Still, the line between the two isn't always clear. Compare, for example, a hydrating toner and an essence, and there really aren't too many differences. "Your essence might double as a toner or a pH-balancing toner packed with hydrating agents can double as an essence," explains Alicia Yoon, founder of K-beauty brand Peach & Lily. It's easier to resist trying to categorize them and instead just choose what feels good and works for your skin. "We've come to such an elevated space in skin care," Engelman says. "We used to have ointments, creams, lotions, and gels. Now we have hybrid gel-creams. Skin care is more nuanced now." An unexpected benefit of all of the new options: You're a lot more likely to find the perfect fit for you. Some worthy options, below.
The Toners
The Smelly French Favorite to Get Baby Skin Overnight
Biologique Recherche Lotion P50 is something of a skin-care legend for its ability to shrink pores, slough off dead skin, clear up acne, and make skin feel freakishly soft in a matter of days. "It's often someone's first experience with acid exfoliation, and that's a special moment when you feel the tingle and see your skin smoother the very next day," Mattioli says. "Over time, your skin gets even smoother, brighter, and clearer." There are five versions, but P50 1970, which contains a controversial E.U.-banned exfoliator called phenol (and makes your face go numb), is the most intense. "Phenol gets demonized, but dermatologists have historically done phenol peels in very high concentrations," Engelman says. "I'm not scared of phenol; I'm a fan of it." One thing to note: It isn't uncommon to look a little red/sunburned as your skin adjusts to P50. For me it usually lasts about a week, but you can temper it by watering it down; just soak your cotton pad with water before dabbing it with the toner.
The Creamy Mix That's Both a Moisturizer and Toner
Laneige Cream Skin Toner & Moisturizer could pass as either an essence or a toner. Either way, it's got an entire jar of cream submerged in the liquid, so you can skip your lotion. In a world trending toward endless skin-care steps, the idea is a welcome respite, particularly if you have sensitive skin and product overload makes your face freak. For a single step, it leaves my skin surprisingly dewy.
The Gentle Amazon One That Smells Like Crushed Roses
If your serums and creams contain exfoliating actives (think retinol and acids), a basic toner, like Thayers Rose Petal Toner, is a better fit. This old-school Amazon best seller functions more as a traditional toner, without any of the drying side effects. Connecticut-grown witch hazel cools, rose water soothes, and aloe vera reduces redness for skin that's clean, moisturized, calm, and dewy. I love it whenever my skin is feeling angsty or needs a break from the harsh stuff.
The Nontoxic Toner That Balances Oil
Leave it to Goop to create a toner that contains crystals. Goop Beauty's G.Tox Malachite + AHA Pore Refining Tonic smells like a spa waiting room (thanks to peppermint, geranium, and lemon) and works to make pores tiny and clear with an exfoliating acid mix, while malachite, a green stone that's high in copper, aids skin detox. I noticed improved texture and an overall glowiness the next day.
The Jasmine-Scented Toner That Controls Breakouts
Adult acne is a drag, but Herbivore Jasmine Green Tea Toner has witch hazel and white willow bark, which simultaneously clarify and soothe, as well as ginger to tone down inflammation. It's nice in that it's a gentler way to stifle breakouts than your teenage spot treatment, which can ultimately make skin more red and angry. Skip the cotton pad and simply spray it on your face after cleansing.
The Derm-Created Toner That Restores pH
This basic toner from German doctor Dr. Barbara Sturm checks all the boxes: It balances pH so your acid mantle can function at its best, removes excess grime, hydrates, and quells inflammation. I personally love a good foaming face wash, and this makes my skin feel balanced and less squeaky afterwards. If you want a straightforward option that'll keep your skin healthy and does everything a toner is supposed to do, here she is.
The Resurfacing Toner That Has Adaptogens
The very glowy Moon Juice founder Amanda Chantal Bacon sought to make a clean version of P50 when she created Moon Juice Beauty Shroom Exfoliating Acid Potion, a blend of glycolic, lactic, and salicylic acids to treat pores and lines as well as adaptogens like tocotrienols and reishi mushroom to strengthen skin barrier. Like P50, my skin felt more like my 9-month-old baby's the morning after — and I found myself skipping foundation, à la Bacon (and baby).
The Triphase Toner That Moonlights As a Highlighter
The StriVectin Advanced Glow Tri-Phase Daily Glow Toner looks more like an eye-makeup remover with its three parts — there's a water phase, with hyaluronic acid and aloe leaf; a milk phase, with exfoliating lactic acid and amino acids; and an oil phase, with mandelic acid (another exfoliator), squalane oil, and licorice root — and you'll need to shake it before you use it. Of all the acid-boosted toners on this list, I found this one to be particularly gentle. It leaves behind an oily sheen in a good, glow-y, I-just-got-back-from-hot-yoga way.
The Toner That Amps Up Cell Turnover
Ren Ready Steady Glow Daily AHA Tonic smells so good — like an Emergen-C packet — and it tingles in a way that makes you feel like it's really working. Three types of acid do away with flakes and add radiance, as well as bring skin's pH to an acidic 3.4, naturally boosting cell turnover. It's also gentle enough to use twice a day — just remember sunscreen since chemical exfoliants (like acids) make your skin more prone to burns.