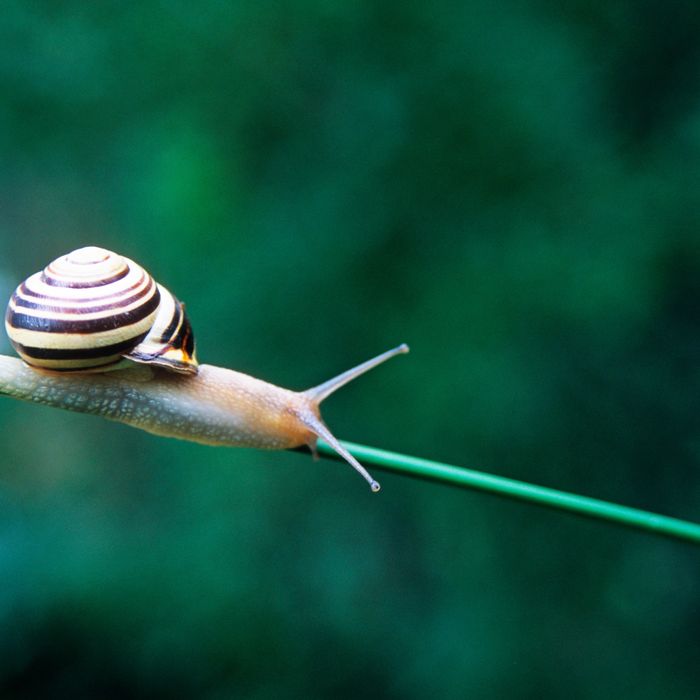 Photo: DEA / V. GIANNELLA/De Agostini via Getty Images
In recent years, snails have gone from garden dweller and French appetizer to practically ubiquitous skin-care ingredient: Their mucin (the slime they trail in their wake) forms the foundation for a recent wave of hyperpopular creams, masks, and serums — many of which we've tried and loved here at the Strategist. Snail mucin was a gateway into K-beauty for our beauty writer Rio Viera-Newton, whose first Google doc included a Cosrx snail-mucin essence and Benton Snail Bee sheet mask.
Though Korean brands may be known for launching the snail craze Stateside, Chileans were actually the first to incorporate snails into skin care after Chilean snail breeders in the '80s marveled at how unusually soft their hands were from handling the snails, leading to the Chilean snail cream Elicina. But on a scientific level, what is snail mucin actually doing? I contacted a few dermatologists to find out.
Most of the snail mucin used for skin care involves the Cryptomphalus aspersa species, a.k.a. the common garden snail. Their mucin contains ingredients like glycoproteins, hyaluronic acid, and glycolic acid (which all have long-documented skin benefits), though snail mucin itself has not been the subject of rigorous studies. It has its enthusiasts throughout the skin-expert community, though. If you've ever tried snail-slime products and noticed your skin looking extra supple and glowy, you're not imagining it. Cosmetic dermatologist Anna Guanche, who stocks snail products at her office at the Bella Skin Institute, tells me that snail mucin seals in moisture and allows active ingredients to penetrate the skin very well. "It prevents dryness and makes the skin look dewy, with fewer allergenic ingredients than our current anti-aging armamentarium. I actually recommend it over actives such as glycolic acid or retinoids." Victoria Fu and Gloria Lu, the chemist duo behind Chemist Confessions — a site that explains the science behind skin care — agree that snail mucin's main benefit for skin is as a hydrating ingredient. New York plastic surgeon Matthew Schulman also called out snail mucin's ability to "improve skin texture and quality" in an interview with the Cut; he currently offers an Escarglow facial involving a combination of microneedling and snail mucin for $375.
Beyond its sealing in moisture and helping skin to heal, new research has shown that snail mucin may have anti-aging potential, too. Dermatologist Joshua Zeichner, the director of cosmetic and clinical research in dermatology at Mount Sinai Hospital — who has lectured on this topic before at the American Academy of Dermatology — notes that the mucous is rich in hyaluronic acid, and has been shown to exhibit antioxidant activities, stimulate collagen production, and enhance wound healing. "Clinical studies have shown that skin-care products containing snail mucin gave statistical improvements in facial lines and wrinkles," he says, though Fu and Lu tell me that these studies should be taken with a grain of salt as sample sizes were small.
If the only thing holding you back from trying snail-slime beauty products (besides the ick factor) is concern for snail welfare, don't worry. I spoke to a representative from AmorePacific (the parent company to snail skin-care-producing brands like Etude House), who told me that harvesting the slime involves having the nocturnal snails crawl around a mesh net in a darkened room for 30 minutes at a time, then transferred back to their natural habitat to rest (every brand representative I spoke to for this story stressed that none of the snails are harmed in the procedure). Cosrx uses a similar process, as does Mizon, which — their rep tells me — heats their mesh nets to increase humidity for a terrarium effect (it ramps up mucin secretion). The snails are never harmed, and their moisturizing slime is then collected and pasteurized for the bottle. Below, a few snail-mucin products recommended by the experts I spoke with, plus a few of our tried-and-true favorites.
If you want something hydrating for skin, Fu recommends Tony Moly's snail mask, which contains 10,000 parts per million of snail mucin.
Another snail mask our beauty writer Rio has tried and loved is Benton's Snail Bee Mask, which she says "works great on my skin because it helps hydrate and treats spots, too."
Guanche says that at her office, they stock SMD Cosmetics' Saromae snail-secretion cream, which she loves because "it smells wonderful and is not slimy at all." She recommends applying it nightly to a clean face or over other active ingredients.
Photo: SHANGZHE
A fixture among Rio's skin-care stories is this Cosrx snail-mucin essence, which she says is a cheaper alternative to SK-II.
Here's a snail cream from Mizon that K-beauty blogger Cat of Snow White and the Asian Pear told us was one of her first K-beauty loves and still remains a