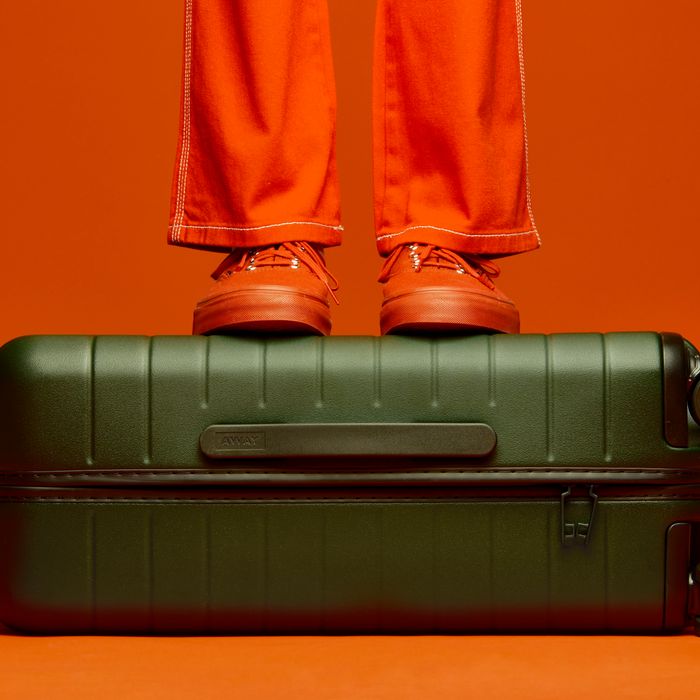 We've written about a lot of luggage, and experts we've spoken to often prefer hard-shell over soft-shell suitcases. They're sturdier and frequently more durable as well as easier to wipe clean and maneuver from luggage racks and overhead bins. Worth noting: They can't be as easily repaired — a crack will usually be fatal, says Tony Pecorella, president and CEO of the Manhattan repair shop Modern Leather Goods. So we asked travel writers, former cabin crew members, and other frequent fliers about their favorite hard-shell suitcases. We also combed through hundreds of reviews on Amazon to find you the best hard-side suitcases for every type of traveler.
Most hard-side luggage is made from plastic composites; polycarbonate is the most durable and flexible, but some use the cheaper (and slightly heavier) ABS. More expensive models are made from aluminum — such as the easily recognizable Rimowa case that's a favorite of Martha Stewart's. The material best for you will largely depend on the kind of trips you plan on taking. If your vacation involves long weekends at a friend's beach house, you can get away with a lighter case made of less durable ABS. But if you're plane- and train-hopping through Europe for the summer or spending several weeks trekking across Southeast Asia, you might want to invest in a sturdier case (like one made of polycarbonate) that can take a knock or two.
If you are away for a short break, you'll likely want a smaller case you can take on the plane as hand luggage. If you're taking longer trips, consider a bigger case you can store in the hold. Size and weight allowances for cases will vary by airline, and most companies we looked into (including Alaska and Delta) measure the dimensions or weight of cases. For ease of comparison, we've focused on carry-on options here, but most companies make these suitcases in larger sizes too.
Four spinner wheels are now pretty standard and make maneuvering your case through packed airport terminals much easier, as it can glide in all directions. While four wheels is definitely the way to go and our recommendation, Pecorella says it's not the best choice from a repair standpoint: "It is always stronger to have the case that has two wheels on it. Those wheels are encased, so the only thing that can really happen on those wheels is that they wear out eventually, like tires on your car." With the four spinners — which Pecorella fully admits to using — he says that because they aren't encased and are instead attached to the bottom of the suitcase, they run the risk of being banged off. "If you're rolling off a curb or you hit the escalator too hard, it'll just snap the wheel right off," he says. "That's one of the biggest repairs we do here all day."
Pecorella says it's important to do your homework when it comes to warranty because, once a hard-side case cracks, it's pretty tough to repair. "This is what we tell our customers all the time: If you are a regular traveler, really look into the luggage brand's warranty and see what they are covering and what they are not covering," he says. All of the cases on this list have a lifetime warranty, which covers your case for life, or a limited lifetime warranty, which means your case is covered for a certain number of years.
Best overall hard-side suitcase
Material: Polycarbonate hard-shell | Capacity: 47.9 L | Wheels: 360-degree spinner wheels | Warranty: Limited lifetime warranty
We recently named the Away suitcase the best in class when it came to rolling luggage, so it's perhaps no surprise that we think it's the best hard-shell case. This style of Away suitcase comes recommended in nearly every size, but the Bigger Carry-On is the most popular. It has almost a 50-liter capacity but still fits in most overhead bins and is perfect for a long trip. Kelly Farber, founder of KF Literary Scouting, took this as her only case on a three-week, seven-city business trip and says, "That thing just would not quit."
No matter what size you get, each case features the desirable qualities our experts look for. "It's sturdy but light and has a USB charger, so I can charge my phone just enough to order an Uber," writer and photographer Nicholas Gill says. "Plus — inside it has a nylon bag where I can toss my clothes after getting caught in a sudden jungle downpour, which always seems to happen." Stephanie Be from TravelBreak and Buena calls out the case's "TSA-approved lock, 360-degree wheels, tough hardware, and sleek design." There is an interior compression divider on one side of the suitcase, which "let us stuff all the things and zip it shut," says Summer Hull, director of travel content at The Points Guy.
Another perk is the limited lifetime warranty, which doesn't expire, though there is a (fairly long) list on what it covers. Away will fix or replace any functional damage to the shell, wheels, handles, zippers, or "anything else that impairs your use of the luggage," according to the website. The battery pack, however, is limited to a two-year warranty.
Best (less expensive) hard-side suitcase
Material: Polycarbonate | Capacity: 43 L | Wheels: 360-degree spinner wheels | Warranty: Limited ten-year warranty
In the past, we've named a suitcase from Amazon Basics or Rockland as our favorite less-expensive option. And while we're still big fans of both cases, they're made from ABS, a less expensive alternative to polycarbonate, which is how they're so affordable. This case from Open Story, though, is made from polycarbonate — and available for less than $200. It also has a ten-year warranty.
Travel blogger Courtney Vondran recommended it, buying the Open Story after her backpack just wasn't up to scratch anymore for frequent work trips. "I needed a solid, functional, affordable (and stylish) carry-on. I think it's a great option for budget travelers or 'first-timer carry-on travelers' who want nice pieces for more affordable prices." Her bag's been everywhere: "Road trips throughout the Midwest, a work trip to Egypt, vacation to L.A., travel conference in Memphis, romantic getaway to Maine, and more." And since you can pick them up in places like Target, she adds that they're super-accessible.
Best lightweight hard-side suitcase
Material: Polycarbonate hard-shell | Capacity: 36 L | Wheels: 360-degree spinner wheels | Warranty: Five-year manufacturer's guarantee
The Rimowa Essential line of suitcases was a very close second to Away — more than ten people mentioned the brand in our survey of the best rolling luggage — but it lost out on the top spot due to its price. This suitcase is less durable than the classic aluminum version, but it shares a long history: Rimowa was the first brand to release a polycarbonate suitcase in 2000, so it has had more than 20 years to perfect its design. And it's a great mix of durability and weight: This carry-on is more than a pound lighter than Away's Bigger Carry-On.
It comes in 11 colors and two finishes and works like a dream, according to owners, almost all of whom praise the wheels. "I won't pretend to understand all the physics behind the bearings and axles on Rimowa's bags, but I do know they spin amazingly well through the airport," Hull says. Chris Schalkx of travel website Rice/Potato says, "This has been one of our best travel investments we've made. The wheels roll as smooth as a knife through butter no matter the terrain they're on."
There's a manufacturer's guarantee of five years if you remember to register your product when purchasing it (otherwise, it only lasts for two). Even in those five years, the warranty only applies "if the usability of the product is considerably adversely affected by a material or manufacturing fault already present at the time of hand-over (defect)," the brand says. Breaks caused by "abrasion, improper use, faulty operation, or externally occurring forces" like cracks, breaks, and scratches caused in flight are not covered. There's a lot of fine print with Rimowa, so we suggest looking into it before you purchase.
Best (less expensive) lightweight hard-side suitcase
Material: ABS hard-shell | Capacity: 38.3 L | Wheels: 360-degree spinner wheels | Warranty: Limited five-year warranty
If you are looking for an inexpensive ABS case, then the Rockland is still our favorite pick. It has the features of a great case (from spinner wheels to a durable shell) as well as a five-year warranty (compared with the AmazonBasics' two-year warranty). It comes in four colors.
Best durable hard-side suitcase
Material: Aluminum hard-shell | Capacity: 35 L |Wheels: 360-degree spinner wheels | Warranty: Five-year manufacturer's guarantee
Another popular offering from Rimowa is the Original line, which comprises the aluminum suitcases that put the brand on the map. They're not cheap, and the aluminum is heavier than the polycarbonate version by about two and a half pounds, but aluminum is the most durable material for hard-shell suitcases. This case ensures that your belongings inside stay safe, which is key for Tom Marchant, co-founder of luxury-travel and lifestyle brand Black Tomato: "My Rimowa has seen quite a few things around the world — including a tumble off the roof rack of a tiny car while winding down roads in Greece — miraculously intact." While the other hard-shells on this list will mostly protect your stuff from the rain, they still have water-permeable fabric zippers. These suitcases close more like trunks with two built-in TSA locks and a completely sealed opening.
The case's other features — dividers, wheels, and warranty — are pretty much the same as on the Essential line, but The Points Guy founder Brian Kelly says that Rimowa's handles stand out; he describes them as "especially awesome for tall people, since the handle extends extra-tall."
Best hard-side suitcase for kids
Material: ABS and polycarbonate hard-shell | Capacity: Not listed | Wheels: 360-degree spinner wheels | Warranty: No warranty
Strategist writer Lauren Ro recently recounted her search for an affordable and attractive-looking suitcase for her toddler, Augie. "It can hold everything Augie needs for a week-plus trip to California, including all his clothes, books, and accoutrements (like his sound machine)," Ro writes. It has a lot of the attractive elements of a full-size suitcase — a built-in lock, spinner wheels, telescoping handle, and compression strap (though not a full divider). Customers on Amazon write that they were impressed by the case's capacity — one woman said that even though she'd bought it for her 4-year-old son, she found herself taking the small case on the occasional business trip herself. It is neat enough to fit under the seat as well as in the overhead bin. One thing to note, however, is that if something breaks, you might have to accept the loss. This case is sold by a third-party seller, so while it is eligible for return within 30 days of purchase from Amazon, the brand's "100% risk-free satisfaction guarantee" isn't exactly spelled out and does not address damage over time.
Best hard-side suitcase for overpackers
Material: Polycarbonate hard-shell | Capacity: 49 - 61 L | Wheels: 360-degree spinner wheels | Warranty: Limited lifetime warranty
I've included this case for its simply ingenious weight indicator, which is favored by Laura Ratliff, the senior editorial director of TripSavvy. According to a Béis customer-service representative, the indicator is activated when you lift the case, and a red mark will appear if the luggage weighs over 50 pounds. Other great features include a built-in laundry and shoe bag as well as several pockets to keep things organized, a TSA approved lock, and the ability to expand by about two inches, making it easy to slot those last few essentials in. "They've really thought of everything," says travel blogger Ciara Johnson, who calls the case her ultimate go-to.
Best expandable suitcase
Material: Polycarbonate hard-shell | Capacity: 44 L | Wheels: 360-degree spinner wheels | Warranty: Two years limited warranty
As a New York–based Brit, artist Oscar yi Hou makes several transatlantic trips per year to visit family and friends. He'll check any old bag into the hold, but says he feels "one's choice of carry-on luggage is far more important," because that bag will be by your side for the whole journey. And — as many travelers experienced last summer — it could end up being the only piece of luggage that arrives at your destination. This Calpak case expands by about two inches, helping yi Hou squeeze more in. It has a polycarbonate shell, but is available for less than $200 — a sort of price usually reserved for less-durable ABS shells. And finally, it comes in a range of seven colors (though Hou keeps things simple with black).
Other hard-side suitcases we've written about
Our experts
• Stephanie Be, founder of Buena and TravelBreak
• Kiana Brooks, associate merchandising manager at Dior
• Hillary Eaton, food and travel writer
• Kelly Farber, founder of KF Literary Scouting
• Nicholas Gill, writer and photographer
• Summer Hull, director of travel content at The Points Guy
• Ciara Johnson, travel blogger at HeyCiara
• Brian Kelly, founder of The Points Guy
• Tom Marchant, co-founder of Black Tomato
• Tony Pecorella, president and CEO of Modern Leather Goods
• Laura Ratliff, senior editorial director at TripSavvy
• Lauren Ro, Strategist writer
• Chris Schalkx, co-founder of Rice/Potato
• Courtney Vondran, travel blogger
• Oscar yi Hou, visual artist
The Strategist is designed to surface the most useful, expert recommendations for things to buy across the vast e-commerce landscape. Some of our latest conquests include the best socks for traveling, travel shoes, dopp kits, rolling luggage, weekend bags, travel necessities, and portable speakers. We update links when possible, but note that deals can expire and all prices are subject to change.
Every editorial product is independently selected. If you buy something through our links, New York may earn an affiliate commission.