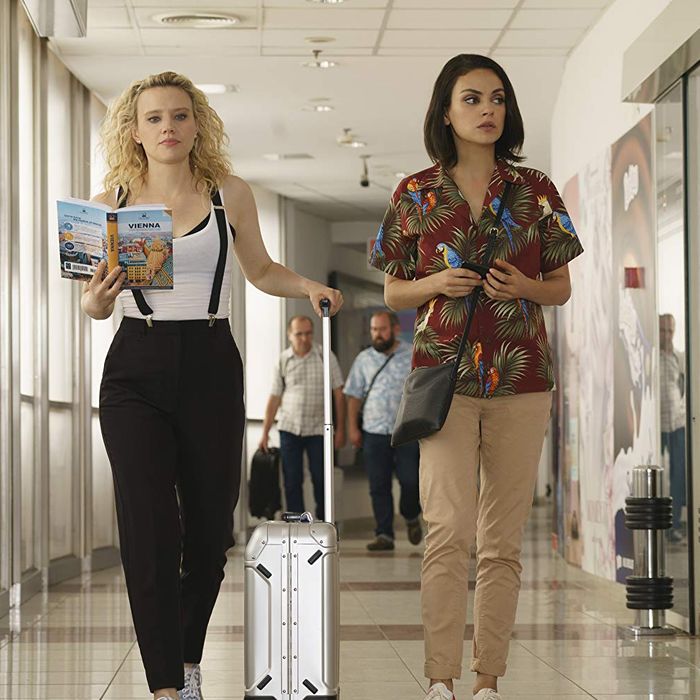 Here at the Strategist, we like to think of ourselves as crazy (in the good way) about the stuff we buy, but as much as we'd like to, we can't try everything. Which is why we have People's Choice, in which we find the best-reviewed products and single out the most convincing ones. (You can learn more about our rating system and how we pick each item here.)
And while we've written before about a bunch of suitcases and travel accessories — including expert-recommended rolling luggage, the best travel backpacks, and even the best personal carry-on bags for flying — here, we've rounded up the best hard-side luggage as praised by the most enthusiastic reviewers on Amazon.
Best-rated hard-side luggage
"For the price I paid, $120, I don't think there's a better suitcase on the market," says one of the roughly 2,400 reviewers to give a five-star rating to Samsonite's Winfield 2. "It looks good, has a quality name, and will fit in with other business travelers (who've often paid 4-5 times the price)." Another reviewer says this suitcase can handle "lots of hauling over cobblestones and rough sidewalks," posing "no problems at all with the spinners." "The wheels work wonderfully, so that you can push the suitcase along with you in an upright position or pull it behind you," adds another satisfied traveler. One reviewer who is "thrilled" with this purchase speaks to this hard-side suitcase's durability, too: "Between various taxi drivers, tour-company baggage handlers, bellhops, bus drivers, hotel personnel, and British Air baggage handlers, this suitcase is ready to go again and again!" Another reviewer who claims to have "traveled 72,000 miles last year" says this suitcase still looks sharp. "The aesthetics are beautiful with sleek and futuristic lines and ridges — this luggage belongs in a fashion show."
Best-rated (less expensive) hard-side luggage
"Despite its [diminutive] size, it's quite roomy," writes one user, echoing dozens of reviewers who describe this as the "perfect" size for a carry-on. "Inside the suitcase seems to be very spacious, you can fit clothes on both sides and it has the extra zipper to make the suitcase bigger when you needed more room," one says. "Also, there is a strap belt inside the suitcase to keep your clothes in place along with an extra compartment to store your accessories." Another even thinks, "I can see fitting at least 5 days of clothes in the summer months." Due to the low price, which was another selling point for many, one reviewer was "honestly surprised this thing has lasted me several trips across the country, and indeed globe," and many describe it as durable. One reviewer, who has been using it for three years, says, "I still make regular round trip flights with this carry-on every month or two and it is still going strong."
And now some micro-picks for any type of hard-side luggage you might be looking for.
Most durable hard-side luggage
"As someone who does not know luggage from my elbow, I just went with the most affordable-looking option," writes one luggage buyer, but thankfully this on-a-whim purchase turned out well. Like hundreds of other reviewers, they reference how durable this luggage is. "My suitcase went to Rio de Janeiro and back, almost 10,000 miles total, and up and down over 4 flights of stairs each direction with me banging it on almost every step the whole way," they explain. "The only 'damage' is a black scuff mark from someone else's luggage wheel skidding across in the bottom of our bus." Another user says they "dragged [it] all over Spain and Portugal across the cobblestones and on 4 flights and 2 trains and it held up great." Across all sizes, more than 100 reviewers also specifically call out the interior compartments — it has "multiple zippered pockets, and a compartment for storing shoes" — as another excellent feature. It's also lightweight according to one flight attendant, who says that even with a smaller bag on top, "My arms and back feel absolutely zero stress. It feels like it's floating!"
Best hard-side luggage with TSA lock
"The luggage is every bit as cool as the name," writes one reviewer, who goes on to talk about the durable inside lining. But a majority of customers think the stand-out feature on this suitcase is the built-in TSA lock. "The zippers snap into the side of it and lock into the TSA lock," explains one. "This way nobody can get in but me or the TSA if the bag needs searched at the airport." This was particularly helpful for one reviewer who says this bag "traveled with me to Porto Velho, Brazil, and survived a theft attempt in Sao Paulo, Brazil … They attempted to pry and break the locks and could not gain entry. They then tried to cut the reinforced zippers and could not gain access." And while one reviewer agrees that the locks work well and are easy to use, be sure to set it before throwing away the tag: That's where the instructions are.
Best carry-on hard-side luggage
In almost 2,000 five-star reviews of this carry-on, folks praise its surprisingly roomy interior, even though it's small enough to be stored in the overhead compartment of many major airlines. "It is extremely lightweight, which is important, as when I fly alone I don't have my husband to help me lift it into the overhead compartment," writes one reviewer, "which, by the way, it fits perfectly. Other than some minor scuffing, it is still as strong as ever." Other reviewers seem amazed at the low price, given the high quality of the bag. One puts it simply: "I wanted a bag that was lightweight but durable, was easy to roll, and didn't cost a fortune. This bag has been perfect." Another reviewer, who claims to have traveled nearly 100,000 miles with this suitcase, speaks to its durability: "I have used this exclusively as my sole suitcase for the past two years."