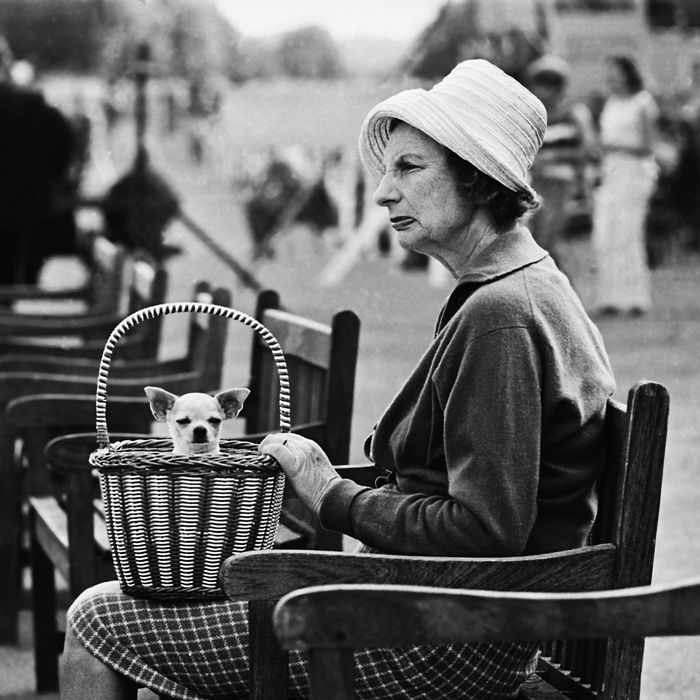 Photo: McCabe/Getty Images
Here at the Strategist, we like to think of ourselves as crazy (in the good way) about the stuff we buy, but as much as we'd like to, we can't try everything. Which is why we have People's Choice, in which we find the best-reviewed products and single out the most convincing ones. (You can learn more about our rating system and how we pick each item here.)
And while we've written about lots of dog accessories before — including dog beds, trendy dog bags, and lots of other things you need for your dog — here, we've rounded up the best dog carriers, as praised by the most enthusiastic reviewers on Amazon.
Best carrier for extra-small dogs (under 8 pounds)
Nearly 500 reviewers say this airline-approved carrier is "easy" to use because of the top load design and breathable material. "The zipper opening on top is large and makes it easy to get your pet in and out," writes one reviewer who also notes, "The zipper is very sturdy and less prone to accidental 'sliding,'" which might allow her dog to accidentally pop out." Many more reviewers also appreciate the mesh panels on the sides. One reviewer travels with her chihuahua "every other week" and says, "The mesh venting on 3 sides of the bag is perfect for him to look out and for air to flow through." Because she's a frequent traveler she also appreciates how portable this carrier is: "The carrier has a pretty roomy pocket in the back for poo bags, wet wipes or napkins. My favorite feature is the strap on the side that goes over a suitcase roller handle, which securely holds the carrier on top of the suitcase." Plus, nearly 300 reviewers specifically say they had "no problem" getting this carrier through security and onto the plane. "Because it is flexible, it easily fits underneath an airline seat," one reviewer explains. "And with the included shoulder strap, carrying the bag through the airport was easy."
Best-rated (less expensive) dog carrier
Hundreds of reviewers prefer to carry their dogs on their chest similar to how one would carry a baby. One reviewer says she knows she looks silly wearing this: "I laughed at myself for a good 15 minutes with my puppy." But she also thinks it's very practical, writing, "It was excellent though climbing a 14,000 foot peak in Colorado with it. Very comfortable and puppy actually went with it." Many other reviewers bought this for outdoor activities, where their small dogs typically get worn out. "We love outdoor activities, this carrier is a great help for me to bring my precious baby around specially when she gets tired of walking I can just carry her using it," writes one reviewer who also bikes with her dog using this product. One more customer just uses it as a treat to her dog, explaining, "My fur-baby loves it when we put him in this. He likes seeing things at a higher view."
And now for some micro-picks for every type of dog carrier you might be looking for.
Best folding dog carrier
This AmazonBasics carrier folds down, making it easier for travel as opposed to a metal or plastic kennel. One reviewer "replaced a bulky cage for trips to day care or travel" with this soft crate and loves that she can "just throw this in the Jeep and be on our way" without having to finagle a substantial amount of room in the car for her Labrador mix's crate. She also says that her dog finds it comfortable too, adding, "She loves to lay in there. Has a nice pad in the bottom for comfort too. So easy." Another customer calls it "stupid easy to take from folded to assembled" but warns it runs quite large, so might not be a fit for very small animals. However, at least one reviewer who has an 80-pound dog sees that as a perk, writing, "There is plenty of room in there for her to move around and get comfy. One time we drove 1,200 miles with the metal crate folded up in the backseat, rattling. What a nightmare. This thing folds up so easy and actually fits in my trunk, flat, so all the luggage can fit on top. There was enough room to set her large water bowl in it as well."
Best dog carrier with mesh sides
Pet-owners chose this bag because it allowed their pets to see out every side, which many say calmed their dogs' travel anxiety. One reviewer claims that "the breathable mesh sides help reduce any claustrophobic stress your pet may have," adding that this provided his dogs plenty of room to stretch and sit comfortably. Another customer says his "dogs are not carrier fans," but with this model, they're a little less distressed. "The design with mesh all around allows for lots of airflow and sight lines for them." A third reviewer adds that it "lacks bells and whistles" but overall, thinks it's a worthwhile investment, writing, "Fits nicely under economy airplane seats and my dog appears comfy. I've used this four times so far without hitches. Smooth operation, and durable from what I've tested."
Best two-door dog carrier
"You can open the top part and the pup can stick his head out, or you can load him in this way," explains one reviewer of the two-door design. Another agrees that the two-door deal makes things much simpler, especially when taking her dog out. She writes that her dog can walk into the crate himself, but he likes to "meld himself to the back of the crate when he is sleeping," making it "literally impossible to get him out through the front" because she can't reach him. "Now I just pop the top open, and I can reach him just fine. The opening is large enough to easily lift him out," she writes. This kennel even has a professional dog breeder's approval. He writes, "I ordered this one with the top door for the puppies I'm raising on the bottle. I was very pleasantly surprised at the quality of this crate. The attention to details is very nice."
Best two-door dog carrier with a ventilated top
While this is a very similar design to the AmazonBasics kennel, this two-door dog carrier from Petmate has more significant ventilation on the top, which reviewers prefer for their pup. One reviewer says there is "nice ventilation holes along the top and the sides for air and peeking areas for your pet. They can also see what's going on through the front and top doors." She also adds that this kennel is more spacious than others she's tried, explaining, "The inside is very roomy. There's enough room for the animal to turn around comfortably." Another appreciates the construction: "The carrier body parts are made of hard, adequately thick plastic, with an easy-opening front door that fit perfectly into the machined holes in the top part of the carrier."
Best soft dog carrier
One third of reviewers prefer this soft-walled carrier for travel because it's comfortable and light. One reviewer took her miniature schnauzer onto a plane for the first time in this carrier, and writes, "I got no guff from airline staff and it fit well under the seats. I took my pup out in it in the car a couple of times before our trip and he did great." Another customer typically purchases plastic kennels but switched over because this one seemed more "attractive and easy to use." She writes, "It reminded me of a high-quality tent and while setting it up for the first time, you are impressed with the extra thought that went into every little detail. There are three small poles that neatly fit through the soft hooks around the top that keep it upright." Another customer appreciates that there's "a soft foamy mat that's included" for added comfort that sits on top of a wooden board, which provides "structure."
But aside from comfort for the dogs, reviewers say this one is also comfortable for them to hold, like one who writes, "He's able to be carried in it very securely and with the weight over my shoulder and the handle I'm able to distribute his weight evenly while I'm walking so it doesn't hurt my back."