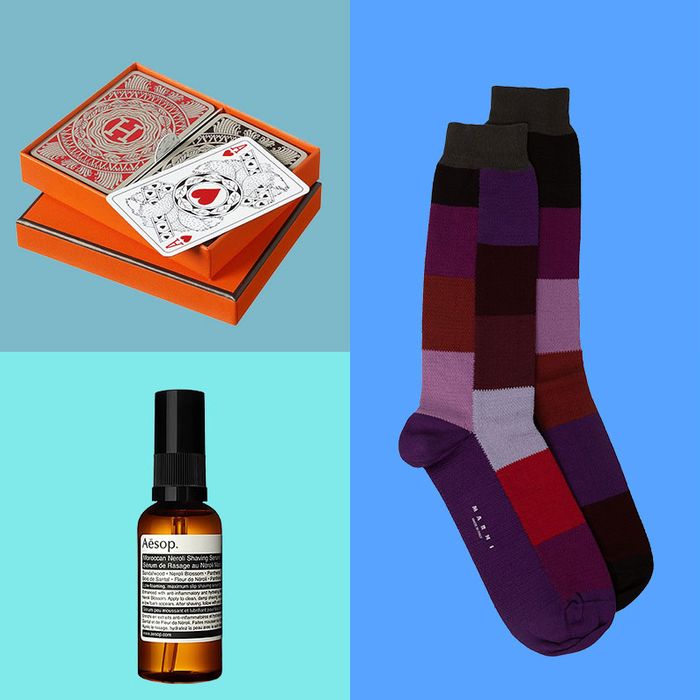 Photo-Illustration: Courtesy of the retailer.
Dads don't have to be label fanatics to appreciate the finer things. But for those who do care about designer goods, there's a certain pleasure to unwrapping a gift, no matter how small, that bears the name of a fancy brand. Whether that's a luxe candle or a pair of socks, even the little things can impress a father who demands only the best. Ahead of Father's Day — June 19 this year — we sniffed out the most inexpensive, giftable things from the fanciest brands that are certain to please even the pickiest of dads. (Yes, some may not be cheap cheap, but remember we're talking about Tom Ford and Versace here.)
When we say Georg Jensen makes museum-quality home goods, we're not kidding. Another set of the designer's salt-and-pepper shakers is part of Cooper Hewitt's collection of 20th-century design objects. For the price, Dad not only gets what could become a family heirloom, but also the ability to brag about the set every time he whips it out.
Even if his cupboards are full of All-Clad pots and pans, a foodie dad might be loath to spend more than he needs to on accessories like measuring cups. Surprising him with this stainless-steel set would be a very thoughtful way to say thank you for all those meals over the years.
Everyone knows a dad whose favorite outfit is a T-shirt and jeans. If that sounds like yours, we suggest this classic white tee from A.P.C. that has the tiniest of logos to make it a bit more interesting.
For the dad who exercises in tank tops (or just likes to show off his pecs), this cotton ribbed tank from Tom Ford will make him feel like an international style icon every time he slips it on.
This black cap from Acne is subtle enough for Dad to pair with just about any outfit. He might even be mistaken for a long-lost cousin of the Roy family (or at least an extra on Succession).
The Ralph Lauren teddy bear has its fair share of devoted fans, and if your dad counts himself among them, he'll be delighted by this customizable beanie. Emblazon it with his initials and choose the teddy that reminds you most of him (options include Golf Bear, Martini Bear, and Trench Coat Bear).
For the fit dad who already has a water bottle and plenty of gym clothes, here's a monochrome headband from Rick Owens's collaboration with Champion that'll help keep sweat out of his eyes.
Grumbling about smudged lenses and too-tight frames could be his way of hinting that an adjustment is in order, so treat him to this stylish care kit from Oliver Peoples that will give him the tools to DIY some optical improvement.
Stargazing, bird-watching, and just plain nosy dads will love this binocular sport strap from Leica. He won't have to worry about straining his neck because the neoprene harness hooks over his shoulders and wraps around the upper back.
A striking silk pocket square from the French design house known for its $400 slippers. It will take any of Dad's suits from drab to dapper.
Instead of another pair of cuff links, consider gifting Dad this stylish lapel pin from British luxury jeweler Tateossian. The fern traditionally represents sincerity and eternal youth, which you can flatteringly mention as he unwraps this rhodium-plated accessory.