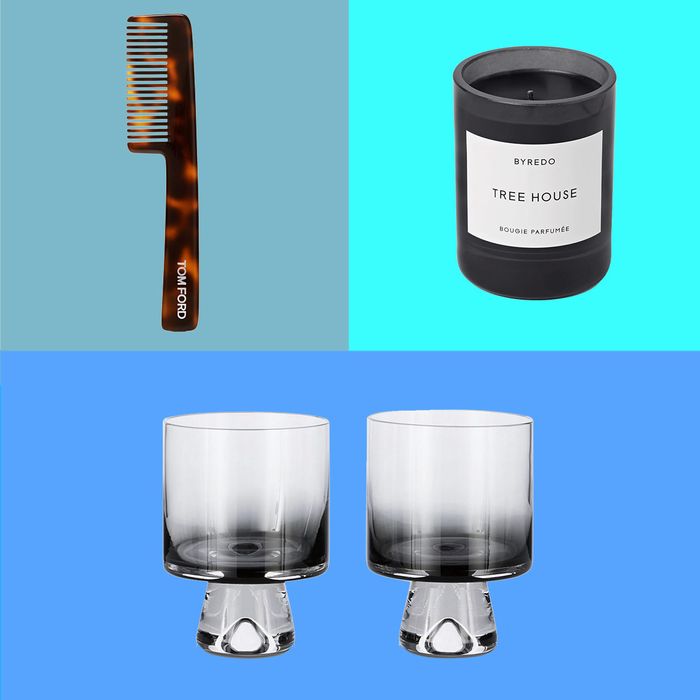 Photo: Courtesy of the retailer.
Dads don't have to be label fanatics to appreciate the finer things, but for those who do care about designer goods, there's a certain pleasure to unwrapping a gift, no matter how small, that bears the name of a fancy brand. Whether that's a luxe candle or a pair of socks, even the little things can impress a father who demands only the best. Ahead of Father's Day, we sniffed out the most inexpensive, giftable things from the fanciest brands that are certain to please even the pickiest of dads. (You may not consider these cheap cheap, but remember that we're talking about Gucci and Prada here.)
This minimalist phone case from Thom Browne would be ideal for the dad who likes to keep his designer flexes subtle (and uses an iPhone 11 Pro). It features the brand's signature preppy stripes along with the smallest of logos stamped on its light-gray cover.
If Dad's looking for a new scent, he might like this one from YSL that has notes of bergamot, sage, and cedarwood. According to the brand, it's inspired by the iconic YSL white T-shirt and black jacket.
This graphic linen-cotton tote bag from the Japanese designer would make a perfect summer carryall, whether Dad's heading out to the farmers' market or for a stroll along the beach.
The well-dressed Golf Dad will surely love this Ferragamo tie emblazoned with a pattern of the tiniest (and cutest) golf clubs and balls.
If Dad always has a candle burning, he'll appreciate this one from Byredo; it has a scent that the brand says is inspired by a tree house in Tokyo. That fragrance includes sandal and cedarwood scents with top notes of pimento and bamboo.
If he's a candle-lover who already has enough candles, this elegant hook from Cire Trudon would be a very thoughtful gift Dad can use to ensure that each of the ones in his collection burn smoothly.
For a different kind of scent-maker, try this scented alabaster stone-diffuser set from Parisian luxury brand Buly 1803. The stone comes encased in an elegant porcelain box with a bottle of perfume concentrate that has notes of lily flower and musk.
For the minimalist dad who doesn't want to fuss with a wallet.
For the dad who's not afraid to wear jewelry, this A.P.C. chain-link necklace in silver-tone brass is likely a style he doesn't have, as it combines two different types of chains to create one unique piece.
Smythson's iconic notebook is pocket-size with gilt-edged paper bound in a textured lambskin leather that will stand the test of constant use. In fact, that leather will only get better with time, and when it's full, he can keep the notebook on a shelf for posterity. The azure blue color makes the notebook even more delightful to look at.
This set of mother-of-pearl collar stays from the British bespoke shirtmaker comes in a handsome case that makes it even more giftable.
Or, for Dad's cuffs, consider this set of three knotted cuff links in a trio of fresh colors from Charvet (a brand, you can tell him, is Chris Black–approved).
If he has a beard and, like Buzz Bissinger, "a furious man-crush for Tom Ford," Dad might appreciate this tortoiseshell-print comb. It's pocket-size, so he can always keep it on him for whenever he needs to freshen up.
A Christofle crystal highball glass would make for an elegant vessel to sip his nightly Tom Collins from.
If he's more of an old-fashioned kind of guy, this set of two smoky lowball glasses from Tom Dixon would make just as striking an addition to Dad's bar cart.