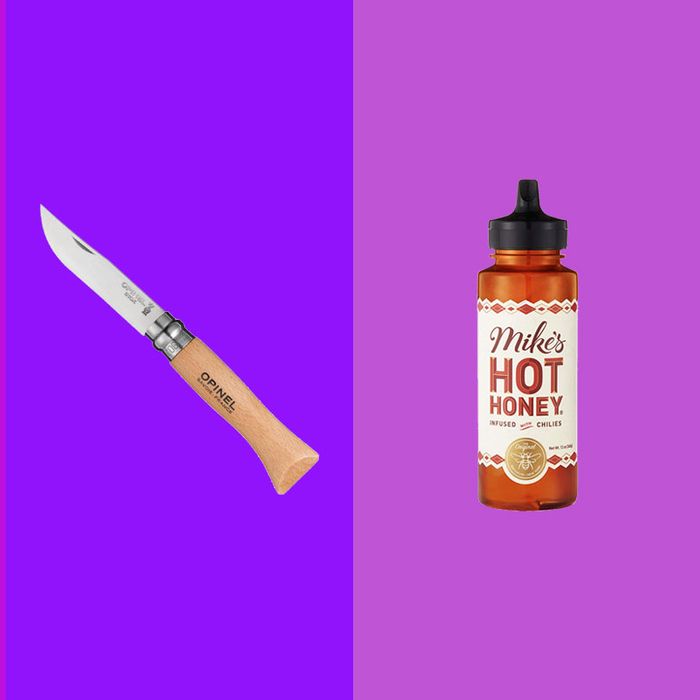 Photo-Illustration: The Strategist
Dads are notoriously difficult to buy for, but if he loves to cook (or eat or drink), you're sure to find something on this list he'll appreciate unwrapping this Father's Day. Maybe he already started firing up the grill and is hankering for some specialty gear. Or perhaps he has an ever-growing bar collection that could always use another bottle. Whatever his comfort level in the kitchen, we've rounded up 43 gift ideas to suit every type of foodie dad, many of which we've written about before and all of which are sure to please.
A foodie dad who cooks a lot should have an apron so he doesn't accidentally splash red sauce on that shirt you gave him over the holidays. Hedley & Bennett's come recommended by several chefs we've spoken to; they aren't the cheapest, but that's part of what makes them giftable (if Dad already has a workhorse apron, this could be the "fancy" one he throws on when cooking for guests). It has three front pockets (one at the chest and two by the hips) and the deep charcoal color will look sharp while hiding stains. It's available in lots more options, though, and you can even get it monogrammed for a small fee.
A dad who is also a farmer's market regular would surely appreciate this trio of Baggu totes. They're super sturdy, can fit a surprising amount of stuff — from freshly baked baguettes to gallons of organic milk — and pack down to fit inside any other tote (or the convenient pouch they come in).
For the dad who wants to dabble in the art of sushi, contributor Eunice Byun swears by this inexpensive knife that a fisherman recommended for making it at home. It's not a proper sushi knife, but Byun says it's good enough to get Dad started until he wants to upgrade to a higher-end model.
Another knife he may be pleased to receive is this classic from Opinel with a sharp stainless-steel blade that folds into a wooden handle (said handle is quite nice to grip, for the record). The blade is super-versatile, but we think some of its best uses are for cutting fruit, cheese, or other treats on a hike or at a picnic.
Speaking of being outside, an insulated water bottle makes another great gift. A Hydro Flask, which will keep water (or, ahem, picnic wine) cold for hours, is a favorite of many discerning people (including a lot of Strategist staffers), but here's a longer list of recommended bottles if you want to shop around a bit.
Co-created by sisters Vanessa and Kim Pham, Omsom delivers traditional Asian spices to any doorstep. There are plenty of options to chose from, but this sampler of Southeast Asian spices seems particularly giftable to a dad who can never have enough flavor.
For the dad who likes things spicy and sweet, Mike's Hot Honey comes highly recommended by connoisseurs of both hot sauce and honey. As cookbook author and Strategist contributor Priya Krishna told us, the condiment "gives you the complexity of the honey itself, but with a subtle yet effective kick." (It's also a favorite of actress Debi Mazar.)
Dubbed the "next Lucky Peach" by Strategist contributor and cookbook author Priya Krishna, Whetstone magazine, co-founded by Stephen Satterfield and Melissa Shi, is a journal of food origins and culture, with an emphasis on storytelling. There are digital and print subscription options and single issues available for purchase.
If you think he'd like to find out what a dish called Potato Insanity is all about, consider this recent title from Carla Lalli Music, whose approachable recipes are just as good for someone getting comfortable in the kitchen as they are for a seasoned home cook.
Good sheet pans are essential for so many culinary pursuits, whether you're baking chocolate-chip cookies, roasting broccoli, or even cooking a whole chicken or turkey. They're also the type of thing you can use for decades without replacing. If Dad's pans are looking a little (or a lot) the worse for wear, consider surprising him with this trio of cheery blue ones from Great Jones, a brand on our list of expert-recommended sheet pans. Included are two quarter-sheet pans and a larger half-sheet pan, but if you think Dad doesn't need all three, you can get a single half-sheet pan for $35.