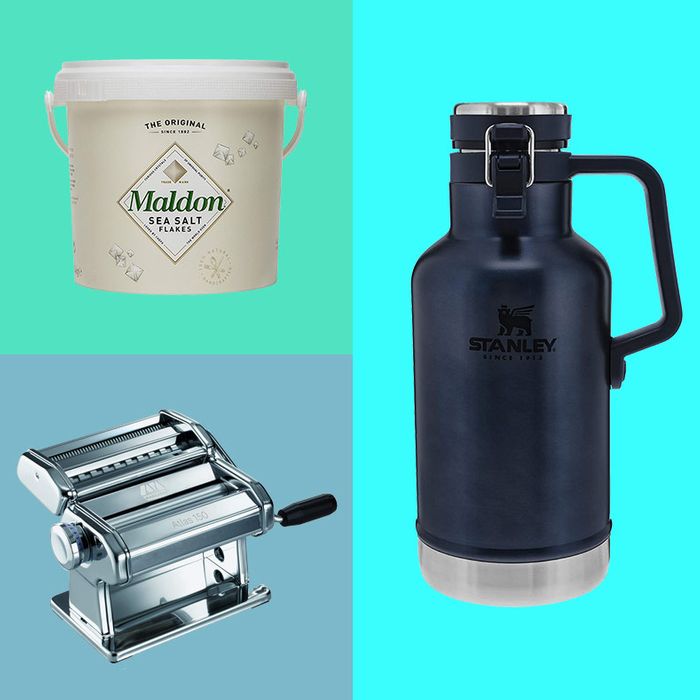 Finding the right gift for a dad who loves to cook can be tricky. You want a gift that'll be useful yet unique, not something he already owns. That's a tall order if your dad's the kind of home cook who has everything, and it's even more challenging if you're not well-versed in the kitchen yourself. But don't fret. Below, we've rounded up 34 gift ideas (many of which we've written about before) that foodie dads — from the fine-dining aficionado who appreciates a malted Scotch to the dad who is gassed up for summertime grilling and chilling — would love to unwrap for Father's Day (which is June 20) or any day. (Should your dad prefer to eat more than cook, we've got a lot of gift ideas for him, too.) While many of the things on this list are available at Amazon, we've found a lot of them elsewhere, too, for those who like to shop around.
If he's still dragging his feet about hopping on the Instant Pot train, a Father's Day gift of the perennially popular appliance might finally be what gets him onboard.
For the dad thinking about dabbling in the art of sushi, contributor Eunice Byun swears by this inexpensive knife that a fisherman recommended for making homemade sushi. It's not a proper sushi knife, but Byun says it's good enough to get Dad started until he wants to upgrade to a higher-end model.
If he drizzles olive oil on anything and everything, Dad might be interested in trying this bottle from Liguria that chef Jonathan Waxman can't live without. According to him, it "has a freshness and brightness" you won't find in many other olive oils.
A foodie dad probably has a pretty good cutting board already. But if his is looking a little worse for wear, Michelin-star chef Missy Robbins (one of many people who have told us about Boos cutting boards) says this is one of the only cutting boards she'll use, especially for pasta-making. One tip you can pass along with the gift: Don't get it wet or else it won't last as long, according to Robbins.
Co-created by sisters Vanessa and Kim Pham, Omsom delivers traditional Asian spices to any doorstep. While there are plenty of options to chose from, this set of Southeast Asian spices is particularly giftable and is sure to delight a dad who can never have enough flavor.
If Dad is a coffee man, this Vietnamese-coffee kit from Nguyen Coffee Supply will let him try his hand at brewing some beans he probably can't pick up at any old grocery store. It comes with the tools he needs to brew it traditionally, too.
For the dad who really loves coffee, consider a subscription to Trade, a service we've said is great for true coffee geeks. Each delivery — which can include 3 bags, 6 bags, or 12 bags — can be customized to his preferences and will introduce Dad to some of the nation's best roasters (many of which he might have never heard of before). If you're interested in giving him a coffee subscription but would like to shop around, be sure to check out our full list of Strategist-approved options.
Maybe Dad already has a favorite Instant Pot or other pressure cooker. If so, a sous-vide machine, which cooks meat and other food that's been placed in a water bath (usually within a food-safe plastic bag), may be the gadget he never knew he needed to take his home cooking to new heights.
For the dad who's all about handmade pasta, this (expert-recommended) hand-crank machine comes from Italian company Marcato, which has been in the business since 1930. Out of the box, it can make lasagna, fettuccine, and tagliolini (but you — or Dad — can buy accessories that let it do even more).
To make sure he doesn't under-salt the pasta water.
Dubbed the "next Lucky Peach" by Strategist contributor and cookbook author Priya Krishna, Whetstone magazine, which was co-founded by Stephen Satterfield and Melissa Shi, is a journal on food origins and culture, with an emphasis on storytelling.
Enrique Olvera's collection of Mexican recipes for the home cook comes recommended by a recipe developer. It includes recipes for traditional and contemporary dishes like chicken tinga, crispy potatoes, and quesillo flautas.
For the dad who watched all of Anthony Bourdain's shows and misses his friendly but irreverent presence, the late chef's first cookbook could be both a balm and a resource for new dishes.
This is the upgraded version of Japanese company Benriner's classic green mandolin slicer that chefs swear by. (If Dad's clumsy, consider throwing in a pair of cut-resistant gloves.)
Flynn McGarry, the owner and head chef at New York City's Gem restaurant, told us he loves to give this handsome copper pot to friends. A foodie dad would surely like it, too, and can use it to make sauces or heat up small portions of soup in addition to melting butter.
If he doesn't have the outdoor space to grow his own ingredients, Dad can tend to them indoors with this expert-recommended herb garden that requires minimal effort, thanks to its built-in grow light and self-watering mechanism.