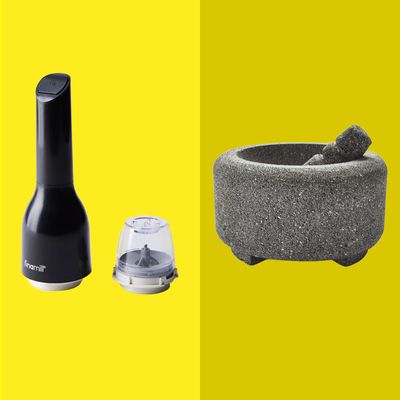 Photo-Illustration: The Strategist; Photos: Retailers
When you release the oils and aromas trapped inside of whole spices before they touch heat or mix with other ingredients, their nuances and freshness come to the forefront. But when they sit pre-ground in your pantry (and before that on a grocery-store shelf for who knows how long), the subtleties degrade — or worse, the whole jar goes stale (you can tell if you take a whiff and the aroma is dull or if the grounds have clumped up). "Plus, you get to decide on coarseness when you grind your own," says chef and writer Lauren Joseph, like if you want larger cracks of black pepper for mixing into cacio e pepe, but finer particles of cumin for rubbing on a rack of lamb.
I talked to Joseph, along with six other professional cooks and spice experts, about their favorite tools for grinding, whether they're electric, battery operated, or manual, like a mortar and pestle. Below, I've laid out the advantages of each category and detailed what makes each a standout.
One grinder on this list — the best overall — is battery operated. Several are electric, i.e., you plug them into an outlet. And finally, many are manual. This last category includes a couple of options that work by pushing a fitted top piece into a secondary chamber, as well as several mortar and pestles, which work by using a blunt, club-shaped tool (the pestle) to crush spices into the side of a bowl (the mortar). "The electric grinder is great when you want it pretty ground, but doing it manually in a mortar is better for coarser applications," says chef Camille Becerra.
The battery-operated and electric grinders are generally some standard combination of stainless steel and food-safe plastic, while there's more variation with manual grinders. Within that category, we found one stainless steel and plastic option, while the others are ceramic, rock, marble, or cast iron. I've outlined the particulars of what each material contributes in its respective caption.
Best overall spice grinder
Type: Battery-operated | Material: Plastic
The Finamill Spice Grinder has multiple pod attachments for different spices that click into the handle. Ethan Frisch, co-owner of Burlap & Barrel, keeps his pre-loaded with some of his most-used spices, like different kinds of peppercorns and coriander, so he can seamlessly move between them while cooking. When he wants to switch one out, he simply removes the pod and refills it. (You can buy additional pods separately.) There's a simple button at the top that turns the grinding mechanism on, "perfect for anyone who wants to grind spices with one hand or doesn't have the wrist strength for a more traditional burr pepper mill," Frisch says. Plus, you can adjust the size per spice by twisting the knob on the bottom of the pod. While recipe developer and cookbook author Nik Sharma mostly uses a manual method (more on that, below), he's also a fan of the Finamill, noting that "the containers provide convenience, especially if I'm feeling lazy and don't want to grind by hand."
Best electric spice grinder
Type: Electric | Material: Plastic and stainless steel
Many electric spice grinders are actually blade coffee grinders (not the expensive burr models that are best for beans) that can better handle irregular-size pieces because they use more of a chopping motion than a milling one. The most enthusiastic recommendation for a particular electric model also comes from Frisch. The late chef Floyd Cardoz introduced him to it about five years ago, and even after Frisch tried a few others, he says the Hamilton Beach is by far the best. "Unlike other electric grinders, you don't have to hold the button down," he says. "You can set it to grind a certain quantity or for a certain amount of time and walk away." It also has a removable cup, which makes it super-easy to clean.
Bill Clark, culinary managing director of Catskills's Scribner's Lodge and Fellow Mountain Café, has been using his similarly priced Secura Electric Coffee Grinder for about five years. He notes that even though it comes with two- and four-blade options (the former for dry ingredients and the latter for wet), he uses them interchangeably with no problem. It also comes with two removable cups with lids, which Clark says are "really wonderful because you can use them to store extra spices."
Best durable electric spice grinder
Type: Electric | Material: Plastic and stainless steel
Becerra has been using her electric grinder for 15 years for weekly coffee-bean batches, spices, and even powders (like one made from dehydrated mandarin peels she likes to sprinkle on yogurt). "It's priced a bit higher than some, but it's so durable," she says. "I've had other brands in restaurants and they do tend to break down." To clean in between ingredients, she simply puts a piece of bread in and grinds that to soak up any residue and lingering smells. She also likes the sleek design, which she says looks "classic mid-century in a way," as well as the indented bottom that houses the cord when not in use.
Best lightweight mortar and pestle
Type: Manual | Material: Ceramic
When it comes to manual options, Becerra and Frisch both turn to this suribachi, a Japanese-style mortar and pestle that Frisch calls "high quality." It's ceramic, so even the largest of the three sizes is lighter weight than the other mortar and pestles, below. And while weight can, in fact, be helpful in keeping a mortar steady as you pound, Frisch notes that this one has a rubber bottom, so it doesn't slide around. Both experts also point out the interior grooves that run from top to bottom all around the perimeter. "Part of the challenge with dry spices is that they can go everywhere if you don't have a big one or hit it at the wrong angle," Frisch says. "But this one is textured and meant to push the particles down in the bowl as you're grinding. They don't go flying."
Best heavy mortar and pestle
Type: Manual | Material: Rock
A molcajete, the Mexican style of mortar and pestle, is usually made from basalt rock and is decidedly heavy. For Joseph, who uses this version from Masienda to grind Maldon salt, black pepper, cumin, and some sort of chili at least once a week, that's a plus. It never moves, even as she applies pressure from all angles to break down spices. She also likes the rough texture; on the interior, it provides the same benefits as the grooves in the suribachi, and on the exterior, it means that if she does need to move it, she can get a good grip. It has a wide and deep basin so she doesn't sacrifice any spices as she did with the small, shallow mortar and pestle she used to use. "This guy is big enough that I don't make a mess or lose a precious Diaspora Co. cardamom pod," she says.
Best marble mortar and pestle
Type: Manual | Material: Marble
Chintan Pandya, chef at Brooklyn's Masalawala & Sons, uses a marble mortar and pestle his mother had for several decades before she gifted it to him. The one listed here is similar, and he recommends it for maintaining "the integrity of the spice," Pandya says, because marble doesn't heat up and release essential oils that could then get trapped in an electric grinder or even in other mortar and pestles. He also says it's heavy enough (somewhere between the suribachi and molcajete) to make grinding "less cumbersome," since you don't have to apply too much pressure with your non-dominant hand to hold it in place.
Best manual spice grinder
Type: Manual | Material: Cast iron
This cast-iron grinder works by pouring spices into a bottom cup — about a tablespoon at a time, Sharma says — and then inserting a fitted etched piece into it. You twist and turn while pressing down to grind. While it's not really meant for creating fine powder, it's great for a coarser consistency of cumin, coriander, or peppercorns — "anywhere you want to appreciate the texture of the spice," he notes. His favorite thing about it, though, is the long-lasting nature of cast iron; Sharma has had his for more than eight years and says "it's amazing that it hasn't worn out at all." He cares for it by rinsing it after each use and then either wiping it down or sticking it in a 200-degree oven until it thoroughly dries.
Best manual spice grinder for hard spices
Type: Manual | Material: Plastic and stainless steel
Clark's Microplane grinder is meant for hard spices, like nutmeg, cinnamon, and allspice, which are typically difficult to work down by hand. Instead of crushing them with an etched bottom, you apply pressure and a twisting motion to force them through a stainless steel grater that looks similar to the grater on any other microplane. What results are delicate shavings of nutmeg that Clark often uses to garnish cocktails (he had a Microplane at his former Brooklyn restaurant, too, where the nutmeg was stirred into the punch). When you're drinking, "this is the preferred consistency," he says, "instead of a granular, grainy nutmeg that has a tendency to clump." There's also an airtight compartment on the inside of the tool to keep whatever whole spices are in there fresh until you use it again.
Best spice grinder for large batches
Type: Manual | Material: Plastic, stainless steel, and carbon steel
You might associate a personal-size blender with smoothies, but Sharma uses his for bulk spice batches. Usually that means he wants to yield about a cup at a time, an amount that would be too labor-intensive to do by hand but also wouldn't fit in a small coffee grinder. The Zwilling "is so powerful that it can handle a lot and makes a really, really fine powder," notes Sharma. It can even create blends like barratt, harissa, and garam masala, where you want a fairly uniform texture coming from different-size and -shape ingredients. The motor is intense and works quickly — less than 30 seconds to grind most spices, he says.
Best pepper mill
Type: Manual | Material: Plastic and stainless steel
While this grinder is pepper-specific, it's worth mentioning the industry-favorite Unicorn. It's distributed in bursts through Amazon, which means it's often sold out — but keep your eye out because it always comes back … eventually. "It cracks a lot and leaves larger pieces," says Hillary Sterling, executive chef at New York City's Ci Siamo. "I just think it really allows the pepper to shine. Those old pepper mills, you don't get the sweetness and nuttiness and pepper flavor. It becomes a back note." Recipe developer and cookbook author Carla Lalli Music first discovered it when working as a line cook in restaurant kitchens at least 20 years ago, and says it's one of two pepper grinders pretty universally used by professional chefs. And even though she's added a new, decidedly more expensive mill to her kitchen, she keeps her Unicorn on the dining table to use during meals. I've owned one for more than five years and am still impressed by the amount of pepper I get per crank every time I use it. Plus, it looks sleek sitting out on my small kitchen counter.
• Camille Becerra, chef
• Bill Clark, culinary managing director of Catskills's Scribner's Lodge and Fellow Mountain Café
• Ethan Frisch, co-owner of Burlap & Barrel
• Lauren Joseph, chef and writer
• Chintan Pandya, chef at Masalawala & Sons
• Nik Sharma, recipe developer and cookbook author
• Hillary Sterling, executive chef at Ci Siamo
The Strategist is designed to surface the most useful, expert recommendations for things to buy across the vast e-commerce landscape. Some of our latest conquests include the best acne treatments, rolling luggage, pillows for side sleepers, natural anxiety remedies, and bath towels. We update links when possible, but note that deals can expire and all prices are subject to change.