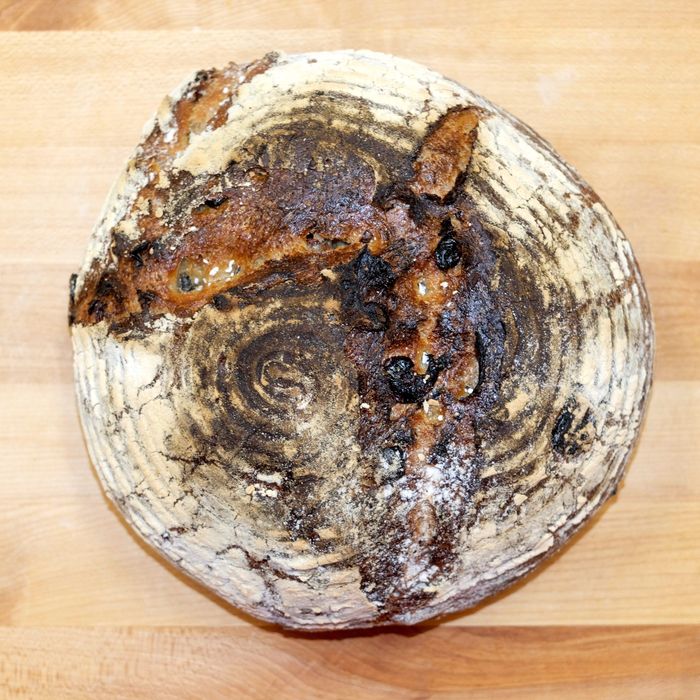 One of the author's first sourdough boules.
Photo: Andrew Parks/
Much like how I've always loathed elaborate math problems and thousand-piece jigsaw puzzles — they're just so … precise — baking seemed like a far-too-scientific fool's errand for the first 38 years of my life. At least that's how I felt before I took an intense Artisan Breads Immersion class last fall. Often commanding long wait lists at Minnesota's small-but-mighty North House Folk School, the almost three-day course taught me that it's going to be okay. I can make custom boules, za'atar-dredged flatbread, long ciabatta loaves, seeded German-style rye bread, and a beautiful version of the briny focaccia that Samin Nosrat slayed on her Netflix show, Salt Fat Acid Heat.
And you know what? Despite Twitter claims to the contrary, you can, too. Bread-making is like any other skill. If you're willing to put the work in, the process quickly goes from being irksome to instinctual, rough to rewarding.
It's also quite addictive: Once you get the hang of a few recipes and rhythms, you'll be left wanting to rock just one more loaf every time one is wrapped. Why, just this past week, I baked a hollow, chewy hunk of cherry-walnut sourdough; puffy little pitas that would make Alon Shaya proud; slim, crunchy slivers of coconut roti; and a Roberta's-inspired margherita pizza with just the right amount of char and chew.
Of course, there is one potentially large problem with becoming a home baker these days. With the internet suddenly declaring bread-making the fidget spinner of the COVID-19 age — stress reduction by way of bubbly starters and stretchy gluten strands — its foundational ingredients, yeast and flour, have become as scarce as hand sanitizer and TP. In fact, there's such a nationwide shortage right now that King Arthur Flour has started posting flourless recipes in the hopes of satisfying its cult following until the grade A grain starts flowing again. (Judging by the downpour of teary emoji and despair in its comments section, it's not working.)
That said, don't give up. We found flour here, for example. The other tools that bread-making requires — other than time and patience — are widely available if you're willing to wait a week or two. The list below includes the essentials I bought right off the bat, the game-changing gear I've picked up since, and a few loaf-elevating products I'll be lusting after in the weeks and months ahead. You don't need all of it right now. Just buy the basics and learn some foundational recipes, whether it's something as simple as Sullivan Street Bakery's no-knead bread or as complex as a best-selling beast of a book like Flour Water Salt Yeast or The Bread Baker's Apprentice.
Mixing bowls
It's time to take stock of the bowls you haven't touched for years. If they're not big enough to fling massive amounts of dry ingredients around without making a mess, opt for a multipurpose set like OXO's Good Grips series. That way you have several options for mixing, and at least one for letting your loaves rise and rest.
Angled measuring cups
Unlike the imprecise glass pieces most of us grew up with, angled measuring cups are easy to read and rarely wrong. In other words, they're a lifesaver when you start to worry about nerdy things like hydration levels and long-fermentation times.
Silicone spatulas
Dough can easily stick to wooden spoons, so I prefer a pliable, more forgiving silicone spatula for mixing. A few different sizes don't hurt, either — all dishwasher-safe as well, so things don't get too sloppy.
Food scale
While I once wrote baking recipes off as too rigid — claiming I'd rather wing it in the kitchen than capture every last salt crystal — I quickly realized that's a uniquely American problem. Just like how we refuse to embrace the metric system that everyone uses, we also insist on measuring ingredients with faulty cups and spoons instead of a foolproof scale. This gram reader is good but not great — a Prime Day purchase that does the trick but shuts off far too quickly and would benefit from being slightly bigger. If anyone's reading this and not sure what to buy for my next birthday, this OXO model would be much better.
Food-grade silicone mat
For kneading, rolling, measuring, and cutting dough. Unless you'd rather turn your counter into a flour-dusted crime scene.
Bench knife
Moving and slicing mounds of dough on a silicone mat is much easier with this straight-edged scraper than with your sticky fingers or a chef's knife that hasn't been sharpened in years. Believe me.
Proofing basket
This three-piece set includes a linen nonstick liner for a smooth outer crust and a plastic dough scraper that conforms to the curves of your mixing bowl. Remove the linen cloth from the basket to produce ring patterns on the edges of your boulangerie-caliber boule. As for what it actually means to "proof" bread — I had no idea what this entailed before taking that class — it's the last rest-and-rise step before everything gets baked.
"Scoring" is another late-in-the-game move that kicks your bread up another notch. It's basically the part where you slice free-associative patterns on the top of your loaves so people think you're far more experienced and artistic than you actually are.
Baking steel
They may save you a Jackson or two, but the ceramic surfaces on baking stones can crack, smoke, and emit foul odors — things that are far more frustrating than kneading or mixing bread. Snag a baking steel instead. They produce a crisp, spotted crust in Neapolitan pizzas and brown sourdough boules like a lo-fi version of the craggy, crumbly beauts you'd find at a "real" bakery. (If you don't want to spring for a baking steel, Lodge's cast-iron Combo Cooker is a solid alternative that also works for sautéing and frying other dishes on your stove.)
[Editor's note: This item is currently out of stock, but both retailers below expect it to be back in stock in mid-March. You can preorder it now at Baking Steel or sign up for stock notifications at Food52.]
And
a
Few
Things
I'd
Buy
If
It
Weren't
for
Budget
and
Time
Constraints
Heat-resistant, flame-retardant oven mitts
Most of us have oven mitts that are pretty rather than practical. Well, pretty doesn't protect your skin from getting scorched at the 450-degree-plus temperatures required to bake most carb bombs.
[Editor's note: These are out of stock online, though you may be able to find them in-store. OXO's silicone oven mitts, which are in stock at Bed Bath & Beyond for $16, are a comparable alterantive.]
Peel
For launching and retrieving pizzas … and not letting the dough you just spent all day nurturing land in the bottom of your oven. (I swear that didn't happen last weekend, turning what might have been a terrific pizza into more of a deformed calzone.)
Pizza wheel
So much easier than a knife. Get something sturdy.
With all of the flour and fillings (like raw nuts and dried fruit) that you'll be using moving forward, you'll very quickly fill the containers you already own. You don't want to have to look up the word weevil, do you?
The Strategist is designed to surface the most useful, expert recommendations for things to buy across the vast e-commerce landscape. Some of our latest conquests include the best acne treatments, rolling luggage, pillows for side sleepers, natural anxiety remedies, and bath towels. We update links when possible, but note that deals can expire and all prices are subject to change.