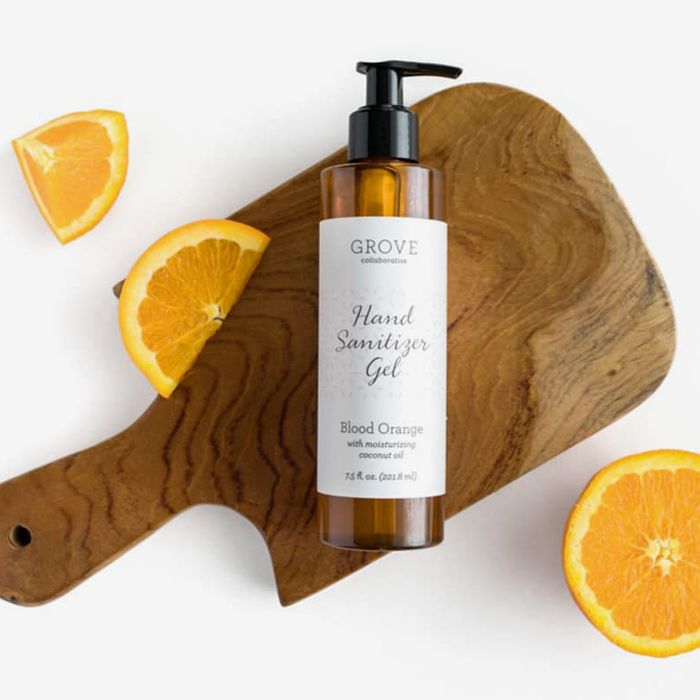 Courtesy of retailer
Photo: Courtesy of retailers
Years ago, while running down a flight of stairs to catch the subway, I missed a step and flew to the ground. I didn't fall because I was rushing to catch a train; I fell because I refused to grip the stairwell railing for fear of touching the thousands of germs clinging to it — and ironically wound up with both hands firmly planted on the even dirtier station floor. After my tumble, my dad threatened to buy me a box of disposable gloves. But I prefer to keep my neuroses a bit more buttoned up, so I chose to invest (heavily) in hand sanitizers instead.
Putting the O in my self-diagnosed OCD, I didn't just buy one bottle, nor just one brand. I started with the basics: the generic Walgreen's formula and Purell. But no matter how hydrating or gentle their labels claimed, my hands always felt dry from use, or smelled distinctly of alcohol. Don't get me wrong, sometimes scent is actually the selling point when it comes to the hand sanitizers I buy (like the lavender-scented one I use before tucking in at night). But other times, an odor-free product makes a whole lot of sense (like when eating street meat … at 2 a.m.). Since I first shared my arsenal of hand sanitizers with the Strategist, I've added a few to my collection. I'm updating this piece to include all the new (and old) products I rely on to keep my hands (and things I put my hands on) clean around the clock, in practically any situation. Look dad, still no gloves!
Editor's note: With the threat of coronavirus, demand for hand sanitizer has been increasing, so stock has been constantly fluctuating at every online retailer we've checked. We'll update this post as more sanitizers become available or come back in stock. For more tips from people who wash their hands a lot, including their favorite soaps, accessories, and creams, click here. And one piece of advice about hand sanitizer: If coronavirus is your main concern, make sure you select a hand sanitizer with at least 60 percent alcohol content, according to the Centers for Disease Control and Prevention. (And for those who don't want to wait, you can actually make your own hand sanitizer at home, using aloe vera gel and rubbing alcohol.)
For meeting new people
Sometimes I feel a little funny whipping out the sanitizer upon handshake impact. I try to play it cool and act subtle, but the message on this bottle does the job of explaining for me — it's nothing personal! While on Amazon, this is not available via Prime, so there is an additional shipping fee.
For when my hands are dry
A common side effect of hand sanitizer is dry hands (hello, alcohol). This fast-absorbing gel doesn't just feel great going on my skin, but leaves a lingering hydration (and scent) thanks to coconut oil.
For when I don't have room in my bag
Rather than bury my bottle in a pocket or staging a Sophie's choice between fitting that or my keys in my bag, this quirky clip-on sanitizer holder is part necessity, part accessory. A note that you have to buy the sanitizers separately (which means that, if you do have room in your bag, you don't necessarily need the monkey).
For eating on the go
While the party line is to avoid touching your mouth to avoid germs, I include food and utensils on my must-sanitize list. These alcohol and chlorine-free wipes handily help remove bacteria-carrying wax, pesticides, chemicals, and other icky things from food. But since they are alcohol-free, I should note they are more for sanitizing food than my hands.
For the airplane
A viral video of Nicole Richie unabashedly prepping her airplane seat got me over any shame I felt towards a good wipe down. With recent recommendations advising us to do just that to public surfaces, I turn to these effective, bleach-free wipes when I want to feel clean, but don't want to sit in the waft of chemicals. These, like the above wipes, are not to sanitize my hands — but everything they might touch.
Editor's note: Amazon also sells the wipes without the spray here, but they are currently unavailable.
For the subway
When I commuted from Manhattan to Queens in a past life, I learned that sanitizing is a full-time job. I also learned that strangers don't always take kindly to scented varieties, after a woman yelled at me for using some on the subway. This hardworking Nano Pure sanitizer is ideal for commuting because I only have to apply it once (before boarding the train) to form a lasting protective layer on my skin that holds up for the whole ride.
Editor's note: This hand sanitizer is currently unavailable.
For the gym
After an hour-long session at Orangetheory, my hands are far from the only thing shvitzing. That's why I like to sanitize with these Zero K wipes post-workout: Their soothing peppermint oil cools and refreshes my hands and arms, and I can use another wipe (or three) to clean off my sweaty neck, face, and even water bottle. While refreshing, their ingredients do not include alcohol, according to the brand.
For the office
A former colleague first offered me a squirt of this floral-scented secret, and I quickly found myself poaching from her supply. I'd like to think that was because it has an irresistible smell of pink pepper, patchouli, and rose, but really it was because she left her tube out in plain sight. Now that I own some, I can see why — the sanitizer's sleek packaging doubles as actually stylish desk décor.
Editor's note: This hand sanitizer is available for purchase, but on back order. Bloomingdale's says orders are expected to leave its facility within 28 business days.
For before a meal
Babyganics' unscented and chemical-free formula doesn't get in the way when eating — especially when I'm using my hands to stuff whatever's on the menu into my mouth (enthusiastic Amazon reviews seem to miss this selling point). That's why I always make sure to use it before a meal, whether it's served at a restaurant table or curbside from a halal cart.
Editor's note: This hand sanitizer is available for purchase, but on back order. Amazon says it is due back in stock on April 6.
For meeting friends' babies
My first rule of thumb when stopping by new parents' places? Ask if they have wine. My second: bring an ample supply of The Honest Company's gentle mom-approved (and celebrity-mom-approved) formula. Everything Jessica Alba's brand puts out promises to be both safe and effective, and I've found this product is no exception.
Editor's note: Miller's favorite scent is currently unavailable, but you can buy a 2oz bottle of Honest's hand sanitizer in a "Free & Clear" scent here.
For the beach
Sun Bum's range of products have been endorsed by Strategist editors and dermatologists. I may be neither, but this spray-on sanitizer is a staple in my beach bag (the fast-drying stuff keeps my hands clean from most anything, including sand).
Editor's note: The 3-pack of Baby Bum hand sanitizer is currently unavailable, but you can buy one 2 oz. bottle on Amazon here (it's not available via Prime, but will ship for free).
For after the beach
Epic sunburns have been a summer tradition since my middle-school days baking on Jones Beach. And if I've learned anything from my scalp and the top of my feet, no place is safe — hands included. This soothing aloe vera formula gives my hands much needed hydration after a day in the sun, while cleansing them of any lingering SPF residue at the same time.
Editor's note: This hand sanitizer is currently unavailable.
For bedtime
When it's time to unplug, a relaxing spritz of this lavender-scented sanitizer readies me for bedtime — and I can sleep easy knowing my germ-free body hits the hay protected by the same plant-derived ingredients I use to clean my apartment.
Editor's note: This hand sanitizer is currently unavailable on Amazon, but you can buy it on eBay here.
The Strategist is designed to surface the most useful, expert recommendations for things to buy across the vast e-commerce landscape. Some of our latest conquests include the best acne treatments, rolling luggage, pillows for side sleepers, natural anxiety remedies, and bath towels. We update links when possible, but note that deals can expire and all prices are subject to change.