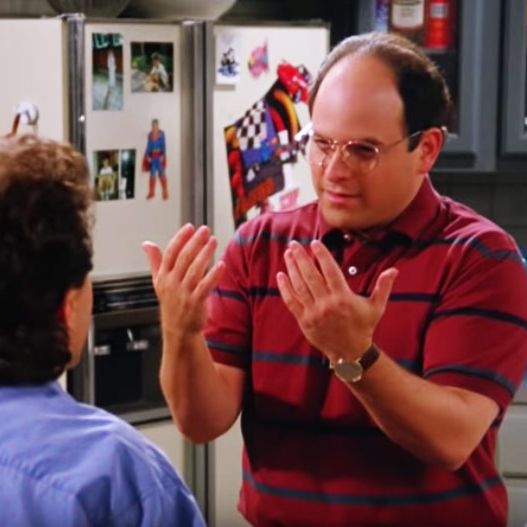 Jason Alexander as George Costanza in every hand model's favorite episode of
Seinfeld
.
Photo: Sony Pictures Television
Pay attention to advertising and you'll realize that hand models are everywhere: holding that cell phone, gripping that leather steering wheel, showcasing that iced mocha. A lot of behind-the-scenes work goes into making those hands camera-ready — hand models are naturally very serious about their skin-care regimens.
"As a hand model, hand cream is part of your tool kit," says hand model Philip Hersh. The qualities a hand model looks for in a hand cream are a little more specific than what the average consumer would think of. The hand models we spoke with seemed primarily concerned with three things: no shine, fast absorption, and overall feel. ("No shine" because their hands are being photographed under bright studio lights.) To compile this list we reached out to some of the best "parts" agencies in the country, who put us in touch with their top hand models. (From Parts Models in NYC: Christina Ambers, Ellen Sirot, RayMartell Moore, Jacinda Motton, Likai Lai, and Davide Illiano. From Closeup Models Agency in L.A.: Iris Hill and Philip Hersh. And from Star Touch Agency in L.A.: Ariel Paredes). Below are the best hand creams according to our nine hand-model experts, and we also included some hand-model hacks that you've probably never heard of before (think: emu oil, hand masks, and soursop seed serum).
Hand creams recommended by at least two hand models
When we first set out to write this article, we were expecting all of the hand models to be in on some super-obscure, insider-only hand cream, but the cream that came up the most was the humble drugstore staple, Palmer's Cocoa Butter lotion. "The old standby has always been Palmer's cocoa butter, I always go back to that," says hand model Christina Ambers. Hand model RayMartell Moore likes Palmer's a lot, too. "I just find myself really appreciating their products," he says.
Neutrogena Norwegian Formula is another drugstore standout that a few models mentioned. Hand model Ariel Paredes told us this is her go-to when her hands are feeling really dry and need a richer moisturizer. "It's not oily, but it's very thick and concentrated," she says. "It takes a good 15 minutes to absorb, so I only use it when I have time to let it soak in." Paredes keeps a tube of the Neutrogena in her car as a way to make good use of time stuck in L.A. traffic, and she'll often apply it as she's driving to set for a job. "I rub it in, get it all around my cuticles, and then when I arrive my hands look baby soft."
Ambers likes to be prepared for anything that might come up when she's on set, so she usually shows up with a selection of her favorite hand creams. Aesop Resurrection hand balm is one of her favorites. "The smell is so nice and relaxing," she says, so if it's a particularly stressful shoot she can take a quick break, breathe it in, and it's like aromatherapy. It looks great on camera, too — "It's matte but also slightly dewy." Hand model Likai Lai loves Aesop, too, but she actually prefers to use their body balm on her hands because she finds it "even more moisturizing."
Paredes told us that this Chanel hand cream is a favorite of the on-set manicurists. (Commercial hand-model shoots will almost always have an on-set professional manicurist — there's no need for "hair and makeup" when the focus is on the hands). It absorbs quickly and doesn't leave any shine or residue, so it "photographs well." It also has a nice subtle fragrance, which Ambers likes. "I feel comfortable using it on the subway — I think it's rude to use anything with a strong smell when you're on the train."
Hand models Philip Hersh and Davide Illiano both mentioned this hand cream from Burt's Bees. Hersh often does his own "market research" by asking manicurists and models what their favorite low-oil lotions are, and he says this one comes up a lot and it's a great, affordable option.
Hand creams recommended by one hand model
The on-set manicurists are always trying out new products, so it's a great way for the models to learn what's out there. Paredes recently learned about this Jurlique hand cream while a manicurist got her camera-ready: "It's thicker and absorbs quickly, which is good because you don't want anything that's going to be too greasy or shiny when you're on set. You want to be moisturized but not shiny because it reflects off the camera."