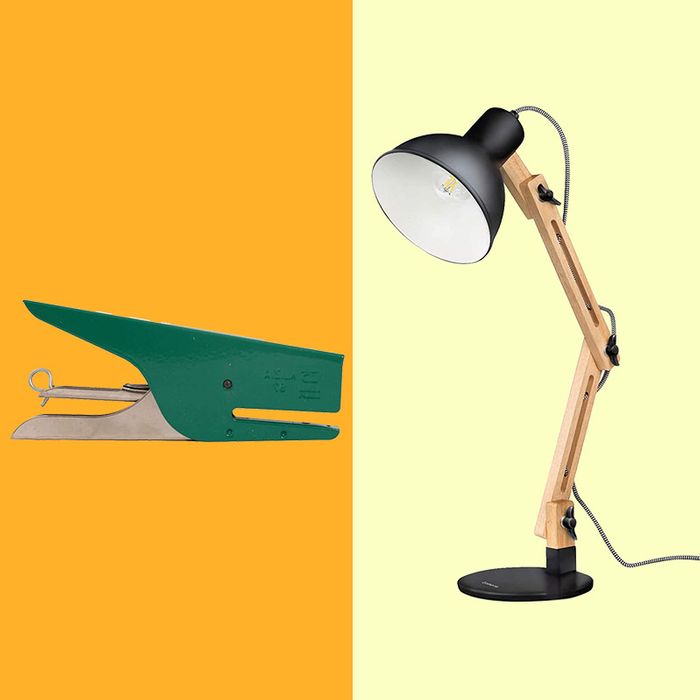 Photo-Illustration: Vendors.
Stocking up on desk accessories generally doesn't rank high on the priority list. But if you're one of the many office workers still logging in from home, you might be looking for ways to zhuzh up your workspace with the same level of care you gave to your old cubicle. Or, if your office is now reopening, you might be looking for supplies to freshen up a space left vacant for a year. While a comfortable desk and desk chair can go a long way in making your setup a little more professional, functional accents — like, say, a USB-powered humidifier that looks like a succulent — can also make it a bit more enticing and uplifting. Below are 31 such accents (including the aforementioned humidifier) that will make working from home (or returning to your old desk) a little more bearable. While most of the things on this list are available on Amazon, we've found some of them elsewhere, too, for those who like to shop around.
While they may be more commonly used on tables, a set of coasters is an easy way to keep a desk from getting mucked up by water rings or coffee stains. This set comes with six, in neutral gray, white, and charcoal hues. Any you don't need to keep in the office can, of course, be used at home.
Here's an ultrathin pad that can easily fit in a work bag so that folks who work in and out of their office can always have something to convert any surface into something that's more like a desk. The waterproof pad is big enough to accommodate a laptop and mouse — and smooth enough to function as a mouse pad — so you could even put it on a permanent desk as an extra protective, colorful, and functional surface. If you don't like the pistachio green shown, it comes in lots more shades like hot pink and lavender.
While some living plants can do well in offices, a simple silk orchid like this one is foolproof and mess-free. We like that it comes with a white vase, so you don't need to worry about finding a pot.
Or, for the succulent fans out there, here's that USB-powered humidifier.
Using this handsome stand to display a postcard or picture is another way to add life and a bit of cheer to your desk, according to one writer we spoke to.
Tissues are never not going to look a little futsy, but this sleek metal-and-wood case will surely look a lot better on your desk than whatever bright-colored cardboard box they come in.
Strategist senior editor Anthony Rotunno swears by the word clock at his desk, which tells time in five-minute increments — and in complete sentences. He says that there's "something inherently calming" about its "soothing display."
If you need something to keep your hands busy during an endless Zoom call, try this fidget toy made of rainbow-colored wooden balls. When it's not in use, it can double as a cheery paperweight.
Another way to make those video calls a little more fun? Pretend you're gabbing with your friend on a landline instead by using this handset that plugs into your laptop or cell phone via a headphone jack (newer devices without that port may require an adapter). Rotunno, who uses his handset every day, says that even just looking at it "can invoke happier times — like nightly calls with grandma from my family's old kitchen phone."
If you have a private office space and prefer to take calls on speakerphone like some bigwig Hollywood agent, this pleasingly old-fashioned speaker would allow you to do just that — it's Bluetooth-compatible, making it easy to sync to a (smart) phone. Small enough to fit in a bag, the gadget can also play music and even pair with smart devices like an Amazon Echo, making it quite versatile for the price.
This matte-black-and-wood guy would be great for brightening (and sprucing) up any workspace that's far from a window — or gets used for a lot of night shifts.
For those who'd prefer more industrial-looking lighting, here's an angular metal lamp with an exposed bulb that will cast even more light because it lacks a shade. If the gold color shown doesn't speak to you, the lamp also comes in rose gold and black.
For another space-brightening accessory, you could always try a tabletop mirror. Not only will it reflect existing light, but a mirror can also give the illusion of a bigger space. Not to mention, it would also come in handy for touching up makeup or ensuring there's no food in your teeth before that big meeting.