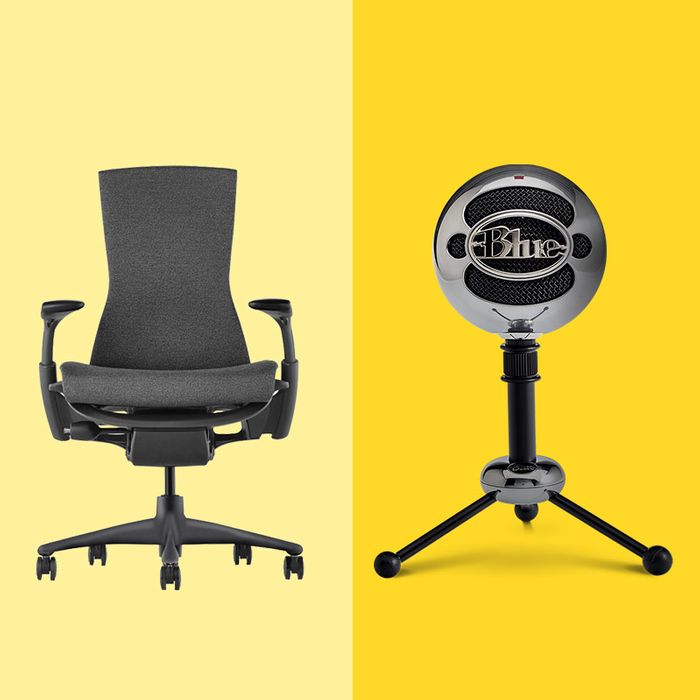 Photo-Illustration: retailers
It's hard to believe, but many of us who were sent home last March expecting to return to our offices after a few weeks have now worked from home for more than a year. In that time, we've bought chairs, lamps, desks, and so many other things to try to make the living room or kitchen table or home office a more efficient, pleasant place to work. With COVID-19 restrictions being relaxed across the country, some folks may be returning to the office soon, while others are gearing up to WFH for even longer. Whichever group you are a part of, if this year has taught us anything, it's that the right equipment can improve any office space.
That's why we asked a bunch of people a simple question: What's the best thing you bought over the last year to make WFH more bearable? Below, some 27 working professionals share the furniture, lighting, electronics, comfort items, and even kitchen items that improved their work days during the pandemic. For even more supplies for home (or traditional) offices, be sure to check out our list of the products that folks who've worked from home for years use every day.
Furniture


"Getting comfortable at home was my No. 1 priority," says Lucia Scarampi, a co-founder of clothing line Marta Scarampi. "Once I lost the chance to walk to work, I felt like I could not sit all day." To help prevent her from staying seated for too long, Scarampi invested in this adjustable desk that she says helps her "avoid neck strain and back pain from sitting too long." Alternating between sitting and standing has improved not only her posture, she adds, but also her energy levels. Scarampi isn't the only fan of this desk: Three editors at the Verge told us they have the same one in their home offices. Verge deputy editor Dan Seifert, who has owned his Jarvis desk for four years, describes it as "comfortable, stable, and spacious." To those worried about a potentially complicated setup, Verge news editor Nick Statt adds that the assembly is "far less cumbersome than I thought it would be."
Devin McGhee, the founder of beauty brand Deon Libra, bought this standing desk from Autonomous (the maker of some of our favorite ergonomic desk chairs and stools). The fully motorized desk has a keypad that you can preprogram with your preferred heights, making it easier to raise or lower without breaking a sweat. "It allows me to move more and stay a bit more active with our new (more sedentary) Zoom work life," she says.
While you can pay a lot less for a standing desk (as the two options above make clear), entrepreneur Kyle Cooke, a star of Summer House and the founder of beverage company Loverboy, notes that "most are ugly." The desk he treated himself to has a minimalist silhouette that makes it more streamlined than clunkier standing desks, and is made sleeker by a hidden built-in ledge where you can keep charging cords and a power strip neatly out of sight. It is also electronic, but Cooke says, "I'm not sure I even need the electric adjustment feature because I absolutely love standing at it to work."
As Ervina Wu, the CEO and co-founder of beauty brand YINA, points out, "the chair is just as important as the desk" when setting up an office. She describes this chair, with its ergonomic mesh backrest that can recline and move with your body, as both "beautiful and functional." While it isn't cheap, Wu gives three reasons why you should consider investing in it as a place to sit every day: "The mesh design keeps me cool, it rolls smoothly, and it's low-back-friendly."
When we talk to chiropractors and other experts about the best ergonomic office chairs, styles from Herman Miller always top the list. According to the pros, Herman Miller chairs are designed to be as comfortable and supportive of your body as possible, no matter how long you sit in it. Ben Lebowitz, the founder of pet-portrait studio West & Willow, told us he bought this Embody chair to replace another one that started causing him discomfort a few months into working from home. It checks many of the boxes chiropractors say to look for in an ergonomic chair, including a tilting mechanism and adjustable backrest. "After sitting in one in a showroom, I knew the Embody Chair (although pricey) was the one for me," he says. Those who'd rather not spend a paycheck (or two) on a better office chair should check out our full list of chiropractor-recommended ones, some of which cost about a tenth of this price.
This kneeling chair (from our list of chiropractor-approved office chairs) is not only a more affordable option but also better suited for small spaces. Our senior editor Anthony Rotunno bought it last October, "shortly after learning we might be working remotely until September 2021," writing that "it seemed small enough not to take over my open-plan home, and, since I'm trying to take walks and get up more throughout the day, I felt I could abide by the experts' recommendation to change positions while using it." Six or so months later, he's still sitting in it and "has really grown to love it." Although his legs took a couple of days to get acclimated, he says, "now I truly never tire of the position it puts me in; in fact, it feels so natural now, I probably sit in it more than I should."
Photo: retailer
McGhee purchased this under-desk treadmill to slip beneath her Autonomous standing desk, calling it "one of the best decisions I ever made." She adds that "work-life balance is nonexistent sometimes, so being able to walk a few miles while working is a blessing to my time management. After Strategist contributor Brittany Brown tested out the WalkingPad treadmill, she wrote that it "felt good and sturdy, with enough room for me to jog without feeling like I was going to fall." When not in use, the treadmill can fold in half and be stored upright to save space.
"It took four months to be delivered but it is glorious," says sommelier and writer Belinda Chang of this Transformer Table. The extendable minimalist piece can stretch from 18 to 118 inches wide, making it super versatile — if used at home, you could theoretically keep it compact while working and then expand it before guests arrive for a dinner party. This versatility, according to Chang, has led more people than her to invest in one: "The delivery driver told me that he is delivering four a day to my neighborhood," she says.
Perhaps, like Khalea Underwood, the global editorial manager for M.A.C Cosmetics, you often work from your couch. If so, she recommends this folding table that she bought after discovering that her "vintage coffee table is a bit too low to use as a workstation." Underwood says she now uses it every day in any number of ways: "as a desk, table, and workstation."