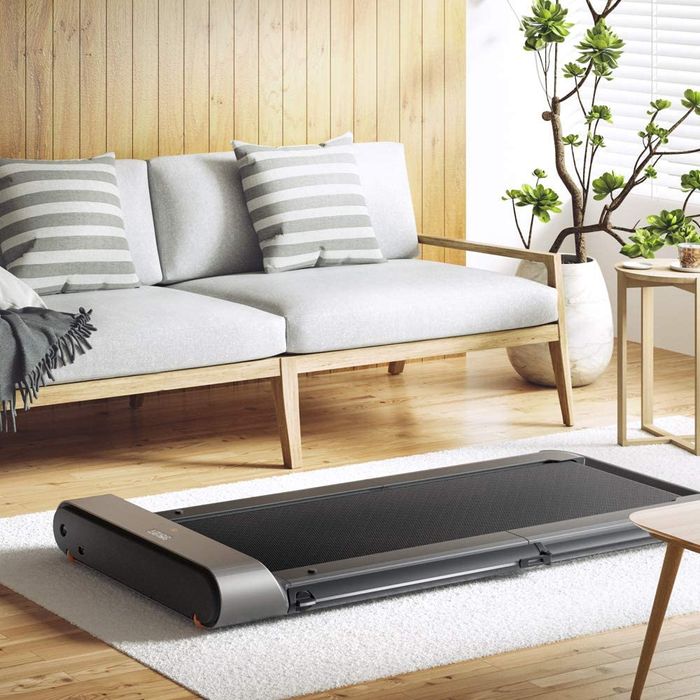 Not long after I (and many others) started working from home, I realized there wasn't going to be an easy substitute for all the walking I did while commuting, picking up lunch, and meeting up with friends after work. It was my most regular form of exercise, and overnight, the five-plus miles I clocked daily without even trying plummeted to basically zero. While going down an internet rabbit hole looking for solutions, I came across other folks' DIY treadmill desks — or smaller-than-normal treadmills placed beneath a work surface so one could walk and, well, work. While it's certainly become more popular in the past few months, under-desk exercise gear is not new. The more I looked into treadmill desks, I noticed a few new-ish ones that were quite tiny — seemingly small enough to fit in my bedroom turned office and quiet enough that my roommates and downstairs neighbors wouldn't loathe me for walking a few hours each day.
In doing more research on treadmills with small footprints, I started to zero in on brands that specifically made models for people, like me, who have no dedicated space in a living room or study for any exercise gear — who, instead, need to easily stow it between uses. There were three that stood out in this regard, including the WalkingPad R1 Pro, Treadly 2 Pro, and LifeSpan TR1200-DT3 Under Desk Treadmill. I reached out to all three brands about testing their models, and WalkingPad and Treadly each sent me one to try.
And try I did: I walked on each treadmill for a minimum of four hours a day for an entire work week at my DIY standing desk. (In order to really get to know the treadmills, I sometimes walked more than that — occasionally, I even ran.) And while there are some important differences between the models that may make them appealing to different buyers, the most important thing about both treadmills is their size: Neither one took up much more real estate than a yoga mat. And, crucially, both can be stored quite easily (though, perhaps, one more easily than the other). Both have classic treadmill features — displays for miles per hour and distance — as well as the particularly handy ability to automatically speed up or slow down depending on where your feet are located on the belt. They're also both quiet — far quieter, for example, than my air conditioner. Neither made more noise than a laptop fan.
As for their differences … below, I break down my experience with each model based on five criteria: what it was like to walk on while working, how easy it is to store, the belt feel, the bells and whistles (like compatible apps), and the fine print (warrantees, trial periods) that comes with each purchase.
The best tiny treadmill if space is your top priority
Walking while working: Walking while reading, typing, and generally working isn't as difficult as I initially imagined. The WalkingPad R1 Pro allows you to increase its speed in increments of .5 mph, and at one mph, I could pretty much do any work task imaginable on this or the Treadly treadmill. I wrote with a pen and paper, typed emails, edited articles, and attended Zoom meetings. Yes, walking that slow feels a little silly at first, but the hours just flew by without any sort of fatigue. When I upped the speed to two mph, I could still do some minimal typing, but otherwise had to relegate any work I did to hands-free stuff. The biggest difference between the WalkingPad and Treadly treadmills is that WalkingPad's automatically shuts down for 30 minutes after two hours of use to ensure that it — and you — don't overheat. While thoughtful, I'll admit there were days when this abrupt stop disrupted my rhythm and, in turn, whatever I was working on.
Both the WalkingPad R1 Pro and the Treadly treadmill have adjustable handrails, and I bring this up here because those handrails are related to each treadmill's maximum speed. The WalkingPad's speed controls are on the handrail itself; it can go up to 6.5 mph when the handrail is up, but the company advises users to walk no faster than 3.5 mph when the handrail is down. Raising and lowering the handrail is a minor process — you have to turn knobs and lock it in place — but it doesn't take long. Also, in order to start using the WalkingPad, you have to extend the handrail and unfold the treadmill (it arrives folded in half, more on that below). This takes a bit of force, and you'll hear a noise that sounds like tearing Velcro — but that's normal, and the more you use the treadmill, the less the noise will occur. For those wondering, the fastest I went on this was five mph (I'm not much of a runner), and it felt good and sturdy, with enough room for me to jog without feeling like I was going to fall.
If you're just going to walk, WalkingPad makes this less expensive folding treadmill (that I did not test) with a max speed of just under 4 mph.
Storage: The WalkingPad treadmill is roughly 59-inches long, 28-inches wide, and 6-inches tall while open and laid flat. When folded, the length drops to around 38 inches but the other dimensions remain the same. While compact, it is heavy — almost 73 pounds — with a body primarily made of plastic. Its ability to fold makes the WalkingPad super space-efficient, though, because it takes up less floor space when stored, no matter if you're tucking it under a bed (mine has an 11-inch clearance) or couch. When folded, the base is stable enough that you can also flip the treadmill on its side and tuck it behind a door or in a corner. What's more, the WalkingPad has wheels, which make it even easier to store and retrieve (especially when it's folded).
Belt feel: The WalkingPad's ability to fold in half may gain it points in storage, but this feature loses points when it comes to belt feel, because you can feel the line in the belt where it folds. It didn't exactly bother me while walking on it (in shoes or barefoot), but those used to working out on treadmills may find it distracting. The treadmill's folding ability also means the belt is just generally more prone to moving and rubbing against the side of the machine while in use. But moving the belt back into its proper place is easy enough with the Allen wrench it comes with (or by using your hands and gently pulling the belt back to center, like I did).
Bells and whistles: The WalkingPad comes with a remote control you can use to adjust the speed, and the treadmill pairs with an app that also lets you control its speed (the app is especially useful if you are walking with the handrail down and don't have the remote). The app also does other basic things like track speed, count your steps, and keep track of calories. I found it to be a bit clunky — I had to change the app's distance setting to miles instead of its default of kilometers — but it did do the basic things it promised to do, even if it didn't add to my experience of using the treadmill.
The fine print: WalkingPad gives you 14 days to return the treadmill for free if you do not like it. It also offers a one-year warranty that includes free repairs to the treadmill (but customers must pay for shipping if they're sending it to be repaired).
The best tiny treadmill if performance is your top priority
Walking while working: On the Treadly 2 Pro, I could do the same work I could on the WalkingPad while walking at the same speeds (most everything at one mph; minimal typing at two mph). This treadmill has a slightly slower maximum speed of five mph (I could jog on it with no issue), and you can only hit that when its handrail is up. When it's down, the treadmill has a maximum speed of 3.7 mph. While its speed range is smaller than the WalkingPad's, the Treadly allows you to increase speed in increments of .1 mph, giving you more precision. And there's no auto-shut-off feature, so you can walk (or jog) for as long as you want. Its handrail is also easier to adjust — you can raise or lower it with basically the push of a button.
Storage: The Treadly 2 Pro is roughly 58-inches long, 29-inches wide, and 4-inches tall. At about 77 pounds, it's heavier than the WalkingPad, but its body is made from aluminum-reinforced metal that's of higher quality than the WalkingPad's plastic. With its handrail folded down, the Treadly easily fit beneath my bed, and its low height means it can probably fit beneath some couches. But since you can't fold it, you do need whatever you're putting it under to have enough floor space to accommodate its 58-inch-long body. Because it is relatively streamlined, you can also store it standing up in a closet, against a wall, or behind a door, too — just make sure there's enough support provided by whatever it's leaning on. It also has wheels, which help make its heavy frame a bit easier to move.
Belt feel: The Treadly's belt feels smooth from the get go and has a bit more bounce and cushion. It never shifted once during my testing period, though Treadly cautions that it may. The box also includes an Allen wrench that you can use to fix it if it does.
Bells and whistles: While it doesn't come with a remote, the Treadly treadmill can be paired with an app — and that app really stood out to me. It can function like a remote (a.k.a. it can change the treadmill's speed), track your steps, and also allows for more of a community-workout experience like you'd get from far fancier equipment. You can walk with a friend via the app's video-chat feature, or turn on "coach mode" and allow a friend (or coach) to set your pace. I tried both of these features, and they worked more or less seamlessly.
The fine print: Treadly allows for returns within 30 days of purchase. It also offers a one-year limited warranty that covers most repairs.
The Strategist is designed to surface the most useful, expert recommendations for things to buy across the vast e-commerce landscape. Some of our latest conquests include the best acne treatments, rolling luggage, pillows for side sleepers, natural anxiety remedies, and bath towels. We update links when possible, but note that deals can expire and all prices are subject to change.