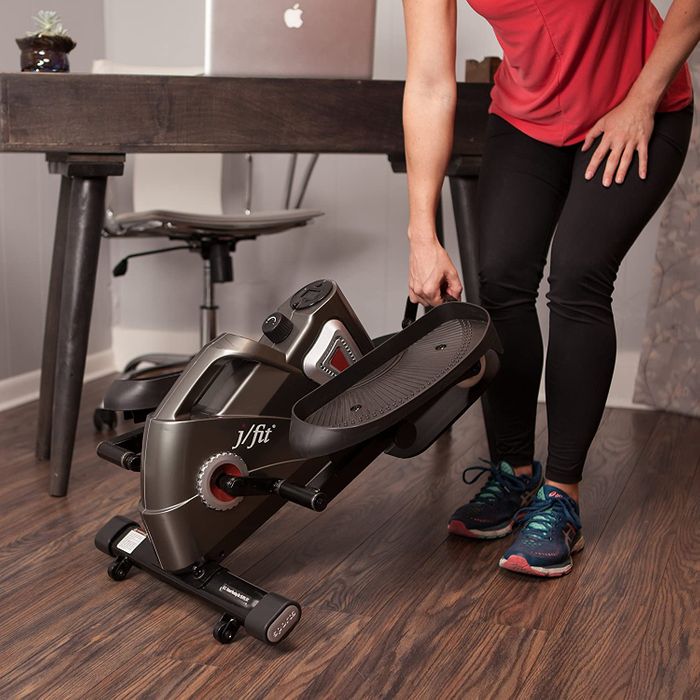 Here at the Strategist, we like to think of ourselves as crazy (in the good way) about the stuff we buy, but as much as we'd like to, we can't try everything. Which is why we have People's Choice, in which we find the best-reviewed products and single out the most convincing ones. (You can learn more about our rating system and how we pick each item here.)
And while we've written about lots of workout equipment before — including the best adjustable dumbbells, the best weight benches, and the best home-gym equipment — here, we've rounded up the best under-desk ellipticals and cycles, as praised by the most enthusiastic reviewers on Amazon.
Best-rated under-desk cycle
With over 1,600 five-star reviews, this under-desk cycle received high praise for being quiet and smooth. "I loved this so much at my desk at work that I bought a second one for my home office," writes one reviewer. "It is silent and so smooth to pedal. Quick and easy assembly." Another agrees that the assembly took no time but admits, "It takes a bit of trial and error to get it the correct distance from you, but eventually, you'll figure it out." Dozens even call this product "life-changing," like one mom who has "little to no time to exercise at home." She writes, "This product has changed my life. Seriously. Having this DeskCycle in the office, under my desk, is the best purchase I have ever made. It has changed my life from sedentary, sitting all day at work, to athletic, cycling at least an hour a day five days a week." And lots more reviewers mention how they can bike dozens of miles without even thinking about it. "I now typically pedal 25 to 40 miles per day every day without even thinking about it, and that's with resistance on 6, which means I'm burning 600 to 1,000 additional calories every day," celebrates this reviewer.
Best-rated (less expensive) under-desk cycle
This desk cycle from Vive has rubber feet to ensure it won't move while you're using it. "This is a perfect piece of equipment for both young and old. It takes up very little space, and with the rubber feet it does not slide on any surface," writes one reviewer. Another appreciates that it's "covered with rubber," confirming, "Unit does not slide on hardwood floors." Dozens of reviewers rave about how quiet it is, like one receptionist who works "in a very professional environment with people coming through the area frequently." She's "in a pretty competitive group of Fitbit users, so she purchased this to get her steps during challenges and explains, "I was a little worried it would be noisy, but this thing is so quiet. It doesn't slip on the carpet, and even though my chair has rollers, I'm able to pedal all day without having to readjust constantly."
Best under-desk cycle with adjustable resistance settings
This under-desk cycle's multiple resistance settings allowed reviewers to adjust the tension to their individual strength level, which makes this model stand out. "The different tension resistances are nice and click into place easily," explains one reviewer, who adds that the highest setting actually gives him a workout. "If I pedal quickly at the highest tension setting, I'll start to build up a sweat after not too long, but if you're in the workplace using this, you probably don't want to go all out and smell like you just got out of the gym around your co-workers." Another shopper just switched from an active job to "working from home on a computer" and bought this to keep moving: "I was very worried that I would gain a lot of weight with being much more sedentary, so I got this to try out. It took some finagling to figure out exactly where to place it so that my knees do not hit my desk, but I am a pro at using it now. I typically go at least 20 miles per workday with it, and I can feel the burn when I am done." And one more thinks this bike is overall "really excellent, supersmooth, and a great gift to your body. I've lost five pounds already in a few weeks."
Best quiet under-desk cycle
Half of all five-star reviewers call this newer version of the DeskCycle "quiet," like one who says, "Testing it out, it is extremely quiet and provides plenty of resistance. I believe that if you take this seriously, you will definitely burn as many calories as on a full-size recumbent bike." Another notes, "This thing is nice and quiet. Working at home and on office days, it's not distracting." One shopper put over 50 miles on it in the first week of ownership and calls it "well built, fairly heavy, and whisper quiet. Sitting at a desk over the past 4.5 years has been a bummer, and with a 1.5-hr round-trip commute, that adds up to a lot of sitting. Since I have been using this thing for 10+ miles a day, I have felt so much better. Best part is, when I stand up, my quads and hamstrings are jelly from actual work." Another reviewer calls this bike "life-changing" because they have "no realistic possibility of exercising during the day. But with this bike, I can burn hundreds of calories — often over a thousand — while I work, all without actually breaking a sweat or leaving my desk."
Best under-desk elliptical and arm cycle
Reviewers say this exercise machine does double duty: It works as an under-desk elliptical and an arm cycle. One writes, "Whether you want rigorous exercise or are recovering from an injury, this is an excellent machine for both arm and leg exercising. It performs just as well as machines in the gym, at a fraction of the cost." Over 100 more five-star reviewers agree, noting how well this works as an arm cycle. "I purchased this strictly for the arm bike," says one shopper who was looking for something similar to an arm cycle they had enjoyed in physical therapy. Another says it's "as smooth, if not smoother, than the $3,500 one at rehab, and it's certainly quieter." One five-star reviewer calls it a good option to use while recovering from foot injuries, because it allows them to "get a good cardio workout while using only my arms." They add that the variable magnetic resistance is a great feature: "You can really dial up the resistance if you want. The range goes all the way from no resistance to very hard (and I have strong arms)." Many users note that if you're using this as an arm cycle, it's worth considering the company's ergonomic hand pedals as an attachment. "It's much more comfortable that way," one writes.
Best under-desk elliptical for sitting or standing
Sixty percent of reviewers give this under desk elliptical five stars, and many take full advantage of the fact that you can use it while standing or sitting. "I don't use it continuously, but try for at least 10 minutes an hour when doing tasks at my desk, trying for a longer time if possible," one says. "The simple exercise makes a big difference in keeping alert and my legs feel like they have gotten a bit of a work out." Another customer, who uses this while they stand, explains, "I am far too lazy to go to the gym. However, I can bring myself to drag this in front of the TV and run for a couple miles. I usually use it a few times a week (standing up) and typically go for 2 - 2.5 miles. Nothing crazy, but enough to get my heart rate up." About two dozen folks refer to the ride as smooth, which is great for one reviewer who's tried other models: "My issue with small steppers was the jerking motion." They add, "This is exactly as shown in its video - a smooth rotation. I spend about 30 minutes on it and work up a sweat." You can work up a sweat pretty effortlessly, too, according to one reviewer, who says, "I don't even realize that I'm using it." They add, "I rest my feet on it (like a foot rest) just to get comfortable in my chair. Then before I realize it, I'm cycling away." And while you're staying in place, one user says, "My Fitbit will pick up the steps as well" so you can track your movement too.
Best no-assembly under-desk elliptical
More than 15 percent of reviewers were jazzed to discover this under-desk cycle really does come fully assembled. "When they said no assembly was required, I thought they were kidding," one writes. "No, they were quite serious. It works out of the box." Another shopper who was debating between a few different models says, "I think I made the right choice and the fact that it comes pre-assembled was a huge deciding factor as I'm not a fan of anything requiring assembly." But it's still well-made, even though it's pre-built. "The Sunny elliptical is whisper quiet so I've even been able to use it when attending meetings by conference call," one reviewer writes. Another says it is so comfortable, "the pedals are quite comfy to use even barefoot." It can even be adjusted, depending on the user's strength and preferences, and best of all, it's still a good workout: "You definitely can get your heart pumping just by simply pedaling away."