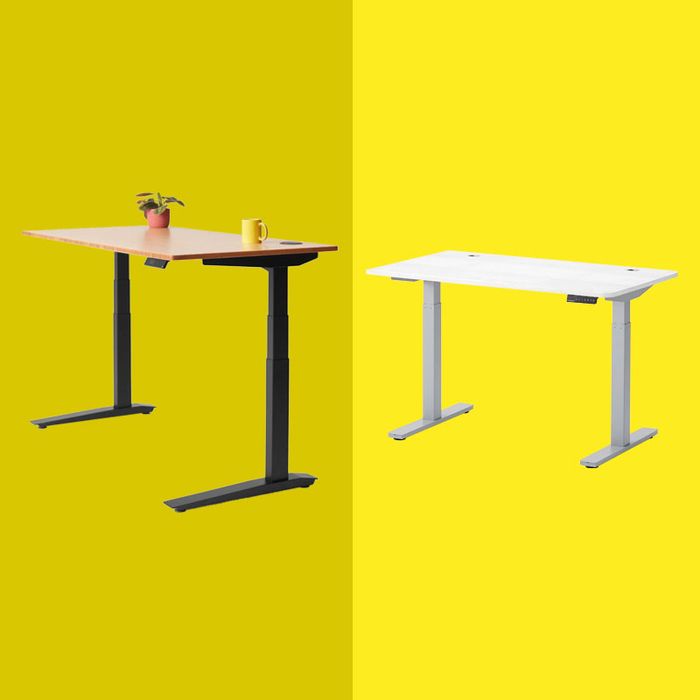 Photo-Illustration: NBCUniversal
Working from home is here to stay. It didn't come and go like a song of the summer or an internet trend; it's a full-blown movement at this point. Our homes have transformed, whether willingly or reluctantly, into fully formed part-time offices.
Many people have spent the last two years cultivating and perfecting their home-office setup. You might have picked up a seat cushion, then a proper desk chair and a laptop stand. But one of the most important things you can invest in is a desk, the anchor of any good workspace.
Working from home has made standing desks a breakout star. They offer flexibility in a work environment that might be cramped compared to a traditional office, and they may have health benefits too. Here are some of the best standing desks you can buy online.
Best overall | Best less-expensive | Best programmable | Most customizable | Best with storage | Best on wheels | Best treadmill desk
What we're looking for
Motorized vs. manual controls: To position your desktop at the right height, whether you're sitting or standing, your desk will have either manual or electronic/motorized controls. Motorized controls mean the desk will require a power source so that you can change the height of the desktop simply by pressing a button. Some desks with motorized controls allow you to program and save a set of preferred heights. Manually adjustable standing desks are just that — manual. You may have to turn a crank or loosen various knobs and lift the desktop to change the height. Manually adjustable desks are less expensive than desks with motorized controls and don't require a power source.
Desktop size and height range: The size of your workspace will determine how large your desk can be; if you only have a small nook, a CEO-size desk is obviously not an option. Many standing desks have a fixed base size but allow you to choose from multiple options for desktop size.
Meanwhile, the size of you will determine the height range your desk needs to have. The standard height of a seated desk is between 28 and 30 inches from the floor, which is close to the lowest height for many of the standing desks below. A 28- to 30-inch standard desk height is meant to seat most people shorter than six feet tall, though needs may vary depending on body type and proportions. Most companies that make standing desks will provide an idea of what heights their standing desk can best accommodate in standing and seated positions, whether you're five-foot-one or six-foot-two. To figure out your optimal desk height, the rule of thumb whether you are seated or standing is that your desktop should be at elbow height so you can use a keyboard and mouse with your elbows at a 90-degree angle for a more comfortable and ergonomic experience.
Features and customization options: Many standing desks are available with customizable add-ons like cord pass through slots on the desktop, cable racks where you can corral cords or a surge protector, and monitor arms to raise your screen to eye level. You may also be able to choose the material and finish your desktop is made of, from bamboo to solid wood to a whiteboard surface designed for note-taking. Custom add-ons can drive up the price but will help you tailor your desk to better fit your needs.
Price: Standing-desk prices can rise quickly depending on the number of add-ons and custom features you select, motorized versus manual operation, and desktop size and material. For this guide, a price ranking of $ denotes desks under $300, while $$ indicates a price range of $301 to $700 and $$$ indicates a price of $701 and up.
Best overall standing desk
Motorized adjustment | Three height ranges: 22.9 inches to 43.2 inches, 30 inches to 49.3 inches, or 25.5 inches to 51 inches tall | Nine desktop sizes starting at 30 inches by 24 inches | $$$
The Jarvis bamboo standing desk by Fully comes in nine desktop sizes, starting at a compact 30 inches by 24 inches and going all the way up to 78 inches by 30 inches. Three of those desktop sizes are also available with a curved front edge. A choice of three frame sizes will determine the height range of your desktop, going as low as 22.9 inches or as high as 51 inches. (Note that the default "two-stage" frame configuration on Fully's website is recommended for people between five-foot-ten and six-foot-nine, so the most popular option is to pay $20 more for a "three-stage" frame with a greater height range.) You also have the choice of six different frame colors and no grommet holes on the desktop, or up to two grommet holes with powered grommets, depending on desktop size.
The wide variety of options is why the Fully Jarvis desk is praised by multiple staffers at our sister site the Verge. Deputy editor Dan Seifert has one of the larger sizes, which "has served me well for about four years now," he says. "It's a comfortable, stable, spacious desk that has more versatility than typical desk options." According to news editor Nick Statt, this desk is one of the best work-from-home purchases he's made. "Just having the option to sit or stand, when you're cooped up in your room or home office all day, makes a big difference," he says. Plus, "assembly was far less cumbersome than I thought it would be."
News writer Jay Peters, who also owns a Jarvis desk, embraced Fully's upgrade options to create a more custom build: "I highly recommend spending the extra $20 for the extended-range height, which lets the desk get lower for sitting and higher for standing, and the extra $35 for the programmable height switcher, which lets you preset heights that you can switch back and forth just by pressing a button," he says. Peters also uses his Jarvis as more than just a desk: "I also sprung for the $29 casters so that I could wheel it around my apartment, which lets my wife and I use it as a mobile entertainment system," he says. Fully sells a range of other add-on accessories, like a clamp-mounted surge protector, a monitor stand with a drawer, magnetic hooks that hold up to 35 pounds, even a bottle opener. You can also choose between a lighter or darker bamboo color for the desktop (or, if you don't like bamboo, the Jarvis comes in other styles as well).
Best less expensive standing desk
Manual adjustment | 26 inches to 42 inches tall (not including wheel height) | Four desktop sizes starting at 46 inches by 24 inches | $
After buying a cheap office chair and struggling with back pain while working from home early in the pandemic, Strategist contributor James Lynch decided to look into standing desks. He didn't want to spend a ton of money on a new desk, so he found a simple workaround: this height-adjustable workbench. "A workbench may not sound like the perfect WFH solution," wrote Lynch, "yet it is now where I do all of my work."
Lynch has the 52-inch-wide version, which he describes as "perfect for setting up a monitor, some speakers, and whatever else you keep at your workstation." The desk also comes in three other desktop sizes, with the option to add drawers in some configurations. And since it's designed to be used in a garage or workshop, the surface is made of solid wood, making it more durable than inexpensive desks you might find elsewhere with plastic or particleboard desktops. "It's designed for the bumps and bangs of hammering, drilling, and sawing, so the occasional mashing of your keyboard will hardly make it flinch," Lynch wrote.
After about an hour and 15 minutes of assembly time, Lynch had the desk fully built with the four included casters (you also have the option to leave those off if you prefer). His favorite feature is the manual hand crank that adjusts the height of the desk. "It's supremely easy to raise and lower the desk from its top range of 42 inches high to its lower limit of 26," Lynch explained. "All you have to do is turn the small crank on the right front corner and it smoothly raises or lowers the desk by any incremental amount. When you get to your ideal height, there is no complicated locking procedure. Just stop cranking. The desk is ready to go."
Best programmable standing desk
Motorized adjustment | 29.4 inches to 48 inches tall | Three desktop sizes starting at 43 inches by 24 inches | $$
Devin McGhee, founder of the beauty brand Deon Libra, recommends this standing desk from Autonomous (the maker of some of our favorite ergonomic desk chairs and stools). The SmartDesk Core comes in three different frame colors (white, black, or gray) with a choice of three desktop sizes: 43 inches by 24 inches, 53 inches by 29 inches, or 70.5 inches by 30 inches. Depending on what size you choose, the laminate top is available in up to nine colors, and all sizes come with at least one predrilled grommet hole. The default keypad on this motorized desk is programmable with up to four preferred settings — a nice touch, as adding programmable presets to other desks on this list requires spending a bit extra to upgrade the keypad. The desk height has a minimum of 29.4 inches and a maximum of 48 inches (a smaller range than some of the other desks on this list, so look closely at what measurements you'll need if you are shorter or taller than average). "It allows me to move more and stay a bit more active with our new (more sedentary) Zoom work life," McGhee says.