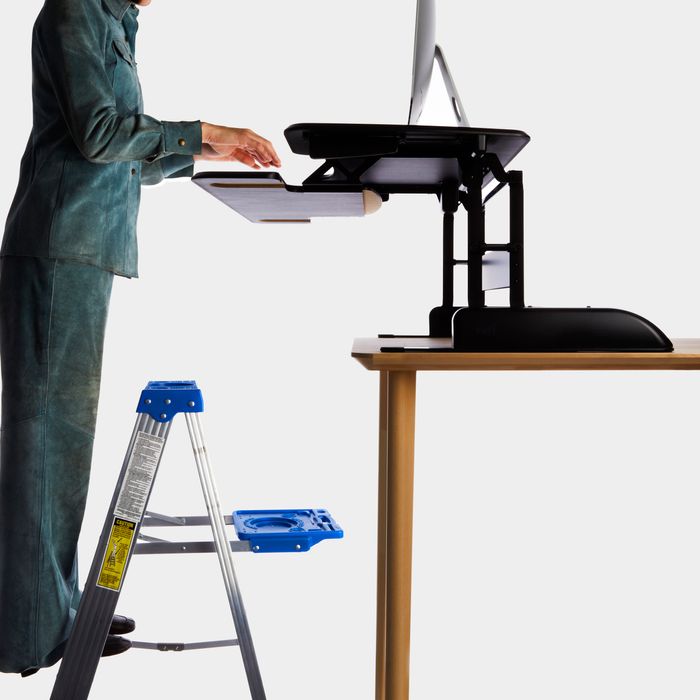 Working from your couch certainly has its comforts, but it isn't easy on your posture. "Sitting for prolonged periods of time in front of a computer can cause significant upper-back and neck pain," says chiropractor David Perna of Back & Body Medical. An ideal work-from-home setup should accommodate both sitting and standing as well as offer changes of position to accommodate a variety of body types and postures. "Posture is a worsening problem," says Jan Lefkowitz, a chiropractor at New York's Body in Balance Chiropractic. "I have noticed that younger people are getting much more back pain and neck pain than they used to, and I feel it's from the fact that screen time starts at a much earlier age than it did for older generations." Alternating periods of sitting and standing can help manage those aches, which is where standing-desk converters come in. By allowing you to work in different positions, a standing desk or standing-desk converter "puts less stress on the lower back and helps a person achieve a more upright position," says Perna. And if you don't want to get a whole new standing desk, a converter can transform your regular worktop into one that is more ergonomic. And while we've written about lots of ergonomic office furniture and accessories — including the best laptop stands, office chairs, and seat cushions — here, we've rounded up the best standing-desk converters that you can buy online.
Finding the right converter design for your desk is all about aesthetics and practicality. You will definitely need to consider how tall your desk converter can rise, how much height it will add to your current desk, and how those measurements will work with how tall you are. Standing-desk converters top out at around 20 inches; the shortest recommended converter below tops out at 15 inches. You're aiming to have your desktop or keyboard tray at elbow height, so you can use a keyboard and mouse with your elbows bent at a 90-degree angle for better ergonomics, and your screen at eye level. A good rule of thumb is to try testing out a stack of books on your current table. See how many you need to get to your laptop keyboard to elbow height and use that measurement as a guide. Most converters should be suitable for a variety of heights, but that depends on the desk you already own and how tall it is.
Think about what you'll be putting on top of the standing-desk converter, and pay attention to the maximum weight it can hold. All of the options in this guide can hold 20 pounds, which should be plenty for a laptop and a monitor, and many hold 30 pounds or more, which is typically sufficient for dual-monitor setups.
To position your converter at the right height, whether you're sitting or standing, it will have either manual or motorized controls, though motorized controls are rarer. Adjusting your standing-desk converter may require using a handle to lift it with one or both hands or simply putting a little oomph into raising it to your desired height. Manually adjustable standing-desk converters are the most affordable option and don't require a power source.
Standing-desk converters are not exactly known for their sleekness — many have cumbersome designs with keyboard trays and legs that protrude from your desk like scaffolding around a skyscraper. There are more minimal and sleeker converters that can be easily stowed away when you're not using them and larger ones that tend to be sturdier, hold more weight, and rise higher but take up a lot of space on the desk. We've listed the approximate surface area required on your desktop for each converter below.
Standing-desk converters can easily cost just as much as — or more than — a basic standing desk, so the best setup will come down to the furniture in your existing workspace, how much you want to spend, and the features you're looking for. More expensive standing-desk converters will usually offer a sturdier build, higher maximum weight, and smoother lift controls. In this guide, a price ranking of $ denotes converters under $200, $$ is a range of $201 to $400, and $$$ is $401 and up.
Best overall standing-desk converter
Max height: 17.5" | Max weight: 25 pounds | Lift: Manual | Surface size: 36" wide | $$
Lefkowitz recommends the VariDesk, because it easily switches between sitting and standing heights with a spring-lift mechanism. Integrative pain expert Joe Tatta explains that "substituting prolonged standing for prolonged sitting results in a greater feeling of discomfort," so he likes that this desk "accommodates a variety of body types and postures." You can choose between 11 height settings, which max out at 17.5 inches. The VariDesk has a weighted base to add stability and will easily hold a monitor and a laptop, supporting up to 25 pounds. It has a two-tier design with an integrated keyboard and mouse tray to make using it more ergonomic and comfortable — when it's lowered to the desktop while you're sitting, it still functions as a monitor riser, and when it's raised while you're standing, it can keep your screen at eye level and your keyboard at your elbows. It arrives fully assembled and also comes in a 36-inch Pro model with a higher weight limit that can easily hold a dual-monitor setup as well as a 48-inch width if you prefer an extra-large workspace.
Best less expensive standing-desk converter
Max height: 20" | Max weight: 33 pounds | Lift: Manual | Surface area: 32" wide by 15.7" deep or 26" wide by 11.8" deep | $ 
The Vivo is one of the best-rated standing-desk converters available on Amazon with thousands of five-star reviews. Reviewers report that it is easy to set up and use and suitable for all kinds of work setups. One person called it a "game changer for at-home work flow," writing that the "quality is outstanding, super easy to adjust to my height, and goes up and down super smooth." Another says using it has helped to resolve their "back, neck, and shoulder issues." The Vivo reaches a maximum height of 20 inches, and it can hold up to 33 pounds. In describing its adjustability, one reviewer says, "You can raise and lower the shelf with one hand," because it "has piston operated lift (so no lifting) and goes up and down very gently — even with two monitors." It has a keyboard and mouse shelf with space for other accessories and comes in four colors and two widths for anyone who needs to fit it on a smaller or larger desk.
Best standing-desk converter for two screens
Max height: 17.5" | Max weight: 35 pounds | Lift: Manual spring-assisted lift | Surface area: 36" wide by 30" deep | $$$
Chiropractor Dr. Steven Shoshany is a fan of VariDesk converters in general but prefers (and owns) this larger model. You can "slap it on" your existing desk "and go from sitting to standing," he says. "I've told patients that have never used a standing desk before that it can be tough to begin with. There are going to be days when you think, Screw it, I don't want to stand. I want to sit." So being able to adjust this desk, for both standing and sitting, makes it ideal for a new standing-desk user. Dr. Shoshany's final piece of advice is to invest in a pad or yoga mat to protect your feet from hard flooring. This desk's size can easily accommodate two screens with a separate curved shelf for a keyboard, mouse, and other accessories.
Best less expensive standing-desk converter for two screens
Max height: 20" | Max weight: 36 pounds | Lift: Manual | Surface area: 36" wide by 16" deep and 24" wide | $
Twelve-hour days in front of a screen started to give data engineer Benjamin Okyere some serious back pain, so he opted for a SHW desk converter. You can easily adjust its height range, he says, making it comfortable to use "while sitting down — if you prefer that. I toggle between sitting and standing throughout the day."
Best standing-desk converter with a removable keyboard tray
Max height: 19.7" | Max weight: 33 pounds | Lift: Manual | Surface area: 28" wide by 16.3" deep | $$ 
Rae Wellness co-founder Angie Tebbe told us that she likes this standing-desk converter because it helps her to "stay active and stretch my legs between meetings." Alexa Buckley, co-founder of Margaux, is a fan of standing-desk converters in general: "Both at home and at the office, I'm able to easily alternate between sitting and standing," she says. "Standing makes a world of difference in my posture and energy levels." (She suggests pairing a converter with an adjustable-height stool like this one.) The AlcoveRiser has a clever removable keyboard stand with a cutout on the upper level of the converter, so you can use the tray for either a stand-alone keyboard or a laptop. You can adjust it with one hand via a handle on one side. It has a maximum height just shy of 20 inches and can hold up to 33 pounds.
Best low-height standing-desk converter
Max height: 15" | Max weight: 35 pounds | Lift: Manual | Surface area: 35" wide by 23.3" deep | $$$
"I'm very particular about the aesthetics of my workspace and have had to change the layout and dimensions of my desk several times over the years to accommodate shifting spaces," says Helen Hou-Sandí, lead developer for WordPress. She initially tried the VariDesk standing-desk converter, but it unfortunately "moves forward when you go into lift mode, so in my workspace, it backed me into a wall, and I didn't like that," Hou-Sandí says. She appreciates that the Ergotron easily adjusts straight up and down and has "a perfectly sized keyboard and mouse area for my needs." It is available in black or a "more sleek," according to Hou-Sandí, white. It reaches a maximum height of 15 inches (the lowest of the converters in this list) and can hold a maximum of 35 pounds.
Best minimal standing-desk converter
Max height: 15.7" | Max weight: 22 pounds | Surface area: 31.3" wide by 22" deep | Lift: Manual | $
Fully is the maker of our favorite standing desk, which has been recommended by three Verge editors for its minimalist design and levels of customization. The Cora has Fully's same design language; it's sleek and easy to store after a day of work. When it's not fully extended, it resembles a slightly heightened desk mat. It reaches a maximum height of 15.7 inches and holds a maximum of 22 pounds. It has a manual two-hand lift that is easy to operate and smoothly glides up and down. The Cora was created with a similar ethos as Fully's highly regarded Jarvis standing desk; it's just easier on the budget and more versatile and portable if you like to work in different spaces around your home.
Best portable standing-desk converter
Max height: 10" | Max weight: 22 pounds | Surface area: 9.4" wide by 11" deep | Lift: Manual | $
Strategist contributor Charlotte Klein recommends this unassuming converter that sits "somewhere between a traditional standing-desk converter and a laptop stand." It's easy to fold, so Klein says she can work ergonomically from just about anywhere. The converter weighs less than a pound, and "when folded up, it's the size of a magazine and a half-inch thick." That makes it compact enough to slot on a bookshelf when you're not using it.
Our experts
• Alexa Buckley, co-founder of Margaux
• Helen Hou-Sandí, lead developer at WordPress
• Charlotte Klein, Strategist contributor
• Jan Lefkowitz, chiropractor at New York's Body in Balance Chiropractic
• Benjamin Okyere, data engineer
• David Perna, chiropractor at Back & Body Medical
• Dr. Steven Shoshany, chiropractor and clinic director
• Joe Tatta, integrative pain expert
• Angie Tebbe, co-founder of Rae Wellness
The Strategist is designed to surface the most useful, expert recommendations for things to buy across the vast e-commerce landscape. Some of our latest conquests include the best acne treatments, rolling luggage, pillows for side sleepers, natural anxiety remedies, and bath towels. We update links when possible, but note that deals can expire and all prices are subject to change.