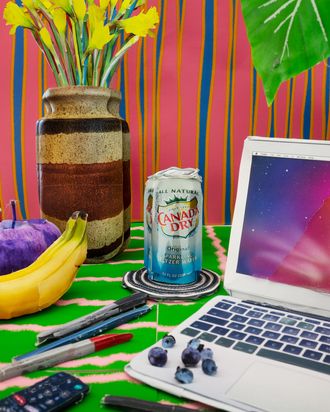 Art: Daniel Gordon/Yellow Daffodils, 2020, Courtesy of the artist and Kasmin Gallery, New York.
Since the start of the pandemic, we at the Strategist have been hyperfocused on home-office setups of all sorts — sussing out supportive, ergonomically designed office chairs, actually nice-looking small-space desks, and structural lamps (that happen to provide flattering Zoom lighting). And since it has become increasingly clear over the past few months that working remotely, at least some of the time, will be part of many office workers' new normal, we decided to consider all those many hundreds of home-office items recommended to us by chiropractors, interior designers, CEOs, and other experts and organize them by price and workstation — whether you're looking to revamp a 500-square-foot study or merely make your couch-and-a-coffee-table setup more ergonomically aligned.
An
Under-$50
Go-Anywhere
Workstation
Chiropractor Cariann Paul says if you can only afford one upgrade to your workspace, it should be a laptop riser that brings your screen to eye level. "If you're constantly looking down, you're going to develop really bad posture," she says. You're putting a lot of stress on the anterior muscles of the neck, which are not meant to support your head in that position." A laptop stand brings things into alignment (Paul says to follow the "rule of 90," meaning your hips, knees, and elbows should all be bent at 90 degrees when you sit) to help you avoid neck pain and tension headaches. For one that's easy to tote from room to room or even to a coffee shop or backyard, Sarah Weingust, founder and CEO of travel company HostelPass, recommends the lightweight and foldable Moft stand with two height settings. Although it's tiny, Weingust says the stand doesn't budge even when she's "typing up a storm."
A valet tray is a convenient way — whether you're sitting at a floater desk, a hotel, or a coffee shop — to make sure you have a spot to keep your phone, headphones, and whatever other miscellany you accumulate while working. This one — from A24 — is light, sturdy, and just big enough to hold the contents of your pockets.
Photo: Courtesy of the Vendor
These Prismacolor pens are technically markers, which is what freelance photographer Raquel Hendriksen says makes them so great. "They do not smudge or bleed through paper, and they make my handwriting look easygoing and legible," she says.
A
$60
Couch-Friendly
Setup
Photo: Courtesy of the Vendor
If you happen to prefer working from your couch — or even in bed — Paul likes this laptop stand, which doesn't require a desk and still ensures you aren't hunching over your computer.