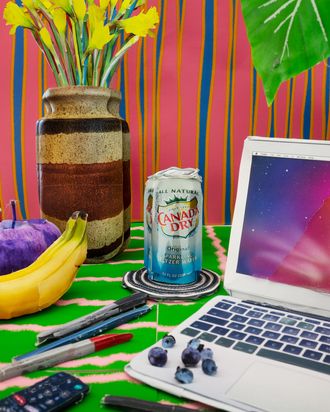 Art: Daniel Gordon/Yellow Daffodils, 2020, Courtesy of the artist and Kasmin Gallery, New York.
Since the start of the pandemic, we at the Strategist have been hyperfocused on home-office setups of all sorts — sussing out supportive, ergonomically designed office chairs, actually nice-looking small-space desks, and structural lamps (that happen to provide flattering Zoom lighting). And since it has become increasingly clear over the past few months that working remotely, at least some of the time, will be part of many office workers' new normal, we decided to consider all those many hundreds of home-office items recommended to us by chiropractors, interior designers, CEOs, and other experts and organize them by price and workstation — whether you're looking to revamp a 500-square-foot study or merely make your couch-and-a-coffee-table setup more ergonomically aligned.
An
Under-$50
Go-Anywhere
Workstation
Chiropractor Cariann Paul says if you can only afford one upgrade to your workspace, it should be a laptop riser that brings your screen to eye level. "If you're constantly looking down, you're going to develop really bad posture," she says. You're putting a lot of stress on the anterior muscles of the neck, which are not meant to support your head in that position." A laptop stand brings things into alignment (Paul says to follow the "rule of 90," meaning your hips, knees, and elbows should all be bent at 90 degrees when you sit) to help you avoid neck pain and tension headaches. For one that's easy to tote from room to room or even to a coffee shop or backyard, Sarah Weingust, founder and CEO of travel company HostelPass, recommends the lightweight and foldable Moft stand with two height settings. Although it's tiny, Weingust says the stand doesn't budge even when she's "typing up a storm."
A valet tray is a convenient way — whether you're sitting at a floater desk, a hotel, or a coffee shop — to make sure you have a spot to keep your phone, headphones, and whatever other miscellany you accumulate while working. This one — from A24 — is light, sturdy, and just big enough to hold the contents of your pockets.
Photo: Courtesy of the Vendor
These Prismacolor pens are technically markers, which is what freelance photographer Raquel Hendriksen says makes them so great. "They do not smudge or bleed through paper, and they make my handwriting look easygoing and legible," she says.
A
$60
Couch-Friendly
Setup
Photo: Courtesy of the Vendor
If you happen to prefer working from your couch — or even in bed — Paul likes this laptop stand, which doesn't require a desk and still ensures you aren't hunching over your computer.
If you're not working at a desk with built-in storage, this filing box is useful for keeping papers or notebooks organized and away from the coffee table. Interior designer Alex Kalita of Common Bond Design uses hers to store photos and fabric swatches and calls the piece a "workhorse" that has "stood the test of time."
An
Under-$250
Small-Space
Workstation
Photo: Courtesy of the Vendor
For clients who don't have the space for a full home office, interior designer Christopher Stevens, founder of Tipper Studio, says he's been "focusing on small discreet writing tables that read less like a desk and can do double duty as an entry console or sofa table." These also give you the option to shift the desk's function if you end up going back to the office full-time. This affordable pick from Ikea is one of his favorites. "It's super-simple, has a bit of storage, and has a relatively shallow depth of 19 inches that makes it easy to place," he says.
Photo: Courtesy of the Vendor
As Hendriksen says, "Finding a desk chair that isn't hideous is hard" — and especially important when your "office" is just a corner of your living room or studio apartment. She chose this modern (and surprisingly affordable) dining chair that won't be out of place among the rest of her décor.
[Editor's note: These chairs require a minimum purchase of two and ship in five weeks. If you only need one chair, there are plenty of other Eames look-alikes available, like this one at Overstock for $95.]
Since you won't be getting much postural support from your chair, a footrest can at least ensure your lower body is positioned properly. When your feet don't reach the floor when you sit, it puts extra pressure on the sciatic nerve, which extends down from the lower back and branches out to the back of each leg. Paul likes this footrest, which helps you maintain those 90-degree bends in your knees and hips.
An
Under-$500
Dining
Room
Desk
(for
Standing
or
Sitting)
Photo: Courtesy of the Vendor
"Our bodies are like clay," says chiropractor Rudy Gehrman, explaining that if we stay in one position over an extended period of time, our muscles will start to default into that shape. Sitting at a desk all day, for example, might cause you to hunch your shoulders and jut your head forward even when you get up — and leave you with neck and back pain. To break the pattern, he recommends alternating your working time between sitting and standing with an adjustable standing desk. Both he and fellow chiropractor Jan Lefkowitz suggest this stand, which lets you easily transition back and forth during the day. "It's spring assisted which makes it easy to adjust without hurting your back," says Lefkowitz. When it's time to clear the table for dinner, you can easily fold it down and move it out of sight.
Photo: Courtesy of the Vendor
Once you raise your laptop to eye level, you'll probably find that the built-in keyboard and mouse are now too high to use comfortably. "When it comes to our wrists, we want them to be neutral so they aren't in a position of stress," says Paul, reminding us of the importance of a 90-degree bend at the elbows. Switch to a wireless keyboard like this one, which Paul likes because it's more spacious than a typical laptop-sized one. ​​"A smaller keyboard tends to force us to close our chest, making it easier to round our backs, which can increase back and shoulder pain," she says. "A split keyboard allows us to have a more open and neutral configuration by keeping our arms properly aligned."
Although vertical mouses are a little strange-looking, several experts, including Paul, recommend them because they keep the wrist in a neutral "handshake" position, unlike the typical style that forces it to twist down. This mouse comes in both right- and left-handed versions and is a favorite of Alice Holland, a physical therapist at Stride Strong Physical Therapy, who likes that it "allows the hand to be rotated to a comfortable angle."
Photo: Courtesy of the Vendor
If you'd rather not replace one of your dining room chairs, consider this posture-correcting seat that Lefkowitz recommends. "It keeps the pelvis in a forward tilt when you sit," he says. "Most people, if their core is weak, will allow their pelvis to tilt backward and they go into a slouched position. This increases pressure on the lower back and also sets off a chain reaction that leads to a forward head posture and rounded shoulders." And when company comes over for dinner, you can easily tuck this away to hide your office.