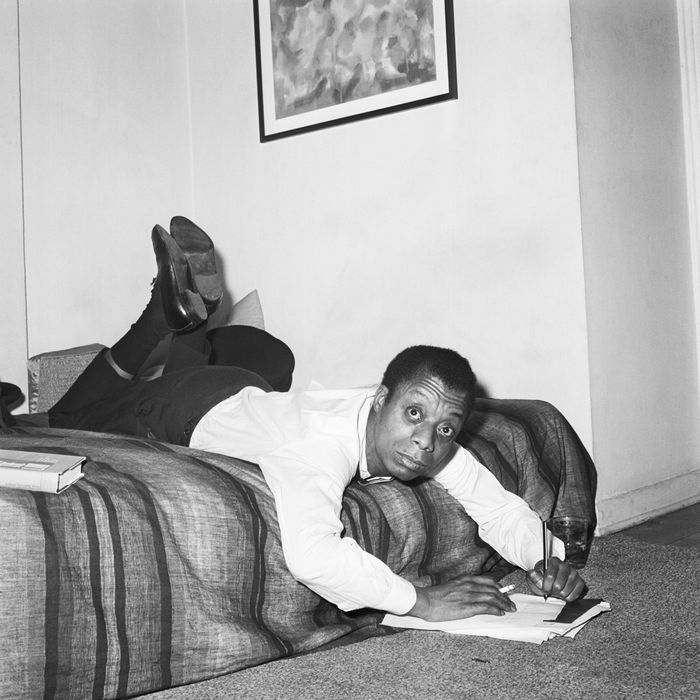 While James Baldwin, seen here in 1963, shows that any surface can be a writing desk, many people (and a Harvard study), say having a dedicated desk to work from will be more efficient.
Photo: Courtesy of the retailer
Yes, technically any surface — be it a dining table, kitchen counter, or mattress — can function as a writing desk. But for many people (and according to a Harvard productivity study), having separate spaces to work from and live in is crucial, especially within your own home. That means, even if your desk is in the kitchen, simply having one can make you more focused and efficient.
While most desks have surfaces you can write on, for the purposes of this story, we've defined writing desks as ones used by folks whose workdays consist mainly of writing, be that novels, articles, or just emails. Which means you won't find architects', illustrators', or gamers' favorite desks below, but you will find the favored desks of some cool writerly people we admire, from fiction writers to book critics to journalists who report on topics like crime, design, food, travel, politics, and more. Since most of their desks serve the same function (but contain slightly different features), we've grouped them by price to make it easier for you to find one that works for your budget.
Best
under-$200
writing
desks
Photo: retailer
We learned about this ingeniously designed coffee table from Jacob Gardenswartz, an associate White House producer for NBC News, who tells us it's pop-up mechanism allows him to have a desk in front of the TV by day and a coffee table by night. Because his job requires him to "spend most of my days watching a whole lot of screens while I work," he likes that he can have a desk in front of his TV without having, well, a desk in front of his TV. "I know you're not supposed to work on the couch," he adds, "but I've found this set up works great for me."
Marko Gluhaich, an associate editor at literary journal Cabinet magazine, says, "When I'm working, I need enough space for my books, notes, and laptop." While "no-frills," he says this "cheap" table from Ikea offers ample desk "space so that I never feel cluttered." He's worked from it for more than two years and notes the minimal design means it's simple to put together.
Also from Ikea's Linnmon line, this table is what fashion designer Niyi Okuboyejo, the founder of Post Imperial, uses as his desk. Okuboyejo tells us that "I used to have a really heavy, wide table for my desk that came in handy for cutting and pattern-making," but as he "transitioned into focusing more on the design and strategic aspects of my career," he no longer needed the extra space to accommodate hands-on work like pattern making. Instead, he needed something simpler that would allow him to manage his business and inbox. "I wanted something much lighter and easier to assemble, and this did that for me." That assembly, he notes, is basically one step: "Just place the tabletop on the legs."
Photo: retailer
Rachel Charlene Lewis, a senior editor at Bitch Media who moonlights as a freelance writer, told us that while working from home, she and her girlfriend take turns using this desk from Target. "It's a simple writing desk," she says. "We like it because it has drawers, so you can hide away extra papers and the sort of nonsense that accumulates on your desk." Lewis adds that this has the type of "nice, open surface" she looks for in a writing desk, which allows her to organize her supplies and décor in a way that lifts her mood. "I have a stack of old issues of Bitch in a magazine rack to the right of my Bluetooth keyboard and the little stand I keep my laptop on," she says. "I also keep a speckled vase on the desk, which holds cheap, fresh flowers from the grocery store."
Reporter and podcast host Sylvia Obell recently told us about her favorite desk, which she says suits her minimalist aesthetic while also "forcing" her to keep tidy because of its open-facing drawers. Obell adds that the marble is a perfect canvas for the "pops of color" she likes to decorate her desk with, "from a stack of books to a cute tray shaped as red lips." Lastly, she says it's "easy to assemble, which I appreciate as a single woman. All I had to do was screw on the legs."
[Editor's note: This desk can be purchased now and usually ships in one to two months, according to the retailer.]
Best
under-$400
writing
desks
Photo: retailer
Gabriela Ulloa, a writer and the assistant to Architectural Digest's editor-in-chief, told us she bought this writing desk as one of her "more practical" pandemic-induced purchases. "Equal parts adult and aesthetically pleasing, it motivates me to be productive and get all of my articles and Zoom calls done," she says. When work ends, she's been sitting at it to edit videos for her Instagram Live series "and, most importantly, to unsubscribe from all of the workout memberships I oh-so-naïvely joined in March."
Photo: retailer
"Whether I'm conducting an interview or just staring off into space, I'm doing it at my 'Big Ideas Factory,' a.k.a. my yellow desk," says Emma Orlow, a freelance design and food writer for T magazine, Bon Appétit, and our sister site Grub Street. While some "might find a neon work area distracting," she told us that having a bright yellow desk actually helps her get into the headspace to pitch and write the kind of "cuckoo stories" she enjoys, "like a recent ode to collectors of tiny dollhouse food." Orlow adds that she "dresses up the desk with accessories, such as a '70s era Mad Libs set," and that "clacking away on my computer while sitting at it makes me feel like a modern day Ms. Frizzle." While her yellow desk is a vintage find, given that its color is the main reason she loves it, we think this bright-yellow alternative channels the spirit of her recommendation.
Reporter Ashley Southall, the New York Times's police bureau chief, says the desk she now works at began as a plan to "teach myself to sew." As part of that plan, she bought an iron Singer sewing-machine base like this and a piece of glass from Ikea to go on top of it — but instead of using them to become a seamstress, she Frankensteined the perfect desk. "I live in a studio, so my furniture needs to take up less space and do double duty," she explains. "Now my desk has almost six square feet of space for my laptop, notebooks, and story board," but its most clever element can be found beneath the surface. "Underneath, I use the base's sewing-machine pedal to stay alert and (I hope) prevent blood clots that can form in your legs when you're sedentary and kill you."
Photo: retailer
While travel journalist Sarah Khan normally spends most of her time writing on the road, the arrival of COVID-19 forced her to revert to doing her work from this desk that she bought "a few weeks before the pandemic hit." She purchased the three-drawer desk thinking "it would make for a nice pop of color in my apartment," telling us it hasn't disappointed in that regard. "Honestly, it's been pretty nice having it liven things up now that I'm spending way more time at it," Khan says.
[Editor's note: This desk will be back in stock on October 4, according to the retailer, which can send any interested buyers an email notification when it returns.]
Best
splurge-worthy
writing
desks
Photo: retailer
New York Times book critic Parul Sehgal's exact desk is also a one-off vintage find, but we were struck by how similar this CB2 desk is to hers (which you can see in this photo Sehgal sent us). Of her own desk, she says that "the marble is warm to the touch, and the surface is so narrow it affords no distraction; there's no room to pile up books or papers." (The CB2 desk appears similarly slender.) The marble-top design, Sehgal adds, makes sitting at it feel more like working from "a bar" than from a desk. In terms of décor, she adds "I leave it empty, save for a lamp, so when unused it has a bare, expectant look, which I like."
Writer, critic, and novelist Adam Dalva describes himself as being a supine writer pre-pandemic ("couch on good days, bed on bad, laptop burning my thighs," he says). But seeing as "the world is a wreck, and the lying-down Zoom angle turns out to be unflattering and disturbing, I decided to get this excellent desk." It has been, Dalva declares, "A revelation!" He continues that this desk (like any desk) means "no more coffee stains on my sheets and another flat surface for my beloved detritus." But he likes it for more than just these universal qualities. This desk, he says, is "easy to assemble — just an extended sequence of Allen wrenching" and has a truly unique look. "The work surface feels like it's floating, and that the desk looks like it's confidently striding back toward me whenever I approach."
While he hasn't sat at it much lately, Dalva says he bought this sturdy oak desk for his office at Rutgers University where he teaches creative writing. To maintain its pared-down appeal, the desk has a discreetly hidden power-cord compartment at the back to help keep it free of tangled cords and cables.
Photo: retailer
Author Elisabeth Thomas invested in this three-drawer desk right out of college, telling us it was the "first piece of grown-up furniture I bought with my own money when I started working." Her reasoning for splurging? "A real writer works at a real desk, I thought." You could say that paid off, because Thomas is definitely a "real" writer following the publication of her debut novel earlier this year. (Though she does admit that she has since learned real writers also work on the couch.) As for the desk itself, while Thomas can't promise buying it will lead to a book deal, she does promise that the piece, in all its "warm, cherry wood" finery, "is lovely."
The Strategist is designed to surface the most useful, expert recommendations for things to buy across the vast e-commerce landscape. Some of our latest conquests include the best acne treatments, rolling luggage, pillows for side sleepers, natural anxiety remedies, and bath towels. We update links when possible, but note that deals can expire and all prices are subject to change.