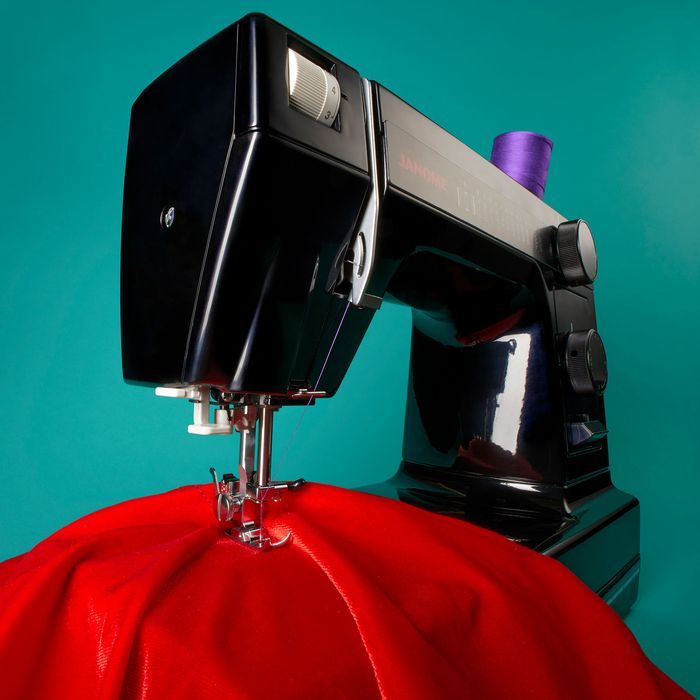 Pretty much everyone can find a use for a sewing machine. Whether you need to hem too-long jeans or too-long curtains, monogram gifts, make baby blankets, or just want to mess around with textiles, a sewing machine will vastly expand what you can do. Unlike some appliances, where the march of progress means newer models are more effective than old, the basic engineering behind sewing machines was cracked some 175 years ago, and they've been commercially produced for home use for over a century. This means that good sewing machines are a delightfully diverse category — in reporting this article, I heard about the Rolex of computerized machines and clout antique Singers — and can last for decades with patience and care. "All machines, no matter what, will need to get serviced at some point," says historical costumer and anesthesiologist Christine Millar. Repair shops often specialize in brands or styles of machines, so "you might want to know who's in your area who can actually service your machine, because that's so important." 
Though not strictly necessary for a well-functioning machine, several of the experts we spoke to recommended features that make repetitive tasks easier — especially threading needles. A machine "needs to be really easy to thread," says Maayan Zilberman, the founder of candy company Sweet Saba, especially when you're starting out, "because if it's not easy to thread, then anytime you get a jam or need to switch color thread, it's another excuse to give up on the project." Jessie Randall, founder of the shoe brand Loeffler Randall, also praises her machine's auto-cut function, which she says "saves so much time and thread, which is important for someone who is constantly sewing and wants to be economical with their materials."
Sewing machines are a broad and diverse category: There are tons of functions they can perform, and every machine offers a slightly different set of uses. In general, a traditional sewing machine interlocks two threads — an upper thread and a lower thread — to sew a straight stitch, which produces a continuous line of stitching on both sides of the fabric. Most machines can also sew a preset selection of specialized stitches that use the same mechanism, like a zigzag stitch or a smocking stitch. (Beyond the basics, some sewing machines have other functions, like the ability to sew buttonholes or do basic embroidery.) Also included on this list are sergers, also known as overlock machines, which use three or four threads and a small blade to trim and bind the raw edge of fabric in one pass.
There's plenty of crossover within these types — my sewing machine has a setting meant to replicate an overlock stitch, for example, and with a little finagling, you can sew a basic straight stitch on a serger — but the category will tell you what your machine is designed to be best at and what it will do frequently with the most ease. Like many appliances, choosing which sewing machine to buy is a balance between general use and a higher degree of specialized efficiency. "You don't need the fanciest machine in the world to do most home sewing," says Millar, and if you're a beginner sewer, it's best to start with a standard sewing machine with a range of utilitarian stitches. If you have something specific in mind, like quilting or constructing professionally finished garments quickly, a specialized machine may save you time and stress.
Computerized versus mechanical
Some modern sewing machines are computerized, which allows for a wider range of functions that wouldn't be available on a mechanical machine — such as more preset stitches, the ability to embroider from digital files, or customizing stitch length down to the millimeter. Still, several of the experts we spoke to prefer mechanical, microchip-less machines. "Digital machines can have a mind of their own," says Bryn Taubensee, designer and co-founder of Vaquera, and can be more complicated to troubleshoot or repair.
In addition to the standard straight stitch, both computerized and mechanical machines come with a set of preset patterns — some common options are a zigzag stitch, a smocking stitch, and a blind hem — and some higher-end machines also have the ability to program stitches yourself. One option on this list has nearly a thousand stitch patterns, but more isn't necessarily better: "A straight and zigzag stitch is all you really need," says Taubensee. Some sewers — myself included — are happy to trade fewer stitch options for a simpler interface, especially if the machine won't be used for complicated sewing projects or decorative needlework.
Best overall
Machine type: Sewing machine | Computerized or mechanical: Mechanical | Number of stitches: 14
This simple, powerful Janome machine is a great pick for all kinds of sewers. The thing that sets the Janome HD1000 apart from similarly priced machines is its aluminum construction, which graphic designer and home sewer Tracy Ma describes as "incredibly hard-wearing." Most modern sewing machines have plastic bodies, which make them more easily portable, but can make a cheap machine feel flimsy or shaky. Sewing machines concentrate a pretty hefty amount of force and oscillation in a small area, and a metal machine feels like it more effectively contains that horsepower. Taubensee is a metal-machine partisan — "I avoid using modern plastic machines since they make me feel like a bad sewer (which is not the case)," she says — and I agree that there's something about sewing on a metal machine that just feels good.
The machine weighs around 17 pounds, so if you plan to move your machine often or commute with it, a plastic option may be better. It does have a small-space-friendly footprint: "It's perfect for New York homes because it encloses into a tiny little thing and you can slide it in your tiny closet," Ma says. It comes with 14 preset stitches, including a buttonhole, enough for most home-sewing and quilting projects.
Best beginner sewing machine
Machine type: Sewing machine | Computerized or mechanical: Mechanical | Number of stitches: 15
"What sold me" on this Janome machine, says Strategist writer Kat Gillespie, "was its series of accompanying YouTube videos apparently aimed at teenagers looking to hem their Depop jeans." Gillespie named her turquoise Easy-to-Use machine the best thing she bought in 2021. She likes that it's easy to switch on and start using, and says that it's "neither over- nor underloaded with features," a useful quality for beginners.
Best portable sewing machine
Machine type: Sewing machine | Computerized or mechanical: Mechanical | Number of stitches: 30
Zilberman loves Swiss brand Bernina's Bernette 05 Academy model, which she says is perfect for "any beginner or person who doesn't want to be too fussy or precious about their sewing." She says it's been especially useful as her family became "more nomadic": "I've been able to take my Bernette with me wherever we've gone, since it comes with a cutie-patootie rolling suitcase" and weighs about 15 pounds. In addition to its portability, she also appreciates its pared-down interface and engineering; the machine runs quietly enough that "I can sew in the middle of the living room while my family is watching a movie because it barely makes a sound." (Content creator Wendy Liu also recommends the brand's similar 35 model for beginner sewers.)
Best all-purpose sewing machine
Machine type: Sewing and quilting machine | Computerized or mechanical: Computerized | Number of stitches: 600
Jessie Randall, founder of Loeffler Randall, says that her Singer Quantum Stylist 9960 "sits right at my dining table, like a sixth member of my family." She says the machine has held up well to frequent use on a wide range of projects: The machine "can do so many things, including quilt, embroider, make hundreds of different stitches, and gather fabric." She's used it to sew pillows, quilts, Halloween costumes, scrunchies, Loeffer Randall slipper prototypes — and, during the pandemic, over 1,200 fabric face masks. Randall also loves its time- and material-saving features, like an automatic thread cutter: "When you are done sewing, you can push a little button and it cuts the thread very close to the fabric … When I am sewing 30 face masks at a time or quilting, those extra thread tails really add up."
Best upgrade all-purpose sewing machine
Machine type: Sewing machine | Computerized or mechanical: Computerized | Number of stitches: 100
For a computerized machine with a wide range of uses, pattern designer Angela Wolf recommends the Brother Pacesetter PS500, which "provides great high-end features at a mid-level price point," like one-step buttonholes and automatic reinforcement stitches. (She also recommends the Pacesetter PS100, which costs $150, as "a more budget-friendly model for truly new beginner sewers.")
Best serger
Machine type: Serger | Computerized or mechanical: Mechanical | Number of stitches: N/a
If you're trying to construct garments with finished seams, a serger may be a better option than a traditional sewing machine. (In fact, garments with exposed serger seams are a bit of a trend in indie fashion.) "With a serger, I was able to translate what I had in my head into a garment a lot quicker," says designer Rhi Dancey, the founder of her eponymous brand. Dancey uses a secondhand industrial machine by cult-favorite Japanese brand Juki that she says is "really, really, really good." Taubensee also likes the brand's domestic MO 654DE model: She has two, and they've "held up great for almost seven years," she says.
Best splurge serger
Machine type: Serger | Computerized or mechanical: Mechanical | Number of stitches: N/a
A barrier to entry for new serger users is a complicated threading technique: "Do it wrong, the thread snaps," says sewing vlogger Tracy Garcia. This expert-recommended Babylock — along with Juki, one of the most popular serger manufacturers — has the incredibly useful feature of a jet-air threading system. "All you have to do is put in the thread and the machine shoots air and it threads it for you," Garcia says.
Best splurge sewing machine
Machine type: Sewing and embroidery machine | Computerized or mechanical: Computerized | Number of stitches: 991 and stitch-designer function
If you're open to splurging on the sports car of sewing machines, three of the experts we spoke to mentioned Swiss company Bernina as an aspirational brand, inspiring cultlike loyalty for its high-quality engineering. Zilberman's mother gave her a Bernina sewing machine as a gift in high school, which she compared to "[getting] a spaceship so that I could go to a local college." At first, Zilberman was "really overwhelmed by all of the different functions that it had," but once you get acclimated, she confirms that it really is the best.
Best antique sewing machine
Photo: Retailer
Machine type: Sewing machine | Computerized or mechanical: Mechanical | Number of stitches: Straight stitch only
"It's almost become a status symbol to have an antique Featherweight," says Millar. Produced from 1933 through the 1960s, these machines have a dedicated following among sewers for their time-tested reliability. "It's incredibly powerful. It can sew through leather; it's so, so strong. It does a really neat clean stitch." Because of the machine's "ridiculously long" production span, Millar says, it's also easy to find replacement parts and accessories. Its cast-aluminum construction clocks in at around 11 pounds, about the same weight as similarly sized plastic machines on this list.
The Featherweight is also popular for its aesthetic: "It's really cute, fits into any New York City apartment, and has a really cute box," says Millar. In addition to platforms like eBay, there are many online sellers that specialize in vintage Featherweights — and if you want to splurge on a custom-colored machine, Millar mentioned the company Sew Serious, which sells painted-to-order Featherweights in 30 different colors, like candy pink or forest green.
Best vintage sewing machine
Photo: Retailer
Machine type: Sewing machine | Computerized or mechanical: Mechanical | Number of stitches: 22
Taubensee highly recommends buying a vintage machine, which she prefers for their fully metal construction. She especially likes the Singer 401A, manufactured from 1956 to 1961, which she calls a "great vintage machine" that is still "really solid," even decades later. "Since they are purely mechanical, basically anyone can understand and fix them … I used a YouTube video to dismantle, clean, and service my machine, which was really fun to learn about," Taubensee says. She still gets the machine professionally serviced, and like Millar, mentions that vintage parts are easier to find with a model like the 401A that was mass-produced in its prime.
Some more sewing tools we've written about
• Rhi Dancey, fashion designer
• Tracy Garcia, sewing vlogger at Transformations by Tracy
• Kat Gillespie, Strategist writer
• Wendy Liu, content creator at With Wendy
• Tracy Ma, graphic designer
• Christine Millar, historical costumer
• Jessie Randall, founder of Loeffler Randall
• Bryn Taubensee, designer and co-founder of Vaquera
• Angela Wolf, pattern designer
• Maayan Zilberman, founder of Sweet Saba
The Strategist is designed to surface the most useful, expert recommendations for things to buy across the vast e-commerce landscape. Some of our latest conquests include the best women's jeans, rolling luggage, pillows for side sleepers, ultra-flattering pants, and bath towels. We update links when possible, but note that deals can expire and all prices are subject to change.
Every editorial product is independently selected. If you buy something through our links, New York may earn an affiliate commission.