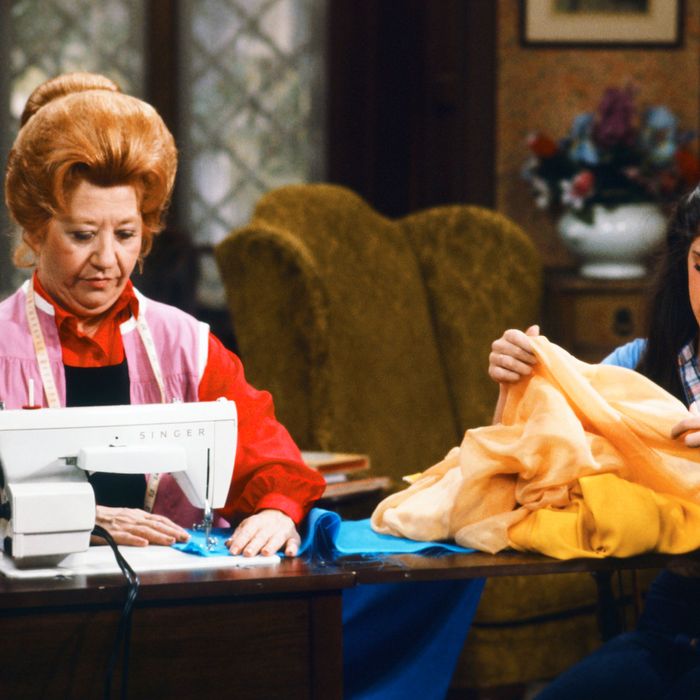 Photo: Ron Tom/NBC via Getty Images
We've written about lots of jeans, and about the satisfaction of giving monogrammed items, but here, we've rounded up the best sewing machines, as praised by the most enthusiastic reviewers on Amazon.
Since everyone is sheltering in place — and taking up new hobbies — during the pandemic, the demand for sewing machines, has increased, and stock has been constantly fluctuating at Amazon. We'll keep updating this post as more best-rated sewing machines come back in stock.
Related Articles: How to Quilt | How to Needlepoint
Best-rated sewing machine
With nearly 6,000 five-star reviews, this sewing machine led one user to compare it to a "friendly sewing robot." Hundreds of reviewers say it is especially ideal for those new to sewing as well as hobbyists — it "fits right in between that beginner and intermediate level," explains one. Many cite its value, ease of use, and lightweight but sturdy feel, and fans love the ease of the drop-in bobbin; one notes that the "bobbin is a dream to wind and insert." Amid the hundreds of users who talk about how fun this machine is to use, one promises that this Brother will help users find "joy in the sewing process instead of frustration."
Along with the many first timers, dozens of reviewers write about returning to sewing on this machine, like the not-atypical user who says, "I had not touched a sewing machine in 30 years, but having recently become semi-retired, find myself with extra time on my hands and decided to try sewing again. I am a novice seamstress, so I only needed a simple machine … I am totally impressed with everything about the machine. Set-up and instructions for use were clearly explained, and it worked like a charm, even going through thick portions of material easily."
Editor's Note: This sewing machine is currently out of stock.
Best-rated (less expensive) sewing machine
Reviewers are enthusiastic about this Brother sewing machine, especially those new to the hobby. One reviewer sums up the general consensus about the Brother XM2701: "Cheap and easy to use. It has many different ways to stitch." Dozens say how helpful the included DVD is, but one reviewer notes that as useful as it is, it's "extremely corny." Many say they appreciate the self-threading feature. As one says, "When I lived in the city, I'd run to a random neighbor's house and ask who ever answered the door to thread my needle so I could hand sew stuff. Now I don't have any neighbors. So the most important feature for me is the self threader. YEAH!" A few fans of the machine itself are not fans of of the purple flower decoration, and in the DIY spirit of owning a sewing machine, one reviewer says they "didn't care for the decals on the machine so I went to the dollar store and added my own, now I LOVE the way it looks."
Editor's Note: This sewing machine is currently out of stock, but read on for more in-stock micro-picks.
Best heavy-duty sewing machine
Heavyweight materials like denim and burlap can be difficult to feed through a sewing machine, but reviewers say this Singer model gets the job done. Its powerful motor and heavy metal frame allow thicker fabrics to get through the needle without jamming as they would on a less powerful sewing machine. One customer who runs an upholstery business says, "For the money, this is an outstanding machine." She has sewn through "folded, multilayer seams with no problem," including on denim and canvas. "There's very little it can't handle," she concludes. Another reviewer thinks potential buyers should just "save the extra you would spend on a fancy machine and buy this and plenty of material instead." She calls it "simple enough to learn or relearn to sew on yet powerful enough to sew heavy materials. It will sew through four layers of canvas and not balk."
On the other end of the spectrum is this heavy-duty sewing machine from Singer, which one reviewer calls "a workhorse and a half. I chose this model based on the heavy duty description, as I really do sew for hours a day." Another writes, "It had plenty of power to go through multiple layers of Sunbrella fabric smoothly. It took me a little to get to 'know' the machine and adjust my settings correctly, but once I got the hang of it this machine performed flawlessly." A third, who admits they'd had some tough luck with Singer machines in the past, but took a chance on this machine and is now a convert: "Let me say, WOW. Sews like butter, gets the job done and love that I can go from sewing silk and fur to canvass and denim in one sitting."
Best leather sewing machine
This Singer is, as one reviewer writes, "a nice, simple machine that works very well on heavy fabric." Another says, "Strong motor, fast stitching, and will do every stitch you will want or need." The fact that it is relatively low tech is also considered a bonus among satisfied reviewers. As one reviewer exalts, "I also LOVE the fact that this is pretty much completely mechanical. Sure, it doesn't have as many bells and whistles as some of the electronic/computerized ones, but in a pinch this unit could be used completely by hand, with no electricity whatsoever."
A solid machine, the Singer Heavy Duty 4423 is referred to by dozens of reviewers as a "workhorse" that powers through heavy fabrics with ease. "I can sew directly through leather and vinyl, and even through woven seagrass baskets and fans, which previously broke my needles instantly if I made the tiniest error," writes one impressed user. Another writes about this machine's ability to sew through almost any fabric, "I also teach bag-making classes with my local guild, and have never had problems getting through multiple layers of interfacing, fabric, canvas, or batting. I've even been able to sew leather handles on. You gave to go slowly, but it's totally doable."
Best sewing machine with screen
One of the features that sets this computerized sewing machine apart is the large, color LCD touchscreen, which, according to one reviewer, "provides clear and easy viewing of stitch functions including stitch length, stitch width, tension settings, recommended presser foot, needle up/down position and more." Another reviewer is impressed with this machine's preprogrammed stitch variety, writing, "It really is a 'push and play' type feature. Simply push the specialty stitch button, look at the screen display and select the stitch you want. Right there on the display it tells you exactly which foot you will need and then you just put in your thread, bobbin and material and go!" But there are plenty of other features that helped it garner nearly 2,000 five-star reviews. As one reviewer summarizes, "I had bought this machine about two months ago now, and I absolutely love love love it. Runs quiet and absolute perfect stitches every time. It's very nice to be able to go to your machine, turn it on push a button and sew 'til your hearts content. Singer, you knocked it out of the ball park with this machine."
Best coverstitch machine