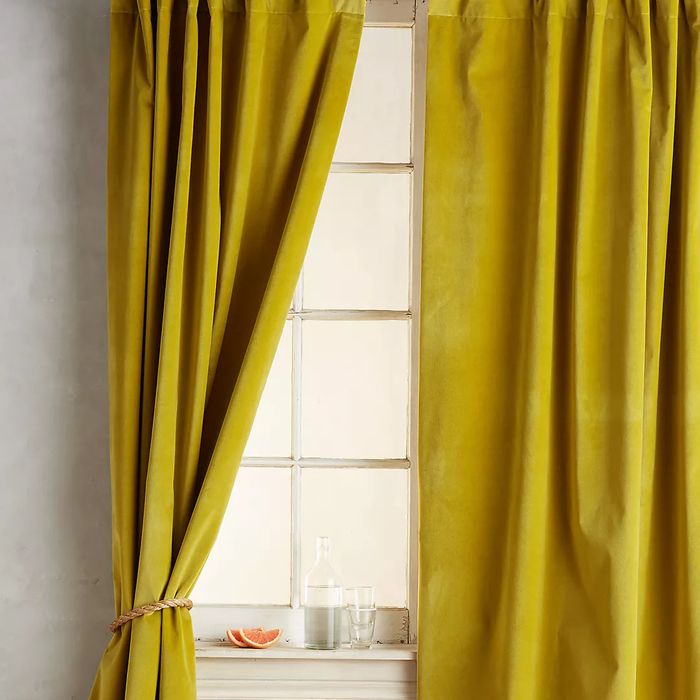 Photo: Courtesy of the retailer
Large windows and natural light are wonderful, but if you find yourself squinting at your computer in midday sunbeam or making extended eye contact with pedestrians outside a ground-floor apartment, it may be time for window curtains. Luckily, installing them is one of the quicker and less expensive home-improvement projects; the only additional supplies you'll need are a drill and a curtain rod (although some styles also require hooks). And while there are plenty of luxe window treatments out there, there are also inexpensive options that do the job well.
Best overall | Best upgrade linen | Best sheer | Best (less expensive) sheer | Best blackout | Best washable | Best patterned | Best velvet | Best silk | Best custom
What we're looking for
Material: When buying curtains, choose a material you like — one that looks good during the day and night, up close and far away, gathered to the side or pulled shut. All kinds of materials can be made into curtains, but the most common are wovens with a nice drape, like cotton, linen, silk, and velvet. Synthetic textiles like polyester are also used for light-blocking blackout curtains, which tend to have a stiffer silhouette.
One thing to note: If your curtains will hang in a high-traffic area that gets dusty or dirty, you may need to occasionally take them down to clean them. If that's the case, consider buying a machine-washable material, like cotton — some fabrics like linen and silk are dry-clean only.
Opacity: Window curtains range from translucent, windswept-Italian-villa gauze to heavy fabrics optimized to block out light and heat. The right opacity depends on your needs — whether you're aiming to diffuse bright light, preserve some privacy in a street-level apartment, or if your sleep is being interrupted by a street light that burns brighter than the sun. We're categorizing curtains as sheer, semi-sheer (not see-through, but let in enough light to feel, per Strategist senior writer Liza Corsillo, "like day in the daytime"), solid, and blackout, the most opaque option, which often also blocks heat.
Length: Megan Hersch, the owner of Studio MG Interiors and online interior-design service RoomLift, says that she typically measures a curtain "so that it just 'kisses' the floor. This way, nothing is dragging and trapping dirt, but they don't look too short." If you want a more dramatic vibe, Hersch recommends adding extra 1.5 inches so the drape "breaks" on the floor. Alternately, if you need to shorten your curtains to fit above a sill, console, or radiator, you can get them hemmed or DIY it — Strategist UK senior editor Ailbhe Malone recommends Wundaweb tape as a no-sew solution in the latter case.
Header: The header is the top of the curtain, where the fabric meets the rail, and its style depends on how the curtain is tailored and hung. There are a ton of curtain-hanging styles, and many items on this list can be hung multiple ways. In general, curtains are either hung directly onto the curtain rod with a rod pocket, loops, or grommets, or hung slightly below it using curtain hooks or drapery pins. Many rod-pocket curtains also have tabs on the back, which can be hung directly on the rod to create a more dynamic drape or looped over curtain hooks. Hooks take slightly longer to install, but can help the curtain open and shut more smoothly.
Best overall
Photo: Retailer
Linen | Semi-sheer | 84 and 95 inches | Rod pocket
Interior designer Nicole Fuller describes linen curtains as "incredibly timeless," and Strategist writer Emma Wartzman recommends these inexpensive linen panels in particular, which she says "look pretty dang good" despite their low price. Wartzman says they did a good job of shading a street-level window and were low maintenance: "They stayed really nice and unwrinkly for the year-plus we had them."
Best upgrade linen curtains
Photo: Retailer
Linen | Semi-sheer | 84, 96, and 108 inches | Rod pocket
Strategist senior editor Simone Kitchens loves West Elm's breezy linen curtains, which "let in lots of sunlight" to a street-facing window. Kitchens had planned to wash them, but ended up not needing to: "They naturally softened and looked lived-in after a short while."
Best sheer curtains
52 percent cotton, 48 percent linen | Sheer | 84, 96, 108, and 120 inches | Rod pocket, includes drapery hooks
The sheer linen curtains from Restoration Hardware's Perennials line was a favorite among the experts we spoke to, and Hersch shared a hack: Restoration Hardware's teen line makes a similar linen-blend curtain at a third of the price.
Best (less expensive) sheer curtains
50 percent cotton, 50 percent recycled polyester | Sheer | 98, 118 inches | Four-way header
Malone recommends these inexpensive, sheer H&M Home curtains, which she hangs over a set of blinds. They "let in light when the blinds are open, but still mean people can't peek in," she says, and they "look far more expensive than they are."
Best blackout curtains
Photo: Retailer
Polyester | Blackout | 63, 84, 95, and 108 inches | Grommets
These are the go-to blackout curtains of Dani Mulhearn, a senior designer at online interior-design service Havenly; they're also insulated to keep sunny rooms from overheating. She likes that they're affordable, come in a variety of neutral colors, and are available in several lengths. She says the grommet header is "super-functional" and makes opening and closing them easy.
Best washable curtains
Photo: Retailer
Cotton | Semi-sheer | 98 inches | Tabs
Corsillo swears by these inexpensive cotton curtains, which she washes every couple months to remove dust and radiator drips. Corsillo irons them, but even without that step, "they eventually flatten on their own from gravity," she says. Plus, they're "very easy to install" and have an opacity that keeps piercing sunlight out but preserves daytime brightness.
Best patterned curtains