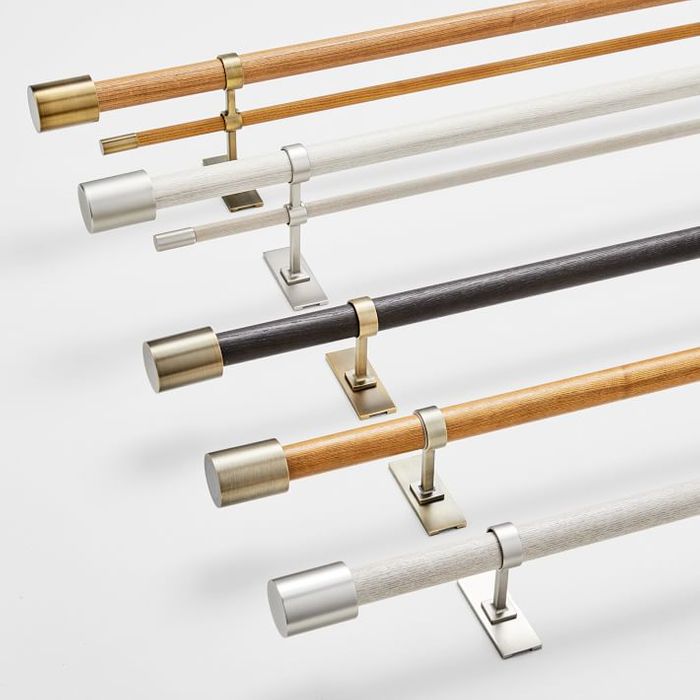 Photo: Courtesy of the retailer
Although they can be as simple as an inexpensive tension bar, curtain rods are "a great opportunity to add an interesting detail" to your home, says Decorist designer Katy Byrne. They fit a variety of spaces and styles: Most rods on our list are telescoping, which means they can be expanded or retracted to the desired length, and any rod also works for every kind of header (the top of the curtain, where the fabric meets the rod), whether it has grommets, a rod pocket, or requires rings. There are plenty of style options, from a minimalist steel bar to antique iron with arrowhead finials, so we've spoken to eight experts to help you choose the right one for your windows.
Best overall | Best minimalist | Best with glass finials | Best iron | Best wood | Best custom | Best splurge-y custom
What we're looking for
Size: Curtain rods can be inside-mounted, or hung within the window frame, or outside-mounted, which allows the curtain to cover the edge of the window frame. For inside-mounted rods, simply measure the width of your window. For outside-mounting, Megan Hersch, the owner of Studio MG Interiors and online interior-design service RoomLift, recommends measuring about 12 inches wider than a window on either side, "so you can pull the drapes off of the window when you open them." She recommends hanging the rod about halfway between the window and the ceiling; for a very tall ceiling, place the rod about 16 inches above the window.
While most of the rods on this list are telescoping, that design does leave a visible notch in the middle of the rod, which Hersch says is "not a big deal, but it is a telltale sign" that a rod is not custom size. If you want to avoid the telescoping-rod notch, we've also included an affordable option for custom-cut rods.
Material: When buying curtain rods, look for materials that are durable enough to withstand the wear and tear of daily use and don't bow or flex under the weight of drapery. Metals like steel or iron are the most common; many curtains also have a decorative outer finish, like wood veneer or brass.
Finial style: Finials are the hardware that caps the ends of the curtain rod, and they come in a variety of styles, from antique wrought-iron pineapples to minimalist cylinders. Their function is mostly decorative and, as is the case with several options on this list, they can be customized or swapped out for another style in the future. You can install a nondescript end cap or a more stylized globe or fleur de lis to complement your style.
Best overall
Photo: Retailer
Four sizes, from 36" to 170" | Steel | Cylinder finial
Target brand Project 62 makes an adjustable steel rod that Dani Mulhearn, a senior designer at online interior-design service Havenly, calls "simple and timeless" — with a "sleek and clean" silhouette that makes it look more expensive than it is, a useful feature for an item you may be buying in multiples. Made of steel, it comes in four finishes, including matte black and brass, and it comes with cylindrical finials and matching hanging hardware.
Best minimalist curtain rod
Four sizes, from 28" to 144" | Steel | Cylinder finial
This low-profile rod, recommended by Modsy designer Katherine Tlapa, has a clever design that integrates its hanging hardware into the finial, giving it a streamlined silhouette that goes well with any style of drapery, from a zanily patterned postmodern curtain to a classic linen panel. It comes in several finishes, including brass and matte white.
Best curtain rod with glass finials
Photo: Retailer
Four sizes, from 28" to 170" | Iron and zinc alloy | Crystal globe finials
For curtain rods with more personality, Mulhearn recommends Crate & Barrel for "phenomenal options in finial styles and finishes." She especially likes this rod accented with polished crystal globes, which would complement a dramatic velvet curtain or add some whimsy to a more staid pinch-pleat drapery.
Best iron curtain rod
Four sizes, from 28" to 126" | Iron | Customizable finials
Restoration Hardware's extendable iron curtain rods are available in multiple finishes, including nickel and a matte black that interior designer Nicole Fuller calls "grounding and discreet." Fuller says the rod works equally well with rod-pocket curtains and curtains that require additional hardware. Unlike the other ready-made rods on this list, these do not come with mounting hardware or finials, so each component has to be bought separately, but that does allow for more customization.
Best wood curtain rod
Two sizes, from 28" to 108" | Wood veneer, brass-finished hardware | Cylinder finials
Megan Huffman, a designer with the online interior-design service Modsy, says West Elm's wood veneer and brass-finished curtain rod would complement a range of décor styles, including mid-century and modern. Erin Gates, the owner of Boston-based design firm Erin Gates Design, uses a similar rod in her own living room but in an all-metal style. She calls it "substantial, clean, and simple."
Best custom curtain rods