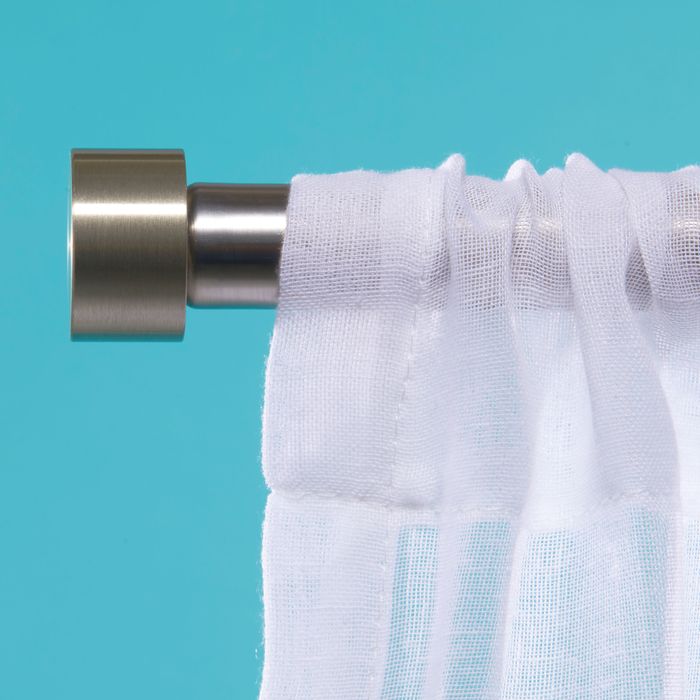 A good curtain rod will be versatile, both in terms of function and aesthetics: Ideally, you'll change them out less often than your curtains. Most rods on our list are telescoping, which means they can be expanded or retracted to the right width for your window, and any rod works for every kind of header (the top of the curtain, where the fabric meets the rod), whether it has grommets, a rod pocket, or requires rings. There are also plenty of style options, from a minimalist steel bar to antique iron with arrowhead finials, so we've spoken to 11 experts to help you choose the right one for your windows.
What we're looking for
Curtain rods can be inside-mounted, or hung within the window frame, or outside-mounted, which allows the curtain to cover the edge of the window frame. For inside-mounted rods, simply measure across the width of your window, where the rod would hang. For outside-mounting, Megan Hersch, the owner of Studio MG Interiors and online interior-design service RoomLift, recommends measuring about 12 inches wider than a window on either side, "so you can pull the drapes off of the window when you open them." For the height of an outside-mounted rod, she recommends hanging the rod about halfway between the window and the ceiling; for a very tall ceiling, place the rod about 16 inches above the window.
While most of the rods on this list are telescoping, that design does leave a visible notch in the middle of the rod, which Hersch says is "not a big deal, but it is a telltale sign" that a rod is not custom size. If you want to avoid the telescoping-rod notch, we've included an affordable option for custom-cut rods.
When buying curtain rods, look for materials that are durable enough to withstand the wear and tear of daily use and don't bow or flex under the weight of drapery. Heavy-duty metals like steel or iron are the most common, and many curtains have a decorative outer finish, like wood veneer or brass.
Finials are the hardware that caps the ends of the curtain rod, and they come in a variety of styles, from antique Victorian wrought-iron pineapples to simple, minimalist cylinders. Their function is mostly decorative and, as is the case with several options on this list, they can be customized or swapped out for another style in the future.
Among the experts we spoke to, fancy finials were polarizing. Interior designer Katy Byrne calls them "a great opportunity to add an interesting detail" to your home; Sarah Leon and Teddy Wolff, who are in the process of renovating their home in Brooklyn, prefer to avoid them. Leon finds them "distracting visually," and Wolff advises against stylized hardware: "You don't want a lot of background noise," he says, and simpler hardware allows you to "design over top of it and grow with a space."
Best overall
Photo: Retailer
Size: Four sizes, from 36" to 170" | Material: Steel | Finial style: Cylinder
Target brand Project 62 makes an adjustable steel rod that Dani Mulhearn, a senior designer at online interior-design service Havenly, calls "simple and timeless" — with a "sleek and clean" silhouette that makes it look more expensive than it is, a useful feature for an item you may be buying in multiples. Made of steel, it comes in four finishes, including matte black and brass, and it comes with simple cylindrical finials and matching hanging hardware.
Best minimalist curtain rod
Size: Four sizes, from 28" to 144" | Material: Steel | Finial style: Cylinder
This low-profile rod, recommended by interior designer Katherine Tlapa, has a clever design that integrates its hanging hardware into the finial, giving it a streamlined silhouette that goes well with any style of drapery, from a zanily patterned postmodern curtain to a classic linen panel. It comes in several finishes, including brass and matte white.
Best curtain rod with glass finials
Photo: Retailer
Size: Four sizes, from 28" to 170" | Material: Iron and zinc alloy | Finial style: Crystal globe
For curtain rods with more personality, Mulhearn recommends Crate & Barrel for "phenomenal options in finial styles and finishes." She especially likes this rod accented with polished crystal globes, which would complement a dramatic velvet curtain or add some whimsy to a more staid pinch-pleat drapery.
Best iron curtain rod
Size: Four sizes, from 28" to 126" | Material: Iron | Finial style: Customizable
Restoration Hardware's extendable iron curtain rods are available in multiple finishes, including nickel and a matte black that interior designer Nicole Fuller calls "grounding and discreet." Fuller says the rod works equally well with rod-pocket curtains and curtains that require additional hardware. Unlike the other ready-made rods on this list, these do not come with mounting hardware or finials, so each component has to be bought separately, but that does allow for more customization.
Best wood curtain rod
Size: Two sizes, from 28" to 108" | Material: Wood veneer, brass-finished hardware | Finial style: Cylinder
Interior designer Megan Huffman says West Elm's wood veneer and brass-finished curtain rod would complement a range of décor styles, including mid-century modern. Interior designer Erin Gates uses a similar rod in her own living room but in an all-metal style. She calls it "substantial, clean, and simple."
Best tension curtain rod
Photo: Retailer
Size: Four sizes, from 28" to 150" | Material: Steel | Finial style: Cylinder
Leon and Wolff used these durable steel tension rods "all over the place" in a previous apartment, a converted factory space in Chinatown with high ceilings and plaster walls. "Instead of hanging art on the walls, we just hung Ikea white curtains everywhere" using these rods, Leon says. "It was really good for acoustics, and it gave us a lot of hidden storage." They report that the rods did well up to seven or eight feet (after that, they started to sag a bit) and stood up to frequent use: "We took our doors off, and we used the curtains as doors, so we were using them a good amount," Leon says.
Best less-expensive tension rod
Size: Two sizes, from 24" to 54" | Material: Steel | Finial style: Decorative
For a cheaper tension rod, Strategist writer Jeremy Rellosa used two of these simple Umbra poles in his casita in New Mexico and reports that the pole "held its tension great through about four years" and "took me less than a minute to install." Rellosa used the rod and blackout curtains to approximate doors, and despite daily use, he says the rod didn't slip, other than "a handful of times when I accidentally stepped on the curtain and pulled it all down." He also likes that the rod's rubber end caps are both grippy and don't mark up walls, a useful feature for renters.
Best custom curtain rods
Photo: Retailer
Size: Custom length | Material: Steel | Finial style: Custom
If you prefer a seamless look to a telescoping rod, Hersch recommends the brand Highland Forge for "a custom look at a very good price." In addition to choosing your style of rod (either round, square, or hammered), its diameter, and finish, you can customize the length, which eliminates the telltale telescoping rod notch. Buying a custom rod will also mean you have to shop for the additional hardware yourself, including finials, mounting brackets, and rings, for example. But according to Hersch, Highland Forge will "double-check your order to be sure you've got all the parts you will need to make the hardware work."
Best splurge-y custom curtain rods
Size: Custom length | Material: Iron | Finial style: Custom
The Shade Store also offers customizable hardware, which interior designer Betsy Burnham says provides a clean, unfussy complement to any drapery. "Our preference for window hardware is thin black iron rods with the smallest rings possible, as I think the hardware should be tidy and unobtrusive," she says. Burnham adds that the Shade Store's step-by-step process ensures that you won't forget other hardware, like finials and rings.
Some Strategist-approved curtains to hang on your rod
Our experts
• Betsy Burnham, interior designer
• Katy Byrne, interior designer
• Nicole Fuller, interior designer
• Erin Gates, owner of Erin Gates Design
• Megan Hersch, owner of Studio MG Interiors and RoomLift
• Megan Huffman, interior designer
• Sarah Leon, editorial consultant
• Dani Mulhearn, senior designer at Havenly
• Jeremy Rellosa, Strategist staff writer
• Katherine Tlapa, interior designer
• Teddy Wolff, photographer and co-founder of The Deligram
The Strategist is designed to surface the most useful, expert recommendations for things to buy across the vast e-commerce landscape. Some of our latest conquests include the best acne treatments, rolling luggage, pillows for side sleepers, natural anxiety remedies, and bath towels. We update links when possible, but note that deals can expire and all prices are subject to change.