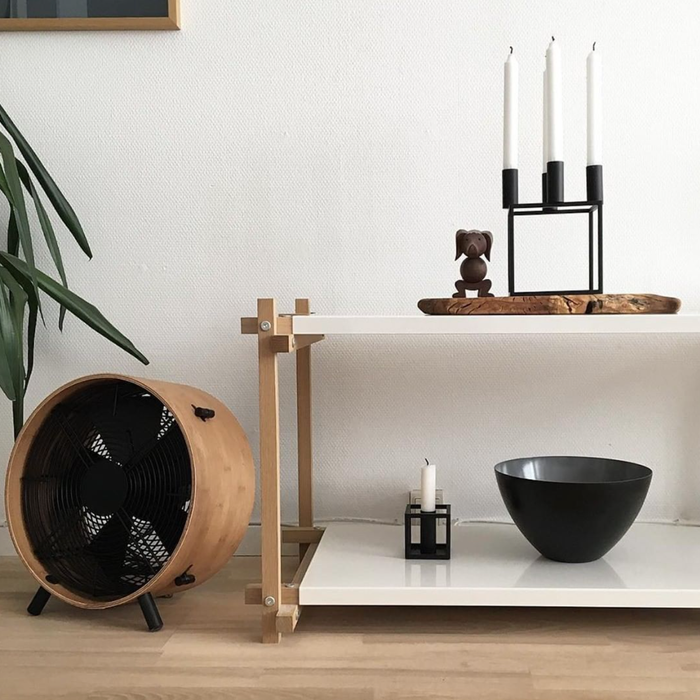 For those without central air-conditioning, the energy cost of an air-conditioning unit is often the most expensive utility bill of the summer. This year, on the heels of a pandemic that triggered record levels of unemployment, and with temperatures already hitting triple digits in the Northwest, those costs could be even more painful. To learn more about ways to keep cool without cranking the AC at full throttle, we asked 15 experts, from interior designers and architects to smart appliance installers and artists in hot places for the alternative techniques they use to keep their spaces — and themselves — cool.
Now, before we get into the products that get them through the warmer months, we also received a number of suggestions about the products not to use. Specifically, we heard from many experts that using large appliances (or simply leaving them on idle) can substantially increase the room temperature of an apartment. That goes for everything from televisions and desktop computers to more essential appliances like dryers and ovens, both of which interior designer Neffi Walker says she only uses at night in the summer to keep her room temperature down. (Speaking of cooking, our experts also said on particularly hot nights, focus on cooling and hydrating foods.)
We also learned that taking note of where the air flows through your apartment, and making sure nothing large is obstructing that flow, will go a long way too. "Large furniture that obstructs breeze is going to prevent your apartment from allowing hot air to flow out and cool air to flow in," interior designer Alison Petty told us. And if you're lucky to have windows on multiple sides of your apartment or home, two experts told us to ensure they're always open at the same time, so an air passage can be created to flow through them. With that in mind, here are the things experts rely on to keep their temperatures (and energy bills) down.
Eight of our experts told us that adding shades to your window, where most of the heat comes from on a hot day, can have a massive impact on the temperature of your space. Eugene Fiks, the president of Fiks Consultants, which integrates smart products into clients' homes, told us that shades "reduce the amount of energy being transmitted into a space, so you can keep the temperature constant." In his words, the effect of having a shade is the "equivalent of putting an ice cube in hot water."
Seven of the experts who recommended shades specifically mentioned solar shades. "Solar shades are an incredible way to keep the temperatures in your apartment cool during warmer months," says interior designer Becky Shea, "because they reflect the sun's heat and glare, but are still transparent so you can see out of your window." Petty is also a fan, telling us: "They work to keep your space insulated and keep the cool air in."
While more affordable shades can certainly be found elsewhere, our experts all recommended slightly more expensive treatments they say have the quality to last for years. Two specifically mentioned solar shades from The Shade Store, including interior designer Tina Rich, who says they both "keep the heat out, and protect your floors and furniture." Walker also uses their shades to keep her own house cool. "They block the heat of the sun, but the light still comes through," she says. If you're willing to sacrifice on light to reduce temperatures even further, The Shade Store also sells blackout shades.
Photo: RETAILER
Alternatively, interior designer Mikel Welch recommends installing a set of "naturally cooling" bamboo blinds, which do two things at once: block the sun and absorb some of the moisture of hot, humid air thanks to the wood's wicking properties.
A higher-tech, industry-standard (if more expensive) solar option came recommended to us by Shea and Fiks. Lutron's motorized solar shades, according to FIKS, "provide ultraquiet motorized shades that can be programmed to independently operate as the sun travels from morning to evening around your house, blocking sunlight from heating up a space in the apartment." They work, he told us, by using a sensor that detects sunlight and tells the shades to lower as the sun goes around." While the initial cost might not feel like much of a saving, Fiks tells us there are zero energy costs after you've bought the product, compared to blasting AC, as the product is battery powered, and the battery will last "up to 3 to 5 years" before needing to be replaced.
Writing about her favorite heat-blocking curtains, Strategist contributor Alison Freer spotlighted this set, which she uses in her bedroom to match with the space's "Hollywood Regency–style" aesthetic.
Interior designer Ariel Okin used Everhem's custom window treatments when she designed the offices of Goop. The brand's blackout shades are made from linen, a fabric that multiple experts we spoke to praised for its cooling properties. While the price of their custom treatments depend on your dimensions and preferences, Okin says in her experience the brand's "high-quality, affordable" shades "filter the sun out and keep the room cool."
For a more affordable option that will give faster relief than taking the time to upgrade your entire window treatment, four of our experts told us they use fans to keep their spaces cool, with Fiks reminding us that when it comes to your energy bill, "it's cheaper to use a fan than an AC unit."
Both Walker and lifestyle journalist Alexa Erickson told us they use this fan from Dyson, which doubles as an air purifier, in their own homes. (It also happens to be a Strategist favorite.) According to Walker, "It's quick to cool, and it's also easy on the electric budget." Erickson told us she uses hers while she sleeps, "so I keep both my body temperature down as well as breathe in cleaner air."
For a more affordable fan (that is only a fan), Okin told us she relies on this "oscillating tower," to get her through the weeks before her building turns on its central air-conditioning. It also just so happens to be the best-rated cooling fan on Amazon; click here for 11 other highly-reviewed options.
Merryn Alaka, an artist and jewelry designer, keeps her Phoenix kitchen cool in the heat of summer by running this more compact, affordable fan while she cooks. "Our kitchen is in the middle of the house, and if it gets hot from cooking, it warms up the whole place. We have this on top of the fridge, angled to blow the hot air back down."
Strategist contributor Lauren Schwartzberg went hunting for the best powerful, non-ugly fan, and found this delightful one from Swiss brand Stadler Form. Its features include steel blades that can be set "to three speeds with a satisfying click of the knob", adjustable legs to direct the airflow exactly where you want it, and a removable back panel for cleaning.
Photo: RETAILER
Interior designer Kesha Franklin told us about a new kind of ceiling fan, which resembles a decorative light fixture. "You'd never know, but inside, there's a concealed fan." Even better, Franklin says, the ceiling fan disperses air throughout the room, as opposed to a standing fan, which one person in the room is always going to benefit more from by proximity.
If you're willing to fork over a substantial amount for energy bill savings for years to come, Fiks told us that he's been particularly impressed by Big Ass Fan's product line, which he came across by chance. "We just did a project in Tampa. We were working in the space and they had one of these — it was eighty degrees outside, and the fan alone really cooled the place down." (Fiks notes that you can also control it from your phone.)
Photo: RETAILER
For a fan that takes up no space in the room, and is easy to install, Franklin recommends this skinny, streamlined window fan that sits in your window frame and emits cold air right where the heat is coming in. "It's also very quiet," Franklin says, adding that "it has noise-reduction technology and looks very sleek in the window."
If you have the space for it, interior designer Nicole Gibbons says getting a dehumidifier is also going to make a difference. "East Coast heat especially is so sticky. A dehumidifier gets rid of thick air, which helps cool your space."