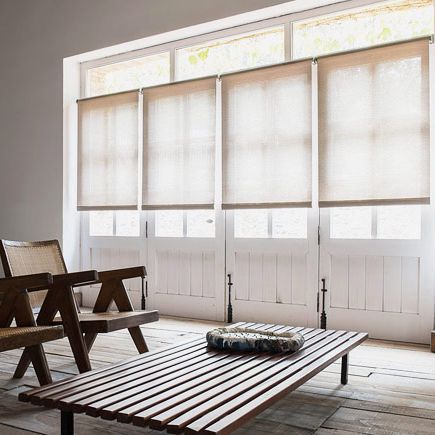 Windows are intimidating. Leave them bare and a place looks naked. Overdecorate them and your best source of natural light gets fusty. Plus, brass or pewter rods? Woven shades or black-out shades? Printed curtains or all-white? Below, we talked to interior designers who had easy answers to some of those hard-fought questions, and let us in on their budget-friendly, go-to sources for setting the window-scene.
Of natural wooden shades, Virginia Tupker of Virginia Tupker Interiors says: "They work seamlessly in any interior and layer beautifully with curtains to diffuse the light, cutting glare and allowing you to see through them while still offering privacy. I have used them in modern, rustic, and classic style interiors with equal success." Tupker also designs her own. Her made-to-order blinds have thread with an intricate Moorish-motif scaling the backside that can be custom-colored. "I recently had them made with black thread and they were perfect in a Scandinavian boho-style project in the Hamptons."
"These are both budget-friendly and chic," says Nashville-based interior designer Jessica Stambaugh, of simple wooden shades. She often uses a company called Select Blinds for her projects, and like the pale color seen here, in a similar design from Home Depot. "I've used South Beach in tan in my own home because they have a modern Zen-like feel."
"Woven wood shades are like the jeans of window treatments — they are so versatile, can be dressed up or down, and can work with modern or traditional interior styles," says Erin Gates, principal and owner of Boston-based design firm Erin Gates Design. "They add texture to a room, can be black-out lined, and are cordless, making them perfect for families with small children."
Substantially different from the razorlike metal mini-blinds, New York–based interior designer Bachman Brown uses them to create a slinky and somewhat seductive mood in a room. "Wood slated blinds are timeless. I always think of that 1980s romantic thriller American Gigolo with Richard Gere standing in his apartment at sunset and the horizontal blinds are casting those iconic shadows across his face."
"My favorite and most used window accessory are drapes. I tend to lean more toward simple and elegant ones — usually white linen — because they do a great job of completing a space without making too much of a statement," says Toronto-based designer Anne Hepfer. "They work with nearly every space, no matter its style or color scheme. There is something elegant yet approachable in these drapes that makes a room feel entirely more crisp."
"There's nothing that makes a space quite like curtains, and a simple curtain for me finishes a space in the most elegant way. I like a classic pinch pleat with no trim, it's not too traditional and not too modern," says interior designer Alyssa Kapito, who likes to pair the simple silhouettes with a streamlined bronze curtain rod to bring a hint of glamour to a space.
Another way to do pleated curtains: These Victorian-esque ones come with some lace detailing.
Interior designer Nicole Fuller also advocates for simple linen curtains: "Linen drapes are incredibly timeless, and the neutral colors offered are the best of the best." She adds, "I am forever in love with the gauzy feel and textured look of linen as the sun shines through this fabric. Fuller recommends the Restoration Hardware Perennials line, but we're also fans of these affordable ones from Target. They're also gauzy, and also come in a palette of neutrals.
Not linen, but similarly ethereal, and at a great price.
"A large-scale pattern is one of the best drapery treatments you can do for a window. It sets the tone for the room and nothing draws your eye more than a grand-scaled fabric," says Brown.
Another way to get a blue-and-white-pattern pop would be with these shibori-printed curtains.
Yet another way to mix in some pattern: with these drapey curtains that have a stenciled flower print. It comes in five colors, and in some of them (the gray and teal), the flowers take on a slightly abstract, graphic quality.
"Not only do I recommend these to clients, but I have them in my own home," says Jenny J. Norris, an interior designer known for her creative and colorful projects. "An overtreated window can feel dated. For a more understated window, go for a solid color roller shade. Choosing a more textural option, such as a woven material, allows the perfect amount of visual interest without going overboard."
"We use these solar shades for almost every client and ourselves. We always mount these solar shades behind a decorative shade, as they are great for privacy and sun protection during the day. There are options on opacity, which our clients are able to choose based on their needs," says Anne Maxwell Foster, who runs the design firm Tilton Fenwick.