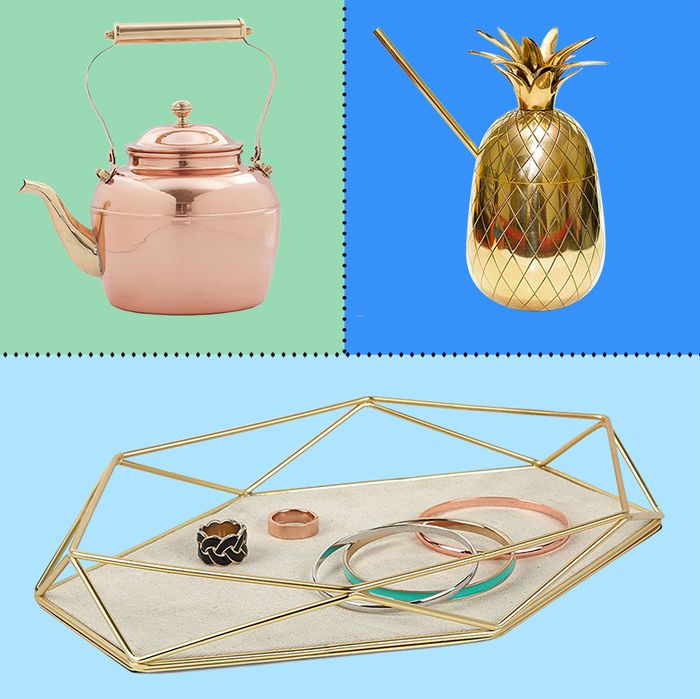 Like gold, but cheaper.
Photo: Courtesy of the retailer.
What is it about brass? More understated than gold, but still gold-ish, it makes everything look just a little bit zhuzhed-up. It's also relatively affordable, the ultimate cheap-but-expensive-looking material. Below, our favorite brass things on Amazon.
It's just smaller than ten by six inches — tinier than a letter-size sheet of paper — and perfect for makeup stuff or mail and keys.
For propping up cookbooks or family-heirloom dishes in the kitchen.
Make Taboo or Pictionary a zillion times more high-stakes with this vintage-y hotel bell.
Hang your keys, coats, and towels — and whatever else you own — in style.
Exactly the kind of lamp that would let you get away with calling that room with a reading chair your "library."
This is the perfect bookshelf for pretending you live in the world of Baz Luhrmann's Great Gatsby.
Make sure you choose a nice-looking light bulb for this (might we suggest a pink one?), as it'll be completely exposed.
Who knew Zippo made brass lighters? Now, you do.
Charmingly retro, slightly cheesy, and very, very fun. Turn the lid over and it turns into a coaster for your cup.
We've written about a similar Leff Amsterdam clock before — this is its equally handsome cousin, the brass speaker.
Okay, so technically, it's copper with a brass handle and spout, but that's a quibble when its classic shape is this appealing.
Decorative brass accents that can be affixed to a wall or just set on an accent table.
Like a museum display case for even your rinky-dinkiest jewelry.
If you like the look of Umbra's jewelry tray, you'll love it as a mirror.