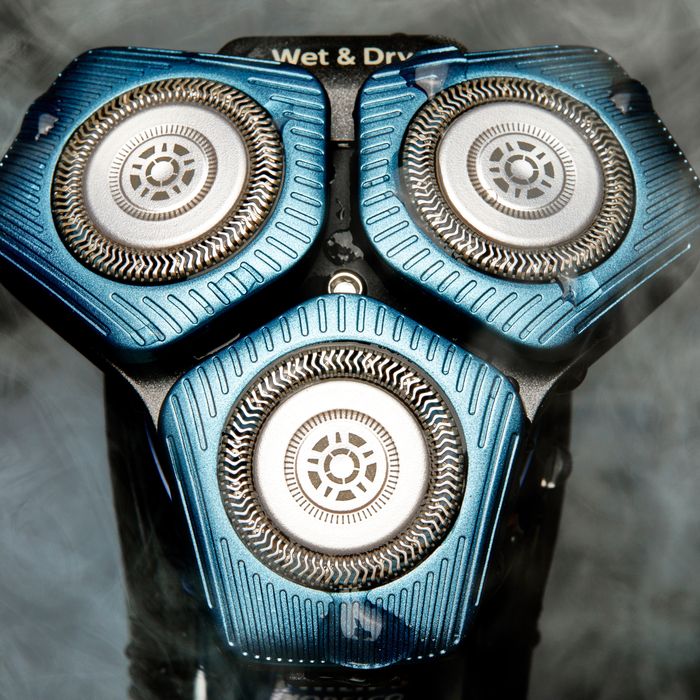 If you've got sensitive skin, you're probably aware that an electric razor can give a close, comfortable shave, with minimal razor burn or rash. "A lot of guys get irritation from exposed blades," says Mark Miguez, co-owner of New York City's Friend of a Barber. "Using electric razors can be so much better for the skin." Chad Beightol, founder of grooming boutique Consigliere, agrees: "There was a time when electric razors would burn the skin and not get a very close shave, but that time has long passed." But depending on how much hair you have (and how sensitive your skin is), certain electric razors will be more suited to your needs than others. Foil razors work best with stubble, for example, where longer hair demands a shaver with a rotary head.
To find the best electric razors — both foil and rotary — I spoke to 16 grooming experts about their favorites. As I don't use an electric razor myself, I also asked three guys I know to test the recommendations and give their honest feedback to me. In that panel, A.G. has coarse, thick facial hair which he shapes into a beard. R.Y. has medium-thick hair and a mustache, and G.M. has fine, less-full hair and likes to be clean shaven. If you know the type of shaver you're after, you can use our handy menu to jump straight to that category. Otherwise, read on for our pick of the 10 very best.
According to the experts we spoke to, a foil razor will provide a slightly closer shave than a rotary-style razor. But foil razors really only work well on short facial hair. Beightol explains that a foil razor is most effective if used every day or at least every three days while rotary shavers can get a very close shave on up to ten days of growth. Another benefit of rotary-style electric razors is that they have a larger "surface area," so it takes less time to pass over your face for a full shave. Still, our experts agree that because rotary and foil electric razors each work better for different lengths and types of facial hair, having one of each in your arsenal wouldn't be excessive if you're looking for a professional-quality electric shave at home. "Use a rotary for cutting down short enough, then a foil to get super close," explains Vince Garcia, co-founder of L.A. barbershop Grey Matter, who told us he likes to use both on his clients — including some of the NBA's biggest names. For this reason, I decided to structure this list slightly differently than usual — designating separate "best overall" rotary and foil electric razors.
The more a razor follows the contours of your face, the more efficient it will be — catching every hair on the first pass. Many electric razors achieve this with flexible pivoting heads that move in response to the curves and angles of cheeks, chin, jawline, and neck. This helps protect you from cutting yourself while shaving.
Wet and dry functionality
"When your hair is wet, it softens, which allows the blade to move much better — preventing any irritation," says barber Craig Whitely, explaining why lots of people prefer shaving in the shower or with shaving cream or gel for lubrication. But shaving dry is also handy when you don't have time for a full wet routine. Ideally, you'd have one tool that can give you a great shave — wet or dry.
An electric razor that you don't have to charge very often is extremely convenient, especially if you travel a lot or work as a professional barber. And if you shave every day, you don't want to find yourself running out of battery life as you're rushing to get ready for work. All of the electric razors on this list will hold a charge for at least 45 minutes. Some will even let you quickly charge them for five minutes — giving you enough power for one shave in case you find yourself in a pinch.
Although the essential criteria above is what's most important, sometimes it's the extra bells and whistles that make using an electric razor more enjoyable and convenient. Things like pop-up trimmers, cleaning brushes, self-cleaning pods, a USB charger, a bold and easy-to-read digital display, pressure sensors, or companion apps can improve your experience and how you look after you shave.
Best rotary electric razor overall
Rotary | Pivoting heads: Three 360-degree pivoting heads | Wet and dry functionality | Battery life: 60-minutes + five-minute quick charge | Extras: Cleaning pod, pop-up trimmer, digital display, pressure sensor, app-enabled
When it comes to ease of use and efficiency, a rotary-style razor is a good all-rounder. Two of our sources specifically recommended the Philips Norelco range.
Steve Waldman, artistic and technical director at Hair Cuttery Family of Brands, appreciates how this razor contours to the face's bone structure — providing a really close shave, even along trickier parts to reach along the jaw and neck. My panel also found this. Both G.M. (who usually opts for a cartridge razor) and A.G. (who shaves with clippers) told me that when they used the razor wet, it was one of the closest shaves they'd ever achieved at home. A.G. was particularly pleased with the razor, as he sometimes finds little spots of irritation along his neck after shaving but didn't have that problem with the Norelco. "It means I can use it a few times per week and stay as clean shaven on my neck as I like to," he says. R.Y. was probably the biggest fan, though. That's because he could use the three pivoting heads to completely shave his beard and then use the convenient pop-up trimmer to fine-tune his Hector Bellerin–style mustache. "I use it dry to shape my mustache before work. I can be really precise and neat — which is great because I'm a teacher, and the kids would tell me if I looked all lopsided." He also liked that the razor's charger (which A.G. says only has to be used once a fortnight, or after around ten shaves) doubles as a handy stand for the device.
Best (less expensive) rotary electric razor
Rotary | Pivoting heads: Three | Wet and dry functionality | Battery life: 60-minutes + five-minute quick charge | Extras: Pop-up trimmer
While extra features appeal to many people, Beightol, who has been using rotary electric razors for over a decade, says that he has always stuck with a relatively simple model like this one. At nearly $100 less than the Philips Norelco razor featured above, the 3800-series razor is still a great tool (and a good deal) with a lot of the same functionality. It has the same battery life and can be used both wet and dry. According to Beightol, the heads still pivot, just not as dynamically as those of the 7700, and it features a pop-up trimmer for touching up mustaches, sideburns, and edges.
Best rotary electric shaver for bald heads
Rotary | Pivoting heads: Four | Wet and dry functionality | Battery life: 90-minutes | Extras: USB charger
Those with bald heads should look for an electric razor that can be easily maneuvered across the curve of the skull and doesn't miss hairs, says Brittany Raposo, master barber and educator at the Honed Barber. Waldman adds that the key is to find one with pivoting and adjustable blades that can "navigate the head's uneven landscape." Both believe this Skull Shaver electric razor fits the bill — with its ergonomic design and rotary blades. The blades cut close but skip over any of the scalp's irregularities and won't irritate the skin, according to Raposo. Waldman recommends going in with gentle pressure and maintaining even contact for the best shave.
Best overall foil electric razor
Foil | Pivoting heads: One with five shaving elements | Wet and dry functionality | Battery life: 60-minutes | Extras: Pop-up trimmer, cleaning brush, self-cleaning pod
When it comes to foil electric razors, "the Braun Series 9 is the cream of the crop," says master barber Angelo Ruscetta of American Haircuts in Kennesaw, Georgia. He told us it shaves "almost as close as a straight razor" and, after he uses it, "I can't feel any stubble." Raposo says, "It can cut through even the coarsest beards." Barber David Kim also likes the Series 9 — describing it as "really big in the industry." Like the Phillips 7700, it was designed to work on wet hair — meaning that even though you're cutting as close as possible to the face, your skin shouldn't feel any irritation afterward. Garcia uses this electric razor in his shop and told us he recommends it to clients for use at home. In addition to this razor getting nice and close, he says that "the higher quality of Braun blades makes them less prone to irritating sensitive skin, because they're able to achieve as much power with thinner metal on the foil; the thicker the foil, the harder it is for the blade to cut hair and the more it pulls." Garcia adds that he has had to replace the blades on cheaper foil razors, because they've dulled down over time, but he has never had to do that with his Braun. Whitely, another fan, praises Braun's technology — explaining that the brand has "perfected the balance between a strong motor and a gentle shave."
It is, of course, quite pricey, but it's worth noting that this is Braun's top-of-the-line model — made in Germany and packed with features like an automatic self-cleaning base. The ability to disinfect between uses, which helps prevent shaving-induced breakouts, is especially important to people who shave their heads, adds Ruscetta, so this would be a great choice for anyone looking for a razor that can shave their face and give them that cue-ball look.
Best (less expensive) foil electric razor
Foil | Pivoting heads: One with five shaving elements | Wet and dry functionality | Battery life: 45-minutes | Extras: Pop-up trimmer, pressure sensor, digital battery-life display
While Kim acknowledges that the Braun Series 9 is the best in its class, he tells us he has found this Panasonic foil electric razor to be "comparable in terms of quality but for around $100 less." He says he uses it every day, it provides a "very smooth cut that's never harsh on the skin," and the razor's flexible head "moves really well — so that you can get to every area of your face without having to angle your arm." He prefers to shave while his hair is dry, but Kim adds that the razor is true to its wet/dry name: "You can use this on wet hair and run it under water without any problems."
Best barbershop-style foil electric razor
Foil | Head: Non-pivoting | Dry functionality | Battery life: 90-minute battery life | Extras: Charging station
Miguez prefers Wahl's foil electric razor to the very popular Andis (below), because the Wahl is "a little wider and thicker, which feels nicer in the hand." (I should note that Wahl also makes barber-favorite beard trimmers and hair clippers.) Miguez says he uses it for full shaves and beard-neatening on clients and no one has complained of irritation — a telling sign he always looks for. While he prefers the razor in black ("an aesthetic thing"), you can get the same model a little cheaper in a reddish-purple color. Multiple experts assured us that there's no reason for professional foil shavers like this one to only be used by barbers, but you might need to be more aware of technique than you would be otherwise (since it doesn't have a pivoting head), and, as with any electric razor, it's important to swap in new blades as recommended by the manufacturer.
Best (less expensive) barbershop-style foil electric razor
Foil | Head: Non-pivoting | Dry functionality | Battery life: 80-minute battery life | Extras: Can be used corded or cordless
Should you be looking for something that's simple and gets the job done, I am happy to report the experts have another favorite foil electric razor that's surprisingly utilitarian and substantially less expensive. Almost every single barber I spoke with mentioned this razor. It's not exactly designed for consumers — note the clunky box shape and less appealing gray plastic — but it's the model most of them trust to deliver professional-grade results and handle a high volume of use. They rely on it for everything from a face shave to skin fades for haircuts to cleaning up their clients' necks. Master barber Karac Ruleau told us it's what he uses "at the shop and at home. It gives you a super-close shave without any razor burn. It's light, durable, inexpensive, and doesn't require a frequent charge." He tells us that he often spots contestants using it on RuPaul's Drag Race — which he takes as a strong endorsement.
Best single-foil electric razor
Foil | Head: Non-pivoting | Dry functionality | Battery life: Takes AA batteries | Extras: Auto cover shutoff
Conventional foil electric razors, like those I've mentioned thus far, are designed with multiple foils so that they can more efficiently cover a wider surface area. But according to Tuft barber Alejandro "AJ" Albano, who has been cutting hair for more than two decades, some folks find those multiple foils a bit unwieldy, which is why he prefers this streamline razor with only one foil. "I prefer having one straight bar, because it's more conducive to having control when you're shaping up," he says. Albano adds that the FX01 is "compact and lightweight but still feels more solid than the plastic ones" from brands like Andis and Wahl. And this one has a sleeker body compared to those other barbershop models, which he thinks look "a little dated." Lesley Bryant, owner of the Lady Clipper Barbershop in Washington, D.C., has similar praise for this razor, adding that it really "traps every hair."
Best electric razor for longer facial hair
Dual-side cartridge-style blade | Head: Pivoting | Wet and dry functionality | Battery life: 45-minutes| Extras: Three guard attachments for trimming
For our roundup of the best razors for facial hair, celebrity groomer Marissa Machado told us about the Philips Norelco OneBlade, which made the list as the best electric–cartridge hybrid razor. "It's really an all-in-one product," she says, noting that it comes with useful "trimming attachments" and the razor itself "gives a smooth finish." It's a trimmer-style razor, so it's not going to be as close of a shave as a foil or rotary, but it should be just right if you're going for a five-o'clock-shadow look or want to trim down longer beard hair. The fact that this one's designed more like a cartridge razor makes it a bit easier to maneuver, which means creating neat lines around the ears and jawline will be even easier. In addition to being a great tool for styling facial hair (long or short), it's designed to be used on the body, and Strategist contributor Kurt Soller notes that it's great for traveling: "The small size, decent battery life, and punchy color make it just right for my Dopp kit." Samuel Hickey, head barber at Murdock, is also a fan of the long battery life, which is "ideal if you've got a lot of hair to work on." The razor's a great option for anyone who "wants to maintain a bit of stubble but worries about using a conventionally bigger set of clippers."
Best electric razor for traveling
Foil shaver head and rotary ear and nose head | Head: Non-pivoting head | Wet and dry functionality | Battery life: 80 minutes | Extras: Stubble guides and carry case
Celebrity hair stylist Charley McEwan recommends Wahl All in One to groom on the go. This set comes with tweezers and nail clippers for some added convenience when living out of a suitcase. "It only has one setting, so it's more for maintaining shape rather than replacing a larger trimmer. But you can do your ears with it too — not enough guys pay attention to the very fine hairs on their ears," says McEwan. He's also a fan of the below-$20 price tag.
Some more beard-care products we've written about
• Alejandro "AJ" Albano, barber at Tuft
• Chad Beightol, Consigliere founder and leader of apparel and accessories at Harley-Davidson
• Lesley Bryant, owner of the Lady Clipper Barbershop
• Patrick Butler, technical director of education at Floyd's 99 Barbershop
• Jason Chen, former Strategist deputy editor
• Vince Garcia, co-founder of Grey Matter LA
• Samuel Hickey, head barber at Murdock
• David Kim, barber
• Charley McEwan, celebrity hair stylist
• Mark Miguez, barber and co-owner of Friend of a Barber
• Brittany Raposo, master barber and educator at the Honed Barber
• Angelo Ruscetta, master barber at American Haircuts
• Karac Ruleau, master barber
• Kurt Soller, Strategist contributor
• Steve Waldman, artistic and technical director at Hair Cuttery Family of Brands
• Craig Whitely, barber
The Strategist is designed to surface the most useful, expert recommendations for things to buy across the vast e-commerce landscape. Some of our latest conquests include the best acne treatments, rolling luggage, pillows for side sleepers, natural anxiety remedies, and bath towels. We update links when possible, but note that deals can expire and all prices are subject to change.
Every editorial product is independently selected. If you buy something through our links, New York may earn an affiliate commission.