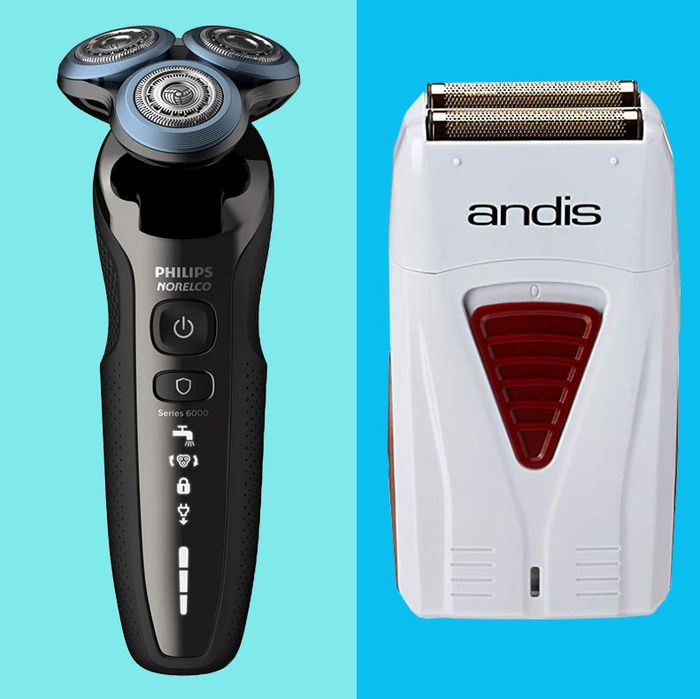 Photo: Courtesy of the vendors
There are no shortage of options for men when it comes to shaving. Some swear by more old-school "wet shaving" methods, using a safety razor or a straight razor with shaving cream. Others prefer cartridge razors, like a classic Gillette, which offer more of a middle ground in terms of effort. They're designed to be as simple as possible, but shaving cream is still required. The cost of regularly replacing their blades can make this option pricier with time, even though the razors themselves are usually cheap. And if you're not careful with one, you could easily end up with a face full of toilet-paper-covered cuts and the occasional razor burn. "A lot of guys get irritation from blades," as barber Mark Miguez, co-owner of New York City's Friend of a Barber, puts it. That's why he says "using electric razors can be so much better for the skin." (And, over time, your wallet.)
Powered by motors and high-tech cutting mechanisms, electric razors are without a doubt the most efficient option, requiring minimal maintenance and prep. That's partly because many nowadays are designed to work on dry and wet hair. As Chad Beightol, the owner of men's grooming boutique Consigliere, in the East Village, puts it: "There was a time when electric razors would burn the skin and not get a very close shave, but that time has long passed. Modern electric razors are great."
Since everyone's skin and shaving preferences are different, it's hard to choose a one-size-fits-all electric razor. According to the 20 experts we spoke with — including 14 professional barbers — a foil razor will provide a slightly closer shave than a rotary-style razor. But one limitation with foil razors is that they really only work well on short facial hair. For that reason, we decided to structure this list slightly differently than usual, designating separate "best overall" rotary and foil electric razors. In fact, because rotary and foil electric razors each work better for different types of facial hair, having one of each in your arsenal wouldn't be excessive if you're truly looking for a professional quality electric shave at home. "Use a rotary for cutting down short enough, then a foil to get super close," explains Vince Garcia, the owner of L.A. barbershop Grey Matter, who told us he likes to use both on his clients (who include some of the NBA's biggest names).
Best overall rotary electric razor
When it comes to ease of use and efficiency, a rotary-style razor will likely be the best all-around option. "I swear by the Philips Norelco triple-head models," says Beightol. "They get as close a shave as a safety razor without that scraped-skin feeling." Patrick Butler, the technical director of education at Floyd's 99 Barbershop, seconds this: "Norelco definitely leads the way with their electric rotary razors." While the experts tended to agree that a foil razor will provide a slightly closer shave than a rotary-style razor, they all noted the limitation that foil razors really only work well on short facial hair. "A foil razor is most effective if you use it regularly, daily to every three days," says Beightol, whereas a rotary "gets a very close shave and can be used when you have up to seven to ten days of growth." That flexibility is one of the main reasons we feel this is the best overall, as is the fact that this electric rotary razor will work on wet hair in addition to dry hair. "When your hair is wet, it softens, which allows the blade to move much better, preventing any irritation," says barber Craig Whitely, explaining why many men prefer those "wet shaving" methods we referenced earlier. Butler uses this razor if he's in a hurry and his beard's dry, and also in the shower with shave gel when he wants a smooth finish.
When former Strategist deputy editor Jason Chen tested out a selection of electric razors on his own face, an older version of this Norelco rotary was his top pick. "I love this shaver: It's lightweight, feels good in the hand, and catches hairs on the first pass with hardly any effort," wrote Chen, adding that out of all the electric razors he tried, it provided the "smoothest, most effortless shave." Beightol adds that since rotary-style razors have a larger "surface area," it takes less time to pass over your face for a full shave. Steve Waldman, the technical artistic director at Hair Cuttery Family of Brands, appreciates how this razor contours to the face's bone structure, providing a close shave even along the jaw and across the neck.
Best (less-expensive) rotary electric razor
Beightol uses the less-expensive version of the same razor as the one featured above. (He thinks the 6800 would be worth it if you have the budget, since it allows for a faster and more comfortable shave.) The heads of the 3100 still pivot, just not as dynamically as those of the 6800. Beightol says he's "been using rotary electric razors for over a decade" and that he has always stuck with a relatively simple model like this one.
Best overall foil electric razor
When it comes to foil electric razors, "the Braun Series 9 is the cream of the crop," says master barber Angelo Ruscetta of American Haircuts in Kennesaw, Georgia. He told us it shaves "almost as close as a straight razor" and, after he uses it, "I can't feel any stubble." Brittany Raposo, a barber at the Paul Labrecque Salon and Skincare Spa, says "it can cut through even the coarsest beards." Barber David Kim also likes the Series 9, describing it as "really big in the industry." Like the Phillips 6800, it was designed to also work on wet hair, meaning that even though you're cutting as close as possible the face, your skin shouldn't feel any irritation afterward. Garcia also uses this electric razor in his shop, and told us he recommends it to clients for home use. In addition to getting nice and close, he says that "the higher quality of Braun blades makes them less prone to irritating sensitive skin, because they're able to achieve as much power with thinner metal on the foil; the thicker the foil, the harder it is for the blade to cut hair, and the more it pulls." Garcia adds that he's had to replace the blades on cheaper foil razors because they've dulled down over time, but says he's never had to do that with his Braun. Whitely, another fan, praises Braun's technology, explaining that the brand has "perfected the balance between a strong motor and a gentle shave" in this and other models on this list.
It is, of course, quite pricey, but it's worth noting that this is Braun's top-of-the-line model, made in Germany and packed with features like an automatic self-cleaning base. The ability to disinfect between uses, which helps prevent shaving-induced breakouts, is especially important to men who shave their heads, adds Ruscetta — so this would be a great choice for anyone looking for a razor that can shave their face and give them that cue-ball look.
Best (less-expensive) foil electric razor
Whitely told us that this slightly less expensive (and older) Braun model basically gives you the best of the above Braun Series 9 razor, but at a fraction of the price. He compares it to buying last year's BMW: You're still getting a great machine, just not the latest upgrades, which he says are merely "bells and whistles." Says Whitely: "I don't think it's necessary to go for the Series 9; the motor in the Series 7 is the same powerful, amazing Braun motor." Importantly, he adds, "it also works in the shower."
Best (even-less-expensive) foil electric razor
While Kim acknowledges the Braun Series 9 is the best in its class, he told us he's found this Panasonic foil electric razor to be "comparable in terms of quality, but for $200 less." He uses it every day, telling us that it provides a "very smooth cut that's never harsh on the skin" and that the razor's flexible head "moves really well, so that you can get to every area of your face without having to angle your arm." He prefers to shave while his hair is dry, but Kim adds the razor is true to its wet/dry name: "You can use this on wet hair and run it under water without any problems."