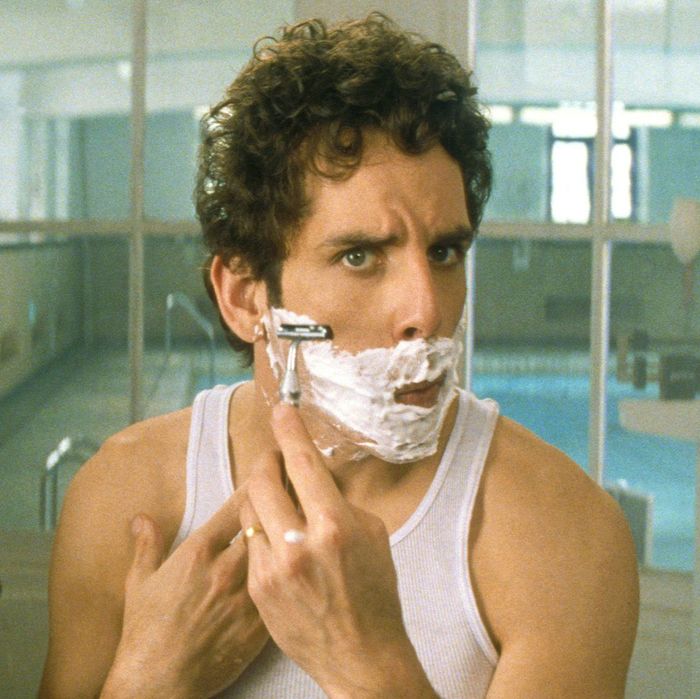 Ben Stiller as Chas Tenenbaum, getting a good lather in
The Royal Tenenbaums.
Photo: Touchstone/Kobal/REX/Shutterstock
Shaving cream is the foundation of any shave, so it's important to make sure you're using the right product. Go to your local drugstore and you may be overwhelmed by all the options: from pressurized cans promising "high-tech" foaming gels to bottles of thicker creams and lotions. Then there are the fancy British and Italian shaving creams in metal tubes and plastic tubs. We reached out to 12 men's-grooming and shaving experts — barbers, groomers, hairstylists, cosmetic retailers, and shaving-cream aficionados — to get their recommendations for the very best.
Best shaving cream
Italian brand Proraso was mentioned more than any other. Russell Manley, owner of New York City's Ludlow Blunt, appreciates the brand's history (the company was founded in 1908) and says its shaving cream "is still one of the best on the market." According to Manley, the key to Proraso's appeal is in its contents: "Glycerin — a key ingredient since the turn of the century in all shave creams — lactic acid, and menthol work in combination to open up the pores and raise the beard hair. This helps to ensure a close shave with lower likelihood of ingrown hairs."
Joey Furlan, owner of Hair by Joey in Prescott, Arizona, says Proraso provides a "sophisticated shave experience," and he likes that the line offers multiple options so there's something for every type of shaver. The most classic is the "Refreshing and Toning" shaving cream, with menthol and eucalyptus oil, which Furlan describes as "energizing."
Runner-up
Peter Solomon, owner of Tweed Barbers of Boston, also touts the power of one ingredient: "The beauty of glycerin is that it really gets the cream to foam up nicely. It creates a rich, foolproof lather." Solomon says most people will be in good shape with any glycerin-based cream from a trusted brand. "The formulations are all very similar, so it's somewhat down to personal preference." That said, one of his favorites is the Art of Shaving's lavender shave cream. He likes the scent and says it's a good choice for people with sensitive skin.
Arthur Iskhakov, owner of New York City's Barber's Blueprint, is another fan of the Art of Shaving's cream. He says he's used it for shaves at the barbershop and customers loved it, but it proved a little too expensive for high-frequency commercial use. It would work well for shaving at home, he says, because even though it's pricey it lasts a long time: "The cream is very thick, so you only need a dime-sized amount. You can just wet your hands and work up a lather right on the skin. It gives a great lather." Iskhakov prefers the sandalwood-scented version, which he says is "strong but not overpowering." Groomer and makeup artist Robert Reyes loves the Art of Shaving too, but he's partial to its unscented cream, which is hypoallergenic and good for sensitive skin. He says you can use it with or without a brush — but it can be fun to use one for the "total experience." "I actually use a makeup brush," he says.