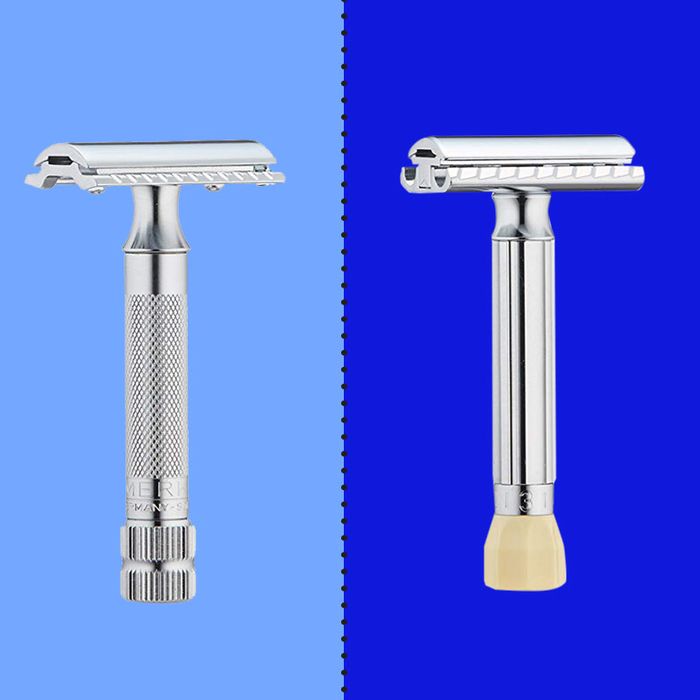 Photo: Courtesy of the retailers
Ask most men about what they use to shave, and they'll likely all reply with some twist on the same basic tool: a cartridge razor with disposable blades, either from a drugstore brand like Gillete or Schick, or a newer, direct-to-consumer company like Harry's and Dollar Shave Club. There's a good reason why cartridge shavers remain the most common method of shaving: They're easy to use, always being replaced by new styles that promise an even better shave, and typically what most people are familiar with. But according to most of the professional barbers we spoke to, the best way to shave at home — and avoid the irritation commonly caused by cartridge razors — is actually with a safety razor, a tool that's remained virtually unchanged since it debuted in 1903.
"If anyone uses a cartridge razor and has irritation, I steer them towards safety razors," says Brian Porteous, owner of Heritage Barbershop in Portland, Oregon. He explains that safety razors are generally much safer on skin because they feature a "single blade," as opposed to the typical three-blade style you find in a cartridge razor. "It's really the first blade that's doing all the cutting" with a cartridge razor, Porteous explains, "and once that first blade gets a little dull, it'll start to pull the hair up," which leads to the second and third blades actually cutting under the skin. "That's what causes irritation and ingrown hair," he adds.
Beyond causing less irritation, safety-razor shaving is also way more economical. Safety razors cost a bit more than cartridge razors upfront, but as Peter Solomon, the owner of Boston's Tweed Barbers explains, the blades for safety razors "generally cost $.10 to $.20 each — while cartridges tend to go for at least $2 to $3 each — so the lifetime savings is significant." Plus, the double-edged blades used with safety razors will generally work with any model (as opposed to branded cartridges that only fit a specific brand of razor). To find the best safety razors and blades — and tips for how to use them — we spoke with Porteous, Solomon, and five other barbers, who all assured us that once you get your technique down (which really shouldn't take long) it's unlikely you'll want to use anything but a safety razor. Read on for all their recommendations, as well as for their tricks of the trade.
Best overall safety razor
German razor company Merkur came up more than any other brand, praised by six of our seven experts for its long history, good price point, and reputation for quality German manufacturing. Merkur makes a wide range of safety razors, but they're perhaps best known for this three-inch, roughly three-ounce model, which two of the experts specifically named as a great safety razor for beginners. Its handle is the shortest of any razor on this list, but Porteous says that's part of what makes it such a good option for someone new to safety-razor shaving. The shorter handle is "wide and well-balanced," he notes, so it's "easier to grip" and more maneuverable. "With a longer handle, some people might feel they have a little less control over the shave," adds Solomon. Incidentally, six years ago (roughly five years before I started writing for the Strategist), I started using a Merkur 34C as my go-to razor, and still use it — and recommend it to others — to this day.
In addition to the way a razor feels in your hand, Solomon says one of the most important qualities to consider is the "aggressiveness" of the shave, "which is largely determined by how much space exists between the blade and the safety bar of the razor." The Merkur 34C is a closed-comb razor, a style that Solomon and all the other experts say is generally best for beginners because it "offers a more protected shave," at least as far as safety razors are concerned. With open-comb razors, the blade is more exposed, which some say provides a closer shave, but will increase the risk of nicks and irritation.
Best long-handle safety razor
While Porteous says the 34C is a great all-around razor and his go-to recommendation for beginners, he personally prefers the 38C, also from Merkur, which has all the same features but a longer, almost 3.79-inch handle. (It also weighs more, at roughly four ounces.) It all comes down to personal comfort and what feels best in your hand, he says, adding that people with larger hands might find the 38C easier to grip. Master barber Angelo Ruscetta of American Haircuts in Kennesaw, Georgia, agrees: "A lot of tall guys like longer handles," he says. But like Porteous, Ruscetta also says choosing the right safety razor ultimately comes down to feel. (He also favors the 38C's slightly longer handle and heavier weight.)
Best (less expensive) long-handle safety razor
The 23C is another classic Merkur model with plenty of fans. Recommended by Paul Langevin, co-owner of the Lower East Side barbershop Mildred New York, it's the longest and lightest razor of the bunch (at 3.87 inches and just over two ounces, respectively). That makes it a good choice for someone who wants to smoothly transition from the feel of a lighter cartridge razor to the world of safety razors.
Best butterfly safety razor
Four of our experts recommended "butterfly" safety razors as a great option, mentioning the unique one-piece head that makes swapping in new blades quick and easy. Most safety razors have a straightforward screw-off top for replacing the blade, but a butterfly razor head pops open and closes with a simple twist. Parker is one of the best known safety-razor manufacturers, and this four-ounce butterfly razor with a 3.8-inch handle, which came specifically recommended by two experts, is one of its signature models. "It's the cadillac of safety razors," says Ruscetta, who told us that it's what he uses at home. It's the heaviest razor on this list, but Ruscetta favors heavier razors because he likes to let the weight of the razor do some of the work. "That way, you don't have to force it" and you can get a close shave without applying much pressure. Solomon also likes Parker's butterfly razors, but he recommends the 96R, which is quite similar. (It comes in a black finish, the handle is slightly longer, and it's a tiny bit lighter.)
Best lightweight butterfly safety razor
Heather Manto, the owner of Austin's Independence Barber Co., is another fan of butterfly safety razors, which she says "give you that old-time, nostalgic shave experience." She recommends this model from Vikings Blade, another very popular safety-razor company, although perhaps not quite as well known as the old standbys, Merkur and Parker. It has a long, 3.75-inch handle about the same length as the Parker and Merkur 38C models shown above, but is 25 percent lighter than either of those two.
Best open-comb safety razor
All of the safety razors we've listed thus far are closed comb, but if you're looking for an open-comb style, the Muhle R41 is widely regarded as one of the best available. Open-comb razors are generally used by more experienced shavers, because the exposed blade makes it easy to cut yourself if you don't have your technique down. Still, they have plenty of fans, and some shavers insist that if you want to get the closest shave possible, an open comb is the only way to go. Solomon also says that the open-comb design handles longer stubble better than a closed comb, so it might be a good option for people with thicker beards, or for those "who shave less frequently." As he explains, "an open comb has 'teeth' along the head of the razor where the blades protrudes, allowing longer stubble to pass through the teeth and reach the blade." Solomon cautions, however, that this razor is "known to be a very aggressive shave, so it's best for experts who know what they're doing." Its 3.7-inch handle is consistent with the other long-handle razors on the list, and it's on the lighter end, weighing in at just over two ounces.
Best adjustable safety razor
As our experts have mentioned, the "aggressiveness" of the shave is something common among all safety razors, most of which are rigid in their design, meaning you're generally stuck with whatever cutting angle is built into the razor and how it closes around a blade. While the rigid design of most safety razors simplifies how you use them, it also makes it impossible to experiment and find what type of shave works best without buying multiple razors. This is where adjustable safety razors come in handy, says Solomon. "Adjustable razors let you control (by twisting the base) how much of the blade protrudes beyond the head, so in essence you can control how aggressive the shave is." He notes that there aren't a ton of options out there when it comes to adjustable razors, but the Merkur Progress is thought to be one of the best. The dial at the bottom has five settings to choose from, and the razor itself has some heft, weighing roughly three and a half ounces with a 3.7-inch handle.
Best safety razor for sensitive skin
Bevel is one of a few companies taking the direct-to-consumer approach with safety razors. It has a whole line of products, including blades, pre-shave oils, shaving creams, and more. According to master barber Julien Howard at New York City's Blind Barber (who also does pop-ups around the country under the moniker The Velo Barber), Bevel makes one of the best safety razors out there for anyone prone to ingrown hair or with skin that's especially irritable. "It's tailored to work with African-American facial hair," he says, noting that it's designed to minimize ingrowns and irritation. It has one of the longer handles of the bunch, at four inches, and weighs just over three ounces.
Best high-end safety razor
For something on the higher end of the price spectrum, Manto suggests this set from Feather, which has a stellar reputation in the barber community, and is famous for its made-in-Japan blades that every expert we spoke with says are the sharpest you can buy (more on those below). In terms of design, this razor, with a textured grip and closed comb, is similar to the Merkur 34C and 38C. And with a handle of 3.5 inches long and weight of just over three ounces, it lands somewhere in the middle of the two.
But why spend $160 on this when you can buy other, quality safety razors available for less than a third of the cost? One reason, according to Manto, is that this is made entirely of stainless steel, whereas all the other razors on this list are steel-coated, or made from some sort of alloy. Porteous — who told us he collects and restores vintage safety razors when he's not working at his barbershop — explains that the Feather razor's high-quality material recalls the stuff used to make some of the old Gilettes from the '30s and '40s, which he says are "as solid as can be." Short of purchasing a vintage safety razor, the Feather is the closest tool you can use to replicate the feel of shaving with one.
Best double-edged razor blades for safety razors
All the experts told us that choosing a blade is very personal, and to a large degree it comes down to comfort and preference. That's why Porteous says he "always directs people to buy a sample pack and try some out to figure out what's best for your face." Ruscetta agrees, adding that a sample pack of various brands lets you "feel the differences in thickness between the blades." It's worth the trial and error, he says, because "the right blade can be a gamechanger." Still, there are still certain brands that consistently came up in our conversations with the pros, so we're mentioning some of those below, too. (And this particular sample pack includes every blade that one or more experts recommended, plus a couple of other options for good measure).
Feather blades are known in the industry as the sharpest blades available, so it's no surprise that they were the most recommended of all, with five experts singing their praises. "Feather is the sharpest on the market, period," says Howard. And although the pros love a sharp blade after spending years perfecting their technique, it's important to note that what works best for them might not work best for a nonprofessional shaving at home. As many experts also note, the sharpness of these blades can be irritating to sensitive skin, and of course sharper blades carry an increased risk of nicks and cuts. Still, if you want a close shave, the experts say you can't do better than Feather.
Derby blades were the runner-up, recommended by four of our experts, all of whom say the brand is something of a barbershop staple. As Patrick McLaughlin, Senior Barber at Fellow Barber Dumbo told us, "They're very consistent. I never have any snags. Other brands of blades I've used sometimes have bends or folds, but [Derby's] are always sharp and really consistent." Arthur Iskhakov, owner of Barber's Blueprint in New York City, seconds that, saying, "They're very popular with barbers. Very sharp and reliable."
The bronze medal goes to Astra blades, which were mentioned by three experts, all of whom described them as thicker than other blades they've used. According to Iskhakov, Astra blades are "really sharp and durable and they're really strong because they're double-coated in steel." Roscetti says the thicker Astra blades are particularly useful for shaving down dense beards, or facial hair that's been growing out for a while.
The Strategist is designed to surface the most useful, expert recommendations for things to buy across the vast e-commerce landscape. Some of our latest conquests include the best acne treatments, rolling luggage, pillows for side sleepers, natural anxiety remedies, and bath towels. We update links when possible, but note that deals can expire and all prices are subject to change.