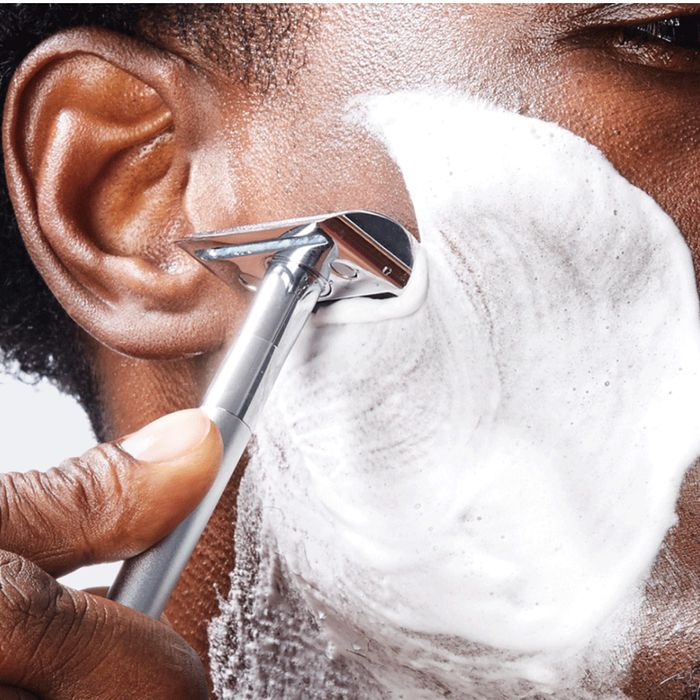 Photo: Courtesy of the retailers
Ask most men about what they use to shave, and they'll likely all reply with some twist on the same basic tool: a cartridge razor with disposable blades, either from a drugstore brand like Gillette or Schick, or a newer, direct-to-consumer company like Harry's and Dollar Shave Club. There's a good reason why cartridge razors remain the most common method of shaving: They're easy to use, are always being replaced by new styles that promise an even better shave, and are typically what most people are familiar with. But according to most of the professional barbers we spoke to, the best way to shave at home — and avoid the irritation commonly caused by cartridge razors — is actually with a safety razor, a tool that's remained virtually unchanged since it debuted in 1903.
"If anyone uses a cartridge razor and has irritation, I steer them toward safety razors," says Brian Porteous, the owner of Heritage Barbershop in Portland, Oregon. He explains that safety razors are generally much safer on skin because they feature a single blade, as opposed to the typical three-blade style you find in a cartridge razor. "It's really the first blade that's doing all the cutting" with a cartridge razor, Porteous explains, "and once that first blade gets a little dull, it'll start to pull the hair up," which leads to the second and third blades actually cutting under the skin. "That's what causes irritation and ingrown hair," he adds.
Beyond causing less irritation, safety-razor shaving is also way more economical. Safety razors cost a bit more than cartridge razors upfront, but as Peter Solomon, the owner of Boston's Tweed Barbers explains, the blades for safety razors "generally cost $.10 to $.20 each — while cartridges tend to go for at least $2 to $3 each — so the lifetime savings is significant." Plus, the double-edged blades used with safety razors will generally work with any model (as opposed to branded cartridges that only fit a specific brand of razor). To find the best safety razors and blades — and get tips for how to use them — we spoke with Porteous, Solomon, and 11 other barbers. All of them assured us that once you get your technique down (which really shouldn't take long and, as barber Karac Ruleau notes, can be practiced by putting some shaving cream on an inflated balloon) it's unlikely you'll want to use anything but a safety razor. Read on for all their recommendations, as well as for their tricks of the trade.
Best overall safety razor
German razor company Merkur came up more than any other brand, praised by 8 of our 11 experts for its long history, good price point, and reputation for quality German manufacturing. Merkur makes a wide range of safety razors, but they're perhaps best known for this three-inch, roughly three-ounce model that four of the experts specifically named as a great safety razor for beginners. Its handle is the shortest of any razor on this list, but Porteous says that's part of what makes it such a good option for someone new to safety-razor shaving. The shorter handle is "wide and well-balanced," he notes, so it's "easier to grip" and more maneuverable. "With a longer handle, some people might feel they have a little less control over the shave," adds Solomon. Barber Mike Sposito, another fan of the 34C, compares it to using a baseball bat: "The shorter the handle, the tighter the grip and the greater your control." Using it, Sposito adds, is super simple. "You unscrew the button, the top pops open, you pop the single blade in, and screw it down again." Incidentally, it's not just barbers who told us they favor this razor: Former Strategist writer David Notis has been using his Merkur 34C for at least six years.
In addition to the way a razor feels in your hand, Solomon says one of the most important qualities to consider is the "aggressiveness" of the shave, "which is largely determined by how much space exists between the blade and the safety bar of the razor." The Merkur 34C is a closed-comb razor, a style that Solomon and all the other experts say is generally best for beginners because it "offers a more protected shave," at least as far as safety razors are concerned. With open-comb razors, the blade is more exposed, which some say provides a closer shave, but will increase the risk of nicks and irritation.
Best (less expensive) short-handle safety razor
Photo: retailer
Two of our barbers praised British shaving company Edwin Jagger's safety razors, specifically this one, which has the same mechanism as the Merkur 34C but at a more-affordable price (the price includes five blades from Derby, a brand many barbers endorsed, which come with the razor). The two experts who recommend this safety razor each add that they've given it to other guys as a gift, underscoring their endorsement of it. Joey Tasca, a barber at Brooklyn's Persons of Interest, says the razor is heavy enough to remind you that "you have something powerful in your hand, which makes you less likely to cut yourself." Mark Miguez, who works at Friend of a Barber, explains how the razor's weight, combined with its shorter handle, make it user-friendly. "The handle is light and small, but the head is heavy, which keeps me from taking a chance and cutting myself, while still giving me that control," he says. Miguez actually switched to using this razor after his skin reacted badly to shaving with Gillette and Bic cartridge razors, and tells us he's experienced no irritation since he started using it.
Best long-handle safety razor
While Porteous says the Merkur 34C is a great all-around razor and his go-to recommendation for beginners, he personally prefers the Merkur 38C, which has all the same features but a longer, 3.79-inch handle. (At roughly four ounces, it also weighs more.) Choosing the right safety razor all comes down to personal comfort and what feels best in your hand, he says, adding that people with larger hands might find the 38C easier to grip. Master barber Angelo Ruscetta of American Haircuts in Kennesaw, Georgia, agrees: "A lot of tall guys like longer handles," he says. But like Porteous, Ruscetta also says choosing the right safety razor ultimately comes down to feel. (He also favors the 38C's slightly longer handle and heavier weight.)
Best (less expensive) long-handle safety razor
The 23C is another classic Merkur model with plenty of fans. Recommended by Paul Langevin, a co-owner of the Lower East Side barbershop Mildred New York, it's the longest and lightest razor of the bunch (at 3.87 inches and just over two ounces, respectively). That makes it a good choice for someone who wants to smoothly transition from the feel of a lighter cartridge razor to the world of safety razors.
Best butterfly safety razor
Photo: retailer
Four of our experts recommend "butterfly" safety razors as a great option due to their unique one-piece head that makes swapping in new blades quick and easy. Most safety razors have a straightforward screw-off top for replacing the blade, but a butterfly razor's head pops open and closes with a simple twist. Parker is one of the best known safety-razor manufacturers, and this butterfly razor, which comes with five blades, is one of its signature models. "It's the Cadillac of safety razors," says Ruscetta, who told us that it's what he uses at home. At almost four ounces, it's one of the heavier razors on this list, but Ruscetta favors heavier razors because he likes to let the weight of the razor do some of the work. "That way, you don't have to force it" and you can get a close shave without applying much pressure, he says.
Best lightweight butterfly safety razor
Heather Manto, the owner of Austin's Independence Barber Co., is another fan of butterfly safety razors, which she says "give you that old-time, nostalgic shave experience." She recommends this model from Vikings Blade, another very popular safety-razor company but one that's perhaps less well known than the old standbys, Merkur and Parker. It has a long, 3.75-inch handle — about the same length as the Parker and Merkur 38C models shown above — but is 25 percent lighter than either of those two.
Best open-comb safety razor
Open-comb razors are generally used by more experienced shavers because the exposed blade makes it easy to cut yourself if you don't have your technique down. While all of the safety razors we've listed thus far are closed comb, if you're looking for an open-comb style — which some insist provide the closest shave possible — the Muhle R41 is widely regarded as one of the best available. Solomon says that the open-comb design handles longer stubble better than a closed comb, so it might be a good option for people with thicker beards, or for those "who shave less frequently." As he explains, "an open comb has 'teeth' along the head of the razor where the blades protrude, allowing longer stubble to pass through the teeth and reach the blade." Solomon cautions, however, that this razor is "known to be a very aggressive shave, so it's best for experts who know what they're doing." Its 3.7-inch handle is consistent with the other long-handle razors on the list, and it's on the lighter end, weighing in at just over two ounces.
Best adjustable safety razor
As our experts have mentioned, the "aggressiveness" of the shave is something common among all safety razors, most of which are rigid in their design, meaning you're generally stuck with whatever cutting angle is built into the razor and how it closes around a blade. While the rigid design of most safety razors simplifies how you use them, it also makes it impossible to experiment and find what type of shave works best without buying multiple razors. This is where adjustable safety razors come in handy, says Solomon. "Adjustable razors let you control (by twisting the base) how much of the blade protrudes beyond the head, so in essence you can control how aggressive the shave is." He notes that there aren't a ton of options out there when it comes to adjustable razors, but the Merkur Progress is thought to be one of the best. The dial at the bottom has five settings to choose from, and the razor itself has some heft, weighing roughly three and a half ounces with a 3.7-inch handle.
Best safety razor for sensitive skin
Bevel is one of a few companies taking the direct-to-consumer approach with safety razors. It has a whole line of products, including blades, pre-shave oils, shaving creams, and more. According to master barber Julien Howard at New York City's Blind Barber (who also does pop-ups around the country under the moniker The Velo Barber), Bevel makes one of the best safety razors out there for anyone prone to ingrown hair or with skin that's especially irritable. "It's tailored to work with African-American facial hair," he says, noting that it's designed to minimize ingrowns and irritation. It has one of the longer handles of the bunch, at four inches, and weighs just over three ounces.
Best high-end safety razor