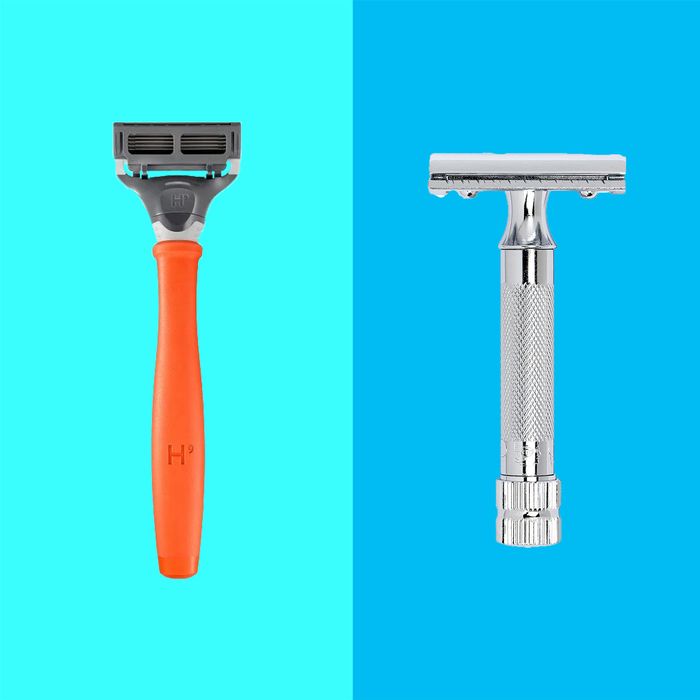 Photo-Illustration: The Strategist; Photos: Retailers
Getting the best shave comes down to the tools you use for the job — and the right razor can mean the difference between looking tidy and trimmed or slapdash and sloppy. Using a cartridge razor is the method most men learn first (and tend to stick to), especially as replacement blades are available pretty much anywhere. An electric razor is quick and efficient. Safety razors have been around for more than a century, but their recent resurgence is thanks to the closer shave they offer — plus, they're more eco-friendly and economical. And then there are straight razors, which are typically the domain of professionals, but may also appeal to passionate shavers in want of more control. Since so many brands make different models of the same type of razor, choosing one can be even more overwhelming.
To help folks find the best razors on the market, we asked 17 men's-grooming experts — more than half of them barbers — about their favorites and combed through our archives to find other worthy options recommended to us before. The resulting selection of razors (below) features a style for pretty much everyone, including cartridge, electric, and safety razors, along with hybrid styles, and razors to use on sensitive skin. No matter which style of razor you choose, Tony DeAngelis, a co-owner of Blue&Black barbershop in Carroll Gardens, says there are two other important factors for getting a good shave: heat and stretching the skin. As he explains, "heat, whether from running the shower or the sink, allows hair to come off easier, which means less irritation. And stretching the skin while you shave means fewer chances of nicks and scratches, because you're creating a tighter, smoother surface for the blade to move across."
Best overall razor
Though cartridge razors may be ubiquitous, the majority of our experts say a safety razor is actually the best. With a safety razor, you're shaving with only one blade — more blades don't necessarily mean a better shave, and multi-blade cartridges can increase the likelihood of ingrown hairs and razor burn.
"The safety razor is the absolute way to go," says Chad Beightol, the owner of New York City–based men's-grooming store Consigliere. "You're working with a single blade that is sharp, instead of relying on a multi-blade cartridge that is trying to trap the hair between the blades." Paul Langevin of barbershop Mildred New York adds, "The single blade minimizes irritation." Another plus is that safety razor blades are far less expensive to replace than disposable cartridges, and they don't generate any plastic waste.
The experts do admit that, at first, using a safety razor won't be quite as effortless as shaving with a Gilette or Shick (and if you'd rather stick to those cartridge razors, there are some on this list, too). But they say most people are quick converts once they get the hang of it. "Using a safety razor is all about learning to hold the handle at a specific angle," explains Patrick Butler, technical director of education and operations at Floyd's 99 Barbershop. "Unlike a cartridge razor that will pivot easily, the safety razor needs to be guided by your own hand." You'll have to be mindful of the angle, pressure, and steadiness as you shave, he adds.
We've written about safety razors before, and German razor manufacturer Merkur was the brand that came most recommended. The Merkur 34C remains our experts' top pick, with many saying it's an especially good choice for beginners because the short handle makes it easy to maneuver. "The Merkur handle is thicker, which gives you more weight to hold onto," Butler says. "The end result can rival the same type of shave you might receive from a multi-bladed razor, however it may take you multiple passes to do so." 
Best (less expensive) safety razor
In that same guide to safety razors, this razor was praised by two barbers — it features a short handle style similar to the Merkur model above. Both Joey Tasca of Brooklyn-based Persons of Interest and Mark Miguez of Friend of a Barber like the razors from British shaving company Edwin Jagger, but this specific one is a standout. Tasca told us that it's heavy enough so there's "something powerful in your hand, which makes you less likely to cut yourself." Miguez mentioned that he actually switched to this razor after bad skin experiences with Gillette and Bic cartridge razors — he hasn't had irritation at all with his Edwin Jagger.
Best direct-to-consumer safety razor
Bevel is among the newer safety-razor companies that both barber Julien Howard and Beightol recommend. You can purchase the razor and blades on their own, but they also have subscription options for scheduled blade replacement, along with a full line of shaving products. The Bevel razor also has a bit of a sleeker, more contemporary look than the others on this list, and a slightly longer and narrower handle that might be more comfortable for some.
Best adjustable safety razor
Standard safety razors are pretty straightforward: The head of the razor closes around the flexible metal blade, which is then locked into a predetermined angle. This construction works well for most people, but some may benefit from being able to customize the angle at which the blade meets the skin. For someone with sensitive skin, a lower angle will allow for a gentler shave with less irritation. Someone with coarse facial hair, on the other hand, might prefer a more aggressive angle. It all comes down to personal preference. That's why Xavier Rodriguez of Fellow Barber and Peter Solomon of Tweed Barbers of Boston both recommend the adjustable Merkur Progress to anyone who thinks their safety-razor shave might benefit from some customization. It has five different blade-angle settings, and you simply twist the dial at the bottom to toggle between them. If you decide this is the razor for you, you'll want to get some blades for it as well.
Along with Merkur, Mühle is another of the high-quality safety razor brands we heard about from experts. Brittany Raposo, master barber at the Paul Labrecque Salon and Skincare Spa, believes this set is worth its higher price tag as it'll look stunning on a bathroom sink. She adds that the safety razor isn't as intimidating as it seems — it shaves similar to the cartridge razors most men might be used to but needs patience and mindful strokes. "It will feel like a pleasant, gentle scratching of the beard." The added brush exfoliates the skin and lifts the beard, making it easier to cut and create a lather, she explains. We think it would make a great gift for the guy who's over his pandemic beard phase.
Best cartridge razor
Butler says Gillette "continues to lead the way with multiple bladed options to choose from." This is one of the razors he uses on himself and works well with his sensitive skin. The ProGlide has an outer coating around each side of the blades, and this helps lubricate the skin before and after shaving, he explains. He also appreciates the flexball-style handle that lets the blade privet and angle around the face's contours. "This has saved me plenty of times as I try to shave under the jawline," he explains. "In the end, you are left with an amazingly smooth shave." Rasposo is another convert, explaining that this razor "gets closer than any other cartridge razor that I've tried, and that's a lot."
Best (less expensive) cartridge razor
Mike Gilman, the owner of Grooming Lounge, agrees that a safety razor is going to provide the best shave when used properly. But he also notes that using one may simply not be practical for everyone. You need to be a bit more careful with a safety razor, so it's going to take a little longer to shave; you also need to devote some time to learning proper technique. "For most guys, the method of shaving that works best, and that they are most used to, is shaving with a cartridge razor. The blades and razors are available everywhere, and they're super-easy to use." If you want to go the even more affordable cartridge-razor route, Gilman says it's wise to stick with a classic. His pick, the Gillette Mach 3, uses a three-blade cartridge, which is a nice compromise between the single blade of a safety razor and the five blades of some of the newest cartridge razors. "I just think the Mach 3 is the way to go," he says. Steve Waldman, technical artistic director at the Hair Cuttery Family of Brands, similarly likes how the three-blade design allows you to get around any uneven spots on the face, especially under the nose and around the corners of the mouth.
Best direct-to-consumer cartridge razor
Langevin agrees with Gilman that a cartridge razor would be a better choice for "people who don't want to master shaving with a safety razor." He likes Harry's, however, which he says makes a good "disposable-blade system." Like Bevel's razors, Harry's razors and blades are available à la carte, but you can also sign up for a subscription blade-replacement plan through the brand's website. This set includes the brand's shave gel and a travel case, too.
[Editor's note: While Amazon sells the razor with three blade refills, if purchased from Harry's, you'll only get the razor, hence the cheaper price.]
Best cartridge razor for sensitive skin