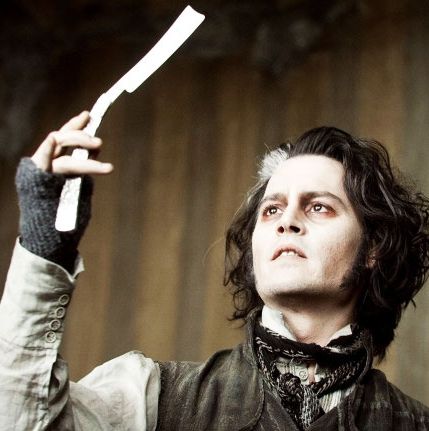 Johnny Depp in
Sweeney Todd: The Demon Barber of Fleet Street.
Photo: courtesy of DreamWorks and Warner Bros.
When you think of straight-razor shaving, your mind likely conjures up an image of an old-timey barber giving a hot-towel shave, sharpening his solid metal blade on a leather strop. But, thanks to modern health codes, barbers these days don't really use those traditional straight razors with a fixed blade, because laws ban them from using the same blade on multiple clients. If you're getting a "straight-razor shave" at a barbershop today, your barber is probably using something called a "shavette," or a disposable straight razor, which is basically a blade holder that accommodates a disposable, single-edge metal blade. A shavette essentially offers the same quality of shave as a straight razor, according to the barbers we spoke with, who say the newer technology is much lower maintenance, as the fresh blades for each shave, unlike a fixed one, don't need to be sharpened. Using a shavette will also be less expensive, according to master barber Angelo Ruscetta: "If you want a nice clean shave and want that nostalgia, with a shavette, you're straight-razor shaving without the big cost."
The barbers we talked to say using either a traditional straight razor or a shavette offers benefits over other methods of shaving. For instance, straight razors and shavettes give you complete control over a blade, while safety razors offer only partial control and cartridge razors offer none at all. "With a straight razor, you can really adjust your angle, so you can get a little more aggressive" or go light, Ruscetta says. Straight razors are also really great for shaping beards, he adds, because "you can really see [and control] where you're cutting." However, it does take some time and patience to master the technique. If you're thinking about trying it yourself, you should heed master barber Julien Howard, who suggests this classic barber-school training tip before putting the blade to your actual face: Inflate a balloon, cover it with shaving cream, and "shave" it off with the razor. "If you pop the balloon, you're probably going to cut yourself," he says. To find the best straight razors and shavettes, we talked to Howard, Ruscetta, and seven other barbers. Read on for their picks — which are heavy on shavettes, because those are the tools they told us they use every day, but include a few traditional straight razors, too.
Best overall shavette straight razor
It should come as no surprise that barbers have strong opinions on razors. The nine we spoke with for this article didn't overlap a lot in their recommendations, but certain brands came up more than others. German company Dovo, which is famous for its traditional straight razors, was the most mentioned of all, with five barbers recommending the brand. Two of those barbers specifically recommended this Dovo shavette, and, as Ruscetta notes, shavettes are a better option for beginners who want to try straight-razor shaving at home. Heather Manto, owner of Austin's Independence Barber Co., says this shavette is her go-to when doing hot-towel shaves, because it's "lightweight and easy to control." She also likes that "the holder and handle are stainless steel, so it will last many years." (Dovo does make this in a less expensive plastic-handled version, but most of the experts favor metal shavettes for their durability and weight.) This shavette comes with two inserts — one for standard-length shorter blades, which Manto says she prefers, and one for longer blades. Howard, too, recommends this one. He likes that it's "German-made" and says that the red plastic piece "adds a little guard, like a safety razor."
Best (less expensive) shavette straight razor
Ruscetta, who has tried the above Dovo, told us he prefers Parker's all-metal stainless-steel shavette, which is what he uses on all his clients. In addition to costing about a third the price of the overall-best Dovo, this style, with a metal body Ruscetta likes, "has some weight." But his favorite feature is how it "locks in blades" tighter than any other shavette he's tried. "The blade snaps in between these two pieces, and it really holds it tight," Ruscetta says. He points out that, in general, it's just really well constructed, and the details are carefully considered, and "the two posts that hold the blade are made out of copper, so you know that'll last a long time."
Best (even less expensive) shavette straight razor
Another folding metal shavette, and even less expensive than the Parker, this comes recommended by Ralph Wilburn, senior barber at Fellow Barber's Chelsea Market location. "I've used this on clients for years. It's fully metal so it lasts forever," he says, adding that he always recommends going with something heavier and made out of metal, no matter the brand. "I like them made out of metal because they have a little weight. Some are fully plastic, which I personally think is too light. You need a certain amount of pressure, and the weight of the metal helps." As a bonus, this already well-priced shavette comes with a box of 100 single-edge blades from Derby, one of our experts' favorite blade manufacturers (more on those below).
Best made-in-Japan shavette straight razors
We know that shoppers can get particular about the origins of their products (see our Made in Japan, France, and Korea series). So if you're keen on buying Japanese, you might consider Feather, the Japan-based razor company that came second to Dovo in terms of how often experts praised the label (three of our barbers named the brand as a generally superior maker of shaving products). Each of those barbers, however, mentioned a different model in Feather's Artist Club SS line of shavettes, which they say is very popular in their profession. One of the things Feather is famous for is its ultrasharp double-edge blades, and razors in the Artist Club line only work with blades made specifically by Feather. Some might see this lack of flexibility as a downside, but most barbers trust the company, especially when it comes to razor blades. "Feather is the best. They know what they're doing," says Howard. The blades made for Feather razors are also longer than the standard single-edge blades most shavettes take. A representative from The Barber Soho told us that their barbers use a shavette from Feather's professional-focused Artist Club DX line that's very similar to this model. The DX is generally thought to give a more aggressive shave because it lacks the SS's rounded metal blade-holder, but both take the same blades and have the same straight handle — which, unlike the other shavettes we've named thus far, does not fold. Some barbers feel the straight handle gives them more control, but they say that whether you use a straight or folding handle ultimately comes down to personal preference.
If you think you'd prefer a folding shavette, this model, also from Feather's SS Artist Club line, comes recommended by Brian Porteous, owner of Heritage Barbershop in Portland, Oregon. "I use this for any straight-razor shaving I do in the shop," he says. Porteous prefers the folding version because it's safer to store and tuck away, and he likes that the metal head is heavier than the rest of the razor "so it gives it a little more weight." He's also a fan of the Feather Artist Club blades, which he says are thicker than other blades (more on them below.)
Best traditional straight razors
As far as traditional straight razors are concerned, Dovo was again recommended more than any other brand, with three experts saying it makes some of the best. According to Arthur Iskhakov, owner of Barber's Blueprint in New York, "Dovo is the top brand when it comes to straight razors." For those looking to buy their first traditional straight razor, Iskhakov would recommend a 5/8-inch-thick blade, like this model, which he says is essentially the standard blade size for a good straight razor.
Regarding the maintenance of blades on a traditional straight razor, there is a lot to say. Ruscetta gave us some pointers: You should sharpen the blade about once per year, and he recommends sending it out to a specialist (most knife-sharpening services can handle straight razors). If you want to do it yourself, he says to use a "combination Norton stone with 4,000 grit on one side and 8,000 grit on the other." Ruscetta adds that, while it might seem unnecessary, "stropping" with a leather strop before each use is essential. "Every time you use the razor, you get microscopic bends in the razor," but the strop "straightens out" those tiny bends, and you can really feel the difference when you shave, he explains. He says any standard strop should work; just make sure it's at least an inch thick.
Ruscetta loves traditional straight razors, too, and while his favorite manufacturer of all time is the now-extinct Dorko, he agrees Dovo is one of the best companies currently producing them. He prefers a slightly thicker blade, because he feels "the weight gives a more comfortable shave," and recommends this model with a hefty 6/8-inch-thick blade.
Best disposable razor blades for shavette straight razors
Our barbers mentioned Derby's disposable shavette blades more than any other brand's, with four telling us these are their go-to — and an industry standard in most barbershops.