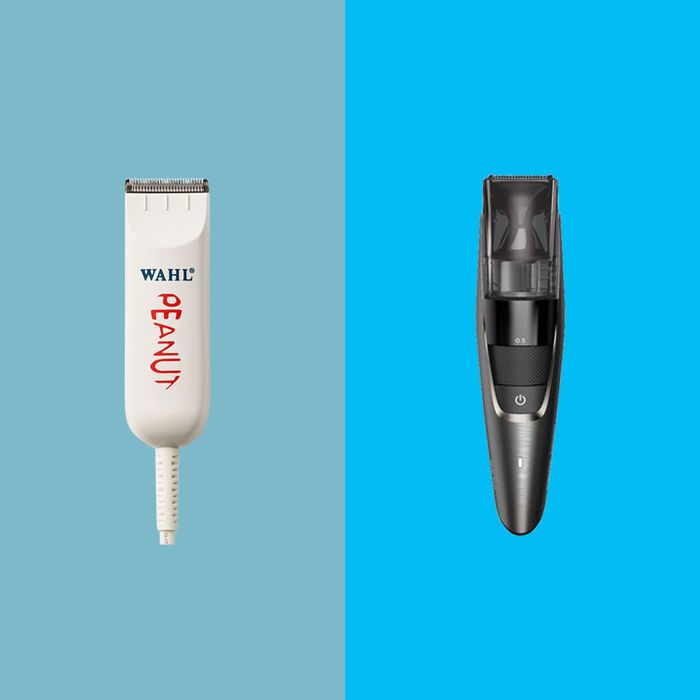 Photo-Illustration: The Strategist
Beard hype has somewhat plateaued since the early days of COVID lockdown when quarantine beards were king. At this moment in time, beards of all kinds are less a topic of conversation and more a simple style choice. We will surely see a new wave of beard mania in the future. But regardless of style or trends, facial hair will keep growing out of our follicles for the rest of human existence. That means people will continue to need beard trimmers to keep the never-ending scruff in check.
We asked more than 20 experts — stylists, barbers, and guys with good beards — about the trimmers they use. But first, some pearls of wisdom from our pros on how best to use them. As a general rule, trim when your beard hair is dry. "If you're cutting it wet, you can't really tell how long it is going to be when dry," explains Mark Miguez, co-owner and barber at New York City's Friend of a Barber. If you're new to the tools, the experts also say to start with a longer guard or dial setting when trimming to ensure you don't cut your facial hair too short. According to Floyd's 99 Barbershop's technical director Patrick Butler, that's one of the most common mistakes that first-timers make, and Raquel Fajardo, a regional Fellow Barber manager in Los Angeles, wisely cautions, "Less is more! Always be conservative because you can always go shorter, but can't put it back once it's come off." Finally, in addition to cleaning your trimmer's blade after each use (more on that below), you should wash your face when you finish. As Rob Mac of Mildred New York told us, "Beard trimming is still shaving," so you'll likely have some stray hairs and stretched skin afterward that would benefit from a good rinse.
If you already have an idea of what you're looking for, use our clickable table of contents to skip ahead. Otherwise, read on for what to look for as you shop.
Best overall | Best less-expensive | Best with a vacuum | Best for teens and beginners | Best for short beards or stubble | Best for travel | Best for mustaches | Best for outlining | Best for manscaping
Powerful and consistent motor: Whether you're cleaning up a big beard or taking facial hair down to just scruff, weak motors or batteries that don't last long enough can lead to various and sometimes painful grooming problems. This is especially true for those with very coarse facial hair, which requires a stronger motor and sharper blades to cut. Barber Julien Howard (a.k.a. the Velo Barber), who has seen guys of all races with beards of all hair types, says that trimmers from brands like Wahl, Andis, Philips Norelco, and Oster typically have motors and blades strong enough to handle the coarsest of beard hair (or any that's finer, too). Miles Wood Smith, the head barber at Murdock London, agrees. "It's important to use a trimmer with enough power to cut your facial hair consistently," he says. For this reason, professional barbers will often opt for a corded trimmer that they never have to charge and that won't start to lose power after just one client.
But if you find using a cordless trimmer more convenient or like touching up your five-o'clock shadow in the shower, it's also important to find a trimmer with a long battery life. Most trimmers will list the life of a full battery charge in minutes on their packaging. But it's a little trickier to figure out how powerful the motor is on any given beard trimmer. The best place to look is often product reviews, where people will candidly share their experiences, sometimes at great length. But to save you some reading, know that all of the experts we talked to say that a powerful motor is an essential part of their own criteria for recommendations, so you can feel confident purchasing any of the trimmers on this list.
Lightweight body: In addition to a powerful motor, you want a trimmer that's light enough that you'll be able to maneuver around your beard easily. While a shiny stainless-steel trimmer might look fancier to you, one with a plastic body will ultimately be lighter and easier to use. Where possible, we've listed the weights of each trimmer in ounces.
Sharp blades: Just like on a regular razor, not-so-sharp blades on a beard trimmer will give you a less-than-ideal trim — think split ends and ragged edges. Worse yet, a dull set of trimmer blades can make the whole experience feel like getting your beard hairs caught in a zipper. Customer reviews will give you insight into which trimmers have nice sharp blades, and buying from long-established brands will help too. But getting the best products into your hands is also what our expert recommendations are for. Of the dozens of beard trimmers our experts have tried, they've only recommended the best ones (with the sharpest blades) that they use on themselves and on their clients to get the cleanest tightest trims. But if you're looking for a marker of blades that will stay sharp for a long time, look for beard trimmers with self-sharpening blades. This means that your trimmer's metal blades use the friction created from moving back and forth across each other to sharpen themselves as they cut your hair. Self-sharpening blades will save you from having to replace dull blades, saving you money in the long run.
Adjustable blades, multiple settings, and a variety of attachments: Adjustable blades and different-size blade guards are like training wheels for beard trimmers. They help guide you along the curves of cheeks and jaw lines without cutting the hair unevenly or too short. Guards come in a variety of lengths to keep the actual blade part of the trimmer back a certain distance from your face and cut each hair to that length. Adjustable blades move forward or back using a lever on the side of your trimmer head. When "open," they act like a guard attachment that's integrated into the trimmer blades, but they will usually only give you about 1.5 millimeters of added length. Some trimmers use a dial setting that adjusts the length of the blade instead of adding guards. In addition to different length blade guards, some trimmers will come with attachments for trimming nose and ear hair as well as attachments for trimming chest hair and pubic hair.
Best overall beard trimmer
Cordless | Battery life of 100 minutes | Self-sharpening blades | Weighs 16 ounces | 8 guard attachments | Also available in a corded version
Seven of the grooming professionals we spoke to say Wahl's Cordless Magic Clip might be the most powerful, sharp, and capable beard trimmer on the market. "It gets the job done whether your beard is long or short," says Fellow Barber founder Sam Buffa, citing the fact it comes with multiple (but not too many) guard options to get the length just right. He also told us the quality of a Wahl blade makes this trimmer "the most bang for your buck" compared to other models at similar prices, as Wahl's blades stay sharper for longer, according to Buffa. Murdock London's Wood Smith is another Magic Clip devotee, praising it for its combination of lightness and power (these qualities make the cordless Magic Clip one of the best hair clippers, too, according to barbers). He loves to use it on both himself at home and on his clients at work. "It's the top product to own if you want to re-create a barbershop experience in the comfort of your home," he says, a statement that was echoed by fashion stylist Neil Cohen, Miguez, and Alejandro "AJ" Albano, a barber at Tuft NYC. Podcast host Ronnie Parisella told us he also uses the Magic Clip on his beard. (The Wahl Magic Clip is also available in a corded version).
Best (less-expensive) beard trimmer
Corded | Weighs 4 ounces | 4 guard attachments | Also available in a cordless version
When we asked Miguez how he keeps the famous beard of one of his clients, style writer David Coggins, so fresh, he told us his most-trusted tool is Wahl's corded Peanut Clipper. It's cheaper than the Magic Clip, but that isn't why he likes it — Miguez says, in his opinion, cordless trimmers are overrated: "I find that trimmers you can plug into the wall have the power to last years compared to wireless ones where the battery slowly gets worse." Aside from having a cord, two other things he likes about the Peanut are that it has the quality of any Wahl product and comes with four attachments that he says are "perfect lengths" for trimming a beard down from a robust hedge in the winter to Astroturf in the summer. The Peanut is also the favored beard trimmer of former Strategist columnist Chris Black, who praised it because it's "cheap, dependable, and fits in your designer Dopp kit perfectly." If you prefer cordless tools, the Peanut also comes in a cordless version that takes two AA batteries.
Best beard trimmer with a vacuum
Cordless | Battery life of 100 minutes | Weight not specified | 20 length settings and 4 guard attachments
While the grooming professionals we spoke to overwhelmingly named Wahl as the maker of their favored trimmers, it was Philips Norelco that received the most praise from the regular bearded guys we talked to about their preferred tools. This divide checks out for barber David Kim, who tells us amateur cutters can "generally trust Philips Norelco's more-affordable products to work well and maintain a neat beard, as long as they're not trying to do something too complex or fancy." This specific Philips Norelco trimmer came recommended to us by no fewer than five guys. Fashion stylist Cohen is a fan, as are stunt performer Adam Rinn and DJ–slash–digital strategist Mac Joseph, who told us he likes how it has a vacuum feature that sucks up most of your beard clippings as you go, meaning there is less to clean up and therefore less of a chance of squabbling with roommates or partners over the state of your sink. "I'm Black, so my hairs are super curly and get everywhere," Joseph says. "The vacuum is very important to me because I share a bathroom."
Conrad Quilty-Harper, an editor at New Scientist, also uses this trimmer at home because "the vacuum means less mess." Joseph, who told us he also bought one for his dad, adds that he loves how its radial dial has clear, easy-to-read settings to set the length of its blade. "I'm blind as a bat, so if I'm not wearing my glasses, I can mess up the shaving settings," he says. "The display on this is really good and bold." When Strategist contributor Kurt Soller tested beard trimmers, this was his favorite of the bunch, too, for many of the same reasons above, including its radial dial with 0.5-mm. increments and the "godsend" vacuum sucking feature that collects "up to 95 percent of the hairs, according to the company."
Best beard trimmer for teens and beginners
Waldman believes this trimmer is the best for beginners because of its versatility. "You can use it in the shower, with shave gel, or for a quick dry trim," he says. And its easy-to-use adjustment dial for different hair lengths is a standout. "There aren't a bunch of attachments to misplace or clutter your bathroom drawers." For a beginner, that means much less time fidgeting around in the morning and getting straight to business — with just a turn of a dial.
If your skin is on the more sensitive side, Waldman recommends using a trimmer with wet and dry functions, which this one offers. The trick to not irritating sensitive skin is to soften your beard and lubricate your skin before using a trimmer, Waldman explains. After washing and moisturizing, you can "keep your beard area covered with a damp warm washcloth for about two minutes to further soften the hair," he says. Then you can go in with this trimmer — whether you're shaving in the bathroom sink or in the shower.
Best beard trimmer for short beards or stubble
Cordless | Battery life of 60 minutes | Weight not specified | Self-sharpening blades | 9 attachments including nose and ear trimmers
Former Strategist senior editor Peter Martin — also a former Esquire grooming editor — keeps a shorter beard that's typically more of a scruff. After wearing out his Gillette trimmer during quarantine, he bought this exceptionally affordable Philips trimmer on a "strong recommendation" from his brother-in-law. "I wish I'd switched to this a decade ago," Martin says, explaining that it's "so much easier to use" with sharp cutting blades that "never get stuck and clip all the hair in basically one pass." He also appreciates that, unlike his old Gillette, this trimmer "came with nose and ear trimmers, which I pretend I don't need."
Best beard trimmer for travel
Cordless | Battery life of 45 minutes | Weighs 9.7 ounces | TK blade | 3 comb attachments
While Black says the cordless version of the Wahl Peanut will fit in a Dopp kit, if you're looking for an even more affordable beard trimmer for travel, consider the OneBlade. Quilty-Harper uses it, and it made the cut on Soller's list, too. "The small size, decent battery life, and punchy color make it just right for my Dopp kit," Soller wrote. Quilty-Harper adds that it can "get as close as a wet shave" (to wit, the OneBlade also made our list of expert-recommended electric razors), with Soller writing that the gadget falls somewhere "between a traditional beard trimmer and a regular razor." He adds: "Once you charge the handle and turn on the power, the blade's rapid movements cut nearly as close as a regular disposable blade but without any fear of bleeding or ingrown hairs."
Best beard trimmer for mustaches
Corded | Weighs 6.9 ounces | Adjustable T-blade | 3 guard attachments
This less-expensive trimmer for styling comes recommended by barber Perry Petit-Beau. It's corded, meaning you won't need to worry about charging a battery, and as for its performance, Petit-Beau says he "likes the finish and power of the blade." He also says that while it comes with guards for properly trimming a beard, when used without a guard, you get an "exposed blade for outline detailing and a close shave." Exposed blades don't sit in-line with the body of the trimmer but rather jut out from it, and some barbers prefer them for creating outlines because the shape makes it easier to reach more sensitive areas, according to Petit-Beau. "With most clippers, there's normally a hump under the blade that makes it hard to get closer," he says. "But an exposed blade allows you to get to those hard-to-reach areas." As we read in some reviews of this trimmer, the exposed blade also increased the risk of cutting yourself, so it's best suited for folks with a bit more experience trimming at home.
Butler likes this trimmer for tightening up mustaches since it has a T-blade, which gets its name from the edges of the blade sticking out from the trimmer like the top of the letter T. The curved edges allow you to get into the nooks and crannies under the nose and around the corners of a mustache, according to him. "This will give you more control and potentially help you avoid cutting too much hair off of an area you are working in," Butler says. He, like Petit-Beau, appreciates that the trimmer is corded, allowing it to deliver consistent power. You don't want to end up with only half of a handlebar mustache, after all.
Best beard trimmer for outlining
Cordless | Battery life of up to 2 hours | Weighs 4.9 ounces | T-blade | 4 guard attachments
"Between barbershop appointments, the best thing you can do at home to maintain your beard is to keep your cheek lines and neckline neat," Wood Smith told us. "And the Andis Slimline Pro is easily maneuverable to trim even hard-to-reach hairs on the neck." In fact, all the barbers who praised the Magic Clip told us they will use this trimmer to make beards look as neat as possible. "It's going to get incredibly close, so professionals use it to create neat lines and then put the attachments on to trim the beard itself," explains Karac Ruleau of Mott NYC. Miguez agrees, saying that while he wouldn't use it as his main beard trimmer, it's the first thing he picks up to keep the area around his clients' ears and the backs of their necks clean. Albano, another expert who says the Slimline Pro is great for styling, adds that it is "super-light, super-sharp, and built to last." And Mac, yet another Andis fan, told us he knows from experience that this product works on facial hair of all types and textures and holds its charge for a long time.
While it's great for styling, our experts note you could use it for a full trim, too. Fajardo echoes other barbers — this trimmer is easy to handle. That's why she recommends it for those just starting to grow a beard. The T-blade "makes it easy to line up and create symmetry," which will strengthen the shape and add more definition.
Best beard trimmer that doubles as a manscaping tool
Cordless and waterproof | Battery life of 60 minutes | Self-sharpening blades | Weight not specified | 13 attachments for beard, mustache, hair, body, ear, and nose
Medium strategist Shaquille Cheris told us he loves this trimming kit from newer grooming brand Hatteker. "It came with what felt like 15 components," he says, "and it has a great motor compared to the Panasonic I was using before." Technically meant to be used all over, Cheris says he mostly uses this trimmer to keep the edges of his beard in good shape between barbershop visits. Hatteker claims the product is fully waterproof and, in addition to cleaning its blades, encourages users to soak the beard trimmer itself under a faucet between uses. (Cheris, for what it's worth, tells us he hasn't tried this yet.)
Some more beard-care products we've written about
• Mark Miguez, co-owner and barber at New York City's Friend of a Barber
• Patrick Butler, Floyd's 99 Barbershop's technical director
• Raquel Fajardo, a regional Fellow Barber manager in Los Angeles
• Rob Mac of Mildred New York
• Julien Howard, a.k.a. the Velo Barber
• Miles Wood Smith, the head barber at Murdock London
• Sam Buffa, founder of Fellow Barber
• Neil Cohen, fashion stylist
• Alejandro "AJ" Albano, a barber at Tuft NYC
• Ronnie Parisella, Podcast host
• David Coggins, style writer
• Chris Black, former Strategist columnist and podcast host
• David Kim, barber
• Adam Rinn, stunt performer
• Mac Joseph, DJ and digital strategist
• Conrad Quilty-Harper, editor at New Scientist
• Kurt Soller, Strategist contributor
• Peter Martin, former Strategist senior editor
• Perry Petit-Beau, barber
• Karac Ruleau of Mott NYC
• Shaquille Cheris, Medium strategist
The Strategist is designed to surface the most useful, expert recommendations for things to buy across the vast e-commerce landscape. Some of our latest conquests include the best men's wardrobe basics, white T-shirts for men, jeans for men, white sneakers for men, and flattering clothes for men. We update links when possible, but note that deals can expire and all prices are subject to change.

Every editorial product is independently selected. If you buy something through our links, New York may earn an affiliate commission.