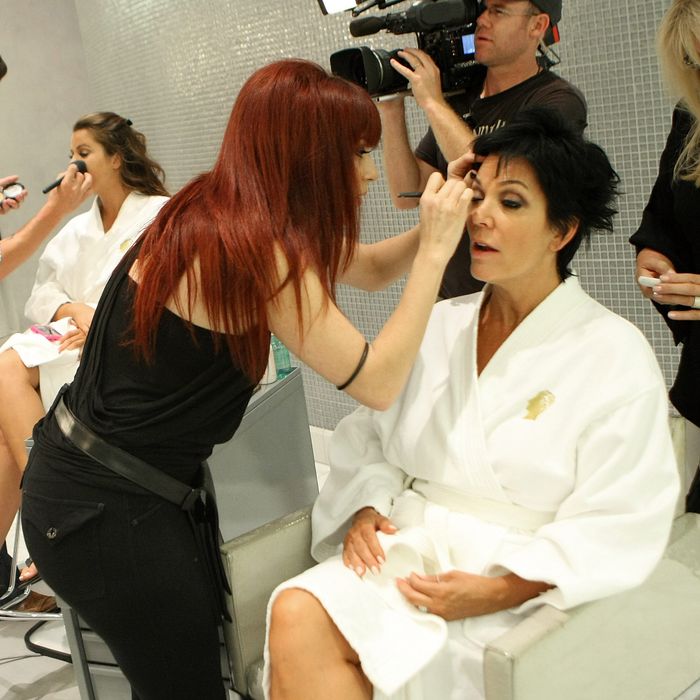 She knows a thing or two about being on camera.
Photo: Ethan Miller/Getty Images for Caesars Palace/2008 Getty Images
As the weeks of shelter in place and social distancing march on, you're probably finding that more and more of your social and professional life is taking place on video chat. Whether it's FaceTiming with friends or Zooming with colleagues (or a Tinder match), we're all seeing way more of our faces on tiny screens than ever before. If you're feeling like your laptop camera isn't doing you any favors, you're not alone.
"You need a smidge more makeup than perhaps you're used to in order for it to read on-camera," says makeup artist Kasey Spickard. "The camera can wash you out, so you want to focus on sculpting and creating definition in the face." To find out how to adjust your routine for a day full of Zoom calls, we asked three makeup artists and one broadcaster who's been doing her job — and her makeup — from home during the crisis, to share their tips and tricks for looking good on-camera.
Foundation
"You don't want to look crazy shiny on videos," says makeup artist Risa Miyamoto, "but healthy, dewy skin is what everyone wants." To achieve that balance, she likes this oil-free foundation from Almay that's mattifying but not too matte. "It has nice buildable coverage but is very lightweight feeling," she says, helping your skin maintain its natural dewiness without adding any unwanted oily-looking shine.
Elizabeth Wagmeister, a senior correspondent at Variety who regularly appears on air, takes a similar approach with her foundation. She's been using this lightweight formula from Dior for years. "I find that it gives really good coverage but is still light, which is great for TV," she says. "The consistency feels like thick water." It's also one of Amber Rose's favorites.
Concealer
According to Emmy Award–winning makeup artist Andrew Sotomayor, "Under-eye concealer is the most important part of any makeup look. It makes you look like you've gotten rest and you're ready for the day ahead," which will help you stand out among 12 other tiny faces in a Zoom meeting. He's a fan of CoverGirl's concealer and its smooth, matte finish.
Spickard uses this concealer for buildable coverage under the eyes and on blemishes. "It's nice and hydrating, and reads like a second skin on-camera," he says. He says to make sure whatever concealer you use isn't too drying to keep your skin from looking dull.
Highlighter
For areas where you want to add a bit more glow, Miyamoto recommends this Chanel highlighter. "It's my absolute favorite," she says. "The best natural 'glow from within' highlighter in history." Spickard agrees that a highlighter (or bronzer if you prefer) is essential to warm up the face and create definition so you don't look washed out on-camera.
For a super-affordable pick, Wagmeister likes this under-$10 highlighter. "It's a product that I've been using for years," she says. "It has the best pigmentation and it is so inexpensive."
Eye makeup
To look more "convincing and confident" during work Zoom meetings, Miyamoto suggests going for "strong, full eyebrows." She recommends first brushing up the brows with a Glossier Boy Brow (a longtime Strategist favorite) and then using the Hourglass pencil to "draw superfine lines that imitate actual individual hairs where needed."