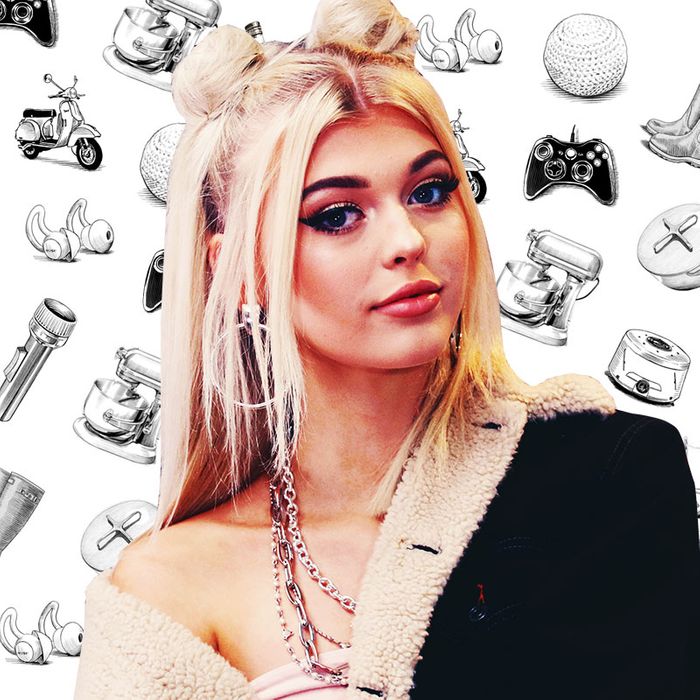 If you're like us, you've probably wondered what famous people add to their carts. Not the JAR brooch and Louis XV chair, but the hand sanitizer and electric toothbrush. We asked TikTok star Loren Gray — who has more than 41 million followers on the platform and recently launched a prom collection with Betsey Johnson for Macy's — about the sweatpants, sneakers, and mascara she can't live without.
Sublime is one of my favorite bands; I've been listening to them my whole life. And I'm super into oversize crewneck sweatshirts right now. This one has cool fraying around the sleeves and neckline. It's lightweight and just fits really well. I find myself wearing it every single day. I have it in a really big size and usually wear shorts underneath, but if it's colder out, I'll wear it with gray sweatpants. I love a gray-on-gray outfit.
I'm literally wearing these right now. I wasn't looking for gray sweatpants when I got them — I was at the mall, there was a Topshop, and I happened to see these. But I'm telling you: They've changed my life. I've had them for two years — they're covered in stains, the inside is orange from spray tans, and I still wear them every day. It's embarrassing. But they're so comfortable and so flattering. They're just the right amount of baggy — I don't like when sweatpants are too tight.
I always have a ring light with me. I've had this one for three or four years — it's lasted a long time — and it gives me great lighting when I'm filming videos for TikTok and YouTube.
I've been using this mascara since middle school. My friend told me about it and said it was a life changer, and she was right. It makes your lashes look superlong, and you can layer it to have more volume. It stays on really well, and it never flakes off. It's also super-affordable.
I wasn't a big Air Force 1 person until I started buying custom ones. There are a bunch of companies that customize them, including Nike, but I usually buy mine from Drip Creationz. I have Rick and Morty ones, Powerpuff ones — I have at least four pairs.
I've used M.A.C lipstick since day one. There are two shades I bounce between: If I'm a little more tan, Bronx is a good nude (when I'm on the pale side, I wear Honeylove).
I always put Fenty Fu$$y lip gloss on top of my lipstick. Unlike a lot of other lip glosses, it's not sticky. It's a perfect color — light pink but not too pink — and it looks good over lipsticks.