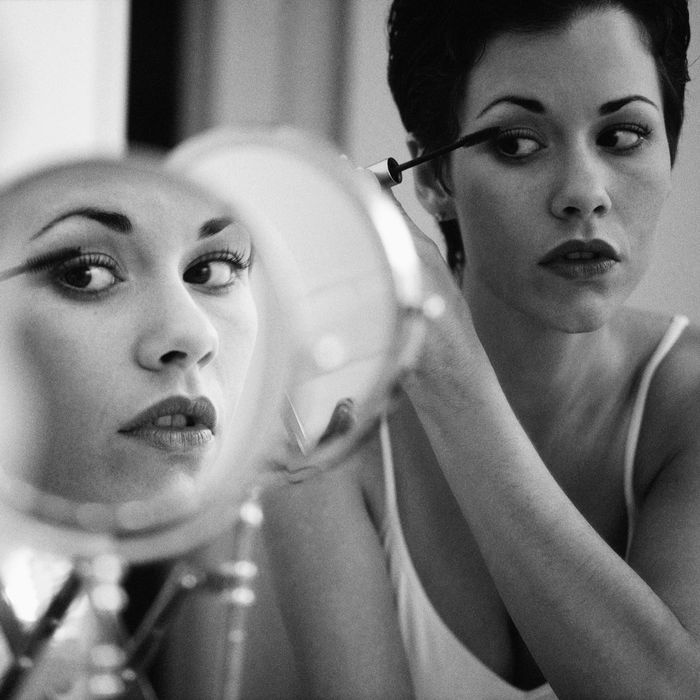 Photo: Roy Morsch/Getty Images
Some lengthen, volumize, separate and curl, some are tearproof and tint your lashes to unknown depths of blackness, while others promise the featheriness of false eyelashes. The variety is part of the fun in choosing a mascara these days — and the challenge. To help narrow down the options, we talked to more than 20 makeup artists about their favorite mascaras, from ones for natural-looking lashes to others with non-flaky formulas. No matter which you choose, here's a tip from makeup artist Lauren Aiello on the best technique for generally enhancing thickness and giving you an extra lift: "After applying a coat to the underside of your lashes, look down and apply one to the top, starting from the root and combing through, flicking upwards at the ends." And of course, to magnify the results, always go for a second coat.
Best overall mascara


This mascara from Marc Jacobs got the most nods from the experts we spoke to. Aiello calls it a "personal favorite" because it "gives immediate lift and volume in just one coat" but is also "easily buildable for more intensity." If you're going for that super-dramatic lash, Aiello's tip is to add a light dusting of translucent powder in between coats, which helps mascara cling to lashes better and amps up the thickness. Makeup artist Clara Rae agrees that this formula is super-buildable and adds that she loves the brush's hourglass shape, which "curves inwards in the middle, enabling you to angle it in multiple ways to coat each lash." And makeup artist Adam Burrell — who calls this mascara one of his go-tos — emphasizes that it provides a true, intense black that "really thickens the lashes for a false-lash effect."
Best runner-up mascara
Although it wasn't name-dropped by quite as many makeup artists as the Marc Jacobs mascara above, we're giving this one a special runner-up spot for the overall enthusiasm of the recommendations it did receive. According to Burrell, just as with blow-drying your hair, the fatter the mascara brush, the more volume you get. Because the Pat McGrath brush is on the thicker end of the spectrum, expect it to give you lots of volume. But the power of this mascara doesn't stop there. "This one does it all," promises Burrell. "It lengthens, thickens, and curls." Makeup artist Amy Zdunowski-Roeder agrees and says this mascara has been her favorite to use on clients. "The formula is so pigmented, smooth, and creamy, and the product truly lengthens lashes and is completely buildable," she says. "It stays on all day without fail, and the fact that it is non-clumping makes it even more of a winner." While it is a higher-end option, Pat McGrath's namesake line has a devoted following, especially among other makeup artists, for a reason: Her products deliver dramatic results.
Best (less expensive) mascara
"If you didn't think a $4 mascara could work, think again," promises makeup artist Amanda Shackleton. She particularly loves this one's compact, easily maneuverable brush, which can grab both hard-to-reach short and bottom lashes. While the brush is not quite as fat or well designed as a more expensive mascara's would be, for your money it still performs well. As always, Shackleton suggests applying two to three coats to get the best results.
Best mascara for beginners
Celebrity makeup artist Jamie Dorman from the Only Agency recommends this mascara for beginners. It has two of the features Dorman thinks are important for the uninitiated: a small wand and short bristles that are curved for easy application and a more fully fanned out appearance.
Best mascara for natural-looking lashes


If you're looking for a mascara for your no-makeup makeup looks, Maybelline Lash Discovery comes recommended by both Dillon Peña and Aiello, who love its very "natural-looking" effect on the lashes. This mascara gives a subtle lift and tint with no noticeable clumps, so while your lashes won't appear superthick or dramatic, you will get just enough curl to draw attention to and open up your eyes. And since Maybelline is priced in the more affordable range, Peña sees this as an opportunity to go ahead and buy yourself two tubes: the regular version for your top lashes and the waterproof version for the bottom ones to avoid raccoon eyes. (Although waterproof mascara is more difficult to remove, when you're dealing with the thinner bottom lashes, less scrubbing is involved.) "The mini-brush really hits those hard-to-reach lashes on the inner and outer corners and distributes a nice, even coat of product while separating and adding length to the lash," says Aiello. And if you prefer natural-looking lashes with more volume, makeup artist Anabelle LaGuardia is a fan of the just-as-affordable Maybelline Falsies Volume Express Mascara.
Best volumizing mascara
"This product definitely lives up to its name," says Zdunowski-Roeder, who promises your lashes will appear dramatically thicker and fuller from the first coat. "The formula is long-wearing, non-smudging, and won't dry out." Makeup artist Pauline Briscoe adds that this mascara "gives your lashes the illusion of being thicker and fuller." Plus, the tips at the end of the uniquely designed brush work with the product to separate and define your lashes. The domed brush also features staggered bristles that grab lashes from the root, while the rich, long-wearing pigment keeps them looking great all day. Since this mascara can be difficult to take off, you'll want to use a gentle oil-based remover, like Rio's favorite, Glossier Milky Oil.
Best (less expensive) volumizing mascara
For a cheaper mascara that still gives supreme volume, celebrity makeup artist Jessica deBen loves IT Cosmetics Superhero Mascara because the rich pigment creates a lash-extension effect with just one coat. She explains that the formula coats lashes in polymers to give a more "elastic length" that is non-flaking and non-smudging. Speaking of flaking: In general, you should keep in mind that mascaras typically expire after three months (so take note of the date you opened your tube). And if your mascara gets clumpy before the three-month mark, Zdunowski-Roeder has another tip: Add a few drops of Visine to thin it out again.
Best tubing mascara


Photo: Courtesy of the Vendor
Tubing mascaras (which include the IT Cosmetics Superhero Mascara above) work a little differently than your standard mascaras. While regular ones typically just coat your lashes with pigment, tubing mascaras lengthen using polymers that wrap around each lash. According to makeup artist Porsche Cooper, this Kevyn Aucoin mascara has "a tubing formula that builds extreme volume and length for even the most stubbornly short lashes." She says it has a "dense, fiber-filled" brush that "ensures no lash goes untouched," and it leaves eyes "framed and smudge-free all day long." Peña is another fan of this mascara and also likes how close it allows him to get to the lash line for a "more defined lash." Makeup artist Margina Dennis is another fan; she calls it simply "the best tubing mascara" and one of her "all-time favorites" because "it creates volume and length without looking spidery and washes off with warm water."
Best (less expensive) tubing mascara
According to deBen, any tubing mascara — including this more affordable one from L'oréal — has two benefits: It "won't run or smudge," and it's "easy to remove with warm water." Primer is not always necessary, but this mascara does include it, which is like getting two products for the price of one. But this primer does offer lots of volume while giving a "longer wear to whatever mascara you put on top," she says. Makeup artist Kornelija Slunjski suggests that anyone applying primer to their lashes before mascara should use just a tiny amount — otherwise, your lashes will end up looking clumpy. And remember to always "gently curl your lashes" before applying mascara to get the most dramatic results. Another application trick comes from deBen, who suggests using a slanted eyeliner brush to apply mascara at the roots of your eyelashes. "It gives the appearance of very full lashes and is a very sleek, minimal way to line the eyes," she explains.
Best lengthening mascara
When Slunjski first saw how much longer a client's lashes looked after applying this mascara, she actually said "Wow" out loud. The brand claims to have a creamy, jet-black pigment that extends the lash, and although the lengthening effect is the standout here, Slunjski notes that it's also volumizing and that "the brush separates the lashes really nicely and doesn't make your lashes look clumpy." The mascara is formulated with honey extract and marine collagen to nourish and moisturize your lashes.
Best (less expensive) lengthening mascara
According to makeup artist Yolonda Frederick-Thompson, the magic in Milani's mascara comes from its "amazing curved brush," which provides "unbelievable lengthening while it curls and separates each lash into the perfect position."
Best lengthening mascara with a bendable brush


Shackleton says this is her favorite lengthening mascara. But what makes it really special is the adjustable wand, which can bend to a 90-degree angle, making it easy to apply mascara in hard-to-reach areas like the inner and outer corners of your eyes. "L'Oréal took a tip from pro makeup artists and came out with a mascara that allows you to bend the brush for more precise application," says Shackleton.
Best waterproof mascara