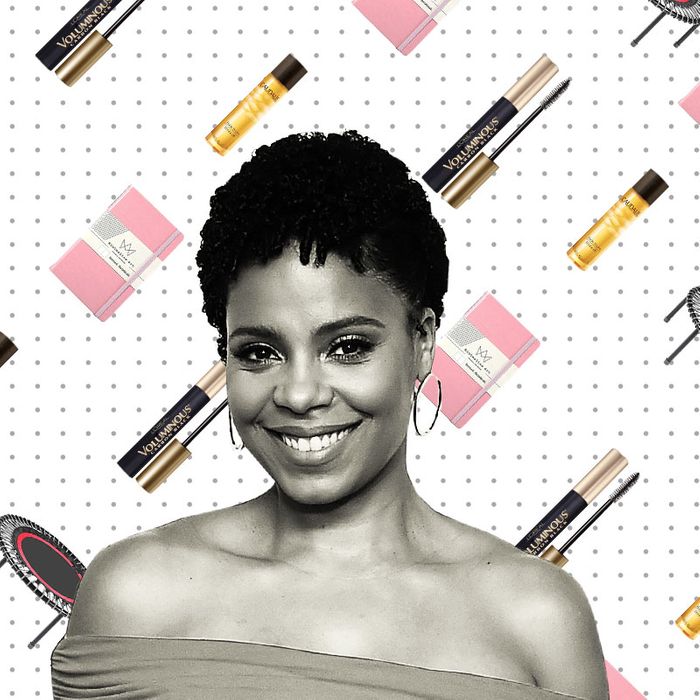 If you're like us, you've probably wondered what famous people add to their carts. Not the JAR brooch and Louis XV chair, but the hand sanitizer and the electric toothbrush. We asked Sanaa Lathan of The Affair, Love & Basketball, and the new Netflix film Nappily Ever After, about the oregano oil, mini-trampoline, and drugstore mascara she can't live without.
Like the name says, this oil is truly divine. I was working with the makeup artist Porsche Cooper, and I kept saying to her, "You smell so good!" And she told me it was her oil, so I ordered it on Amazon, and it's so yummy and has such a light and delicious scent that actually lasts. It's reasonably priced, and I'll use it all over my face and body, and even my hair. It smells like heaven.
The best mascara ever, and so affordable. When I was working on The Affair last year, the makeup artist turned me on to it, and I'll tell you, it puts all the other expensive mascaras at the department stores to shame. It stays on forever and almost makes you look like you have false eyelashes on; it's so good.
I love doodling, writing down ideas, and drawing, and these journals are great for that. I'm in the process of producing and developing projects, so I'll carry this around in my bag for when inspiration hits. I like the blank-paged ones because you feel like you're not boxed in by anything.
You'll never get sick if you take this. I promise. It's like a miracle herb everyone should have in the medicine cabinet. If you ever feel yourself coming down with anything, four drops in water, which gives a bit of a burning sensation going down, will nip it in the bud. You have to get the Zane Hellas in particular because a lot of oregano oils are only 70 percent carvacrol (the essential oil in oregano) but Zane Hellas is 86 percent, so it's much stronger and purer.
[Editor's Note: Piper Perabo also swears by oil of oregano to prevent colds, but there's limited clinical research into its actual health benefits.]
Oh, my god. I'm doing a low-sugar diet that's not necessarily keto, but I still have a sweet tooth, so I need some kind of sweet or chocolate every day. I discovered this on Amazon because it was the highest-rated low-calorie chocolate, and I completely believe these people's reviews. It doesn't have the nasty aftertaste that so many sugar-free chocolates have, and it doesn't have the artificial sweeteners either. I love it.
Aluminum is in most traditional antiperspirants, and even if you don't believe that it causes health issues, just the idea of your major sweat glands being blocked feels really wrong to me. This is a great natural deodorant that actually keeps you fresh. I've been using natural for years, and I do know that when you first make the transition from traditional antiperspirants to natural deodorant, your body has to adjust, but this one just works for me.