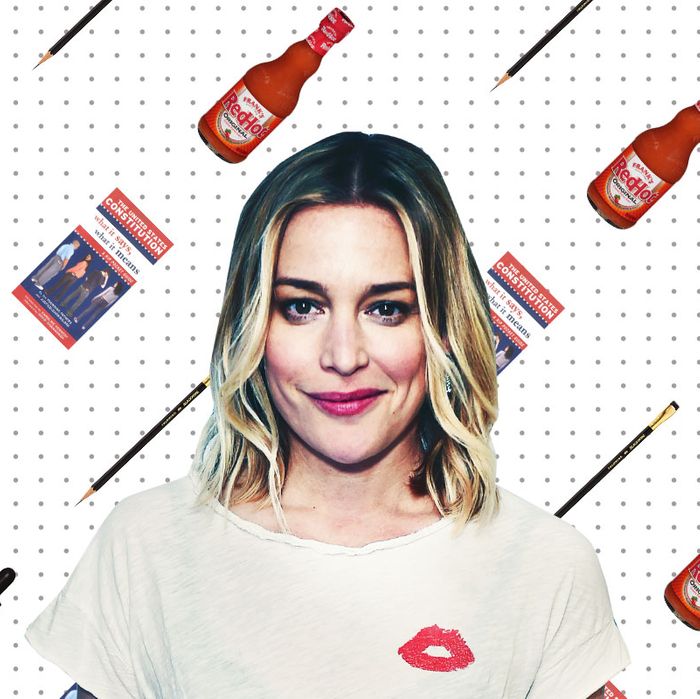 Photo: Getty Images, Courtesy Retailers
If you're like us, you've probably wondered what famous people add to their carts. Not the JAR brooch and Louis XV chair, but the hand sanitizer and the electric toothbrush. We asked actress Piper Perabo, who's currently starring in the Netflix series Turn Up Charlie, about the hot sauce, pocket Constitution, and cold prevention supplement she can't live without.
When I'm working on a script, I write in pencil, especially the very first time I read a script to keep track of my impressions as I'm going — what's clear, what's not, what does it make you think of. And I just like a pencil, and I like [that it has] a good eraser. I think those pencils are beautiful, and I like that they're such an old company. There's something about it. Some erasers are so bad, and when you're writing on important documents, you don't want to smudge it all up. That's not really an eraser, that's just a smudger.
[Editor's Note: We've written about Palomino Blackwing pencils on the Strategist before. It's poet Morgan Parker's favorite pencil, as well.]
Since Trump came into office, I've gotten really political and really gotten into the fight for equality, trying to make sure that the norms of our republic are not eroded. But I realized I had not done a good job on my civic education, so the cool thing about this book of the Constitution is that it's not just the text of the Constitution, but it also says what that text means in everyday speak on the other side. When you read the Constitution it can be a little intimidating, because it's written during a time when they spoke differently than we do now, it can seem a little distant, so this guide is so helpful to make sure you really understand the full concept. It's really important to know your rights and know how this country is meant to work because then, you know if someone's taking advantage of your rights.
I love that hot sauce. I don't know how I first found it. Probably in a New York bodega. When I first got to New York, there were so many things that New Yorkers consider, it must be stocked, like Bustelo coffee. But coming from a town in New Jersey, I'd never heard of all these things, and Frank's Hot Sauce is good. You can literally serve it at every meal. I'll have it on my eggs in the morning, and then I'll have it on my sandwich at lunch, and I'll put it in soup at dinner, and then I'll put it on popcorn when I'm watching TV at night. I think it's so delicious. I love vinegar, and that's a real vinegar-y hot sauce, and you can get it most places, so it's not like some speciality thing.
I was always getting sick, I was traveling so much. Somewhere on the plane, someone's coughing, you know what I mean? And I can't really have a cold with my job. So I asked the guy in the vitamin section, "What does everybody take? What is preventative? Echinacea doesn't seem strong enough." And he said, "If you really want to go there, and you're not scared of something strong: oregano oil." I thought, That's so cool, because it's natural, it's a plant, and it works so well. It's in a tiny little bottle, so you can put it in your luggage and take it on your carry-on, and it really works. … If you put a couple drops under your tongue, the first time you do it, you're going to be like, "Whoa!" But now, that's how I do it, because I'm always in a rush, and I have my little bottle on me somewhere. But most people put a couple drops in a glass of water, because it's really strong. It tastes like oregano, like the strongest oregano ever.
[Editor's Note: Sanaa Lathan also swears by oil of oregano to prevent colds, but there's limited clinical research into its actual health benefits.]
I just like Pablo and Bomani [the hosts of High Noon Show]. I think they're funny — they're nice and cool. And obviously, I'm not a professional athlete, but what I like about sports is the kind of ongoing narrative of the players, what they're like as people, and the movement — you have to move your whole family from one city to another city. And how you interact with other players — Pablo and Bomani talk about that a lot. And they're funny. I'm sort of interested in the long-term story of sports.
Pietsie is this clothing brand out of California. It's made in Los Angeles, it's all super sustainable, but it's so comfortable. I feel like it's comfortable, but it's not like sweatpants. Like, I can't walk around this world in sweatpants. No shade to anybody who does. LeBron looks amazing in his sweatpants; that's just not me. And Pietsie's clothing is soft and powerful at the same time. I love that the company is owned by a woman. I used to just buy the pants, and I was living in them, but then this winter, I bought the coat, and now I can't get over that either. It's so beautiful and comfortable, and you could put that over something and walk into a meeting, or you could be like, asleep, cuddled in a ball, and wearing that coat.
In this time when people are doing genetic modification on our seeds, the problem with that is then those plants put out seeds that are not the way the seed came out of nature. And so when you're talking about a seed that came the way nature created it, that's called an heirloom seed. It's never been hybridized, it's never been genetically modified, and it's really important that we preserve those seeds, because we don't really know what we're doing by messing with all these seeds, and we need to make sure that our plants and fruits and vegetables and grains … that we maintain the importance and the integrity of those nature-created seeds. So Seed Savers is promoting all those kind of heirloom seeds. And I think that's really important, and I love wildflowers, so I'm always putting packets of wildflower seeds in my bag and then sort of surreptitiously sprinkling them wherever I go. If I'm walking somewhere, and I see an empty median or some kind of unloved patch of ground, you'll see me like dropping wildflower seeds in there.
The Strategist is designed to surface the most useful, expert recommendations for things to buy across the vast e-commerce landscape. Some of our latest conquests include the best acne treatments, rolling luggage, pillows for side sleepers, natural anxiety remedies, and bath towels. We update links when possible, but note that deals can expire and all prices are subject to change.